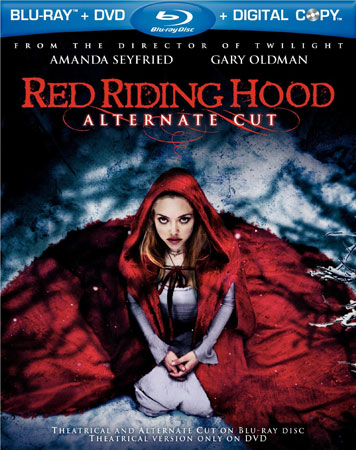 Once upon a time, Catherine Hardwicke directed a supernatural romantic thriller about a young girl who lives as an outsider in her community. Torn between two boys, she sulks and worries her way through violent happenings and treacherous danger until a series of unlikely events makes her realize that someone close to her is a werewolf. In fact, Hardwicke liked that story so much that she made it twice, once as 2008's Twilight and again as 2011's Red Riding Hood, newly released this month on Blu-ray and DVD. The parallels between the Twilight franchise and Red Riding Hood really are pretty striking, from plot elements to tone and visuals, even if the particulars are different and one is based on a fairy tale while the other spawned from a sub-par Mary Sue novel series.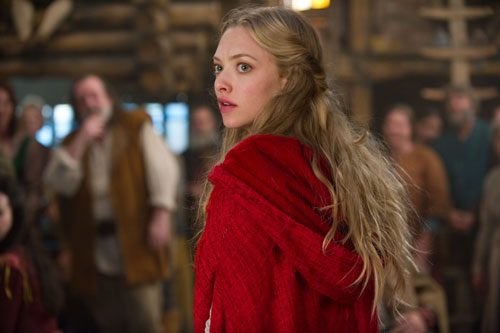 Red Riding Hood opens in the tiny medieval village of Daggerhorn, nestled in the midst of a snowy forest and mountains. The people of the village live in fear of a beast that has stalked them for two generations. They know it only as a monstrous wolf that emerges from the forest to wreak havoc unless its appetite is sated by ritual offerings of livestock they leave in the town square. Young Valerie (Amanda Seyfried) lives there with her parents (Billy Burke and Virginia Madsen), her sister, and her grandmother (Julie Christie). Also in Daggerhorn is Peter (Shiloh Fernandez), Valerie's childhood sweetheart, as well as Henry (Max Irons), to whom she recently became engaged through an arranged marriage. Valerie and Peter still love each other, but Henry also loves Valerie, and Peter decides to occasionally spurn her advances in an unconvincing way, setting the film's primary love triangle in motion.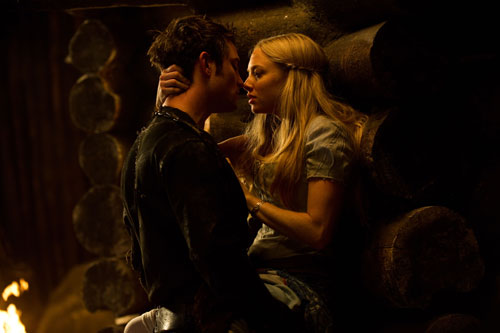 The village's uneasy truce with the wolf breaks when the beast attacks a human and leaves Valerie's sister dead. The town's clergyman (Lukas Haas) sends for help, summoning Father Solomon (Gary Oldman), a werewolf hunting priest who has a history of dark experiences of his own with the creatures. Upon arriving in Daggerhorn, Solomon educates the townsfolk about the particulars of lycanthropy. They already knew werewolves could be hurt by silver and couldn't stalk in the daylight, but the fact that the wolf can hide among them as a transformed human is most unwelcome news. The village swiftly turns to paranoia as Solomon seeks to roust the werewolf lurking in its midst.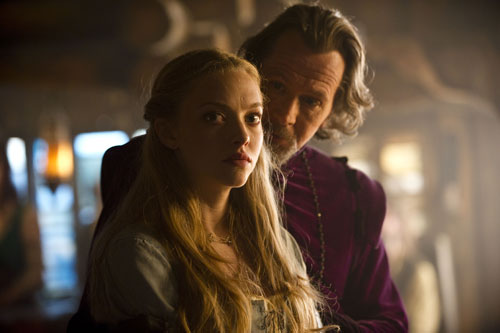 From start to end, Red Riding Hood is a stylish if hackneyed retelling of the classic fairy tale with more of a focus on Valerie's overwrought love triangle (there's an official website at RedRidingHoodLoveTriangle.com that lets visitors vote on which guy Valerie should choose) than on her potential concern that a wolf just ate her sister and might be after her next. Classic lines and elements of the fairy tale do appear in the movie, but they're often shoved into the narrative in unconvincing ways that just don't fit with the rest of the movie. One particularly cringe inducing dream sequence involving Valerie and her grandmother comes to mind from the second half of the film. That's not to say that Red Riding Hood is unwatchable. There are some fun moments sprinkled throughout, and some of the lesser characters were cast in a decidedly geeky fashion. Henry's dad is played by Stargate SG-1's Michael Shanks, while Battlestar Galactica's Michael Hogan plays a wannabe werewolf slayer.
Even if the plot is sub-par, the setting and visuals get much better adaptations. Most of the film's color palette is in dull greys, blacks, and white, making the scenes in which Valerie wears her red hood really pop with contrast. The wilderness around the medieval village is hauntingly pretty, shrouded in snowy mystery, and sporting dangerous looking trees covered in short, spiky branches. Everything in the movie is covered in spikes, to be honest. All the fences are topped with pointy stakes, houses' walls are adorned with pokey protuberances, and even the doors have sharp points leaking off them. It's a wonder that none of the cast or crew was impaled during the making of the movie.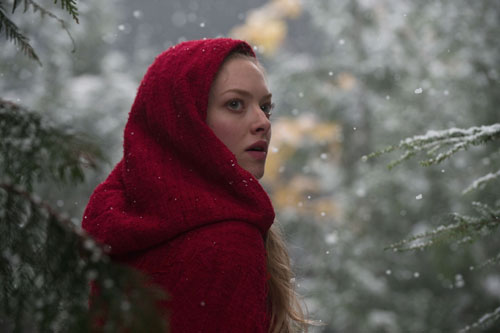 Red Riding Hood looks and sounds great on Blu-ray, and the combo pack bundles several special features in with the movie itself:
Alternate Cut – The box touts the alternate footage as including a "PROVOCATIVE ALTERNATE ENDING." In truth, the differences between the theatrical and extended versions are minor, with a few seconds added here and there and a small but possibly significant change in the very last shot.
Secrets Behind the Red Cloak – A picture-in-picture commentary featuring the three main actors and Catherine Hardwicke
Gag Reel
Deleted Scenes
Two Music Videos
An assortment of featurettes, including: The Reinvention of Red Riding Hood, Red's Men, Making of the Score, Before the Fur, Casting Tapes, Rehearsals, and Red Riding Hood in 73 Seconds
This film sports a lot of great talent between Amanda Seyfried, Gary Oldman, Julie Christie, and the rest of the cast. It really is a shame that it all doesn't come together in a more interesting and satisfying way. To be fair, Red Riding Hood has its entertaining moments, but the intended emotion, suspense, and fear just don't work. The prevailing air is one of angst, not the first thing I'd pick around which to build a fairy tale movie. I'm left wishing this cast had been written into a more tongue in cheek retelling of the fairy tale, closer in tone to Terry Gilliam's 2005 The Brothers Grimm.
"Grandmother, what big eyes you have!"
All the better to roll at this movie, my child.