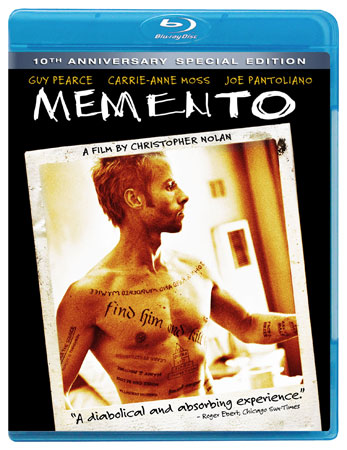 It's been a decade since Christopher Nolan unveiled his unforgettable thriller Memento. This week Lionsgate commemorated the occasion with a new Blu-ray release, the Memento 10th Anniversary Special Edition.
I'll put this at the top of the review, just to save some of you some time: If you never have seen Memento, stop reading this and go watch it.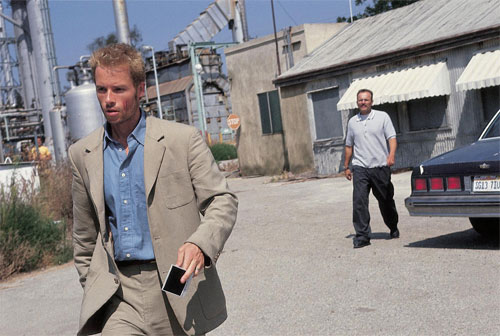 At its core, Memento is a murder mystery, but nothing is ever that simple with Christopher Nolan. Based on the short story "Memento Mori" by his brother Jonathan Nolan, Memento follows Leonard Shelby (Guy Pearce), a man suffering from anterograde amnesia. He remembers his life normally up to a point, but after that point can form no new memories. His post-incident life is comprised of brief sequences of awareness, always followed by a mental reset that leaves him once again unsure of where he is or what he is doing. Leonard is the narrator of the story, and, to reflect his unique perspective on the world, the movie's narrative runs in reverse. The opening shows Leonard killing Teddy (Joe Pantoliano) without any preamble or context. From that scene, we travel back and see the events just prior to the killing before leaping back again and again to eventually fill in the whole story.
Intertwined with this reverse narrative is a separate black and white narrative that has Leonard in a motel room, talking on the phone to an unknown party. This parallel story allows Leonard to explain his condition, as well as to demonstrate the methods he uses to compensate for his inability to form new memories. He resorts to tactics like taking Polaroids of important milestones and people and even tattooing integral information onto his body. It is through these scenes that we also learn that Leonard is a man driven by loss. His wife (Jorja Fox) was brutally murdered during a home invasion, and Leonard's every moment now is consumed with his quest to find her killer and exact vengeance.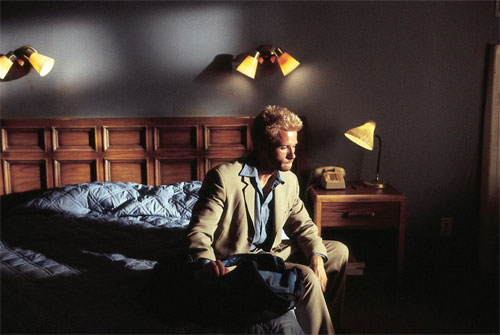 Leonard's amnesia is a fascinating facet of his character, and it complicates not only his life but also the investigation he's trying to carry out. How can he effectively play detective when he can't remember what he just investigated? Similarly, he is unable to remember anyone he meets, so his knowledge of people he encounters and information he gets from them comes down to notes he scribbles on the backs of his Polaroids. Along the way he crosses paths with Natalie (Carrie-Anne Moss), a mysterious woman who seems to want to help him but who just might have her own plans in motion, and Dodd (Callum Keith Rennie), a potentially dangerous man somehow connected to Natalie.
The beauty of Memento is in the movie's ability to share Leonard's amnesia with the viewer. Information is revealed slowly and always without reliable context, only to be illuminated later when we see the events that preceded Leonard's "learning" about something for the first (or fifth) time. There are plenty of twists and turns, and ultimately seeing how everything fits together is a very satisfying experience. Christopher Nolan has a track record of creating deep and intellectual thrillers, and Memento is a classic in that library alongside the likes of Inception and The Prestige.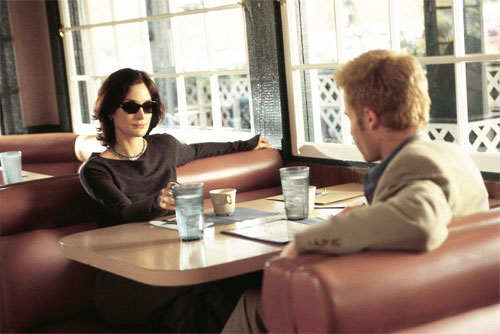 In addition to the movie itself, the Memento special edition includes an array of bonus features:
Audio commentary with Christopher Nolan
Remembering Memento – a 10-year look back at the film
Anatomy of a Scene
IFC Interview with Christopher Nolan
"Memento Mori" – the original short story by Jonathan Nolan on which Memento is based
Tattoo sketch gallery
Leonard's Journal
The Memento 10th Anniversary Special Edition released on Blu-ray on February 22, 2011, for a suggested price of $19.99.