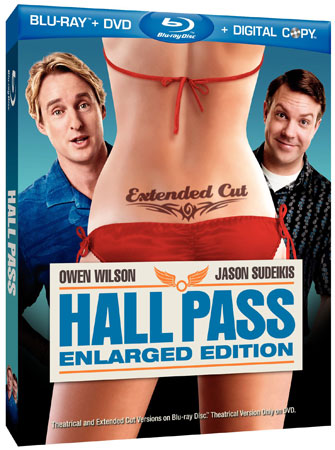 There's no shortage of low brow comedies, a genre that has been in heavy representation from before Porky's and Animal House all the way up through Bad Teacher. The Farrelly Brothers made the genre their own in the '90s with hits like Dumb & Dumber and There's Something About Mary, and they're back in action with 2011's Hall Pass, releasing this month on Blu-ray and DVD.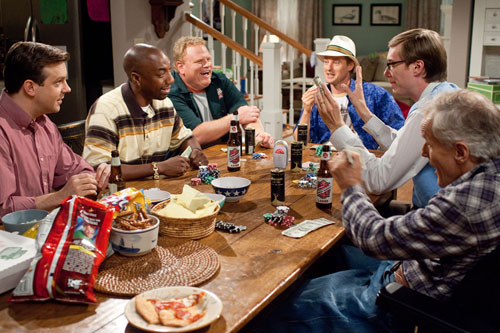 Hall Pass stars Owen Wilson and Jason Sudeikis as Rick and Fred, two men who have grown bored with their respective married lives. Jenna Fischer plays Maggie, Rick's wife, and Christina Applegate is Grace, married to Fred. After getting tired of their husbands' restlessness, the two women offer them a "hall pass." The two guys have the chance to live out any and all fantasies and do whatever they want for one week, after which they will resume their normal married lives with no questions asked. Maggie and Grace (not to be confused with Lost and Taken star Maggie Grace), go on vacation with the kids for that week, leaving their husbands behind to get their wild oats our of their systems.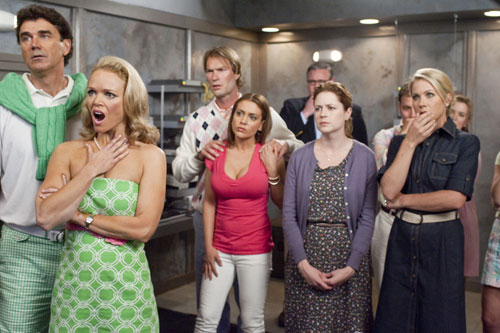 Rick and Fred get together with their other guy friends, two of them played by Stephen Merchant and Richard Jenkins, to carouse and make the most of their time of freedom. The movie sets up the expectation that the guys are going to go wild, but it turns out that their middle aged ideas of "wild" include doing things like eating dinner and Hooter's and eating pot brownies. By the third act, Hall Pass somehow morphs from a frat comedy into a rom-com with guilt, mistaken circumstances, and the repercussions of infidelity taking center stage. It's a strange transition into conservatism, given the bawdy promotion of the movie. In the end, it doesn't really hit the target for either comedy subgenre but strikes an uneasy compromise somewhere in the middle, eliciting a few laughs but not delivering anything really memorable.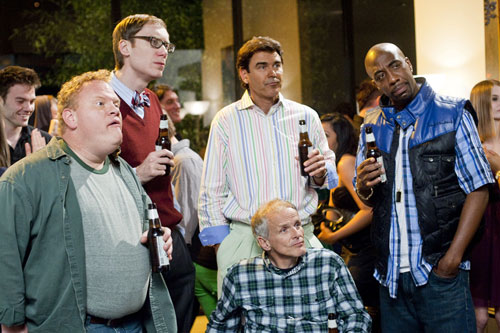 My biggest problem with Hall Pass is that it takes the most predictable and easiest routes into both its plot and its jokes. The guys in the movie are horny, raucous caricatures of the worst male stereotypes, and the women are equally pigeonholed as they go shoe shopping and want to see Kathy Griffin in concert (The View host Joy Behar even makes an appearance). The one dimensional characters are neither believable nor relatable through most of the movie, causing most of the zany situations they create to fall flat. My issues with Hall Pass do not come from my having a problem with crude comedies. I think Superbad, The Hangover, and loads of other similarly marketed films are hilarious, but Hall Pass just fails to land for me. Given the subjective nature of comedy, though, I'm sure it will be hilarious to folks who do manage to relate to the leads and who do get the jokes as they're intended.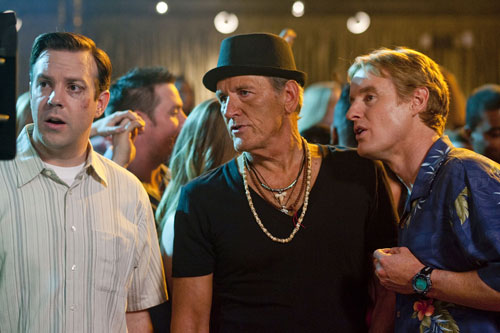 The "Enlarged Edition" of Hall Pass comes as a combo pack that includes the Blu-ray and DVD versions of the movie, as well as a code for a digital download. The DVD has the theatrical version of the movie, which the Blu-ray sports a cut that has six additional minutes of footage. On the Blu-ray there's also an additional deleted scene (4 minutes), as well as a 2 minute gag reel.