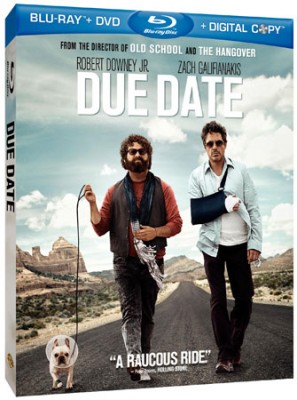 Following his success with The Hangover, director Todd Phillips recruited Zach Galifianakis again to join Robert Downey, Jr, for Due Date, his 2010 road trip comedy. The movie hit Blu-ray last week, and we had a chance to take a look at the release.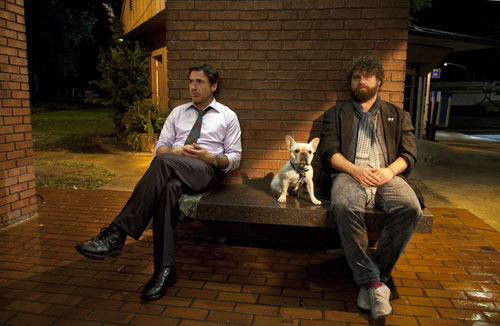 At its core, Due Date is a raunchier modernization of John Hughes's 1987 classic Planes, Trains and Automobiles, which starred Steve Martin as a straightlaced businessman forced to travel with John Candy's rambunctious loudmouth shower ring salesman as they try to reach Chicago in time for Thanksgiving. Here, Robert Downey, Jr, takes on the straightlaced role as Peter Highman, a businessman about to head home to Los Angeles from Atlanta, just in time for the birth of his child. He encounters the bizarre Ethan Tremblay (Zach Galifianakis) in the Atlanta airport, and a series of errors and outright lunacy leads to both men being ejected from their airplane and placed on a no-fly list.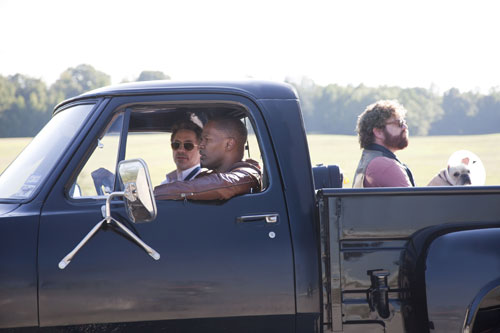 Having left his wallet with his luggage, both now bound for LA, Peter has no choice but to join Ethan and his dog in driving a rental car cross-country. He soon learns that Ethan is a wannabe actor with dreams of joining the cast of Two and a Half Men, and he's bringing his recently deceased father's ashes along for the ride. All of these ingredients concoct the perfect stew of disaster for Peter's journey home as he crosses paths with an Alabama drug dealer (Juliette Lewis), an angry Western Union employee (Danny McBride), and his own best friend (Jamie Foxx).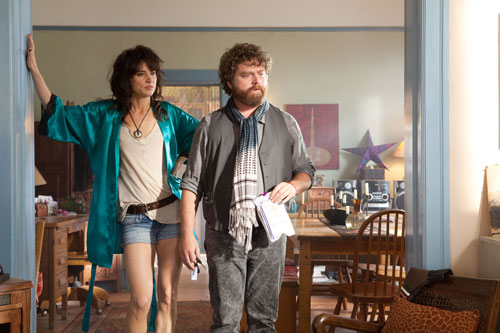 Due Date has a similar premise to that of Planes, Trains and Automobiles, and it ends up following a very similar structure as well. We watch the lovably weird Ethan bumbling his way across the country with his reluctant traveling companion in tow, falling from one misadventure into another, all the while just trying to be a good friend to Peter, whom he perceives to be his new best buddy. At the same time, we see Peter's journey from wanting to strangle Ethan to gradually gaining an understanding and even potential respect for this strange bearish man (with occasional detours back into strangulation).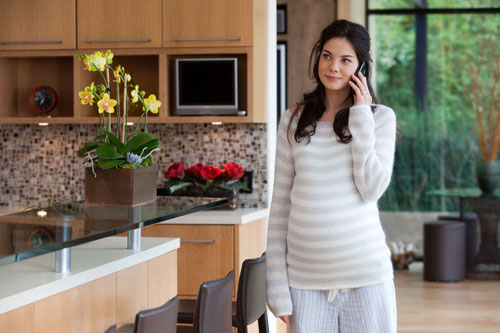 Times have changed a lot since Hughes's 1987 movie, and it stands to reason that Due Date is coarser and even more outlandish, apropos of the comedies of 2010. There's a lot of humor here that most definitely isn't family friendly. Some of it falls flat, but quite a bit of it is really funny stuff. If you're into the Hangover style of humor and have fond memories of Steve Martin and John Candy on their zany road adventure, Due Date is well worth checking out.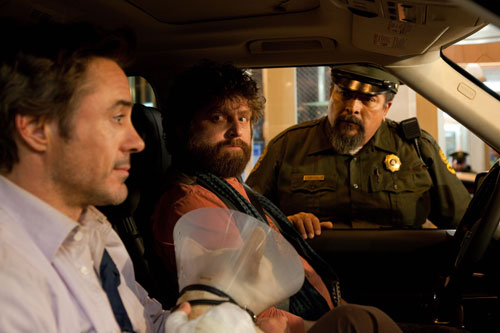 In addition to the movie on both DVD and Blu-ray discs, the new combo pack includes several brief special features:
Gag Reel
Too Many Questions – a compilation of all the bizarre questions Ethan randomly asks Peter
Action Mash Up – a compilation of the physical comedy from the movie
Complete Two and a Half Men scene featuring Ethan Tremblay
Three Deleted Scenes
Due Date released as a Blu-ray combo pack on February 22, 2011.