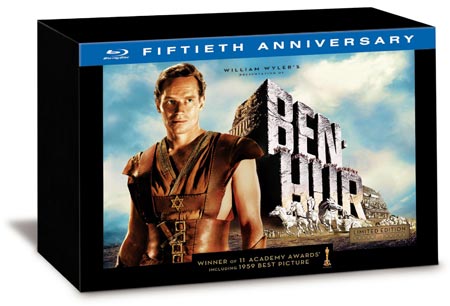 When a new media format enters the market, it's not uncommon to see studios going back into their archives to release new editions of their classics, freshly updated for the format. We saw countless examples of this with DVD, and we've already had many, many classic films finding new life on Blu-ray. Often these new releases are little more than double dips into the pockets of fans and consumers who have already bought earlier versions of the movies on the old media formats. Every once in a while, though, there is a justified release that manages to make the original beloved film even better than ever. Warner's 50th anniversary Blu-ray release of Ben-Hur is just such a case, and it truly is the ultimate edition to own.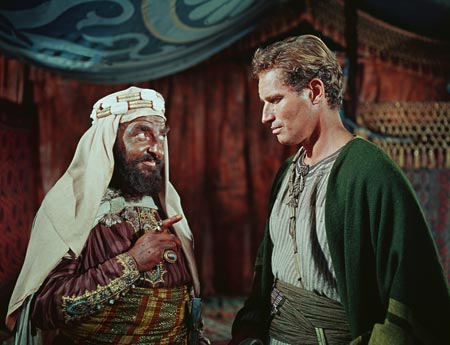 Even if you've never seen Ben-Hur all the way through, it's likely that you at least have seen bits of the climactic chariot race or have heard bits of trivia like the story about the extra who forgot to take off his modern wristwatch when the camera started rolling. It's just one of those movies that becomes legendary as a product of its time and of its production. Ben-Hur is a part of our popular consciousness, even if you don't quite know why Charlton Heston is riding in a chariot in the first place. And hey, if you really haven't seen it, there's never been a better time to check it out than with its Blu-ray debut.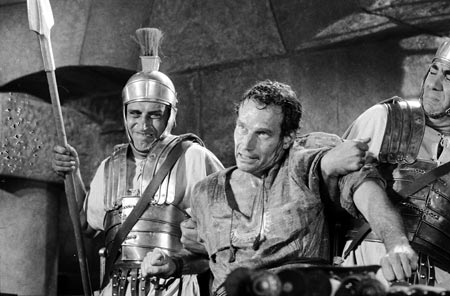 Ben-Hur premiered in 1959 in an era of Biblical epics. Charlton Heston already had wowed audiences with 1956's The Ten Commandmants, so it was no surprise to have him back in period garb for another round. Ben-Hur is an adaptation of the 1880 novel Ben-Hur: A Tale of the Christ by Lew Wallace. While the central figure in the book and movie is the fictional Judah Ben-Hur, the presence and influence of Christ permeates the story and setting, and Jesus even makes a couple of appearances as a character. The 1950s was a prime decade for big screen productions heavily influenced by Christianity, a film environment that seems very foreign today.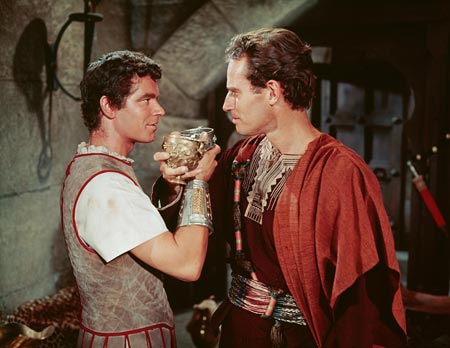 Set in 26 AD, the film follows Judah Ben-Hur (Charlton Heston), a Jewish prince and merchant living in Jerusalem. He is reunited with his old friend Messala (Stephen Boyd) when the other man returns to the area as a Roman soldier, leading an Imperial garrison. After a roof tile accidentally falls from Ben-Hur's roof and injures the new Roman governor of Judea, Messala banishes Judah to a slave's life and imprisons his mother and sister. Separated from his family, Ben-Hur despairs until his first encounter with Jesus in Nazareth. With a renewed will to persevere, he presses onward in his arduous life, toiling as a rower in Roman galleys before fate eventually lands him in the chariot arena to settle an old score in what would become one of the most famous movie scenes of all time.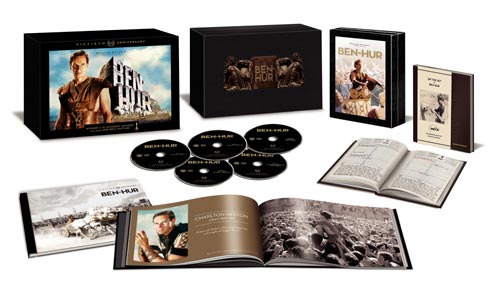 The new ultimate edition of Ben-Hur comes in a suitably chunky collector's box, embossed with a gold imitation frieze bearing the movie's title. In addition to the three Blu-ray discs that hold the film itself and its supplementary material, there are two fantastic books included. The first is a 64 page hardback art book that shows off stills and production art, as well as additional information about the movie and its characters. The second book is even more intriguing, presenting a hardcover reproduction of Charlton Heston's actual diary that he kept during the making of Ben-Hur. His thoughts are recorded amid reproductions of film tickets and other memorabilia of the filming. It really feels like an authentic scrapbook and a collector's dream for fans of the movie.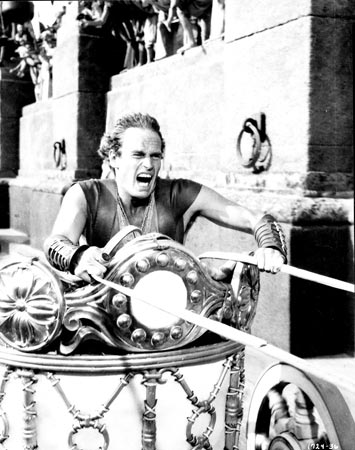 The film itself is even more astonishing than you'd expect. Warner has produced a lovingly remastered presentation that looks at least as good as, if not better than, anything else you'll find on Blu-ray today. The audio is similarly outstanding, mastered into a 5.1 track that plays the din of the arena and the unforgettable film score with more faithfulness and power than you've ever heard them before. Ben-Hur is a landmark of filmmaking, and it is entirely deserving of the uncompromisingly awesome treatment it gets in this remastering.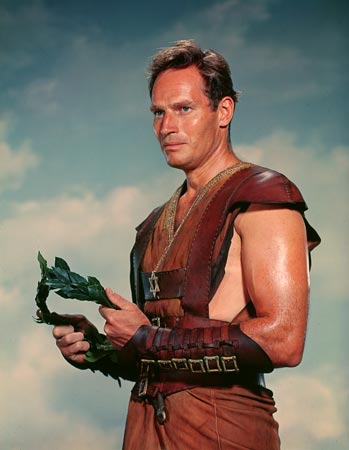 A collector's edition must provide some extra bang beyond just the movie and a couple of books, fantastic as they might be, and Ben-Hur delivers in that department as well. Most of the supplementary material on the Blu-rays was released previously, but this collection does also include a brand new documentary about Charlton Heston. Here's the full rundown of the bonus features that are spread across all three discs (the movie shares some space by being divided between the first two discs):
Audio commentary with Charlton Heston and historian T. Gene Hatcher
Music-only audio track featuring Miklos Rozsa's score
Charlton Heston and Ben-Hur: A Personal Journey – the new feature-length documentary piece
Ben-Hur 1925 – the entire silent film from 1925 that influenced William Wyler's 1959 adaptation
Ben-Hur: The Epic That Changed Cinema and Ben-Hur: The Making of an Epic – a pair of vintage documentaries about the film, each running about an hour in length
Ben Hur: A Journey Through Pictures – a five minute slideshow of stills and art set to the film score
Screen Tests – half an hour of interesting and occasionally surprising line readings from actors who tried out for roles
Highlights from the 1960 Academy Awards Telecast – nearly ten minutes of footage from the awards ceremony where Ben-Hur racked up eleven Oscars
Newsreels – about ten minutes of newsreels showing footage from premieres and box offices during the film's release
Theatrical trailers
In the pantheon of classic Hollywood productions, Ben-Hur sits atop a tall throne. Frequently beloved, occasionally controversial, and always revered, this movie arguably is a masterpiece of its time. Though some of the scenes, lines, and sentiments do not translate well to modern first time viewers, there's no denying this movie's place in film history. It embodies the spirit of 1950s Hollywood and delivers unforgettable performances and scenes created with the then-state of the art movie technology. Ben-Hur is a movie anyone serious about movies needs to see at some point, and there's no better way to see it than with this new and painstaking remastering of the legendary film.