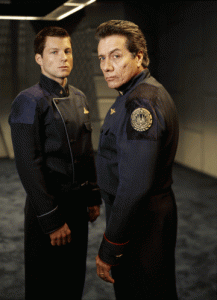 The SciFi Channel has announced yet another prequel to Battlestar Galactica that will be airing after the critically acclaimed series ends its four season run next year. The previously announced prequel series called Caprica will show the origins of the Cylons in the Colonies some fifty years prior to the events of the main BSG series. This newest–and as yet unnamed–prequel is a different animal, taking place concurrently with some of the events we've already seen in Battlestar Galactica.
Directed by Edward James Olmos, the new Galactica prequel will be a movie that is being written by all-star TV scribe Jane Espenson, and it will be shot in Vancouver like the rest of the series. The movie will show the Cylon side of the human apocalypse, focusing on two Cylon agents just after the nukes obliterated humanity. One of the agents' stories will take place on board the shell-shocked fleet in the initial days of their flight across the galaxy, and the other takes a look at what the human Resistance was up to, ground-side.
The movie will air on SciFi and then will be released on DVD, similarly to the way the previous BSG feature, Razor, was handled.