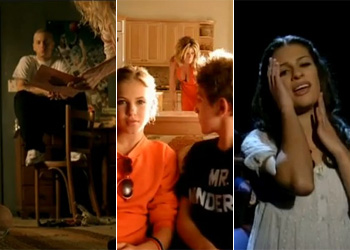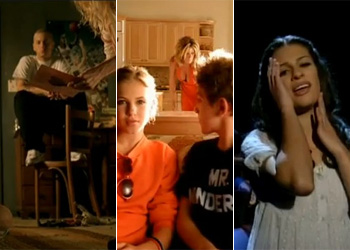 In celebration of Mother's Day (which is this Sunday, in case you weren't aware), I sat down and went through my iTunes library and picked eight "mother-themed" songs from some of my favorite artists. One thing that I want to point out about this list right away is that the songs collected here have only two things in common: first, they are what I call "mother-themed", meaning that they have something to do with mothers; and second, they are songs that I personally enjoy and are performed by artists of which I am a fan (Get it? Fan… fandom… Fandomania…?). In other words, this is not a "traditional" Mother's Day song list in the sense that all of the songs celebrate mothers or are the most popular songs written about mothers; rather, these songs have to do with mothers — whether they are praising, seeking help from, addressing, or discussing mothers — and they were chosen based on my personal taste.
My goal in choosing eight of my favorite songs that have to do with mothers is to illustrate the profound impact, whether positive or negative, that mothers have on our lives. The songs on this list range from emo-pop to reggae, Broadway musical to rap, and the artists themselves vary just as markedly as the genre and subject matter. That said, here are eight of my favorite "mother-themed" songs in honor of Mother's Day:
1. "Criminal" – Britney Spears, Femme Fatale (2011)
"Criminal" is the last track on the standard version of Britney Spears's seventh studio album, Femme Fatale, which was released just this past March. Written by Shellback, Max Martin, and Tiffany Amber, "Criminal" is a pleasant surprise but not top-of-the-charts material. In it, the speaker confesses to her mother that she's in love with a criminal, but doesn't want her mother to be upset because she is going to be okay, no matter what happens. Here is the chorus:
But mama I'm in love with a criminal
And this type of love isn't rational, it's physical,
Mama please don't cry, I will be alright,
All reason aside I just can't deny,
Love the guy.
"Criminal" is a catchy song that highlights Britney's well-known vocal style while remaining true to the overall feel of Femme Fatale. The song earned the first spot on my Mother's Day list because Britney Spears has been one of my favorite recording artists since her first album, …Baby One More Time, was released in 1999 (come on, I was thirteen then — this stuff was made for me). Having listened to her music for twelve years now, I can say that Femme Fatale is a major success for Britney, and "Criminal" is one of my favorite tracks.
2. "Man Down" – Rihanna, Loud (2010)
"Man Down", written by Shama Joseph, Timothy & Theron Thomas, and Shontelle Layne, is one of several singles off of Rihanna's fifth studio album, Loud (2010). Its Caribbean-tinged rhythm stands out from the rest of the album — likely the reason that it both garnered attention among fans and failed to move above number seventy-one on the Billboard Hot R&B/Hip-Hop Songs Chart. In the song, the speaker addresses his or her mother, confessing to shooting a man in Central Station and lamenting the circumstances that led to such a life-changing mistake, as the chorus states:
Oh, mama, mama, mama
I just shot a man down
In Central Station
In front of a big 'ole crowd.
Oh, why? Oh, why?
Oh, mama, mama, mama
I just shot a man down
In Central Station.
Rihanna is one of my favorite recording artists at the moment, which is why this song earned the second spot on this list. Lyrics are particularly important to me when I listen to music, and Rihanna's latest album features well written tracks from top to bottom, not the least of which is "Man Down".
3. "Mama" – My Chemical Romance, The Black Parade (2006)
Following two songs sung by popular female recording artists that feature confessions, either criminal or romantic, I chose the song "Mama" by alternative pop-punk band My Chemical Romance to fill the number three spot on my list. "Mama" is the ninth track on the band's third studio album, The Black Parade, which was released in 2006.
I discovered My Chemical Romance when I went to a concert at Lupo's Heartbreak Hotel in Providence, Rhode Island, one of the first U.S. stops on The Black Parade World Tour in 2007. In addition to the title track, "Welcome to the Black Parade", "Mama", which features Liza Minnelli, quickly became one of my favorite songs and I listened to it on repeat until I knew all the words (which didn't take long since the song is very repetitive).
Mama, we all go to hell
Mama, we all go to hell
I'm writing this letter and wishing you well
Mama, we all go to hell.

Oh, well now
Mama, we're all gonna die
Mama, we're all gonna die
Stop asking me questions, I'd hate to see you cry
Mama, we're all gonna die.
"Mama" is commonly believed to be about a transsexual who joined the army to gain his mother's approval, although some fans believe that it is about a Soviet soldier in an alternate version of Operation Unthinkable launched in 1946. Regardless, it is clear that the speaker desires his mother's approval but feels as though he won't be able to earn it.
4. "Mama Who Bore Me" – Lea Michele, Spring Awakening (2006)
For those of you that haven't heard of Spring Awakening, it is a rock musical adaptation of a controversial 1891 German play written by playwright Frank Wedekind. Spring Awakening features music by Duncan Sheik and a lyrics book by Steven Sater.
Spring Awakening opens with "Mama Who Bore Me", and as you can see from the lyrics below, the female lead, Wendla (played by Lea Michele in the original Broadway performance), is lamenting the fact that her mother has given her "no way to handle things" and hasn't taught her the lessons that she needs to know.
Mama who bore me,
Mama who gave me,
Mama, the Angels,
Who made me so sad.

Mama who bore me,
Mama who gave me,
No way to handle things,
Who made me so sad…
Spring Awakening deals with some very heavy issues, including sex and sexuality, suicide, and general teenage angst. The story follows a group of late-19th-century German teens as they muddle through some of the toughest issues to face adolescents, both then and now. Spring Awakening received eight 2007 Tony Awards, including best musical, direction, book, score and feature actor, and it also took home four Drama Desk Awards. Although somewhat sad, "Mama Who Bore Me" is a beautiful song, regardless of who performs it, and was a mandatory inclusion on this list when I began searching through my iTunes library.
5. "Chinese" – Lily Allen, It's Not Me, It's You (2009)
"Chinese" is a track off of British pop singer-songwriter Lily Allen's second studio album, It's Not Me, It's You. The track was written collaboratively by Lily Allen and Greg Kurstin and although it doesn't specifically mention "mother" or any other term usually used to address one's mom, fans like me that have seen Allen perform this song on tour know that she wrote it about her mother because she prefaces performance of the song by telling fans what it means to her.
If you are familiar with the song, or if you read through the lyrics, you can see why many people think that it's written about a boyfriend or lover, but this sweet, somewhat sad song is actually a celebration of the bond between Allen and her mother, film producer Alison Owen.
I don't want anything more
Than to see your face when you open the door,
You'll make me beans on toast and a nice cup of tea,
And we'll get Chinese and watch TV.
Although it wasn't one of the five singles released from It's Not Me, It's You, "Chinese" is a fan favorite and serves as yet another example of the important role mothers play in the lives of average people and pop stars alike.
6. "Stacy's Mom" – Fountains of Wayne, Welcome Interstate Managers (2003)
Chances are good that every reader will recognize the sixth song on my Mother's Day list: "Stacy's Mom", by Fountains of Wayne. The track was released as a single of off the band's album Welcome Interstate Managers in 2003 and climbed the Billboard Hot 100 chart all the way to number twenty-one. "Stacy's Mom", an ode to a young boy's adolescent fantasies about his friend Stacy's mother, became one of the first songs to reach the #1 spot on the iTunes Music Store's Most Downloaded Songs list.
Stacy's Mom has got it goin' on,
She's all I want,
And I've waited for so long,
Stacy can't you see,
You're just not the girl for me,
I know it might be wrong,
But I'm in love with Stacy's Mom.
"Stacy's Mom" differs from the other songs on this list, all of which feature a speaker directly addressing or speaking about his or her mother in some way. Alternatively, this song features a speaker that is singing about his friend's mother, specifically about his attraction to Stacy's mom and how he tries to spend time with Stacy in order to get closer to her mother.
I've always found this song to be particularly interesting. If you ignore the fact that the speaker is meant to be a young boy, what remains of "Stacy's Mom" could be the plot of any one of a long list of popular horror movies and thrillers. All creepiness aside, "Stacy's Mom" is incredibly catchy and probably will remain a power pop staple for some time to come.
7. "Infatuation" – Christina Aguilera, Stripped (2002)
What music list compiled by a female writer would be complete without selections by both Britney Spears and Christina Aguilera? Not this one, apparently. Christina Aguilera is another recording artist that I've listened to since the release of her debut album, Christina Aguilera, which was also released in 1999. Much like Britney Spears's "Criminal", which took #1 on this list, Aguilera's "Infatuation" is a song about falling for the wrong man, despite some good motherly advice.
As you can see from the lyrics below, "Infatuation" doesn't directly address the speaker's mother the way that "Criminal" does, it follows a similar theme:
Mama used to warn me to beware those Latin lovers,
She said, 'I gave my heart too soon
And that's how I became your mother.'
I said, 'Ay, mama, you seem to forget
I'm not in love yet, sweet talk don't win me over.'
But I realized, big brown eyes can hypnotize when he says…
"Infatuation" was written by Christina Aguilera, Scott Storch, and Matt Morris, and is the sixth song on the singer's third studio album (second English-language studio album). It's often overlooked in favor of the album's singles, which include "Dirrty" and "Beautiful", but in my opinion the song stands out as one of the best on the album.
8. "Cleanin' Out My Closet" – Eminem, The Eminem Show (2002)
The final song on my Mother's Day-themed list is "Cleanin' Out My Closet", the second single released off of Eminem's third studio album, titled The Eminem Show. This song is probably one of the most memorable released by the rapper to date as it was one of the first times that Eminem departed from his "Slim Shady" persona to branch out on an autobiographical journey of anger and pain. "Cleanin' Out My Closet" reached number four on the Billboard Hot 100 and remains one of the highest-charting singles of Eminem's career.
In this song, Eminem examines his troubled childhood and his ongoing feud with his mother, who he addresses in the chorus, sarcastically commenting that he "never meant to hurt [her]", presumably the way that he perceives she has hurt him throughout his childhood and adult life:
I'm sorry momma,
I never meant to hurt you,
I never meant to make you cry, but tonight
I'm cleanin' out my closet, one more time.
"Cleanin' Out My Closet" is not the type of song usually included on Mother's Day song lists, probably because it is less a celebration of motherhood than it is a talented and damaged man's expression of hatred and resentment. More than any of the other songs included on this list, however, "Cleanin' Out My Closet" truly illustrates how deeply a mother's actions (or lack thereof) can impact a child — again, whether positively or negatively. Although he may bear emotional scars from his past, Eminem certainly wouldn't be the artist that he is today were it not for his experiences, including those with his mother.