Throughout the history of film, certain directors have attracted fans with a sense of life's dark side, theirs and ours. Following are eight such directors, in no particular order, all cult-worthy, dead or alive.
David Lynch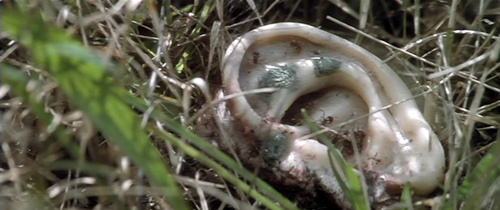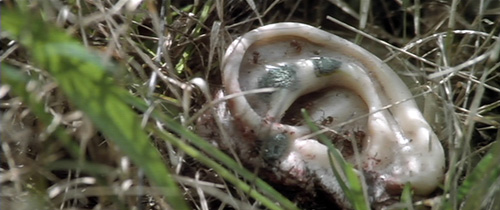 Not a director you'd call "nice," "ordinary," or "run-of-the-mill." His mark has been made through dreams (Eraserhead), fantasies (Twin Peaks), and real-life macabre characters (Crumb). See Hollywood's Creep Master, David Lynch.
Stanley Kubrick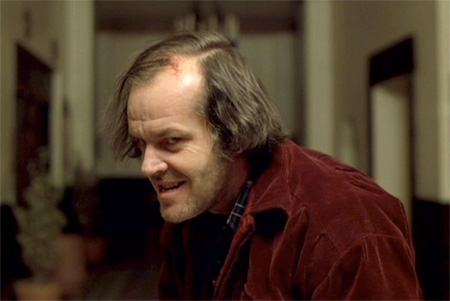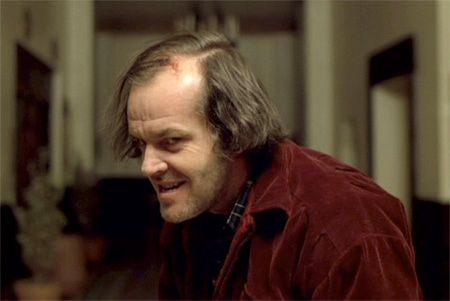 Horror thrillers, surrealism, irony, and expressionism were his hallmark, landing seven of his films on the top 250 movies on IMDb. He made nuclear war the subject of a comedy, Dr. Strangelove and How I Learned to Stop Worrying and Love the Bomb. 2001: A Space Odyssey (collaborating with sci fi writer Arthur C. Clarke) is considered by many to be the greatest science fiction film of all time. His other films include A Clockwork Orange, about experimental aversion therapy applied to an ultraviolent gang member in futuristic England; The Shining, in which an isolated, snowy, haunted hotel and its evil presence morphs nice-guy writer Jack Torrance into a Jack Nicholson so scary, he outcreeps Norman Bates, not to mention his psychic son, Danny, who has a little boy living in his mouth; Full Metal Jacket, about the brutish training of Marines for Vietnam with a memorable performance by Vincent D'Onofrio as mentally unbalanced Private Pyle; and Eyes Wide Shut, full of sex odysseys, masked ball of sensual and hedonistic images, not the least of which is an X-rated and underrated Tom Cruise. Kubrick quit as director of One-Eyed Jacks (to direct Lolita), and left Jacks's directorial chore to star Marlon Brando.
Tim Burton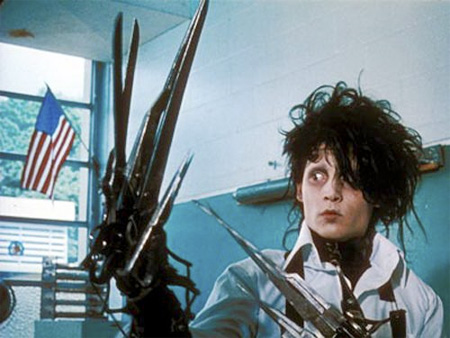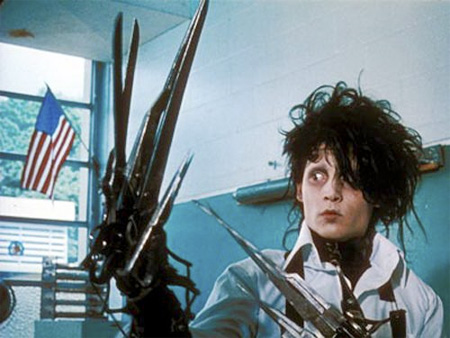 Ex-Disney animator Burton directed an episode of Alfred Hitchcock Presents and played a corpse in Hoffa before he directed Corpse Bride, the story of a man who gets engaged to a maggot-infested dead woman by placing a ring on a weird-looking twig; the World of Stainboy, whose animated characters include a bowling ball head and a boy with nails in his eyes; The Nightmare Before Christmas, in which animated Jack Skellington, the King of Halloweentown, tries to get goblins, ghouls, and monsters from Halloween to be part of Christmas; Beetlejuice: séances, ghosts, and exorcists made this an unexpected hit; Edward Scissorhands, the story of Edward, an inventor's unfinished creation, attempting to adapt to society but things go downhill. This began the successful collaboration of Burton and star Johnny Depp.
The Coen Brothers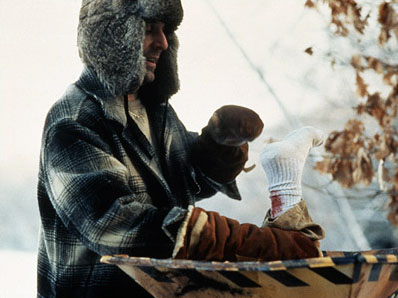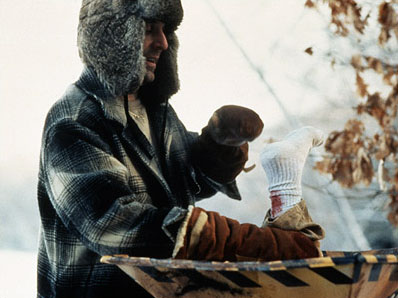 Commonly called "one director with two heads." The Big Lebowski: "The Dude abides," not to mention John Turturro's mincing bowler who goes door to door, wearing a bag of birdseed in his pants to create a bulge while admitting he's a sex offender, and dead Steve Buscemi's ashes blowing all over Jeff Bridges's Dude. Favorite words are "man" (147 times), "dude" (160 times), and the F-word (290 times). In Fargo, a pair of unsympathetic crooks meet their demise, one ending up in a wood chipper, the other gunned down by Joel Coen's wife, Frances McDormand. Then there's Barton Fink, the story of an LA screenwriter transplanted from NY who finds himself in B-movie hell, with all attendant fire, brimstone, and John Goodman. The Coen Brothers probably have as close to a repertory company as any director since John Ford. Their long-time editor, Roderick Janes, does not exist.
Fritz Lang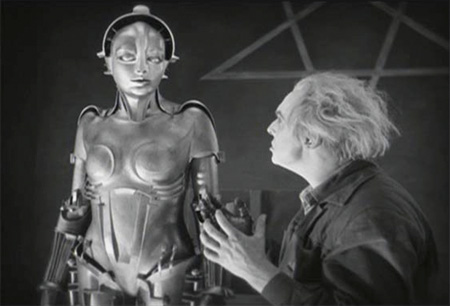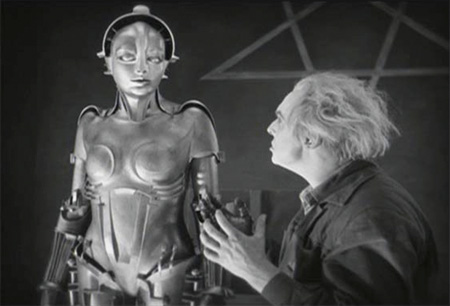 He began with the German movie, M, starring Peter Lorre as a psychotic murderer of children, who whistled Peer Gynt as he slaughtered little girls. He was so heinous a killer that all the lesser criminals of the city join together in a manhunt to find him. Lang pretty much invented film noir in America, turning out such greats as The Big Heat, Clash by Night, and Scarlet Street. But his masterpiece was 1927's Metropolis, the story of a futuristic city, from which director Ridley Scott borrowed greatly for his own masterpiece, Blade Runner.
Wes Craven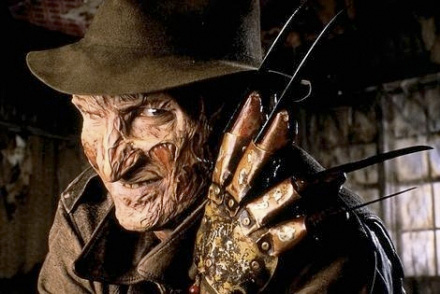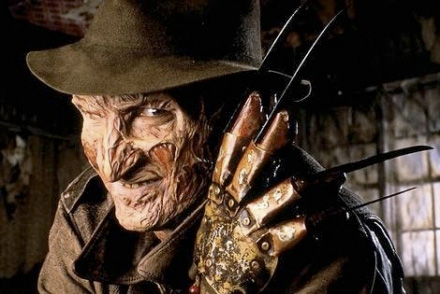 Actor, crew member, editor and scream meister, whose Twilight Zones, Freddy Kruegers, vampires, fiends, and swamp things have made him one of the horror industry's best nightmare makers of all time. He designed Google's Halloween logo and was one of the first celebs on YouTube. Craven, who divorced one wife for having an affair with Sharon Stone, will not participate in the remake of Nightmare on Elm Street.
Alfred Hitchcock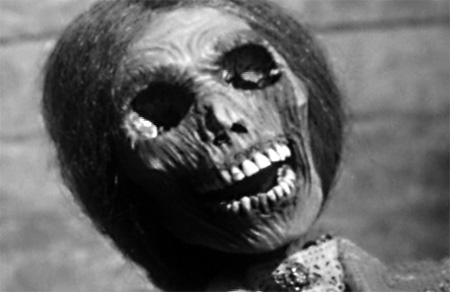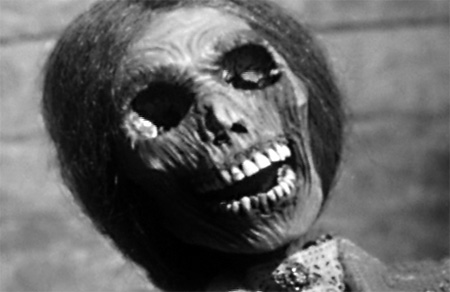 Not exactly as demented as some on this list, Hitchcock must be included as the Master of Suspense and, of course, for Psycho. No list of directors of the horror genre would be complete without him. It has been said that at least two of his movie moms, notably Ma Bates in Psycho (also based on real-life psycho Ed Gein's mom) and the domineering mom in Notorious, were based on Hitchcock's own mother. In Britain, Hitchcock was considered England's answer to Fritz Lang.
John Carpenter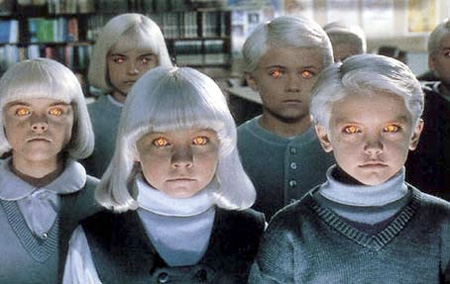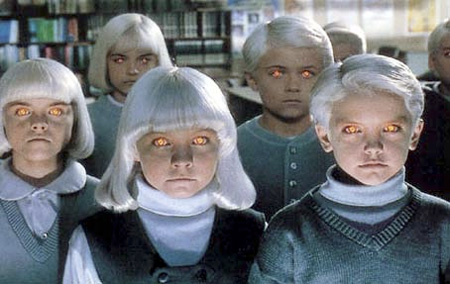 His films include Halloween, the iconic horror film about psychotic killer Michael Myers who, at the age of six, gives new dimensions to the meaning of trick or treat, starting with knifing his sister; Village of the Damned, about women giving birth to alien babies; In the Mouth of Madness, in which famed writer Sutter Cane's horror books come to life; and Body Bags (with Wes Craven as the pasty-faced man and Sam Raimi as Dead Bill). Once in a band himself, Carpenter composed the theme to Halloween, and likes to cast musicians (Jon Bon Jovi, Alice Cooper, Ice Cube, Isaac Hayes). Carpenter said, "Movies are pieces of film stuck together in a certain rhythm, an absolute beat, like a musical composition. The rhythm you create affects the audience." If we left out your fave, please leave a comment and take an apology.