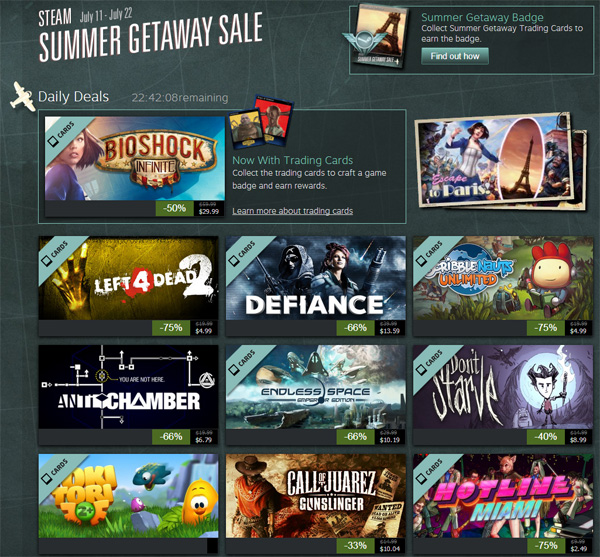 The long anticipated date finally has arrived. That's right, gamers: Steam's annual summer sale now is live and kicking! Every year the online purveyor of downloadable video game goodness marks down nearly their entire store catalog with fantastic discounts over a two week period. This year's sale will run from today, July 11, through July 22. There already are a lot of great deals going on, but here are a few key tips that could help you save some extra money while bagging some new games.
1. Make and maintain your Wish List
Steam's Wish List feature lets you add games to it and manage their priority. One semi-hidden feature is that Steam will alert you by e-mail whenever a game on your Wish List has its price discounted. This is a key strategy for making sure you don't miss out on some limited time price drops. Don't rely entirely on the e-mail notifications, though, as they can take a little while to process, and you still might miss some Flash deals. Check on your Wish List periodically, and you'll be able to see at a glance which games you want currently are discounted.
2. Don't buy ongoing sale items until the last day
There are several categories of discounts that always run throughout the Steam sales. The most common is a price drop that lasts the full length of the sale, and it can be very tempting to buy up a bunch of these discounted games right away. Hold off, though, because those same games are very likely to have brief discounts during the two week period that drop their prices even lower than whatever the standard summer sale price is showing. If you don't see better discounts for your games and wait until the last day to buy any two week-long sale items, you'll be sure you're getting them at the lowest price possible.
3. Don't miss out on Flash sales
The above being said, make sure you keep an eye on the Flash sales. Steam promotes up to 4 games at a time with very steep sales. These Flash sales are changed out every 8 hours, so you'll need to check in frequently to make sure you don't miss anything. This is the key place where you can find awesome deals during the summer sale, and this is where you stand to save a lot of extra money by not buying games immediately at their standard summer sale prices.
4. Wait until the final hours to buy Daily Deals
Every day during the sale, a big batch of games will get additional discounts and will be featured on the front page of Steam. In much the same way that you should wait until the final day to buy standard discounted games, you should wait until the final hours to get Daily Deals. While it's unlikely (and would be a little jerk-faced) that Steam will feature a game as a Daily Deal and then undercut it with a Flash sale on that same day, it is a possibility. Just to make sure you don't end up with spender's remorse, follow all the Flash sale deals before you pull the trigger on a Daily Deal.
5. Vote for Community's Choice games
The final category in the Steam sale is Community's Choice, which allows Steam users to vote for an upcoming sale item. You'll have a choice between three different items that may be discounted, and your vote will tally in with the rest of the community's votes. The winner of the Choice vote will be announced half an hour before the winning discount is offered. Make sure you get your votes counted, because this is a good chance to directly influence which games will get marked down.
6. Remember the final day
Traditionally, Steam resurrects some (but not all!) of their previous Daily Deals and Community Choices as last chance specials on the final day of the sale. If you missed out on any particularly enticing timed deals, you might get a second chance to score them.
What games are you hoping to nab during this summer sale, and which ones have you already bought from the sale? Let us know in the comments!