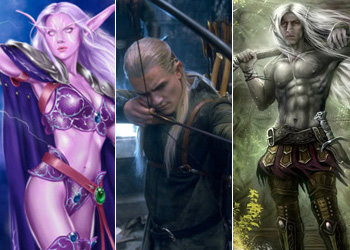 Elves have dotted folk tales and myths throughout history in many different cultures and they have appeared in many modern fantasies as well. Why? What attracts us to these creatures of magic and mystery? Why, in some cases, do we want so badly to emulate them or be them? Here I give you the top five reasons why we so idolize elves, even the bad ones.
5. An Air of Mystery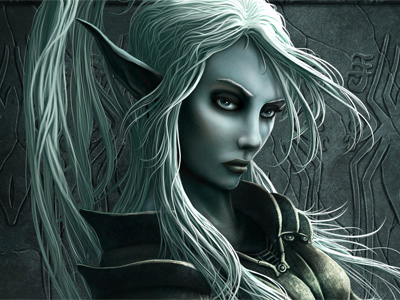 I'm not sure of any serious work of fantasy or myth where an elf can be found at your local pub or down by the shopping mall. They are elusive creatures, clinging to their own kind or to their own devices, perhaps even aloof. We mere humans have always had an attraction to the unknown and the distant. After all, how else would we have discovered the New World or gone to the moon? Elves are the mystical counterpart to that. They are an exclusive club that we want to join, but can't. They're that word you're looking for but can't remember. Even when you learn something about the elves, you learn that you don't know nearly enough, and they're not sharing.
4. Magic and Abilities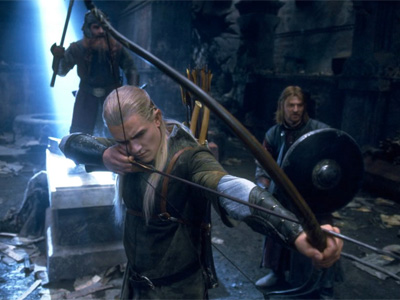 We remember Lord of the Rings, right? Legolas, besides being gorgeous (more on that in a minute) was agile, fast and a crack shot with the bow and arrow. Lady Galadriel was described as "the mightiest and fairest of all the Elves that remained in Middle-earth," had the ability of telepathy, and was entrusted with one of the the three rings for the elves. In Norse mythology elves have a close association with the gods, and have a home in heaven called Álfheimr. In many traditions, including Norse mythology, Germanic mythology, and English mythology, they generally live in seclusion and use their powers to interfere or help humans, yet are removed from human existence. Heck, even Christmas elves have the magic to make toys for all the kids the world! Even when they are being pranksters, they are using magic — how cool is that?!
3. Appearance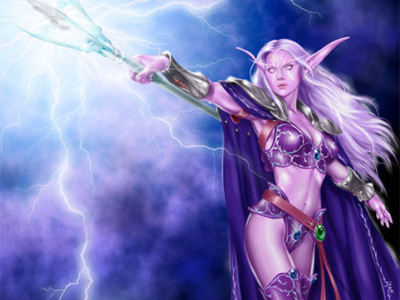 You have ten seconds — name me an ugly Elf. I'll wait. I couldn't think of one off of the top of my head either. Elf appearance will vary by type — you have High Elves (always pretty), Wood Elves (Silvan, etc), Dark Elves, Dökkálfar (Black Elves) in literature, and Ljósálfar (Light Elves) in mythology. Ljósálfar are described as being even more fair than the sun, and we anyone who has read or watched Lord of the Rings can easily see Arwen, Galadrial, Elrond, and Legolas in this category. They are gorgeous — even in the heat of battle not a hair is out of place. Who wouldn't want to be the pinnacle of beauty?
The Dökkálfar were originally described as swarthy and black as night, but when you look at their more recent counterparts — say, the Night Elves in World of Warcraft — they are still tall, thin and attractive. Even the Blood Elves for the Horde are still gorgeous, just with different coloring. Another thing of note: if you do for some reason find an ugly elf, you know that there's a 99.9999% chance he or she wasn't born that way, they morphed that way after doing some dastardly deeds.
2. Awesome Names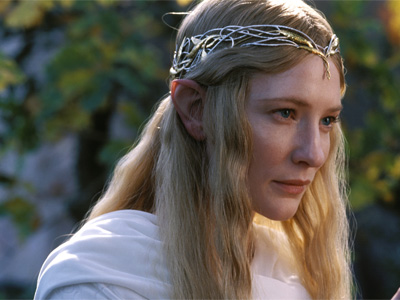 Elven names are ethereal, mystical and exotic.  Would you rather be named Jane or Arwen? Cindy or Irimë? John or Celeborn? Dave or Fëanor? For cool factor you probably picked the Elven name every time. Now, this isn't as universal as the previous reasons. Tolkien did name an elf Nimrodel. Nim Rod… el. That's how I have always read it and that's not exactly flattering. However, in general elven names seem beautiful and different to our ears. Lyrical and enchanting, they reflect that elves are not human, they are set apart, different but exciting. I'd rather be Galadriel, mightiest elven lady than Kelly, office worker, student, and occasional writer.
1. Longevity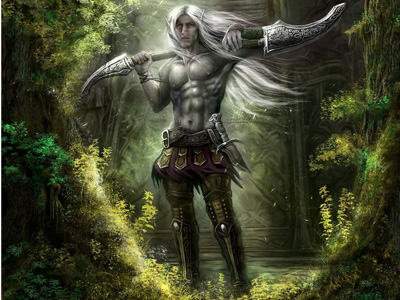 This is, in my opinion, the biggest reason for elven envy. We mere humans are going to live to 100 if we're lucky. Elves, depending on your mythology or author, are either immortal or incredibly long-lived. They can be killed by misadventure or murder, but they're not going to keel over of old age (mostly). I don't know about you, but I think my time here is going to be too short. What person hasn't wished for some version of immortality or just a little longer life? One of the saddest facts about being human is that one day our time on Earth is over, but man, if we were elves, think of all of the stuff you could do!
---
What did I miss? Why do you think people fantasize about and idolize elves? What other advantages are there to being Elven?