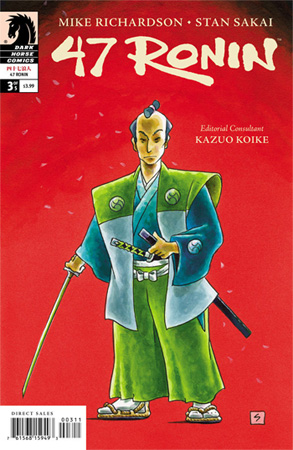 I was interested in 47 Ronin for several reasons. For one thing, I love Japanese culture and for another, I saw that they were making a movie called 47 Ronin. The story of 47 Ronin is based on a true story of forty-seven ronin who avenged their lord, Asano Naganori, who got into an altercation with Kira Yoshinaka, a court official.
Note: This recap may contain spoilers!
Kira demanded justice and Asano was forced to kill himself. Asano's counselor, Oishi Yoshio, takes it upon himself to rally Asano's other samurai; however, Oishi plays it safe for the time being.
He convinces a few of the samurai to take an oath, binding them to Oishi's decision. Oishi and his men peacefully leave Castle Ako and disband. However, Kira believes that the samurai from Asano's clan will try to kill him. He petitions the Shogun frequently, requesting protection, which the Shogun denies. It also seems that Kira's paranoia about Asano's samurai killing him has caused a rift in his extended family, as he is constantly spending money, but not bringing much back in.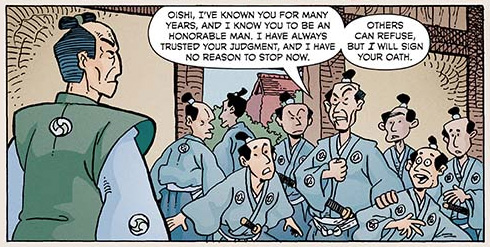 Meanwhile, Oishi learns that the Shogun has ordered the arrest of Asano's younger brother and heir. Oishi begins to plan and gathers the men who took the oath to him. He says that they must now avenge Lord Asano, even though it means death. A few of the men leave and are let out from under their oath. Those who remain must convince everyone else that they have given up and are without honor, as they will not avenge their lord. This will bring Kira's guard down and make it easier to strike at him.
I really did enjoy this comic. The history and story are very interesting and even though I know it can't end happily, I want to know what happens. The art style was a bit strange to me at first, but as I got into the story, I barely even noticed it. If you like Japanese history or comics about samurai, then you definitely want to check out this comic.