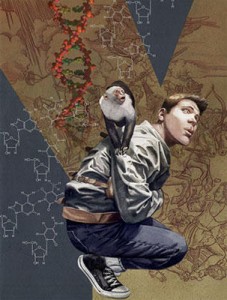 Wizard Magazine celebrates its 200th issue this month, and as a feature in the anniversary edition, the staff has assembled a list of what they consider to be the 200 greatest comic book issues released during their time in publication (July 1991 to current). Here's a look at their top 10. To see the full list, check out the newest issue of Wizard on stands this week.
10. Dark Horse Presents Fifth Anniversary Special
This special was an anthology comic spotlighting a number of creators and stories under the Dark Horse banner. The feature that brought this issue to the list was the debut of Frank Miller's Sin City.
9. Daredevil Vol. 2 #1
Kevin Smith made his mainstream comic writing debut here, and this issue is also considered by many to be the cornerstone of the modern Marvel universe.
8. Identity Crisis #1
Brad Meltzer used Identity Crisis to thrust the DC Universe into a new age of darker, edgier stories. The fallout would lead to Infinite Crisis and eventually Final Crisis.
7. Bone #1
Wizard cites Bone as a pinnacle series that has everything about a fun comic book experience, sans superheroes. It broadened the breadth of what a good comic series could be.
6. Preacher #1
Preacher broke down barriers of what could be printed in comics. It combined brilliant storytelling with engaging characters and maturely deep themes to make "graphic" entertainment acceptable in comics.
5. Superman #75
The Death of Superman was a media juggernaut that transcended comics fandom and became a press event. Superman's (non-permanent) death became the paving stone for future mass media event comics.
4. Sandman #50
Neil Gaiman's Sandman is one of the most revered comics series ever published. Many proclaim it to be the series that launched comics from being niche entertainment into a literary art form. Wizard names #50 as a fine example of the best the series had to offer.
3. All Star Superman #1
In this All Star retelling, Grant Morrison and Frank Quitely create a Silver Age comic with modern appeal, something that previously was successful only in non-mainstream titles. They distill the essence of Superman and make a simple but powerful and enjoyable tale.
2. Marvels #1
Marvels is a wartime story about the world's first superheroes, as told through the eyes of a photojournalist. Kurt Busiek and Alex Ross collaborated for this comic that Wizard calls "a revelation, a sign that comics' transition from kiddie pastime to respected art form was undeniable."
1. Y The Last Man #1
It's hard to argue that Y The Last Man doesn't deserve a spot at the top of nearly any best-of list of comics. With its strong quest story, palatable social commentary, and unforgettable characters, Y is well placed here.