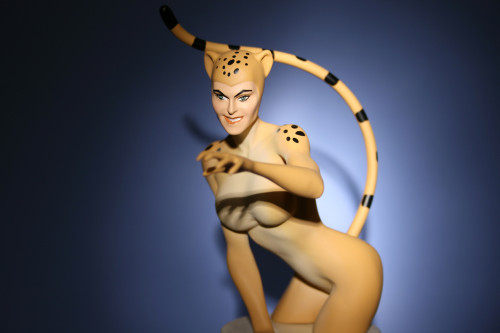 DC Direct rolled out the next in their line of Women of DC busts this week with the release of the Cheetah bust. Cheetah is the third release in series two of the Women of DC bust line. Series one featured DC girls based on the art of Adam Hughes, while this current series features likenesses based on the art of Terry Dodson. The previous two releases in series two were Wonder Woman and Starfire.
From the tip of her tail to the bottom of her base, Cheetah stands just shy of six inches tall. The character's design is reminiscent of Cheetah's look in the old classic Super Friends cartoons. The base is a standard cylindrical one, but it features some neat claw mark details on it. Cheetah is limited to 3500 pieces and retails for $49.99. This is a great line for DC fans and collectors, as the pieces generally are very affordable and deliver a lot of detail for the buck. The series continues to grow month by month, and the next few releases on the horizon include Batwoman, Wonder Girl, Catwoman, and Huntress.
Check out the Flickr gallery for the full-resolution shots or just click the thumbnails below for more pics of this piece:
( Women of DC Cheetah Bust set at Flickr )
Jason is the founder and managing editor of Fandomania. He is severely into toy collecting, plays a worryingly large amount of games, watches way too many movies and TV shows, and reads more than his fair share of books and comics. He also likes guacamole.