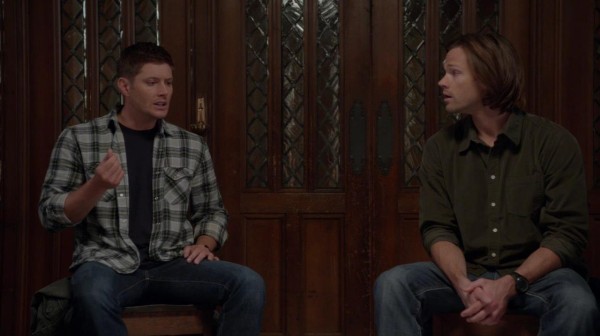 The Winchesters have been re-virginized! Yeah, like that was ever going to work out. But desperate times call for desperate measures, and when members of a church chastity group start dying, it's up to the boys to figure out what supernatural creature may be to blame. It's a fun ride, with a beloved guest star returning to the fold. Oh, boys.
Note: This recap may contain spoilers!
Even before we get on with the virgin sacrifice fun, how awesome was it to see Jody Mills again? The last time we saw our favorite sheriff, she had been on a date with Crowley and was choking in the bathroom as a result of a spell he cast upon her. We did not know if she survived or not, so it was a pleasant sight to see her turn up again in this episode. Poor Jody has been through a lot in her short association with the Winchesters, but she's survived it all. Based on the fact she's weathered so many losses, from her husband to her child to Bobby, and has been at risk of losing her own life countless times, I can understand why she needed to reach out and have a connection to the church. Sadly, the boys' faith in the powers above are a bit shakier than Jody's. She's learning all kinds of things about what lurks in the dark.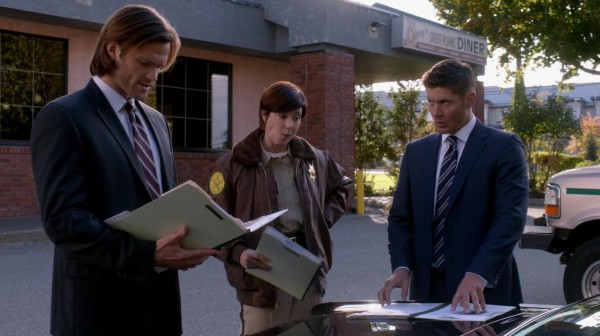 The case that Jody calls the boys in for has to do with a neighboring church group whose members have started to go missing. Turns out that they were all also members of the Abstinence Purifies Us (APU) chastity group. Virgins? Dean is there! Having the boys go undercover in the group was funny, though I do wonder why they used their real names on the pledge. Does undercover mean nothing anymore? Don't they still have warrants out for them? Or files saying they're dead twice over? I guess after you weather the apocalypse and Lucifer and angels gone crazy, a little thing like law enforcement doesn't hold much danger. For whatever reason, they got in under their own names and then engaged in some share time. Or in Dean's case, some over-share time. His little confessional about how good sex feels had all the ladies' motors running. Then again, Dean has a better association with sex than Sam, whose confession was spot on. Every relationship he's ever had has indeed ended badly… because they all died. Sam Winchester's "penis of doom" strikes with vengeance time and time again.
When Dean first recognized Suzy, I thought perhaps they had been intimate prior. Dean gets around, and maybe the girl just didn't want to acknowledge their coupling because of how they left things. But no, there was another reason for the recognition, and it harkened back to a long-standing association Dean has with the finer-quality Casa Erotica porn he so loves. Leave it to Dean to go into a church chastity group and find a porn star. Their interactions were great, and it's good to see that Dean's sexual prowess hasn't been dampened by his worrying over Sammy. Baby brother, however, didn't fare so well in choosing which group member to interview, considering Tammy turned out to be Vesta, the Roman Goddess of the Hearth and their monster of the week. That revelation was a bit predictable, but I can forgive it for the fact that Jody was the hero who saved the day. Dean was still locked up, Sam got knocked out again, and Jody was strapped down with a stake through her chest, but don't ever count the good sheriff out. Not only did she get free, but she pulled the stake out of her chest and stabbed Vesta with it, saving the boys in the process. So cool!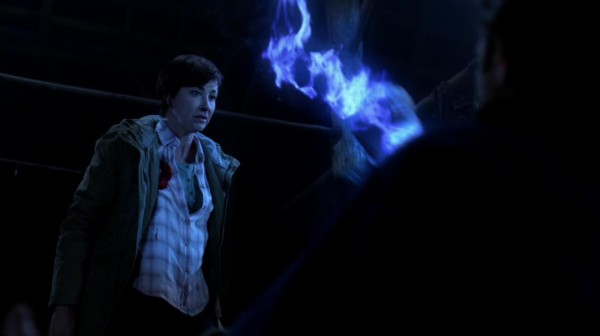 The end scene round-up, after Jody's departure, ventured into more emotional exchanges that hurt my heart. Poor Sammy has been told by two baddies so far that there's something wrong with him. Rather than considering that it's an outside force influencing him, he internalizes it and thinks he's forever stained as a freak, something not normal. I really thought Dean might finally get the truth out, that Sam would know it's not all on him, but of course Zeke has to pop in and ruin it. The angel in residence isn't really helping Sam at this point, as evidenced by the fact that Sam's constantly tired. Instead, Zeke is using Sammy for his own purposes and gaining strength from the Winchester. How is Sam going to know about the situation if Zeke never allows Dean to get through to his brother? This is not going to end well. I feel like some heavy stuff is going to go down next week and we'll be left with a mid-season cliffhanger that's filled with death and anger. One more week before the long hiatus.
Rating: 5 / 5 Stars
Screencaps by spn-caps