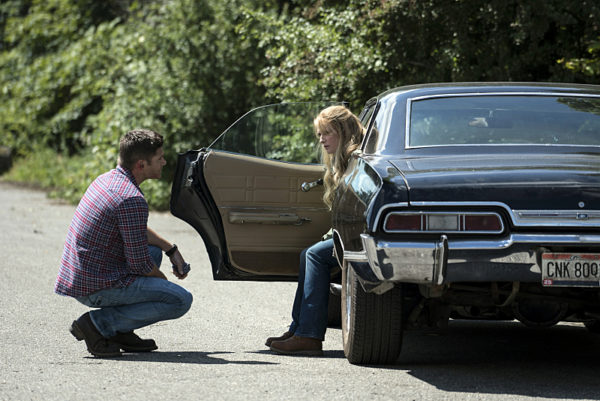 The boys are back for Season 12! Although they are separated and in peril at the moment, with lots of issues to deal with, the premiere sets us up for all kinds of possibilities in terms of family dynamics.
Note: This recap may contain spoilers!
I'm very much looking forward to the evolving issues that will surround Mary's return. Here you have a woman who escaped the life of hunting and didn't want her sons to grow up in such an environment, then returns from the dead 33 years later to find that everything in her world has changed. Not only does she have to deal with the changes in society, but also the fact that her sons are grown men who have taken up the mantle of hunting and were raised in such a life by a husband she's now lost. It's a lot to take in! Though, I did love hearing Dean recall Mary and John's first meeting, her background, and all the memories that were passed down to Dean from John. It's going to be great to get more backstory on Mary and the Winchesters' early lives.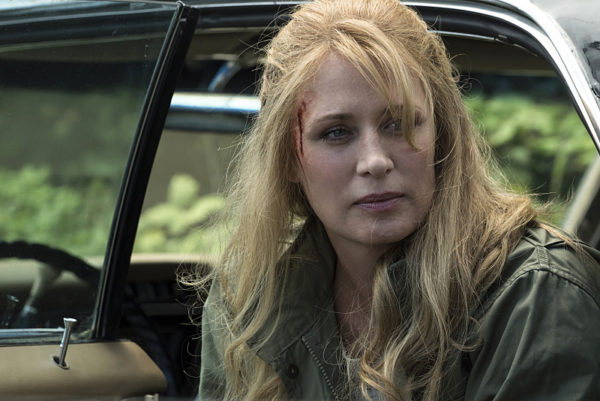 What I am going to find most interesting, I think, is the dynamic that will be in place between Mary and Dean. He's got this idolized vision of his mother, seen through a four-year-old's eyes with touches from other instances where he's interacted with Mary during time travel. But in the end he's going to have to deal with the reality of Mary versus the memory of her, and it's not going to be the same. Just as she's having to learn who her sons are, Dean's going to have to learn who his mother is. Sammy, I think, will have an easier time of it because she's always just been a memory for him, but Mary's touched Dean's life in many ways, and it'll be interesting to see how that all comes about. I foresee some conflicts as well, because Mary never wanted her sons to hunt, yet she was raised in the life with certain principles that are bound to be different than the rules Dean and Sam have created for their own survival. So many rich possibilities for storytelling.
But first they've got to rescue poor Sammy from his current situation. The man's been shot, tied up, and tortured by Toni and her minion, but he still hasn't broken. I do wonder about Toni's information, because she still hasn't understood that the Winchesters have suffered through multiple problems prior and always come out the other side stronger. What did she think would happen by kidnapping Sam? That he would break after the first torture session? Not likely. Plus, Dean is going to raise a whole lot of destruction once he gets his hands on her. And now that they've got Momma Winchester along for the ride, the London Chapter of the Men of Letters aren't going to know what hit them.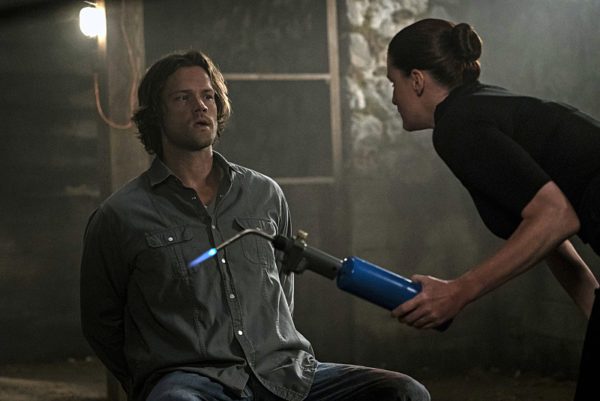 Cas and Crowley were…there? I felt like their appearances were pretty much a warm-up, getting ready for the new season's storylines. Next week, I can foresee more involvement of both (especially Crowley, with Lucifer's new vessel), though Cas does seem more angry and ready to beat people up. I can appreciate this turn of events, as it makes him more interesting to me. And I like that Cas and Mary can relate in terms of not understanding modern society.
My favorite part of the episode is hard to choose, but I have to say that Mary fawning over Baby and Dean slowly realizing that the emotional re-connection had evolved into Mary recalling all the sex she used to have in that car. Hilarious! That car has seen plenty of action from all the Winchesters in her lifetime. And even though Mary never wanted it for her kids, the Winchesters can never escape the hunt. They have to keep fighting, keep hunting. It's in their blood. There is no happiness, just survival. It's the Winchester way. And Season 12 is off to a fantastic start!
Rating: 4 / 5 Stars
Screencaps by SupernaturalWiki