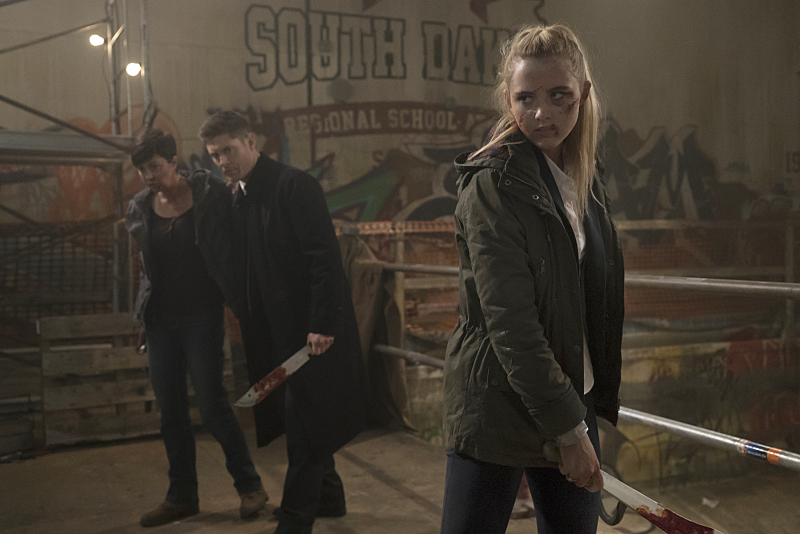 The show took a brief detour from the main arc so that we could visit Jody and the family. I'm okay with that! One-off episodes offer a break from the tension that often builds as the storyline amps up in the back half of the season. And this time we got some domestic drama, an old school case, and fantastic jokes at the dinner table.
Note: This recap may contain spoilers!
The girls are back in town! Mama Bear Jody Mills and her adopted daughters Alex and Claire took center stage in this episode and reminded me once again that Supernatural has a perfect set-up for backdoor pilots if they'd just focus on their female characters. Wayward Daughters is a winning combination!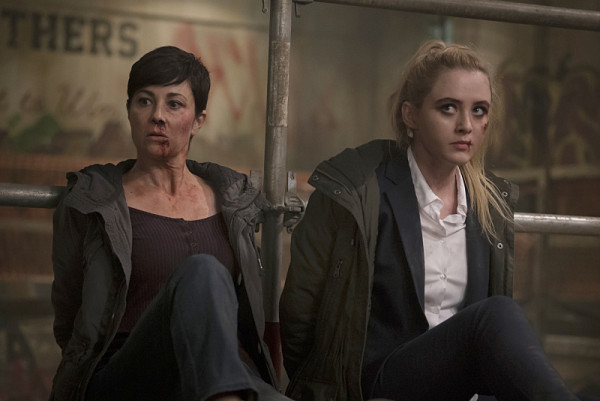 I always like seeing Jody, and then to see how she's handling raising two broken girls shows how strong she really is. It was interesting to hear how she's second-guessing herself, though, about the fact she isn't really their mother. Yes, she wasn't there when they were small, but she's undoing a lot of the damage they suffered and that's most important. They need a strong, maternal force to help guide them.
It was great to see where Alex and Claire have gone since the last time we saw them. Not that I expected their lives to have suddenly turned around and everything be flowers and candy, but they're surviving. Both of them are going to have mental trauma from their experiences, past and present, and I doubt they'll stick around Jody's house for more than a couple years, if that. But with Jody there to guide them, maybe her lessons will follow them out into the world. Claire's got to learn how to be a good hunter, and Alex has to get far away from the hunting life if she has any hope of being safe. But for now they're a family.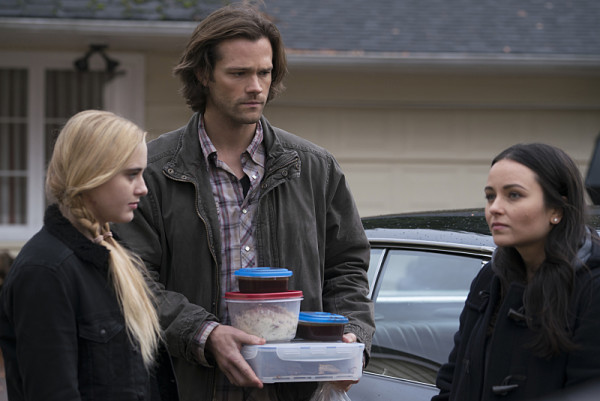 I was sad that Alex's attempt at normality got crushed, and that her past keeps haunting her. It seemed like she was finally well-adjusted, making good grades and having friends, but alas, she will always be tainted. And knowing that it was all a lie, what will that do to her? She might make it through high school, but what then? I fear the vampires are never going to leave her alone, and that the hunting life will always be nipping at her heels. Claire has the same issue. She has family and school for now, but hunting and death will never be far behind. Normality is never going to be in the cards for her, not after what she's gone through, but hunting gives her an identity again. The mirror on Dean and Sam's lives was not lost. The Winchesters can understand exactly what they're going through.
As for Dean and Sam, the domestic drama and banter was nice. I like seeing the boys kick back and be brotherly, without the weight of the world on their shoulders. Not sure why they acted like they never got a good home-cooked meal, since they both do pretty well in the bunker's kitchen, but it was sweet that they were gobbling up Jody's food. And trying to stay out of the whole sex education talk. Jody should not look to Dean or Sam for support in the area of abstinence because their sexcapades often end with dead partners for Sam or psychopathic ones for Dean. Jody's definitely a better guiding influence for the girls.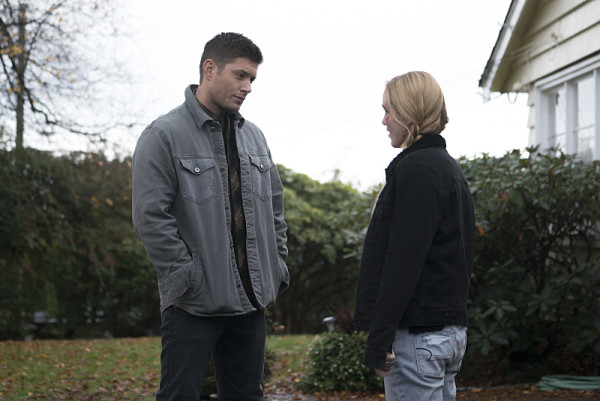 All in all, it was good step away from the main arc for a bit. When we do return to the Darkness and Cas and all the trouble that involves, we'll at least be emotionally ready for it. Let's hope Alex and Claire and Jody will continue to be okay in the meantime.
Rating: 4 / 5 Stars
Screencaps by SupernaturalWiki