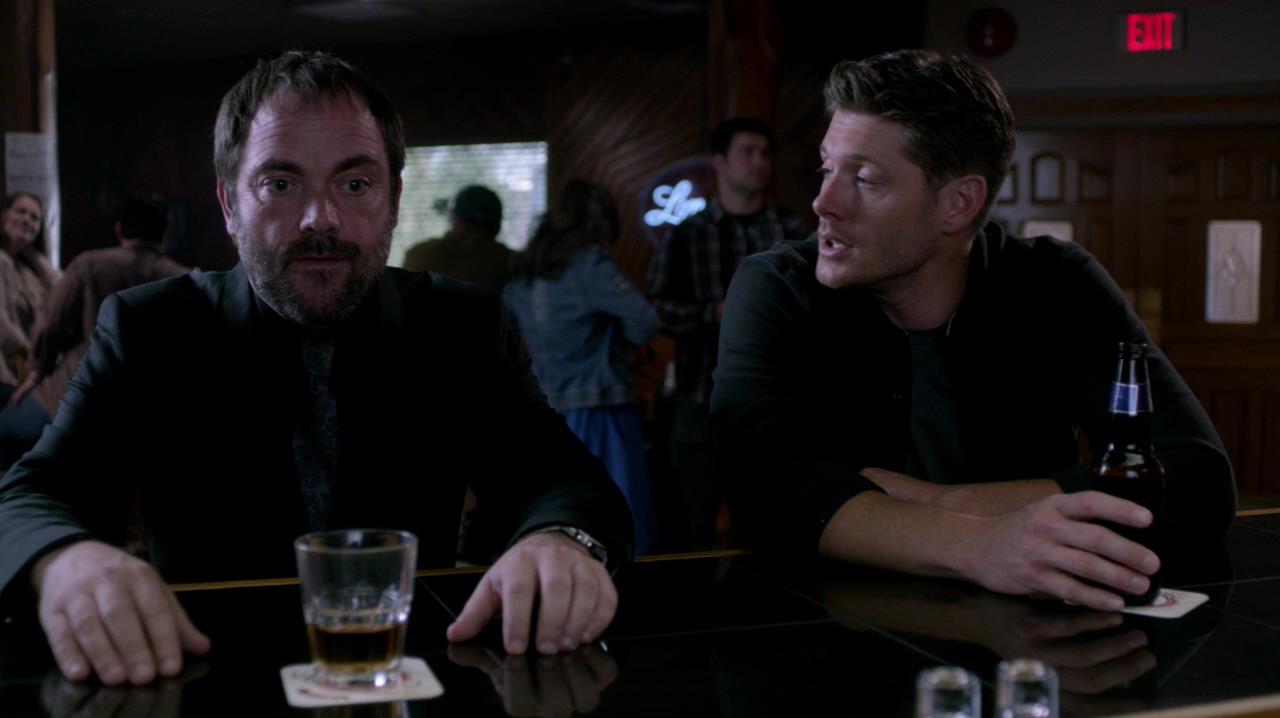 The boys are back in town! A little worn, a little broken, but the Winchesters were both in fine form for the Season Ten premiere. Sam's injured and trying to find his missing brother, Dean's having demonic fun with Crowley, and I'm just waiting for the inevitable time when brother meets brother. It's shaping up to be a wonderful year!
Note: This recap may contain spoilers!
First off, glad to see they worked in Sam's shoulder injury realistically. I knew that Jared would be wearing the sling, since he mentioned it, but how to integrate it into the script? Well, turns out trusting Cas is a bad move. When your brother is missing and your only available partner is a weakened angel, you're a key target for bad guys. But he's doing the best he can with the situation he's been dealt. Sammy may be thinner and not as mobile, but he's ultra-scary when he's torturing a demon for information on Dean. I feel like the monsters, and maybe even the audience, underestimates the level of danger Sam can often impart. He's a Winchester. He will get answers one way or another, with or without the other person's cooperation.
One item that I was unclear on, and maybe I just missed it, was the continuity of Sam's assumptions of Dean's fate. He had books on possession, which meant that he must have suspected Dean was possessed and that was how his brother left the bunker and went missing. Dean even left the "Sammy let me go" note before his departure. However, Sam seemed surprised when he saw Dean's eyes flash black in the security camera. So, did he not assume possession despite his research? It was just one sticking point for me, but I'm willing to overlook it.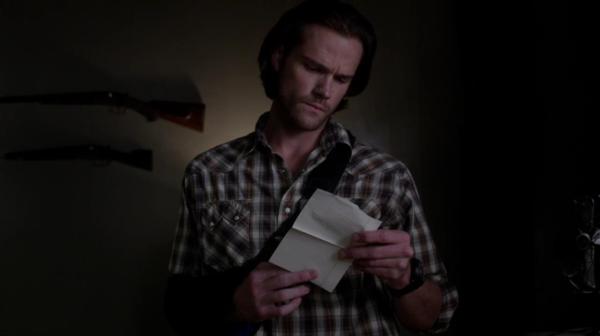 Sam's former partner-in-arms, Cas, is pretty messed up himself. His health is failing and he's slowly dying. He already got Sam injured, and now the younger Winchester is trying to put distance between them. But that's okay, because Cas has his own issues to death with — namely, Hannah and the Heaven situation. She knows his grace is failing and it's only a matter of time before he fades away. She also knows that Heaven is in disarray and they need Cas to help out and get the final rebellious angels in line. I personally liked Daniel and Adina, with their free will and desire to stay on Earth. Too bad Cas had to kill off Daniel and injure Adina. Yes, she hurt Cas and Hannah, too, but I favor more the "let's talk it out" approach than Hannah's "attack first and ask questions later" method of dealing with rebellion. Cas needs to get his head on straight and get his grace taken care of.
Meanwhile, Demon!Dean was certainly living it up! He and Crowley were the danger twins, even if Crowley was growing tired of it. Demon!Dean couldn't sing (but neither could Human!Dean) and he had lots of sex (just like Human!Dean). The only difference was how uncaring he was about his bed-partners and how violent he got in fights. Well, that is, until the end where the drastic difference was revealed. But there was a lot of storyline before we got to that point. And there was a lot of Crowley-Dean buddy-buddy fun to be seen, even if Crowley is still pulling the strings in an attempt to control his new project.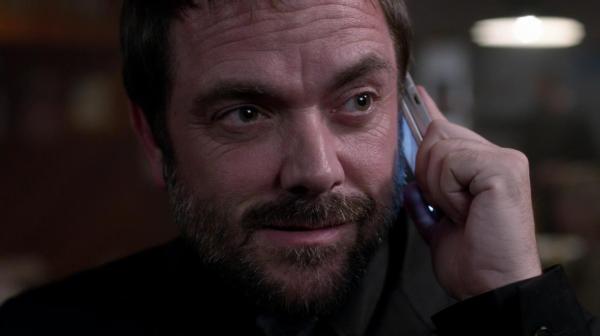 The fact that Crowley sent all those demons for Dean to kill, that he's manipulating him constantly and made it so that Sam could track the call, that's going to come back and bite him, just wait and see. He thought he could control Demon!Dean, but he can't. And now he's got Sam vowing to kill him dead when he finds him. Crowley better watch out for a charging moose in his future. I did appreciate the shout-out to the Purgatory situation, though. "Your brother and I were beginning to wonder if you'd hit another dog." Such a subtle line, but it means so much. And it just makes Sam more determined to hunt down the King of Hell and make him pay.
Cole's another character who is going to prove interesting this season — I have no idea what Dean did to him (yet), but that man is on a path of vengeance like no other. With an injured arm, poor Sam was down in two seconds flat, but his worth as a bargaining chip didn't come to fruition like Cole was hoping. The brothers are each others' weakness and everyone knows that, which is why the bad guys always tend to go after one brother to lure the other one in. That was all well and good before, but the rules have changed now that Dean's a demon. He appears to not care about Sammy, would rather leave him to his own fate than get involved. That's what hurt the most in this whole situation. Bad singing and sex-fiend Dean is fun, but when he doesn't care about his little brother, the joke's over. I hope it all works out in the end, before my heart breaks even more.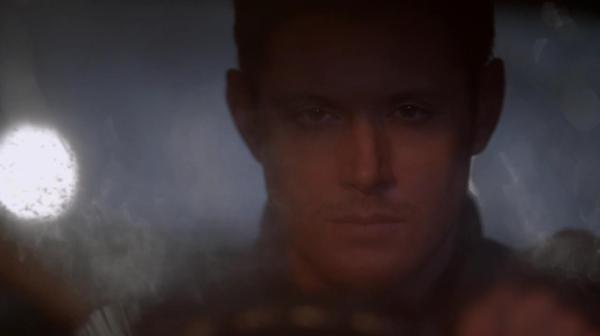 Rating: 4 / 5 Stars
Screencaps by homeofthenutty