Episode: Once Upon A Time 1.22 – "A Land Without Magic"
Original Air Date: May 13, 2012
Screencaps by Spinneresque.
In the Season 1 finale of Once Upon a Time, Emma and Regina team up to save Henry's life, and Prince Charming searches for his one true love, Snow White. If you haven't seen this episode, major spoilers follow in this review.
In fairy tales, we expect heroes, villains, intrigue, epic battles, and happy endings. In season finales, we desire to be entertained and surprised more than the previous episodes to achieve viewer satisfaction. "A Land Without Magic" delivered on all counts with thrilling and larger-than-life events from the first minute to the last, even down to my favorite — the ultimate fantasy battle as the hero faces a mighty dragon. The quality of this episode proves why Once Upon A Time has given ABC a successful fantasy series on network television, a win for fans of the genre.
Prince Charming breaks free from the Evil Queen's soldiers. As he races through the castle to freedom, he's blocked by two more soldiers, one with a bow and arrow pointed straight at his heart. Instead of shooting Charming, he shoots the other soldier. He pulls off his helmet, revealing that he's the Huntsman and the awaited return of guest star Jamie Dornan who won fans' hearts earlier in the season as Sheriff Graham. Charming doesn't know him or whether to trust him, but the Huntsman is a friend of Snow White. He shows Charming the way out of the castle. Charming urges the Huntsman to come with him. The Huntsman sacrificed his own heart to the Queen to spare Snow's, and cannot leave.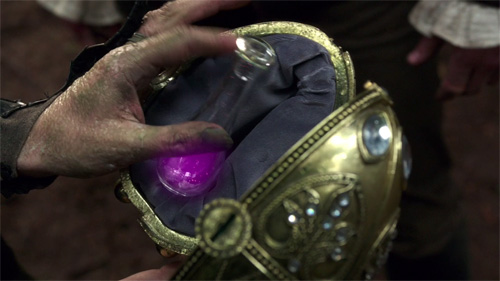 Henry is rushed to the hospital emergency room; Emma at his side. Panicked, Emma explains to Dr. Whale that Henry ate a poisoned apple tart. But Henry isn't showing any physical sign of poisoning. Dr. Whale is baffled; there's no explanation for Henry's condition except magic. Emma dumps out Henry's backpack looking for clues. When she picks up the fairy tale book, she sees flashbacks and realizes she is the child of Prince Charming and Snow White, the Savior of the Fairy Tale world. Regina rushes in, frantic with worry over Henry. Emma drags her into a supply closet and roughs her up, demanding to know if it's true. She tells Regina Henry ate the tart meant for her. Regina admits and confirms that everything Henry believed is true. The tart used the last of Regina's magic. There's nothing she can do to help Henry. There's only one person who may be able to help — Mr. Gold, the one and only Rumplestiltskin.
Through her mirror, the Evil Queen throws Prince Charming into the Infinite Forest. Rumple sits in the forest, waiting on Charming to arrive. He offers to help Charming get out of the forest and find Snow White. Rumple enchanted the ring given to Charming by his mother so that he will be able to locate Snow White. But Charming must make a deal with Rumple. Charming chooses No Deal. He pulls and swings his sword against Rumple, who catches the blade then disappears. He reappears bearing his own sword. A duel of steel between Charming and Rumplestiltskin, the first epic battle of the finale, delivered with the panache worthy of an Errol Flynn classic by Josh Dallas and Robert Carlyle. Rumplestiltskin comes out the winner. Again, he offers Charming a deal. Bravery won't get him out of the forest, magic will. It should be an easy choice because they both want Prince Charming and his true love to be together.
David apologizes to Mary Margaret. Since he woke up from the coma, the only thing that has made sense to him is his love for Mary Margaret. Unless Mary Margaret can give him a reason to stay, he's leaving Storybrooke.
Rumple shows Charming the potion he created from true love. True love must be protected at all costs. It has the power to break any curse, but can slip through one's fingers. Rumple wants Charming to help by putting the potion in a safe place to save for a rainy day — the belly of the beast.
By the time Emma and Regina arrive at his shop, Mr. Gold/Rumple knows about Henry's tragic ailment. They need powerful magic to help him; the magic of true love. From strands of Emma's parents' hair, Rumple bottled true love. When he created the dark curse, he placed a single drop of the potion on the parchment as a safety valve. The curse can be broken by the child of Snow White and Prince Charming, a child of magic. Emma doesn't care about breaking the curse. She just wants to save Henry. Gold/Rumple still has some of the potion hidden away. The catch is retrieving the potion. Emma's the only one who can get it, and it's hidden in a special hiding place — a place Regina holds the literal key to. Gold/Rumple gives Emma a gift, her father's sword, to aid her.
Before she leaves on the mysterious errand, Emma places the fairy tale book under Henry's pillow. As a distraught Regina visits Henry, she gets a visit from Jefferson. He's come to collect on their deal, to get his daughter. Since Emma didn't eat the apple, Regina considers their deal null and void.
Emma goes to see August. He's lying on his bed, his torso and extremities turned back to wood. Emma can see his true state now that she finally believes in the curse. She doesn't believe she can break it without his help. The situation is too much for her to handle on her own. She's just talked to Rumple and the Evil Queen about a quest to find magic. No normal person can do what she's being asked. With his last words, August reminds her she's not normal. She has the ability to save Henry and everyone else. As he finishes speaking, he turns to solid wood.
Sword in hand, Emma meets Regina at the appointed place. To reach the place where the potion is hidden, Emma must ride in a rickety metal elevator. The elevator requires two people to operate, one inside and one outside, so Regina must stay at the top to work the controls. They have no choice but to trust each other. For Henry, Emma is willing to do anything, even work with the Evil Queen. She gets on the elevator.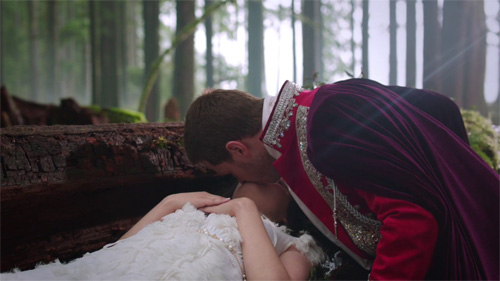 Back to FTL, another queen sits on her throne. Secretly, Prince Charming enters, holds his sword to her throat and demands the whereabouts of the beast that reigns over the castle. With magic, she throws him down the stairs. She says she is the beast and her name is Maleficent, then she transforms into a dragon!
The elevator ride ends deep in a cave system connected to the mines. Emma finds the glass coffin. She backs against the wall. Next to her, a large malevolent green eye opens. Unnerved and astonished, Emma finds herself faced with a dragon.
Prince Charming has his own dragon problems. Straight from the pages of a fairy tale, the dragon is fierce, believable and it's a Dra-gon. Oh right, it is a fairy tale! The background music for the episode was brilliant. Major bravos to show composer Mark Isham, who provided incredible music all season.
The juxtaposition of the two clashes — father and daughter battling the same creature with the same weapon in two different places and times — was one of the sequences that made the episode so fantastic for me. An epic dragon battle — how else should a fairy tale be told? Nonetheless, Charming struggles to place the treasure into the creature, and Emma's conflict is to retrieve the treasure at all costs or Henry (and everyone) is lost.
At the hospital, Henry flat-lines. For his revenge on Regina, Jefferson rescues Belle from the locked and guarded section of the hospital. He instructs her to find Mr. Gold and tell him Regina was the one who locked her up.
Rumple gives the enchanted ring to Charming so he can find Snow. By magic, he changes the Prince's simple clothes into an outfit fit for a Prince.
Out of options, Emma throws Charming's sword at the dragon. It hits home and the dragon dissolves in fiery ashes. All that's left is the golden egg with the vial of potion inside.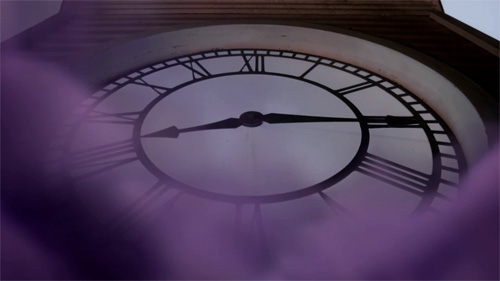 Following the ring, Charming finds Snow inside the glass coffin and the dwarves grieving around it. The dwarves open the coffin so he can say a last good-bye. He kisses her, and, well, we all know how this story ends.
On Emma's ride up, the elevator comes to a sudden stop. Mr. Gold appears over the edge. He convinces her that Regina has left and to toss him up the golden egg. He leaves and she has to climb to the top. She finds Regina tied up. Mr. Gold/Rumple tricked her. Emma and Regina get calls from the hospital. By the time they arrive, Henry has died. They're too late to save him.
Mr. Gold gets the shock of his life when Belle walks into his shop. He truly believed she was dead. Belle, under the effect of the curse, doesn't remember him.
Emma approaches Henry's bed. She whispers, "I love you" and kisses his forehead — true love's kiss. Henry wakes and the curse is broken. All the Storybrooke residents remember who they really are. The Evil Queen/Regina needs to find a place to hide. For Snow/Mary Margaret and Charming/David, they find each other once again, and it's darn well about time. Belle remembers her love for Rumplestiltskin and even he gets a happy ending. But, there's something else he must do first. Gold/Rumple goes to the wishing well and pours in the remaining potion.
The smoke monster is released from the hatch and takes over the island — whoops, transported to the wrong show for a minute there. My daughter and I both yelled, "Smoke Monster!" when this happened. It was a very Lost-y moment. I guess the difference is this one is the Purple Magic Smoke Monster.
Everyone has remembered who they are, but no one has returned to FTL. Something bad is coming. Rumplestiltskin is using the potion to bring magic to the land without magic. The magic smoke engulfs everyone and everything, and, once again, it's 8:15 in Storybrooke.
Ava DiGioia is fueled by coffee and chocolate and doesn't believe one can have too much of either. She is a Georgia girl who lives in North Texas and watches too much geeky television. When not writing, she is employed as a cat herder and a teenager herder.