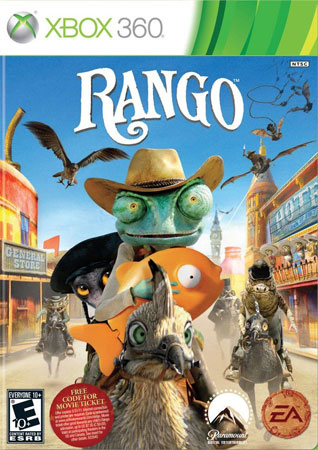 The Johnny Depp-driven animated feature Rango has been racking up big numbers at the box office, and EA released its companion video game this month on the Xbox 360, PlayStation 3, Wii, and DS. Here's a look at the 360 version in all its genre jumping glory.
There's a well earned and sadly deserved stigma that licensed or adapted video games tend to carry. More often than not, games based on movies suffer from rushed productions, haphazard design, and an overall sparsity of quality. That stigma has been reaffirmed by game after game for years, but lately we've been seeing some licensed games that break out of that unfortunate box. Batman: Arkham Asylum is one of the best games that released in 2009, the Wolverine Origins game by most accounts is better than the movie itself, and even the Cloudy with a Chance of Meatballs game has a clever and fun vibe. Thankfully, Rango is the latest in this new wave of licensed games that surpasses expectations.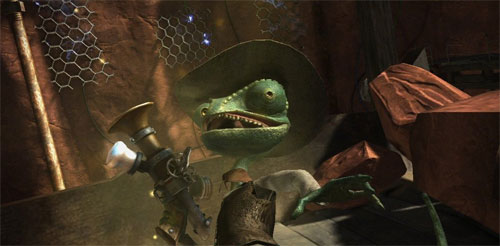 The Rango game doesn't follow the plot of the movie. Rather, it picks up with its reptile hero already in the western town of Dirt and installed as sheriff. The story involves his friend Beans's missing dad and some strange, glowing rocks that are somehow connected to his disappearance. Players take on the role of Rango as he adventures through level after level of platforming and action packed adventure on a quest to collect all the mysterious rocks and hopefully help Beans. The game opens with Rango recounting his recent adventures to the citizens of Dirt in the town saloon, and each level is a day's worth of action from his frame story.
Gameplay generally involves 3D platforming elements that will be familiar to anybody who has picked up a game like this in the past few years. Rango runs, jumps, and climbs are obstacles while fighting off the bad guys to reach the end of each level. As he proceeds he collects sheriff's stars that accumulate as a currency he can use to buy upgrades for his various attributes and abilities. His attacks vary from straightforward melee punches to tongue-lashing charged attacks to uppercuts that launch bad guys into the air to a couple of variations on gunplay. The fighting is fast and smooth, and it all flows well together to eventually turn Rango into a double-jumping, uppercutting, bullet juggling lizard of death.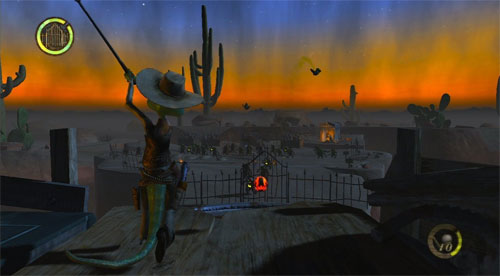 The platforming levels are broken up by several other types of gameplay, providing for some fun variety as the levels proceed. Occasionally Rango will find himself astride a roadrunner, bat, or some other steed in frantic "driving" segments. Rango must guide his mount over, under, and around obstacles while firing his gun at destructible objects, as well as at the inevitable bad guys trying to chase him down. Other parts of the game pit Rango against bigger enemies and require that he sneak around in this game's version of stealth levels. And still more segments will have Rango playing golf or firing golden bullets, both of which must be steered in mid-air to hit precise targets. Any game with well implemented steerable bullets in slow motion is worth a try.
All the different gameplay modes and components work well together, making Rango a truly fun experience. The environments and characters lend to the fun and charm, too. Rango usually will be going up against various sorts of rabbits, rodents, and bugs, but there's a lot of variety among the villains, and Rango will have to adapt to different tactics in fighting each of them. The level design sports a lot of neat details that reinforce the scale of the game and occasionally make everything feel a little surreal. Rango will run through train cars assembled from upside down suitcases, he'll hide behind sardine cans, and he'll even encounter a monolithic deflated bike tire at one point. Even beyond the items in the environments, Rango jumps genres several times, touching on and parodying everything from wild west stories to zombie invasions to sci fi adventures.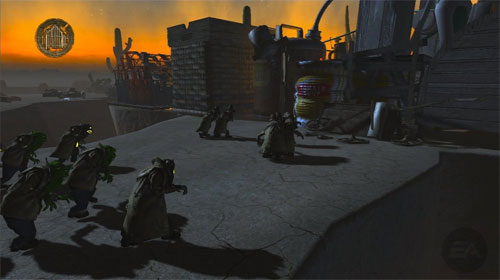 If you're a fan of action / adventure games and are looking for a fun platformer, you can't go wrong with Rango. While you might recognize familiar faces from the movie, you don't need to have seen the film prior to playing the game. Everything is presented in a straightforward manner that doesn't assume much prior knowledge. Go forth, and be a lizard sheriff!
Jason is the founder and managing editor of Fandomania. He is severely into toy collecting, plays a worryingly large amount of games, watches way too many movies and TV shows, and reads more than his fair share of books and comics. He also likes guacamole.