Game: DeathSpank
Platform: XBLA, PSN
Developers: Hothead Games
Publisher: Electronic Arts
Release Date: July 13, 2010
Rated: T – for Teen
When you need evil vanquished, justice defended, or a hero to the downtrodden, you call upon DeathSpank. The newest title from Monkey Island's own Ron Gilbert and developer Hothead games, DeathSpank is an action RPG that manages to be both a parody of the genre and a fun loot-snagging quest fest. The lead character DeathSpank, for whom the game is named, is a simple and naïve man who only wishes to become a hero. Much like Don Quixote, he's well meaning but most of the time gets mixed up in errands he shouldn't. The game begins with DeathSpank's lifelong journey to find a mysterious item simply known as "the artifact" finally reaching its end. Along the way he finds plenty of side quests and monsters to keep him busy.
One of the most unique features of DeathSpank is its fantastic art style. It first caught my eye at the Penny Arcade Expo last year on the show floor. It's modeled in a way so that the landscape and characters are three-dimensional, but items and buildings throughout the world are flat planes. It gives the effect of a pop-up storybook constantly rolling towards you as you move. It's a mesmerizing effect that I never got tired of, even when it became frustrating. Only when you discover you can't move because you're stuck behind some tree or chest is the art style a bit of a pain. I still forgave it since there is nothing else quite like it. Apart from the interesting presentation, DeathSpank's world is a treat to look at. It's full of rich color and awesome level design, and populated with standard fantasy fare baddies with a slight twist. I really enjoyed that DeathSpank himself looks different with every change you make to his arsenal. Of course visuals aren't the only reason to keep you playing DeathSpank.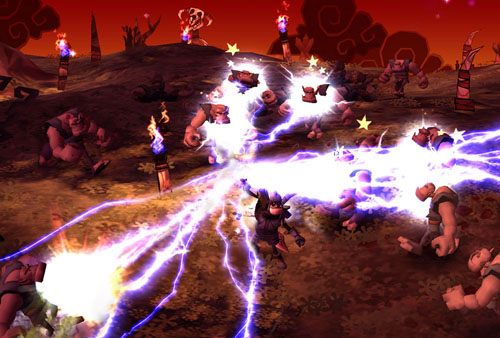 Thankfully, DeathSpank doesn't disappoint in the most important department, gameplay. Styled after many classic hack 'n' slash RPGs, it covers most of the basics. As DeathSpank, you wander the world defeating monsters to collect spells, weapons, and other delicious loot. The player has full control over the four face buttons and the D-pad. If you want to equip a sword and a hammer, have at it. Maybe you'd like to fight with a crossbow and a chicken gun? The combat eventually evolves as you delve deeper into the game and you can combine spells and weapons for stronger attacks with runestones. The more enemies you kill, the more your "Justice Meter" is filled and the deadlier super attacks you can unleash. Health is a small bar near the bottom of your screen, and DeathSpank can replenish his physical wellness by feasting (quite loudly) upon edible goodies he finds. Along with the combination of spells and weapons, there is an enormous amount of loot to be had. Players can gain a number of armor and trinkets dropped in quest to aid their journey. This all leads to a level of customization that can tailor the game to any player's wishes.
In DeathSpank, there is also the opportunity for co-op game play. A second player can drop in as DeathSpank's sidekick, Sparkles the Wizard. Sparkles comes with a number of basic spells and attacks, along with a few helpful healing spells. It makes for a great chance to expand the game and enjoy it with someone else, although in the end it falls flat as a fully fledged secondary character, as Sparkles is not customizable and doesn't have much to upgrade.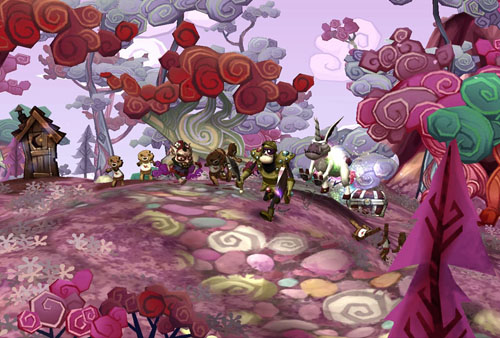 Another layer to the genius of DeathSpank is the writing. One can tell this is from the same man that gave us Monkey Island; everything in the world has a humorous twist to it. Items range from funny versions of old weapons, such as the log sword (it's a log and a sword) to unicorn poop that must be gathered for NPCs. Most of the time, the way DeathSpank acts and talks reminds me heavily of The Tick. While exploring the countryside, characters that you come across will have witty dialogue trees that are fun to just sit back and watch where they lead. It makes level grinding more fun when you're entertained by things to make you laugh. Need more proof of DeathSpank's heroics? Check out his Twitter or his toll-free hero hotline: 1-866-631-1574!
In the end, DeathSpank is a great homage to the classic action RPGs of old. It's a humorous parody while still managing to stand up on its own as an enjoyable gaming experience. I highly recommend picking it up, especially when it's only 1200 XBLA points for many hours of gameplay.
Rating: 4 / 5 Stars