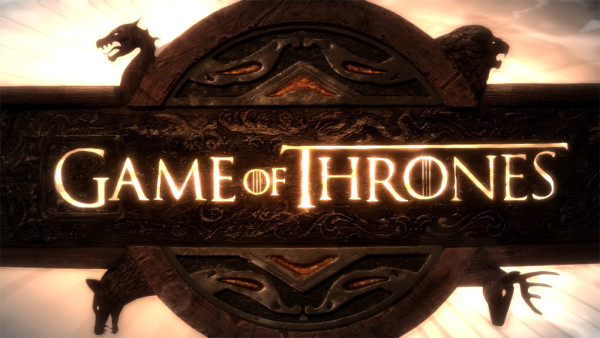 "Iron From Ice." Those are the words of House Forrester, longtime bannermen for the ill fated House Stark, and it's also the title of the first episode in Telltale Games' new foray into HBO's Game of Thrones. George R.R. Martin's A Song of Ice and Fire has made a rapid ascent into pop culture and the public consciousness since the TV show debuted in 2011 after spending more than a decade being that amazing book series your friends kept trying to get you to read. Now it's a full fledged phenomenon with its own highly acclaimed TV show that has spawned multiple video games, this newest effort from Telltale being the most prominent and best yet.
In keeping with the rest of their adventure games, Telltale has designed Game of Thrones to be episodic, a perfect story structure for this sort of TV-inspired tale. Six episodes are planned, beginning with this first one that arrived on consoles and computers in December. Each episode is divided into a number of scenes, each of which completes a unique encounter that helps build the episode's narrative. Achievements and trophies are very straightforward here, rewarding you for completing those discrete scenes and then giving a bonus achievement for reaching the end of the overall episode.
Telltale's adventure games recently have employed a cell shaded sort of design aesthetic that began with the first season of their hit Walking Dead games and has continued through the recent Tales from the Borderlands game. They shake things up a little here by making the world and characters look a bit more painterly, with shading suggesting brush strokes and colors melding in an oil on canvas feel. The sounds and music step straight out of the TV show, complete with a newly rendered version of the familiar TV opening sequence, showcasing the maps and buildings that serve as the setting for this first episode.
"Iron From Ice" begins near the end of season three of the TV series, and its central focus is the House of Forrester, an original family created for the game. The Forresters live in Ironrath, a stronghold in the wolfswood, near Winterfell. They are a family with a long history in woodcrafting, being the stewards of the sturdy ironwood trees that surround their home. Loyal to the Starks, the Forresters find themselves on the wrong side of the War of the Five Kings, and the game tasks you with taking on the roles of multiple members of the house as they try to save their lineage and livelihood, even as the world collapses in on them.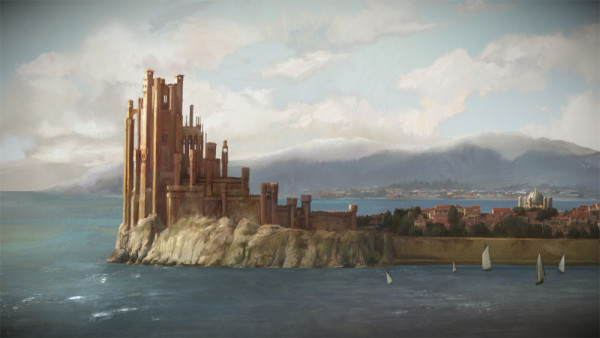 The initial story shifts between the North of Westeros and the regal trappings of King's Landing as you deal with members of your own house, enemies, and potential allies both in conversation and on the battlefield. Dialogue always has been a huge part of the gameplay in Telltale's adventures, as that's where you make the choices that direct the ensuing stories. Your conversation choices can make other characters like or dislike you, and often you'll be tasked with making tough decisions that really have no positive outcomes. The Walking Dead makes great use of the conversation system, and Game of Thrones refines it even more by having huge consequences reliant upon uncertain word choice. The titular "game of thrones" from the books and TV show refers to the political dance the people of Westeros do with each other in order to claim power and ascend in society. Much of that dance relies on verbal sparring and deception, all of which comes into play here. As you converse with the various characters in "Iron From Ice" you'll find yourself trying to work angles and to appease others in order to play a long conversational strategy, as opposed to just being forthright and telling everyone what you really want and mean. It's a clever implementation of a core component of George R.R. Martin's stories, and it turns dialogue encounters into tense matches of wits.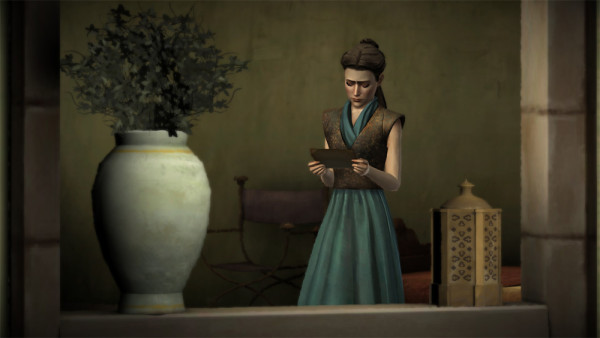 More about the story and the game's production bears mentioning, but if you want to play without knowing anything more, this is a good place to stop reading. You will encounter some familiar faces from the TV show as you make your way through the game, and part of the fun is not knowing who might turn up next. If you're okay with some additional details, read on!
When the game opens, the viewpoint character is Gared Tuttle, squire to Lord Gregor Forrester. Gared and his fellows are encamped outside Walder Frey's keep on the night of a most festive and storied wedding. As fans of Game of Thrones will know, the events surrounding that wedding signal some major changes in Westeros, and young Gared soon finds himself in the middle of a dire conflict between rival factions. The playable character shifts from scene to scene, and by the end of the first episode you'll have seen the world through three different sets of eyes. All of the playable characters are original to this game series, but you will encounter and interact with several main characters from the established series, all voiced by their TV actors. Natalie Dormer, Lena Headey, Peter Dinklage, and Iwan Rheon are the canonical guest stars of this installment, surely with more to come if the "Next time on Game of Thrones" at the end of the episode is any indication.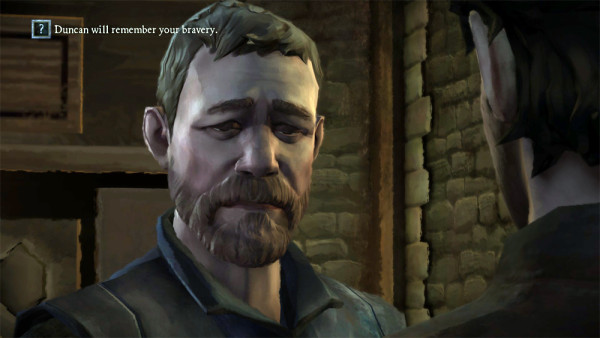 "Iron From Ice" is a brutal and appropriately jarring introduction to this new game series, and it does a great job of investing you in the fates of a wide range of new characters. The first episode takes about two hours to complete, and that's the perfect length of this tense drama's introduction. The next episode, titled "The Lost Lords," is scheduled for release in January, and we'll be covering it after it hits.
Jason is the founder and managing editor of Fandomania. He is severely into toy collecting, plays a worryingly large amount of games, watches way too many movies and TV shows, and reads more than his fair share of books and comics. He also likes guacamole.