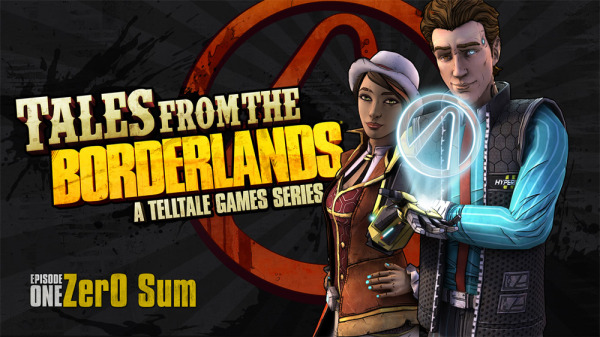 First things first: I like Telltale's The Walking Dead adventure games a whole lot. The now familiar Telltale format emphasizes choice, character development, and plot over gameplay, and that focus regularly delivers some of the best and most gripping storytelling in video games. I'm still reeling from the conclusion of the first season of their take on The Walking Dead, two whole years after playing it. With that said, their foray into Gearbox's Borderlands universe just might have produced an even better experience for me. I qualify that with "just might" only because I've been able to play only the first episode to this point, but I'm feeling good about the direction Tales from the Borderlands is heading.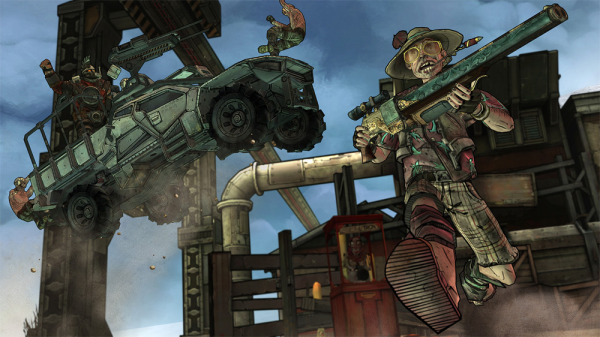 There's no doubt that The Walking Dead is an astounding accomplishment, but holy crap is it dark. There was a time when I reveled in stories filled with bleak hopelessness, and I'm sure I even wrote a few myself back in high school. These days, I'm okay with consuming media that has dark elements, but my enjoyment of that bleakness has waned. Maybe it's because I'm older and have a better grasp on my own mortality or maybe it's because I'm tired of all the darkness in the real world. Whatever the reason, games like The Last of Us don't bring me a whole lot of enjoyment these days. The Borderlands franchise falls perfectly into a tone of absurd hilarity in the midst of Mad Max-esque wasteland action, and it serves up enough darkly tinted funnies to hit the sweet spot on the bleakness spectrum. With Tales from the Borderlands, Telltale nails the feel of the original Borderlands games in visuals and sounds, as well as in its overall aura of psycho-blasting awesomeness.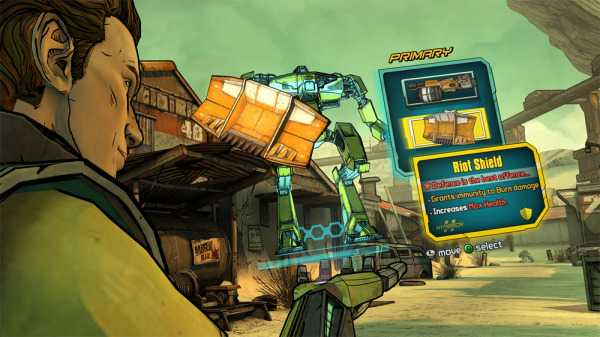 The debut episode of Tales from the Borderlands opens by introducing players to the first of two protagonists you'll control along their intertwining adventures. Troy Baker voices Rhys, an employee of the Hyperion corporation in the aftermath of the events of Borderlands 2. Something of a Handsome Jack fanboy, Rhys dresses like Jack and emulates his corporate idol as he tries to scheme and claw his way up the ladder alongside his best friend and cohort, the nebbish but loyal Vaughn (Chris Hardwick). Opposing Rhys's ascension in Hyperion is his corporate arch-nemesis, one Hugo Vasquez, voiced by Patrick Warburton. When Rhys's plans take an unexpected turn, he ropes Vaughn into a scheme that could leave them either as billionaires or dead. Meanwhile, down on the familiar outpost world of Pandora, con artist Fiona (Laura Bailey) is cooking up her own schemes and is the second player-controlled character in the roster. Her plot takes her into the orbit of August, a black market fence played by Nolan North and further building an amazing voice acting lineup. A few familiar faces and voices from the previous Borderlands games do make significant appearances, so fans have some additional service to look forward to. Rhys and Fiona have their own separate and occasionally conflicting goals, but their paths cross in ways the adept storytelling makes truly cool and engaging.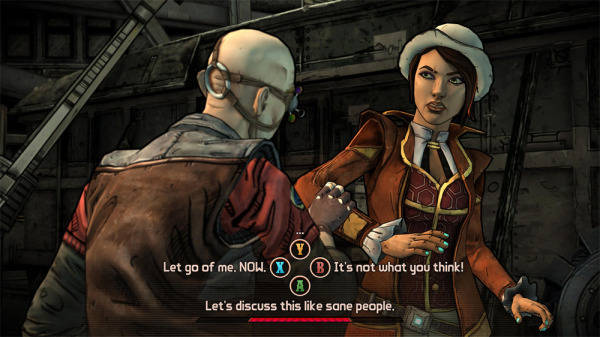 This initial episode, subtitled "Zer0 Sum," plays similarly to Telltale's other adventure games, in that there are a few points during which you'll have full walking control of your characters, but most of the game is spent following the action through cutscenes, button prompts, and conversation trees. Witty writing and fantastic voice acting make the conversations the best part of the game. As in the previous and similar games, your dialogue choices during conversations will change the flow of the story, and occasionally you'll be rewarded with messages telling you that a given character will remember something you just said. With this being the first of a five episode series, it's too early to have a good feel for just how much impact your choices will have on the overall game. There certainly are a few points that feel like important decision branches, though, and I expect we'll see the payoffs from those moments in the upcoming installments.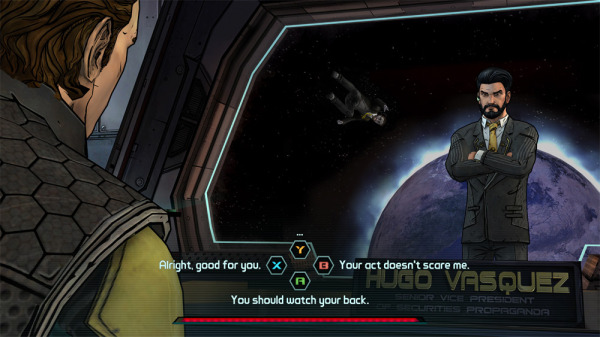 The version of the game I played on Xbox One comes with 200 gamerscore (out of an eventual 1000 across all five episodes) to unlock from 7 achievements, all of which pop automatically as you progress through the story. Top to bottom, the first episode of Tales from the Borderlands is a fantastic adventure, especially for previous fans of the series. The game builds from the end of Borderlands 2, so if you haven't completed that one yet, there will be some spoilers. It's not essential to have played any of the other Borderlands games prior to playing this one, but having knowledge of those games (particularly the second one) does enhance the experience a lot. Telltale has another winner on their hands, and I was itching to play the second episode as soon as this one ended.