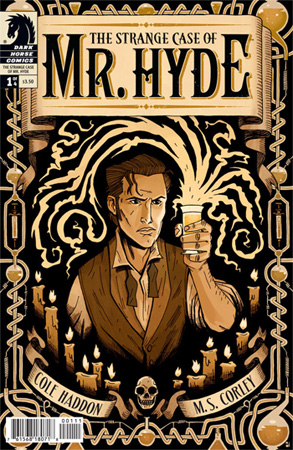 Issue: The Strange Case of Mr. Hyde #1
Writer: Cole Haddon
Artwork: M.S. Corley
Colors: Jim Campbell
Letters: Richard Starkings & Comicraft
Cover: M.S. Corley & Jim Campbell
Designer: Justin Couch
Original Release: April 27, 2011
Publisher: Dark Horse Comics
"In each of us, two natures are at war – the good and the evil. All our lives the fight goes on between them, and one of them must conquer. Will it be the beauty of good, or evil and its trick of making goodness seem ugly and weak?"

– The Strange Case of Mr. Hyde #1
At first glance I was unsure as to whether or not I was going to like Dark Horse Comics' The Strange Case of Mr. Hyde, and I admit that I put off reading it longer than I should have as a result. Once I did read the first issue, I came to realize that this series likely will be one of the ones that I read on an ongoing basis — not something I can say for every comic book that I review.
The Strange Case of Mr. Hyde isn't a comic book adaptation of Robert Louis Stevenson's famous novella, The Strange Case of Dr. Jekyll and Mr. Hyde (more commonly known simply as Dr. Jekyll and Mr. Hyde), as the series's title might seem to suggest; in fact, Mr. Hyde is an original work of fiction that combines influences ranging from Stevenson's classic Jekyll and Hyde story to the horrifying legends of the infamous serial killer Jack the Ripper.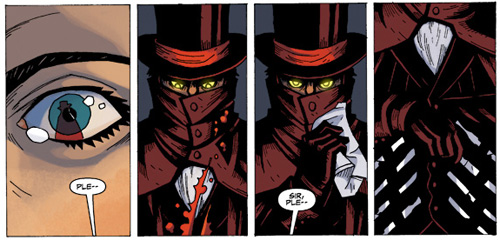 Mr. Hyde #1 opens with three pages of story and illustration that set the stage for the reader by alluding to the controversial nature of Dr. Jekyll's experiments and outlining briefly the events leading up to his horrible transformation into Mr. Hyde. Fast forward five years: the gruesome and perplexing nature of a string of murders has forced the Chief Inspector of London to hire a special investigator named Thomas Adye, whose methods of detection are said to be far beyond those of London's investigators. With each new murder Adye collects more evidence, but the more information he has the more perplexed he becomes as the facts indicate that the murderer is… superhuman.
But Scotland Yard's been keeping a secret from the citizens of London for five long years… one that could be the key to unraveling the increasingly puzzling string of brutal murders befalling the city's streetwalking population. Long thought to be dead, the murderous villain Mr. Hyde (formerly known as the illustrious, if immoral, Dr. Jekyll) remains prisoner deep underground, locked away with only his former friend, Dr. John Gabriel Utterson, for company. According to Dr. Utterson, Mr. Hyde no longer controls Jekyll's body, but the man locked away is no longer the scientist he once knew and respected.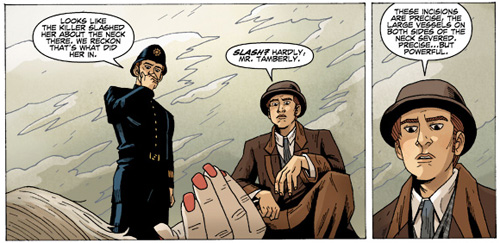 The way he sees it, Adye cannot solve these murders without Dr. Jekyll's help, and the resulting conversations between the inspector and the former madman are reminiscent of the interactions between fictional F.B.I. agent Clarice Starling and the cannibalistic serial killer Hannibal Lecter in The Silence of the Lambs (1988) and other adaptations of Thomas Harris's popular horror novels. Like Lecter, Jekyll wants the investigator to play mind games with him in order to obtain the information and assistance that he needs. Initially reluctant to give Jekyll what he wants, Adye comes to the realization that he'll have to do whatever necessary to stop the serial killer that's on the loose.
The Strange Case of Mr. Hyde #1 is a very well written comic book issue — so well done, in fact, that the series was picked up by Skydance Productions, in conjunction with Dark Horse Entertainment and The Mark Gordon Company, for cinematic adaptation before the first issue was even released. Fortunately, Cole Haddon's writing is brought to life by equally impressive illustrations, provided by freelance illustrator and graphic designer M. S. Corley. Surprisingly, this is the first time that Corley has illustrated a comic book — but based on what we see in Mr. Hyde #1 it certainly won't be the last time. Those interested can view some of his artwork, as well as a seven-page preview of The Strange Case of Mr. Hyde #1, on the artist's official blog.
Rating: 4 / 5 Stars

Paige rejoins Fandomania after taking a two-year hiatus to get her Master's degree in Media, Culture and Communication from NYU.