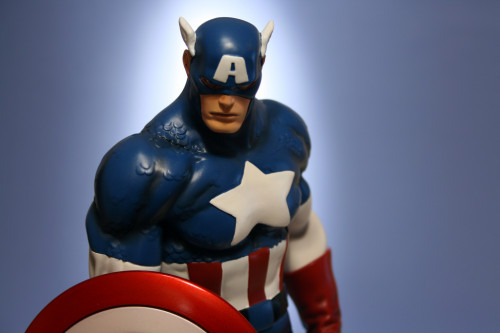 Most of the reviews on Mechazilla are for new release toys and statues, but every once in a while I like to dig back into the previous releases to highlight something significant in my personal collection. With the Fourth of July coming on Friday, it seemed like a good time to look back at the Captain America Classic statue, released by Bowen Designs last year.
Captain America was one of the very first characters featured in Bowen's Marvel statue line, way back in 1999, and he's still one of Marvel's most iconic characters. It only stands to reason that Bowen would revisit the character with a new collectible after nearly a decade. In late 2007, Bowen Designs released two different Captain America full size statues, one modeled after Cap's World War II look with the old-style shield and costume and the other designed after Cap's classic look with the round shield. Being a fan of the classic look, that's the one I picked up for my collection.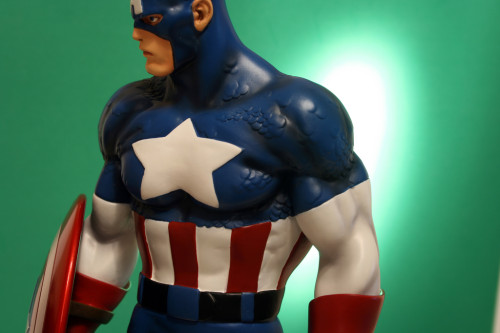 The Classic Cap statue was limited to 2500 pieces and had a bit of a controversial launch, as the statue that actually shipped to consumers differed significantly from the prototype piece shown in photos prior to the statue's release. For one thing, Captain America's belt was changed for the final product, shifting from a buckled one to the more accurate sold blue one. More significantly, Cap's head and face changed quite a bit between the prototype and launch. The original head was going to be very similar to the regular human faces on Bowen's other pieces, looking more realistic and less stylized. The actual product definitely shifted more
towards an artistic slant. Personally, I like the stylized face, as it's reminiscent of John Romita Jr.'s Captain America art.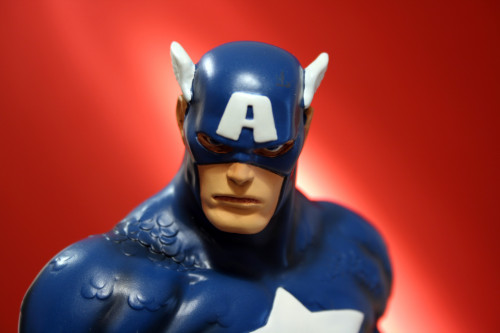 You can't get much more iconic in a Captain America pose than this. Cap's depicted standing with his signature shield on one arm and his other hand clasped in a fist. His face bears a determined expression, and the whole piece screams Captain America. This is what Cap is, and this is one of the very best depictions of the character in a collectible.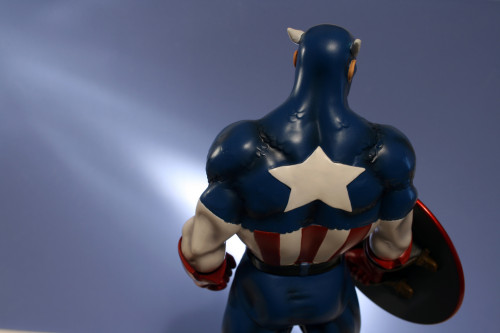 Captain America comes with two different display bases. The first is a tall black base with silver stars around the sides. The other is a shorter round base that bears the United States seal on top. With the tall base, Cap measures around 13 to 13.5″, putting him at a good height with Bowen's other Marvel statues. Both bases look good on display, but I'm a little partial to the starred one for the height as well as for the simplicity of its design.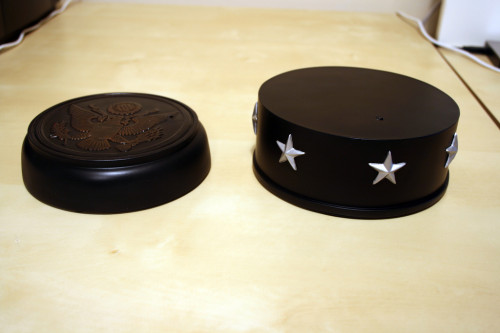 The sculpt and paints here are outstanding. Captain America's uniform is represented faithfully, and there are some artistic choices that I really liked. Instead of showing every single scale on Cap's shirt, the sculpt has the scales scattered across, implying that the overall tunic is scaled. This looks a lot truer to the comic books than if every scale had been detailed. Cap's shield has some nice detailing on the underside, where he's holding it by its strap, and the paints used on the shield are more metallic than the ones used on the rest of the piece, causing it to stand out nicely.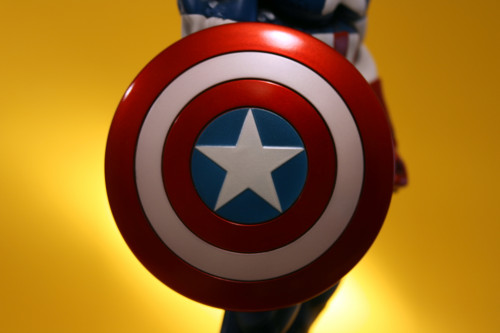 I give the Classic Captain America statue a big thumbs up and recommend it to fans of the Avengers, Captain America, or comic fans in general.
( Bowen Designs Captain America Classic Statue Photos )
Jason is the founder and managing editor of Fandomania. He is severely into toy collecting, plays a worryingly large amount of games, watches way too many movies and TV shows, and reads more than his fair share of books and comics. He also likes guacamole.