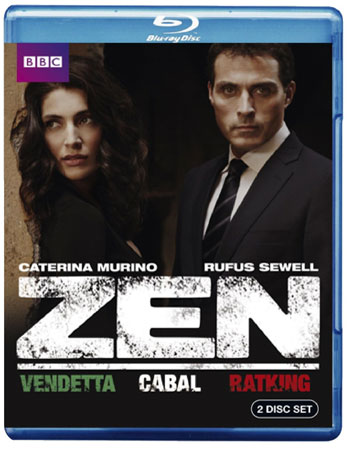 Between 1988 and 2007, British author Michael Dibdin published eleven mystery novels featuring Aurelio Zen, an Italian detective working in Rome. Dibdin passed away in 2007 after completing the eleventh book, just a few years short of getting to see his creations come to life in the BBC original series Zen. The first season of Zen was comprised of three feature length episodes based on Vendetta, Cabal, and Ratking, the first three books in the series (although the publication order of the books was Ratking, Vendetta, and then Cabal). The show found critical praise both when it debuted in the UK in January 2011 and when it made an appearance on Masterpiece Mystery! in July 2011. It should be little surprise, then, that Zen made its way to Blu-ray just a few weeks later with a two-disc release from BBC.
The world of Aurelio Zen (Rufus Sewell) is a complicated one. He is an Italian police detective trying to unravel mysteries and solve crimes honorably, even as he navigates the twisting road set before him by his crooked superiors and the shady politicians that always seem involved in the crimes. The newest addition to his team is the Chief of Police's assistant Tania Moretti (Caterina Murino), a young woman dealing with a troubled marriage. Zen's own marriage has fallen apart, and it's not long before he is drawn to his beautiful new coworker. Mixing romance, suspense, and international politics into intriguing mystery stories, the series makes for a well produced trio of movies packed full of talent.
The BBC canceled Zen after this first three-episode season ran, citing that the show was a victim of being a newcomer in an already crowded crime genre. The producers are actively shopping the series to other networks, so it's very possible that we haven't seen the last of Aurelio Zen on the small screen. Even if these three episodes are all we get, though, it's a great series reminiscent in structure, if not in tone, of Steven Moffat's recent Sherlock series. The new Blu-ray set collects all three episodes, each around 90 minutes long, on two discs, and it also adds in a 30 minute "Zen – An Italian Adventure" making-of featurette.
Zen: Vendetta, Cabal, Ratking released on Blu-ray on August 2 and is available for just under $40 through Amazon.