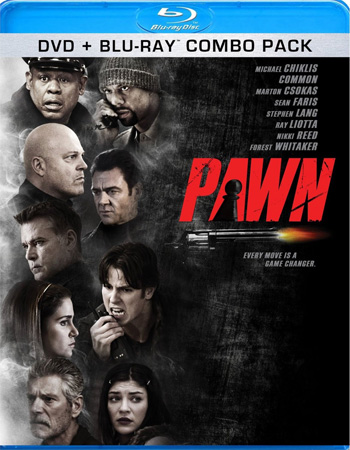 If you saw the press sheet for Pawn and wondered why you didn't hear about this film being in theaters, you wouldn't be alone. Boasting a cast of talented and recognizable stars, Pawn eschewed a theatrical release to tell a tight and gripping story on a smaller budget, releasing only on home video. If you're into unique heist movies, this is a movie you should check out.
Pawn opens with a cop (Forest Whitaker) walking into a familiar diner and immediately realizing he's stumbled across a tense situation. Just prior to his arrival, a trio of bandits lead by a British thug (Michael Chiklis) showed up to rob the place. A series of rotten luck, coupled with poor heist planning, delayed their departure with the loot, resulting in an unintended hostage situation further complicated by the arrival of a police officer. Among the employees and patrons being held in the diner are several familiar faces from TV and other movies. Stephen Lang plays the Charlie, the man behind the counter, while Gossip Girl's Jessica Szohr plays terrified waitress Bonnie, and other recognizable performers join them in their captivity. Nick (Sean Faris), a young and well intentioned recent ex-con, also happens to be in the diner during the robbery, and he eventually becomes a central character in the rapidly unraveling schemes.
It's hard to describe much more about the plot of Pawn without giving away key twists and surprising elements, and doing that would be a great disservice to the film. Pawn plays out in a nonlinear format, frequently jumping back and forth in time to pick up scenes with side characters or to fill in blanks in the backstories of main characters. The nonlinearity, combined with the heist story and the brutality of some of the violence that happens in and around the diner, could draw some comparisons between Pawn and Quentin Tarantino's signature style. While certain elements of Pawn do recall Pulp Fiction and Reservoir Dogs, Pawn's tone and overall style are miles away from Tarantino's almost whimsical and verbose take on the genre. This movie is much more of a thriller, and the plot regularly takes earned twists and turns, many of them legitimately surprising.
Ray Liotta, Common, and Nikki Reed also appear in supporting roles while the police, the hostages, and even the crooks try to make sense of the evolving robbery and the truth behind the situation. Pawn sets out to tell a complex narrative on a small budget and with a limited scope, and it succeeds in what it wants to deliver. The resulting film is one that plays with the audience's expectations and often shakes up the whole story with a new revelation, only to recolor the meaning of an entire plot thread with yet another twist a few minutes later. All the twists come naturally and make narrative sense. With such a focus on creating a complicated plot, it's not surprising that a couple of the characters slide into the realm of cliché. Still, Pawn is a greatly enjoyable movie and stands tall above most other direct to video features, both in its caliber of acting and in its storytelling intensity.
Pawn released on Blu-ray and DVD on April 23, and it includes a 23 minute behind the scenes featurette alongside the main feature.