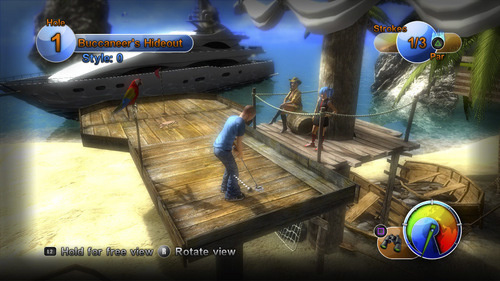 ZEN Studios, the game developer behind Pinball FX, one of the most popular titles on the Xbox LIVE Arcade, announced today that its latest arcade game, Planet MiniGolf, will be released exclusively for PlayStation Network this spring. Planet MiniGolf utilizes ZEN Studios's acclaimed ball physics engine to deliver the best golf experience on PlayStation through a deep single-player campaign with beautiful, intricate courses and more than 140 challenging holes to play through.
"Just as we have delivered the ultimate pinball experience with ZEN Pinball, Planet MiniGolf will serve as the ultimate arcade golfing experience on the PlayStation Network," said Zsolt Kigyossy, the managing director of ZEN Studios. "Planet MiniGolf gives casual players and golfing aficionados alike everything they could ask for in a golf game, with wacky courses, character customization, custom course builder and global competitions."
Planet MiniGolf features:
A deep and engaging single player campaign taking players through fantastically designed courses with over 140 different holes
Worldwide Tournament Play: Set up personal tournaments with a group of friends or go online up against gamers from around the world!
Golf Course Editor: Build, manage and share golf courses… make them crazy, challenging and wacky and then upload to share them online!
PlayStation Move Functionality: Planet MiniGolf will be fully compatible with PlayStation 3's upcoming motion control system, "Move"
Multi-national Game: Countries around the world are represented on the global leader boards!
For more information on Planet MiniGolf and ZEN Studios, please visit the company's official web site and be sure to look for Planet MiniGolf this Spring, only on the PlayStation Network.