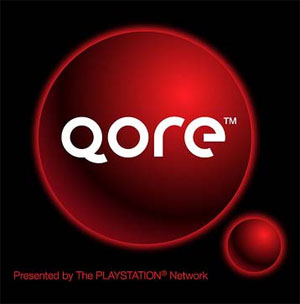 In a press release today, Sony announced that their new Qore program will be going live on the Playstation Network on June 5. Qore is an interactive monthly program that will deliver new media, interviews, and previews to subscribers. Much of the content sounds similar to the Inside XBox feature that's available for free on the XBox 360, but the Playstation 3 version will cost $2.99 for the first episode, or $24.99 for an annual subscription of twelve episodes. Qore does sound more customizable than the Inside XBox feature, allowing users to utilize multiple windows, picture-in-picture viewing, and other options. The press release describes what players can expect from the first episode:
Premiering on June 5, the first episode includes in-depth, exclusive and never-before released content on upcoming PlayStation titles such as SOCOM:US. Navy SEALs ConfrontationTM, Star Wars: The Force UnleashedTM, Secret Agent ClankTM, Soul Calibur 4TM and Afro SamuraiTM as well as the latest Blu-ray DiscTM trailers, an exclusive SOCOM: Confrontation theme with an invitation to the SOCOM: Confrontation beta, art galleries and a few other surprises.
Qore is produced and published by SCEA and under an exclusive development agreement with Future US, Inc., publisher of PlayStation: The Official Magazine.
New episodes will go up the first Thursday of each month. For a limited time, if you buy the year subscription you'll also get a free download of the PSN game Calling All Cars.
Source: Sony