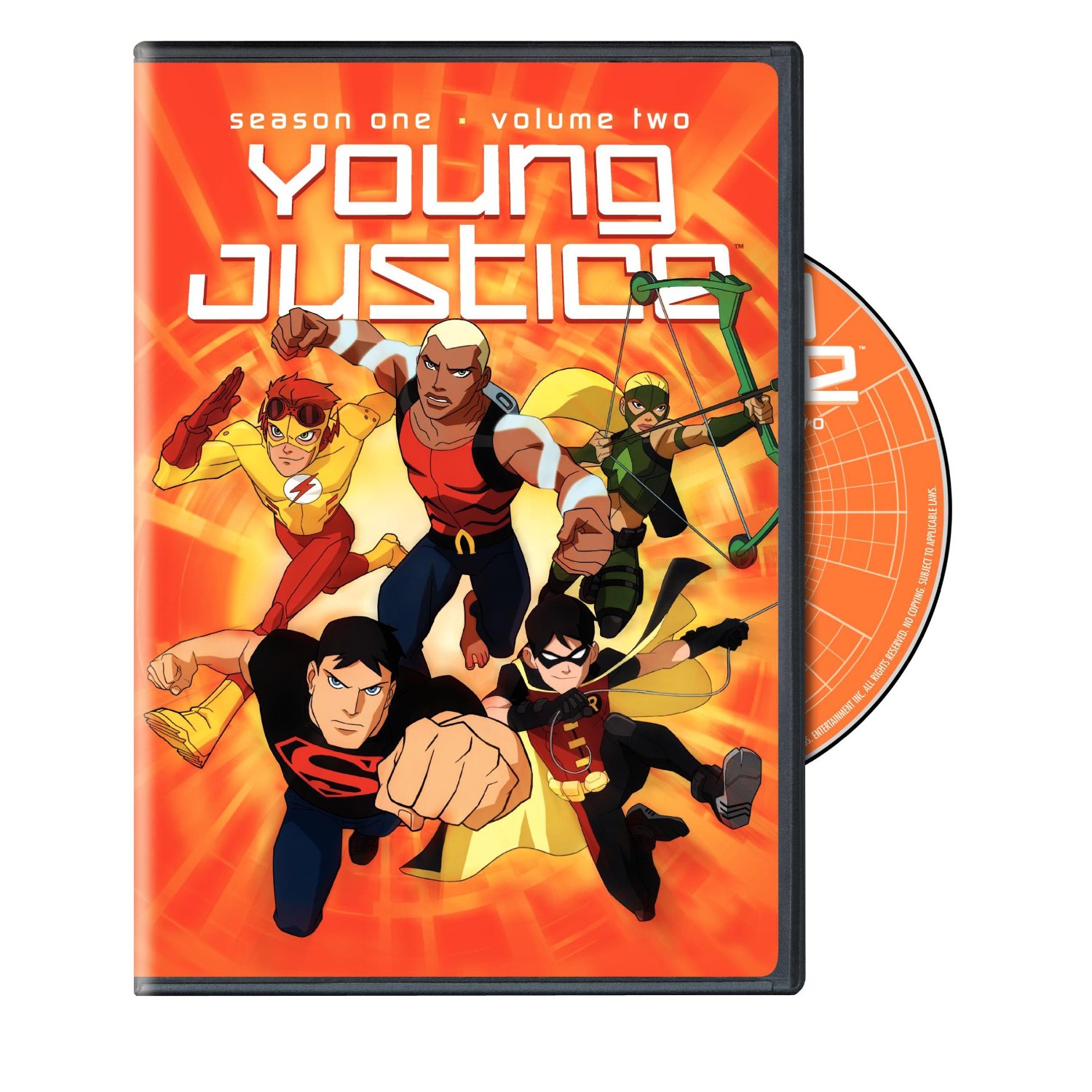 DVD: Young Justice: Season One Volume 2
Release Date: October 25, 2011
Cast: Stephanie Lemelin, Jesse McCartney, Danica McKellar, Nolan North, Khary Payton, Jason Spisak
The Young Justice League is back in Volume Two of Season One. Join Robin, Aqualad, Kid Flash, Superboy, Miss Martian, and Artemis as they train and help the Justice League in their attempts to defeat the evil forces that lurk. While the Justice League is well-known and can take on many projects on their own, sometimes their fame works against them and they need a few allies to slip in under the radar. That's where the Young Justice League comes in!
I adore the rebellious youths in this series. It's a constant battle between the kids and their parental figures. The young superheroes think they know more than they actually do and the older superheroes are trying to integrate the new generation into this world of crime-fighting. Superboy is the notable example of this when we start these episodes, but Roy Harper also emerges in the role of feeling like he's being replaced by Green Arrow's new protégé. As an aside, being a fan of Red Hood and the Outlaws, I'll always have a soft spot for Roy. I'm starting to understand why he and Jason Todd could get along well. It's a new world with new heroes. They've just got to learn to control their abilities and train alongside their predecessors because they're destined for greatness.
Fans of the DC animated features will recognize a few familiar voices. Bruce Greenwood is Batman, cast because of his great performance in Under the Red Hood. Nolan North, who has made quite a name for himself in the animated market, takes a turn as Superboy and plays the role to perfection. Khary Payton, who had previously been featured on Teen Titans, voices Aqualad. Jeff Bennett, who has voiced multiple characters across the Batman series, is Red Tornado. And Kelly Hu, known for her work on Green Lantern as well as Under the Red Hood, takes a turn as Cheshire. It's an embarrassment of riches with these and many other talented voice actors, combining to create a notable storyline of youthful superheroes.
Episodes:
"Schooled": The problematic relationship between Superboy and Superman is delved into, showing how a father's attempts to ignore his son can lead to a rebellious child. I've always been fascinated by the concept of Superboy and his search for an identity that distinguishes him from the more well-known Kryptonian. It's wonderful to see that explored alongside teenage angst.
"Infiltrator": Dr. Serling Roquette is in danger. The League of Shadows had kidnapped her prior and forced her to make the FOG program for their use. However, even after her rescue, she's still in danger. That's where Artemis comes in. She's a newcomer to the team and must prove that she's worthy of being a part of the Young Justice League. Protecting Dr. Serling would go a long way in assuring her place.
"Denial": Kent Nelson is kidnapped by Abra Kadabra and the Young Justice League is sent out to find him. If Doctor Fate's helmet falls into Kadabra and Witch Boy's hands, it could mean disaster for the world. Kid Flash's magical skepticism is put to the test while trying to reach their goal.
"Downtime": Young Justice's mission against Clayface does not end in success. Batman is forced to step in and save them, belittling Aqualad for allowing them to be taken down in the first place. This prompts Aqualad to make a choice. Should he return to Atlantis permanently and live with Tula or actually make a go of fighting on the Young Justice League?
Rating: 4 / 5 Stars