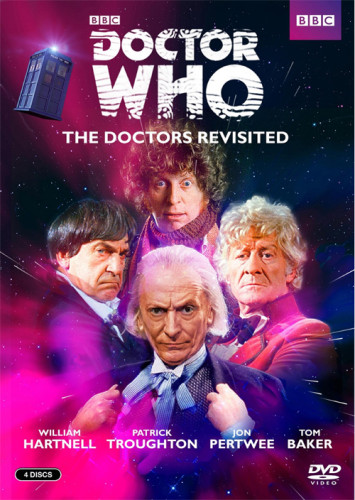 BBC has recently released the 4-disc set The Doctors Revisited containing four classic Doctor Who stories from Doctors 1-4. The set contains some of the "best" serials from each Doctor: "The Aztecs", "The Tomb of the Cybermen", "Spearhead from Space" and "Pyramids of Mars".
Prior to each story, there is a half hour special giving the history of each Doctor, their companions, and various antagonists they've met. Even costumes and personalities of each Doctor are discussed. While covering every detail of each Doctor is near impossible, the features are brilliant and an excellent way to introduce new Whovians to the original series and its origins.
While other series put out special editions like this, BBC's love for its iconic series is apparent. Each Doctor has an individual disc with a 4-part story (the original format) and introduction by Steven Moffat. Normally these would be lumped together onto one disc as is done for a lot of programs, but BBC knows its audience and has taken the time to give each Doctor his own place to reside. This amounts to nice transfer of the episodes — especially for their age.
The set includes a 4-magnet set, each depicting a Doctor. The magnets are actually higher quality than is to be expected for such a set. Of course, my favorite disc and magnet out of the set is the Fourth Doctor. Tom Baker is, and forever will be, my Doctor. The story chosen for his set, "Pyramids of Mars", is a classic favorite of mine as I still am disturbed by the imagery of Sutekh, the antagonist. Classic Doctor Who had a great sense about it, and portrayed nightmarish qualities in such a simplified way. Some could say it was low budget and hokey, but I could care less and hold it dear. Having this set spanning from the beginning in 1963 up until 1981, I am eager to see what BBC puts out next for the series.
With Doctor Who rapidly approaching its 50th Anniversary, I hope to bring you more reviews of items being released this year!