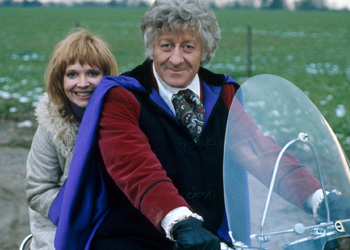 It's another month, and that means it's time for another round of classic Doctor Who awesomeness! This time BBC presents two adventures featuring the Third Doctor as the newest additions to their ever expanding library of remastered classic Who on DVD.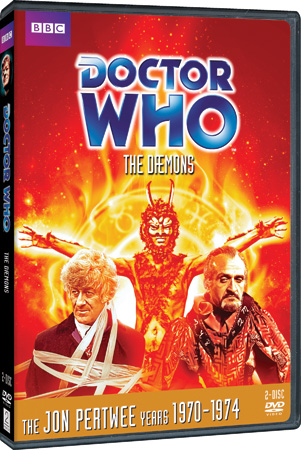 Originally a serial in five parts, "The Daemons" aired in May and June 1971 as the finale of the eighth season of Doctor Who. The Third Doctor (Jon Pertwee), accompanied by companion Jo Grant (Katy Manning), comes to the village of Devil's End, near the site of a burial mound excavation. The Doctor senses that something is amiss at the archaeological site, and things become only stranger when the new vicar in town turns out to be none other than the villainous Master (Roger Delgado). A couple of other familiar faces appear as well, including Brigadier Lethbridge-Stewart (Nicholas Courtney) and Captain Mike Yates (Richard Franklin).
In addition to collecting the five episodes with remastered video and sound, this new DVD release also packs in a whole bunch of bonus features:
Audio Commentary with Katy Manning (Jo), Richard Franklin (Mike Yates), Damaris Hayman (Miss Hawthorne), and Christopher Barry (director)
The Devil Rides Out – making-of special with Katy Manning, Richard Franklin, Damaris Hayman, Christopher Barry, Barry Letts (producer and co-writer), Terrence Dicks (script editor), and Sue Hedden (assistant floor manager)
Remembering Barry Letts – half-hour retrospective about the writer and producer
Location Film – amateur 8mm footage of the shoot location
1992 Colorization Test and Tomorrow's World piece about the color restoration
Photo Gallery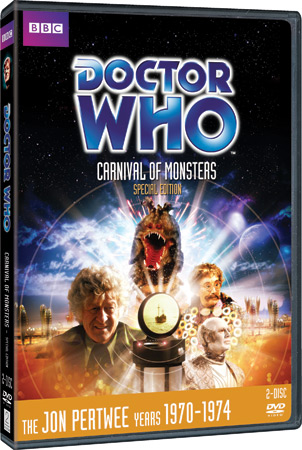 The Third Doctor is back in another adventure, this time from January and February 1973. This one originally broadcast as four episodes, and it finds the Doctor and Jo venturing out in the TARDIS for a test flight. They end up in the middle of the Indian Ocean on a ship called the SS Bernice and apparently caught in some sort of time loop. After their situation becomes even more confusing and mysterious, they find that a strange device called a Miniscope could be at the center of their predicament. The new DVD release includes the remastered versions of all four episodes, and plenty of extras are loaded into this two-disc special edition, including:
Audio Commentary with Katy Manning (Jo) and Barry Letts (producer)
Audio Commentary with Peter Halliday (Pletrac), Cheryl Hall (Shima), Jenny McCracken (Claire), and Brian Hodgson (special sounds creator)
Episode Two: Early Edit – extended edition of the second episode
Destroy All Monsters! – making-of featurette with Katy Manning, Cheryl Hall, Peter Halliday, Barry Letts, Terrence Dicks, Karilyn Collier, and Colin Mapson
On Target with Ian Marter – retrospective feature about the actor
The A-Z of Gadgets and Gizmos – 11 minute featurette
Mary Celeste – discussion about actual historical disappearances
Behind the Scenes – brief look behind the camera
Visual Effects Models
"Five Faces of Doctor Who" Trailer
Director's Amended Ending
CSO Demo – demonstration of the blue screen effects
TARDIS Cam 2
Photo Gallery
Both "The Daemons" and "Carnival of Monsters" released on DVD on April 10, 2012, and are in stores now.