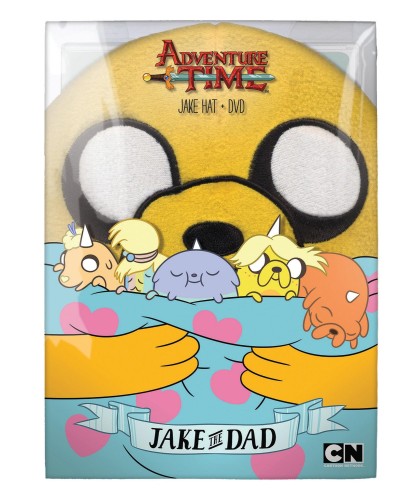 Adventure Time has been on my radar for a over a year; however, I never actually started watching it until earlier this year. Immediately I immersed myself in anything and everything Adventure Time related. This included purchasing DVD sets, especially the Jake Vs. Me-Mow set that came with a beloved Finn (the Human) hat. I have worn that thing almost every single day since purchasing it. That is, until I received the latest Adventure Time set, Jake the Dad, for review.
That's right, folks, Tuesday, September 17th, you can get the Jake the Dad set which comes with — YES — a JAKE (the Dog) HAT. Let me start there. This Jake hat is phenomenal. The Finn hat was great, don't get me wrong, but the Jake hat is far more durable and far more elaborate with its layered and embroidered elements. Just look at it. You need this.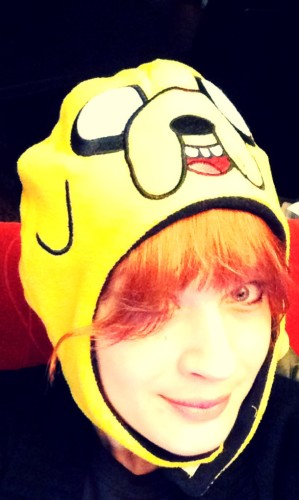 But let's get to this DVD. It contains 16 episodes of Adventure Time — and there are three of my favorites on it! The second episode on the disc is "Burning Low" — which stars the lovely Flame Princess and explores Finn's pursuit of her. Of course, this episode is so amazing because it features that Earth-melting (literally – she burns a hole down into the ground) kiss between these two. It's absolutely sweet — and the main reason I am dressing as Flame Princess for Halloween!
The other two episodes that are my favorites are "I Remember You" and "Simon & Marcy". I'm going to go ahead and make this admission: I'm sort of in love with the Ice King. Ok, I'm really in love with him. Yes, I realize he is a cartoon, but I seriously have a thing for the blue guy. I don't know why. Okay, it's his constant pursuit for companionship. He's lonely and just wants someone to spend time with. It's terribly human despite Simon Petrikov being lost somewhere inside – and I completely understand him. Plus, I think his chubby little booty is cute in that tunic. His background with Marceline breaks my tiny heart, and these two episodes on the disc — I could watch them on repeat. Simply wonderful.
The entire disc is actually wonderful. While only Season 1 & 2 are available, these compilation discs are the best we can get until the rest of the seasons are released. It is both a curse and a blessing. However, you cannot complain about getting 16 great episodes of Adventure Time AND a killer Jake hat for around $20. Since this show is amazing and everyone needs to be watching it, I definitely say purchasing the new Jake the Dad set is well worth the money!