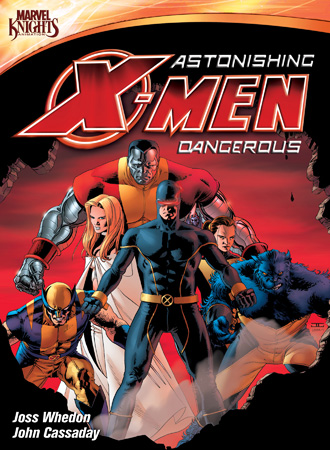 These days, Joss Whedon is a common name around the Marvel camp, both for his work in comics writing and for his directing the upcoming blockbuster film debut of The Avengers. A few years back, however, he was almost exclusively a TV guy, and the announcement that he would be penning an ongoing X-Men comic series came as a shock throughout geekdom. Astonishing X-Men is the series that brought Whedon into the Marvel fold, and he proved his comic book chops with an outstanding opening story arc called "Gifted." He followed up with "Dangerous," a story that would shake up some of the mutant foundations, in addition to introducing a significant ongoing character into the X-Men mythos. Now Shout! Factory, in association with Marvel Knights Animation, has adapted "Dangerous" into a motion comic presentation. Astonishing X-Men: Dangerous released on DVD this month and is a cool and faithful take on the source material.
If you're not familiar with the motion comics format, you're in for a treat. Where many comic-based properties develop new stories with new art inspired by the source comics and characters, motion comics are authentic all the way. The actual comic art (here drawn by John Cassaday) is scanned into computers that then magically transform the static images into animated sequences. I'm sure the process actually involves a lot of artistry and skillful asset manipulation, the details of which I really know nothing, hence my attributing it all to sorcery. While the resulting animation often isn't as fluid and dynamic as that of traditional cartoons, there's something to be said for seeing familiar and gorgeous art on the move. In addition to animating the comic frames, the motion comic format also replaces all the written text with performances by voice actors.
"Dangerous" picks up the X-Men's story just after "Dangerous." The team is back together after finding and rescuing a team member long thought dead. This six episode series opens with the mutants combating a giant monster that has burrowed up from beneath New York City. The Fantastic Four drop in for a cameo, and the two teams pummel the rampaging creature into submission. The real story is beginning back at the Xavier Institute, where a student has died under tragic circumstances. The X-Men investigate, and the insidious threat is something none of them could have expected. Joss Whedon is a masterful writer, and he brings his skills to the world of the X-Men by playing with elements of their history to create surprising new developments. Whedon's voice is prevalent throughout his Astonishing X-Men run, and it's fun to see his take on Kitty Pryde, a character he attributes as one of the original inspirations for his own landmark character, Buffy Summers.
The new DVD release collects all six episodes of the motion comic on one DVD, bringing the overall runtime to 69 minutes. This is a worthy follow up to "Gifted," which previously released as a motion comic as well. New viewers would be best served by checking out "Gifted" first and then going into "Dangerous" since there's so much continuity between the two stories. Astonishing X-Men: Dangerous arrived on DVD on April 10, 2012, and is in stores now.