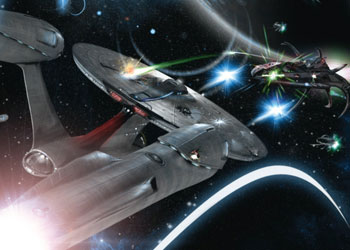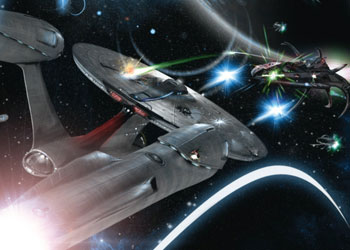 Star Trek is everywhere this week, and the XBox Live Arcade is no exception! Releasing today are Star Trek DAC and Texas Cheat 'Em, each ringing up at 800 MS points ($10). Here are the details, straight from Microsoft.


Star Trek®: D-A-C is a fast-paced, top-down space shooter inspired by the new motion picture. This pick-up and play game allows you and your friends to choose starships (from a list that includes the all-new U.S.S. Enterprise) and battle it out online!
Enlist in Starfleet or join the Romulan Empire as you battle with up to 11 friends in game play modes including Solo Play, Online Versus, and Online Co-op. Command the powerful Flagship, the nimble Fighter or the devastating Bomber, each with their own unique capabilities. Choose your side, fire your weapons, boldly go where no man has gone before!
Three game play modes: In single-player, practice against A.I. bots to become an expert captain. Jump into online multiplayer, where twelve players (six per team) compete in intense online battles. Team up with friends to combat in space in online co-op.
Three game types: Team Deathmatch lets teams go head-to-head in a winner-takes-all fight to the finish. In Assault, teams must protect and conquer control points in space. In Conquest, teams take turns trying to dominate or defend a sector of space.
Three ship classes: Each faction has the powerful Flagship, the nimble Fighter, and the devastating Bomber, each providing unique capabilities in combat.
Inspired by the upcoming Star Trek film: Take down enemies while flying the new U.S.S. Enterprise.
Superior graphics: With visuals inspired by the film, players of Star Trek: D-A-C fight in a diverse array of outer space settings.
Star Trek soundtrack: Star Trek: D-A-C features music and sound effects taken from the new Star Trek movie.
Star Trek: D-A-C releases for the Xbox LIVE Arcade on Wednesday, May 13, 2009 for 800 MS Points.


It's not whether you win or lose … it's about how far you can bend the rules without getting caught. In Texas Cheat 'Em™, that's pretty darn far. Play casino-themed mini-games to activate one of 15 cheating abilities—then make your own luck. Turn a bad hand into a sure thing. Send your opponent's Royal Flush right down the drain. Steal chips, fold for free, or know the community cards in advance. Cheat strangers out of their fortunes over Xbox LIVE®  … before they do it to you. Remember: glory is forever, but broke is only funny when it happens to someone else.
No such thing as fair: Forget those namby-pamby games that insist on fair play. Texas Cheat 'Em is a card-based party game that's all about winning — by any means necessary.
Casino fun: Play fast-paced casino-themed games like Roulette, Blackjack, and Strength Test to activate your cheating abilities.
Cheat away: Use one of 15 available cheats to give yourself an advantage. X-Ray Vision reveals an opponent's cards. Don't like the hand you've been dealt? Swap a better card out of the deck. Or forget the cards and steal another player's chips!
Solo and multiplayer: Play solo or trounce up to eight friends in a variety of online multiplayer modes!