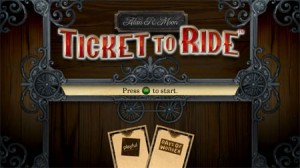 As I've mentioned in the past, it's a rare thing these days for me to find a game on the XBLA that I'm willing to drop actual Microsoft points to buy. Ticket To Ride is one game that did manage to pry 800 points from my miserly hands, and it's a fantastic buy.
Ticket To Ride is an adaptation of the board game made by Days of Wonder. The XBLA version works the same as the traditional board version. You play the part of a railroad tycoon, laying tracks across North America in the early days of train travel. You begin the game with a set number of trains you can use, and each turn you can draw colored cards from a deck (or from a row of drawn cards that lets you see what color you're getting). Colored dots connect cities on the map, showing the number and color of cards you need in order to claim that route and connect the cities. For example, if you want to put a railroad between two cities that have four red dots between then, you'll need to spend four red cards (or some combination of four red and / or wildcard Locomotive cards). As the game progresses, you get points for laying train tracks, as well as for completing little connection missions specified on Destination cards you draw from a separate deck. The game ends when one of the players has two or less trains remaining to be played.
I'm becoming increasingly convinced that it's hard to screw up an indie board game-to-XBLA port. We've seen awesome results from Carcassone, Catan, Lost Cities, and now Ticket To Ride. Gameplay, not graphics or audio or story, is the biggest factor in whether a game on the Live Arcade is fun and worth your time, and these sorts of games already have solid gameplay nailed down from years of traditional play. By developing adaptations of these board games, the game designers need only translate the rules into a playable electronic format for the game to be introduced to a new audience. I think this is a great thing, and I'd love to see more and more of these kinds of games on the Arcade.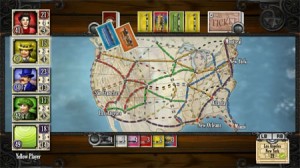 Ticket To Ride has an easily learned mechanic of drawing cards and then spending them to claim territory. There's a lot of subtle strategy underneath, though, such as predicting the routes your opponents want and placing your railroads in a way that blocks them. The Destination cards provide a level of addictive fun above just claiming random routes. Each Destination card assigns you two cities to connect, along with a number of bonus points you'll earn if you succeed in connecting them. These bonus points tend to be the deciding victory factor at the end of the game, so there's a compelling reason to complete your assigned routes. Additionally, there's a lot of fun involved in trying to find ways to connect your Destination cities, using as much of your already-installed railroad network as possible.
I haven't had a chance to try out the online ranked play, but I did see that the game makes use of the XBox Vision Camera. I have no doubt the multiplayer game will be a great social game, and I'm looking forward to giving it a spin this weekend. Also, there is a Downloads section in the game, where you'll eventually be able to purchase additional maps and rules for the game, including the Europe and USA 1910 expansions that were released for the board game version.
I give a big thumbs up to Ticket To Ride. If you have any inclination toward indie board games or strategy games involving resource management and clever planning, the game is worth every bit of its 800 point cost.