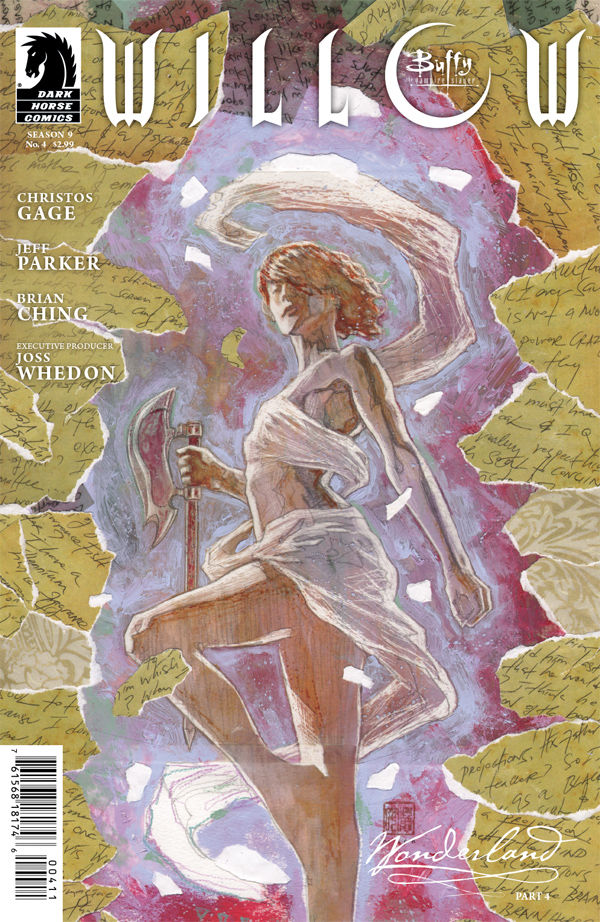 Willow's past comes back to haunt her in more ways than one in this issue of the Willow comic. Still on a mission to return magic to our world, Willow has to deal with leaving behind safety and tranquility in order to make some tough decisions. What she finds along the way may change her plans, however. Just one more complication that our favorite witch has to overcome in order to do the right thing.
Note: This recap may contain spoilers!
Coming out of her dream vision featuring Marrak, Willow is dazed and confused over what it might mean. Should she indeed turn her back on the Supercoven and go join Marrak in the barren wasteland? Aluwyn would rather she not take such drastic measures and tries to get Willow to stay with her and all her friends. Willow could be happy there, she could explore her powers and be safe from all the wrongs that have visited her lately. But if Willow doesn't complete her mission, her friends back on Earth will suffer, so it's really not a hard choice to make. What surprised me, though, was that Aluwyn didn't fight harder for Willow to remain. Instead, she was totally understanding and accepted that Willow would complete her mission and hopefully come back to her when it was over. I was hoping for more fighting, more indecision on Willow's part, some kind of high emotions. Instead, it was all too easy.
Decision made, Willow returns to Marrak and commits herself to finding magic again. Marrak has a lead, saying he thinks a neighboring world may be the key they need. That sounds good, but it's what Marrak has been up to that's more concerning. He's managed to kill all the dream birds, sucking out all their power, and now has so much dark magic running through him that it might prove dangerous. Willow knows the downside of tapping into that source and she doesn't want to see Marrak go through a replay of her past, but all she can do now is watch and wait. If Marrak proves to be a problem, she'll have to take care of it.
The two of them head to the Liminal Lands, which looks to be barren and pointless. Marrak is not pleased to be there and goes off alone to seek some kind of lead. While away, Willow contemplates her situation. In reality, she could very well become the new source of magic for the world, the new Seed, but what would that do? Would everyone be exposed to the darkness that still resides in her? Or would she lose herself in the process? These are questions that she doesn't have an answer to, but once she comes face to face with Dark Willow, she comes to accept one truth that she's long been denying. There are not two separate entities inside her. There's not a Good Willow and a Dark Willow, but instead just Willow, with both light and darkness inside. By accepting that, perhaps she can come one step closer to being the source the world needs. Her mission seems on track, which of course means a new complication has to be thrown in. The companion she has had throughout her journey, Marrak, is not who he seems. Instead, he is a noted person from Willow's past — Rack. He's becoming more powerful with each passing day and looks like he wants some revenge on how Willow left him. Hope she's strong enough to withstand whatever he's going to throw at her.
Rating: 3 / 5 Stars