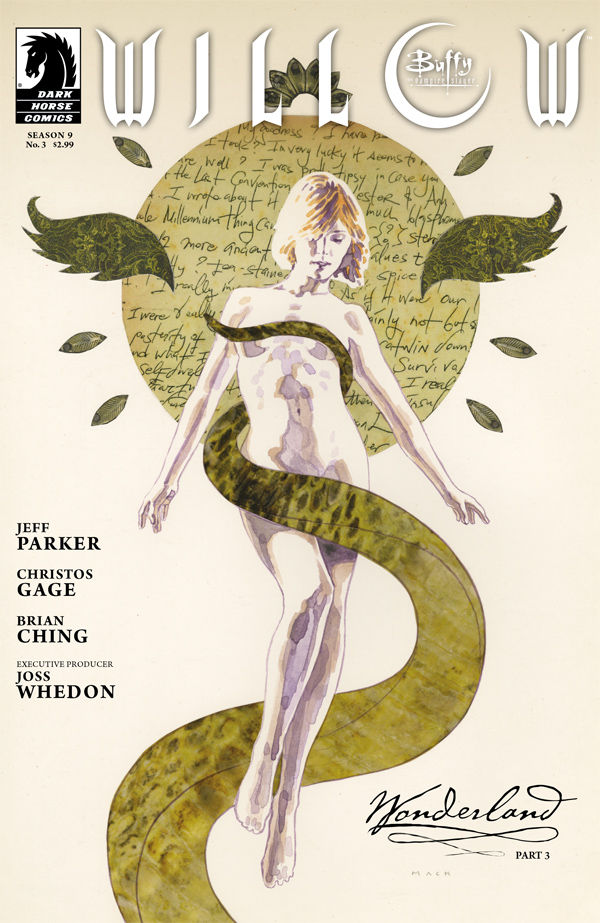 Issue: Willow #3
Release Date: January 2013
Writer: Jeff Parker and Christos Gage
Pencils: Brian Ching
Inks: Jason Gorder
Colors: Michelle Madsen
Letters: Richard Starkings and COMICRAFT'S Jimmy Betancourt
Cover: David Mack
Alternate Cover: Megan Lara
Publisher: Dark Horse Comics
While I appreciate the effort Willow is making in bringing magic back to the world, this month's issue brought me more confusion than understanding. The journey to fulfillment will be long, but I hope that I won't be continually trying to keep up with what is fantasy and what is reality.
Note: This recap may contain spoilers!
When we start off this issue, Willow's so determined to make her plan succeed that she's willing to open and possibly destroy multiple realities for her attempts. I like that she's so focused and not likely to give up easily, but she's always got to keep her past in the back of her mind. She's let all-consuming power and determination cause her harm before. Willow needs to make sure she weighs all the options before moving forward.
She also needs to listen to Marrak more, but that's a lesson that will be a long time coming. When he decides to take over the Scythe himself to show her how it's done, his actions anger the female group and they banish him. Willow's not much help for his defense, partially because she knows the women better than she knows Marrak at that point, but also possibly because she's already been caught under the lure of their spell. We don't get to see that fully realized until near the end and I like how the build-up was so gradual that even the reader could understand why Willow's apathy was growing.

More in the present, Willow's been taken under the wing of her female counterparts and is being shown a potential way of reaching the enlightenment she needs in order to bring magic back through the use of the Goddess Gem. This is where the confusion got to me. Willow's shown a vision of a barren world and a man who she originally thinks is Giles, but instead is Marrak. Is she seeing what's really happening? Because that is indeed the state that Marrak currently finds himself in.
But before we can get greater understanding of that, we go into the underwater world, where Willow feels like she made a connection that would help her gain the answers she needs, though the information is fleeting once she has awakened. Such is the way with dreams. And Willow's beginning to think about the questions that I've long pondered while reading. Perhaps her seeking magic isn't about the world, but herself. She's lost her identity, her purpose, so without magic who is she?
And Willow must also understand how her mindset is changing, the longer she stays in the coven. In the final dream of the issue, Willow is flying and Marrak invades in the form of the nightmare. He says that he's found ancient signs that may point to the font of magic they need, but Willow's in no hurry to leave where she is now. This stupor and losing sight of her mission is caused by the coven's power. She has to rebel against its hold and stay on point with finding magic again. Can she do that or will she be satisfied to live out her days in the create bliss that she has now? That's a question for next issue. For now, Willow's got a lot of things to think about.
Rating: 3 / 5 Stars