There are times when all hell is breaking loose. Bad guys are attacking, and cops are pretty much there as scenery. Batman only comes out at night, and Superman doesn't have a cell. So when your back is against the wall who do you turn to? Well, you turn to the first good samaritan who comes along, even if he (or she) isn't what you were hoping for. Presented here and now is a list of ten people who aren't your ideal choice for a knight in shining armor.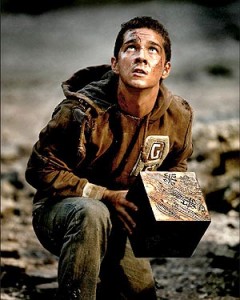 When the world is in peril from a squad of big ass robots, it pays off to have another squad of big ass robots to fight them off. Which means they're a bit preoccupied. So when you need to dispose of a powerful alien artifact in the midst of the hubbub, who do you turn to? The skinny geek with high standards in both cars and girls? Uhm, no. I think I'll go with the tough as nails Special Forces dudes. Oh… They're giving the bad ass robots backup? Right uhm… anyone else? Okay Sam, saddle up. You're the world's last hope. Last week this poor kid was worrying about pimples, keeping his grades up, and impressing women with his new car. Now the poor kid has the fate of the world thrust upon him and all because his uber-great grandfather got a little curious and looked directly at the light. Talk about post-pubescent angst. At his age I was still struggling with Algebra… I still am, actually.
9) Stanley Ipkiss from The Mask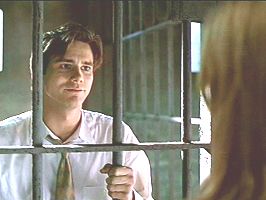 Okay, this is not what I'd hoped for when I went to the Coco Bongo Club. It's Friday night, and I'm hoping for a bit of action. First I'm hot at the blackjack table, next thing I know I've got poorly coiffed thugs pointing their guns at me. Plus, they're led by a freaky looking guy with a green face. I really got to be careful how I use the term "action." Oh, thank god. This club is mob-owned. They'll show Sprout a thing or two. Oops, never mind. They emptied their clips into Sprout and he just spat the bullets back at them… We're screwed. Waitaminnit. Someone's shaking up the works. Who is that brave, brave man? He's a banker? He's a Tex Avery enthusiast? His best friend is a Jack Russel Terrier, and his last name is Ipkiss… Revision to my previous statement. We're REALLY screwed. Well Ipkiss may not have the smarts or the skills but he's got the heart, he's got the determination, and his dog is smarter than the average bear. Well, it's better than nothing. Good luck, Stanley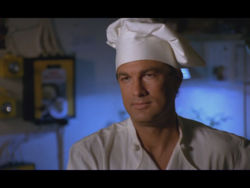 It just never seems like a good idea to let anyone you DON'T know onto a Naval Aircraft Carrier with nuclear capabilities. Particularly when you've got Gary Busey as your Commander. Well, proving once again that the term "Military Intelligence" is an oxymoron, you've got terrorists from our soil posing as musicians and caterers, taking over every part of the ship. They've killed the Captain, and now they've got control of the Tomahawk Missiles that we negligently left lying about. Our only hope is the one that got away: a smart ass cook who happens to be really good with cooking knives, and explosives, and hand-to-hand combat, automatic and semiautomatic weapons- WAIT A BLOODY MINUTE! This ain't the normal training that a lowly cook receives. Aha, he was an ex-Navy Seal who was reduced to a cook. Looks like he's aching to earn his stars back. Well that changes things, doesn't it?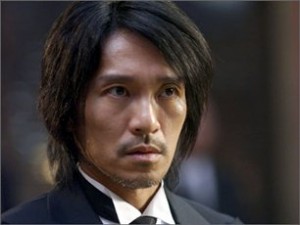 This man is a complete disaster. In no time flat, he accidentally sets off a feud between the residents of Pig Sty Alley and the biggest, baddest gang in town, The Axe Gang. Sing attempts to make his name as a villain with embarrassing results. During a failed attempt to assassinate the Landlady of Pig Sty Alley, Sing is stabbed multiple times in both arms and is bitten in the face by poisonous snakes. This doesn't deter him, and after sneaking into a maximum security prison to unleash "The Beast," Sing is finally in with the Axe Gang. According to legend, The Beast is the greatest (and most insane) Kung-Fu master in the world, who is commissioned by the Axe gang to defeat the Landlord and Landlady. When the battle ends in a stalemate, Sing is faced with the decision to kill the good guys. Instead he injures the leader of the Axe Gang and hits The Beast over the head with a 2×4. Possibly Sing isn't such a bad guy after all. Possibly, Sing could be a Kung Fu Master of staggering natural aptitude. He could be. After all, he is skilled in the lost art of the Buddhist Palm. A skill which he learned as a boy… From a dime store handbook which he bought for ten bucks. Okay, it's a long shot, but who else is there?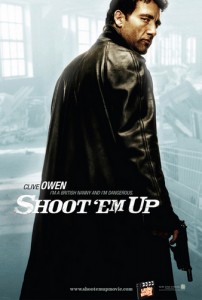 He's cold, he's crabby, he loves carrots, and he hates a lot of things. He has absolutely no reason to get involved. There is nothing that obligates him to rescue the frightened pregnant woman running by. So what is it that pushes him to protect a newborn baby? After all it's not his baby, and he doesn't seem like the kind of guy who has any interest in being a hero. Well, Smith definitely would NOT be my first choice to be my savior, but when you see Smith in a gun battle you'd get on your knees and thank God that he's on your side. In the course of the film you witness Smith leap from an overpass through the sunroof of a car, engage in a gunfight in midair, and even set up an elaborate deathtrap utilizing multiple automatic weapons. Once you get past the gruff disposition, the dirty clothes, and the carrots, the only thing you gotta worry about is staying on his good side.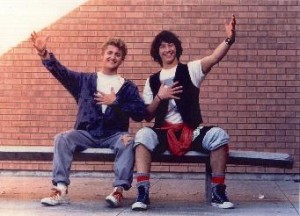 Who is Joan of Arc? Who is Caesar? Who is Napoleon? Most of us would say, "A French woman who liberated France, A Roman Emperor, and one of the greatest military minds of the 19th century." For Bill S. Preston, Esq. and Ted "Theodore" Logan (aka Wild Stallyns), the answers are not as well informed. Though they don't shirk their education, their priorities are focused on becoming a most triumphant band. There's only one problem: They aren't that good. So it comes as a surprise (even to them) that in the distant future their music actually inspires universal harmony. However, until that can happen they have some growing up to do and have to learn to jump the many hurtles through that crazy thing called life. Luckily they've got the best historical reference tool around.
4: Elvis Presley and JFK from Bubba Ho-Tep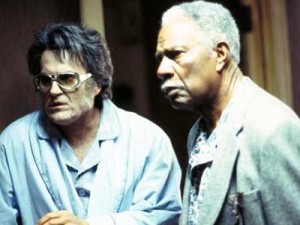 Millions of Elvis fans were never convinced of "The King's" death. Many claim they actually saw him walking around the corner or getting a haircut. Well they were right and they were wrong. Turns out Elvis is alive, just not where those people thought that they saw him. If they really wanted to find Elvis, they should have looked in the Shady Rest Home in East Texas. Turns out he's been there for decades, suffering from a dodgy hip, wallowing in his own self loathing, and trying to figure out what the little growth is on his pecker. Naturally no one believes he's really Elvis. Well no one except his only friend. Unfortunately he's a black man who thinks he's JFK. Admittedly we wouldn't believe either of them. Especially if JFK starts ranting about a mummy, wearing a cowboy hat and boots hobbling around, sucking souls out of the rectums of the residents of the rest home. Lucky for them, Elvis is bored and is gunning to make his life worth something again. Together Elvis and JFK set out to face-off against a 2,000 year old mummy.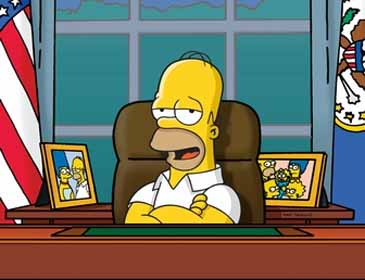 He's described by Ned Flanders to be "the worst human being on earth." The funny thing is, we really can't deny that claim. In lieu of his loveability, Homer Simpson is the most self-centered, sloven, and worst of all thoughtless man around. He allows something as trivial as free donuts to deviate him from Marge's request to dispose of his pig crap silo properly, and thanks to his half assed approach towards disposal, places all of Springfield in jeopardy. After narrowly escaping a lynch mob, Homer is all too happy to wash his hands of Springfield and take his family to Alaska. So when the EPA decides to nuke Springfield, Homer could care less, but after a bout of spiritual guidance, Homer realizes that there are more important things than himself, and ultimately he decides to save a town he hates because it's the right thing to do. There's only one problem Homer ain't exactly the brightest bulb on the Christmas Tree and everyone in Springfield knows it. You all know Homer Simpson and you know that he's invariably disaster prone. If you need someone to save the day he is definitely NOT on your top ten list of candidates.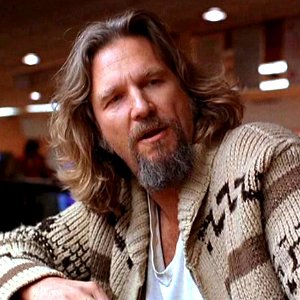 His Dudeness! Duder! El Duderino! If you're into the whole brevity thing, suffice to say The Dude is a man of his time and age. He's out there taking it easy for us sinners. His favorite things are bowling, White Russians, the more than occasional J, and his rug that really ties the room together. The Dude lives a life where he is at one with his environment. So when two thugs bust into his home and piss on his beloved rug, this throws off his chi. The Dude attempts to have The Big Lebowski compensate him for the rug. However, what happens next is even more confusing. After all, why would The Big Lebowski choose an unambitious stoner to be the money handler in his loosy-goosy trophy wife's kidnapping? Well whatever the reason is, rest assured this aggression will not stand, and The Dude will come out on top. For truth and justice… Okay, maybe not. He just doesn't want the German Nihilists to cut his johnson off. That and he just wants his rug back.
1) Marge Gunderson from Fargo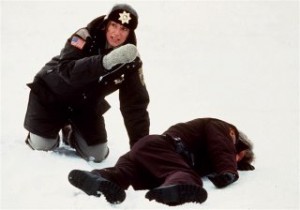 We got a triple homicide on the side of the road, just outside of Brainerd, Michigan. One State trooper, shot in the head, and then there's a couple down the road. One shot in the back trying to make an escape and another execution type deal left in the car. Well, it's not the normal type case for this neck of the woods. Luckily they've got the best woman for the job. You just wouldn't think it when you see her for the first time. She's sweet, she's pleasant, she's seven months pregnant, but nevertheless she is sharp as a tack, and she is never wavering in her resolve to solve a murder. If there's anything that does make her wince, it's her dismay towards people who do horrible things for something as plain and as insignificant as money. At the end of the day all she needs to get by is her loving husband and the comfort in knowing that they are in a good place. When all is said and done what really makes Marge an unconventional hero is that all the things that she works and lives for she already has. It just doesn't seem that way to us. She finds happiness in the simplest of things. In the end, despite the fact that she (effortlessly) cracks the case, she is happier that her husband's mallard paintings are going to be on the three cent stamp.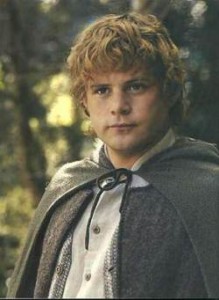 You're coerced into an epic journey to dispose of a piece of jewelry more evil than anything Liz Taylor wears, and you know danger is inevitable. You might want someone to come along and get your back. I'm sure your first instinct wouldn't tell you to bring your gardener, and 99% of the time your instincts would be right. Unless your gardener happens to be the stout-hearted Samwise Gamgee. He'll get your back from Nazgul, Orcs, Cave Trolls, Giant Spiders, and after all is said and done he'll plant you a helluva shrubbery.