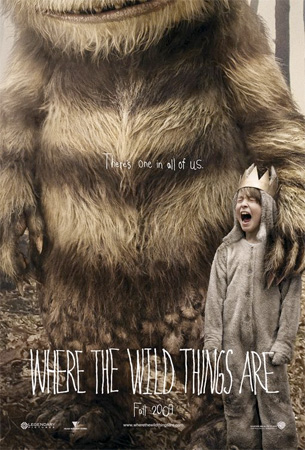 Starring: Max Records, Catherine Keener, Lauren Ambrose, Forest Whitaker, Chris Cooper, Paul Dano, Catherine O'Hara, James Gandolfini, Mark Ruffalo
Director: Spike Jonze
Written By: Spike Jonze & Dave Eggers (based on Maurice Sendak's book)
Where the Wild Things Are, the new Spike Jonze (director and co-writer) and Dave Eggers (co-writer) venture based on the classic (and very dear to this author's wild heart) 1963 children's book by Maurice Sendak, who also gave his blessing to the project, had a lot of hype, hope, and hipsters to live up to.
My friends, it is lovely. Simply lovely.
I went into the theater nervous that another beloved classic from my childhood would be updated beyond recognition, yet hopeful that with a roster of talent including music by Karen O and The Kids (must buy soundtrack next paycheck) and voice actors such as Lauren Ambrose, Forest Whitaker, Chris Cooper, Paul Dano, Catherine O'Hara, and the almost unrecognizable James Gandolfini, my Wild Things would be given the treatment they deserved.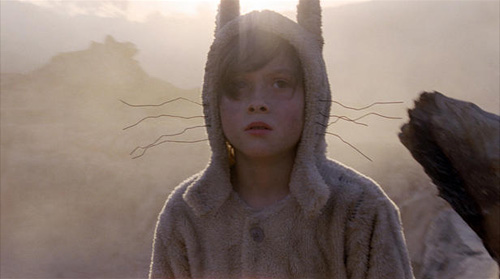 Most importantly, I had to believe in Max. Jonze found the perfect Max in the aptly named Max Records, a wildly imaginative, energetic, cunning, deeply emotional, and profoundly lonely anykid. Max, under any other family, would be pumped full of Ritalin and ADHD medicine faster than you can say "misdiagnosis," yet his imagination and wonderful child energy is treasured, to a very specific breaking point, by his stressed-out yet wonderfully patient mother (played beautifully by Catherine Keener). I believed in Max from the opening credits, and I knew that I was along for the journey.
Jonze and Eggers had a difficult task in adapting a 10-sentence children's book into a full length movie. The choices that were made might alienate some die-hards, but the adaptation remains faithful to the spirit of the book, giving Max a family that includes older sister Claire, and Mom's boyfriend.
Unlike the book, where Max's entire journey (over days, weeks, maybe even a year?) takes place in his bedroom as it transforms into the ocean and Wild Thing Island, Movie Max runs away from home after humiliating and assaulting his mother during a romantic date with her boyfriend. Max runs around his neighborhood, through a fence, through the woods, to his Max-sized boat ready to take him on his journey.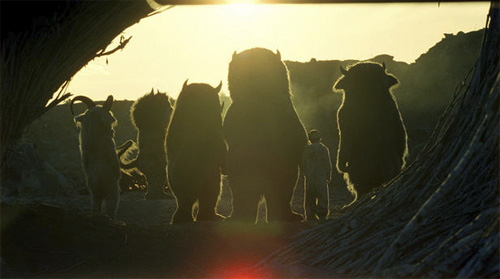 Max's journey to where the Wild Things are is a long and arduous journey, made all the more perilous by the ferocious beasts he encounters once he lands. Fortunately, as fans of the books know, Max convinces the Wild Things not to eat him as they are normally inclined, and conquers the giants with a ferocious cry to "BE STILL!", losing none of the gusto that many childhood readers imagined those words to contain. With that, Max is made King, and the Wild Rumpus starts.
Max's dominion, Wild Thing Island, is a beautiful childhood dream landscape, full of forests and deserts, trees excellent for throwing and making holes in and for turning into turning into forts; animals with human names (you'll like Richard); and the titular Wild Things. The creatures are gorgeous yet terrifying, and you cannot help but get a sense of their massive presence, yet they are light as air and as snuggly as your favorite pet. The world they inhabit is one of gorgeous natural asymmetry.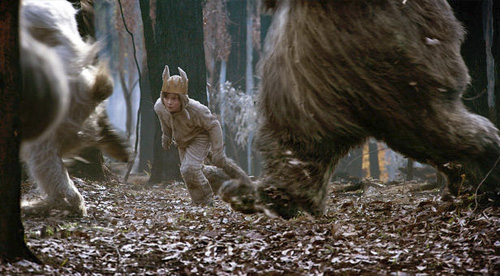 As much as we try and run away from our problems, we grownups realize that they only become bigger. For wild 9-year-old boys named Max, they turn into Real Big Monsters. As Max learns the subtle nuances of ruling over a band of Wild Things, we come to know the monsters who are painfully human themselves. We have the insecure, moody, manic Carol (Gandolfini); Ira and Judith (Whitaker and O'Hara), partner monsters trying to maintain group balance; Douglas (Cooper), the sardonic jokester; shy Alexander (Dano); and The Bull (Michael Berry Jr.). Max's arrival leads K.W. (Ambrose), who left the group, to rejoin. K.W.'s return is cautiously celebrated by everyone, none more so than Carol. It is when the newly restored harmony of the Wild Thing family is threatened that Max realizes the true purpose of his journey.
Where the Wild Things Are is in the canon of Great Childhood Journeys Into The Imagination movie (and book adaptations) such as Wizard of Oz, Return to Oz, The Neverending Story, Peter Pan, and Coraline. Jonze and Eggers, along with Karen O's wonderful soundtrack create a dizzying, dazzling symphony of childhood, of imagination, and of fierce playfulness. More importantly, it reminds us adults to dress up, howl at the moon, and let the Wild Rumpus continue.