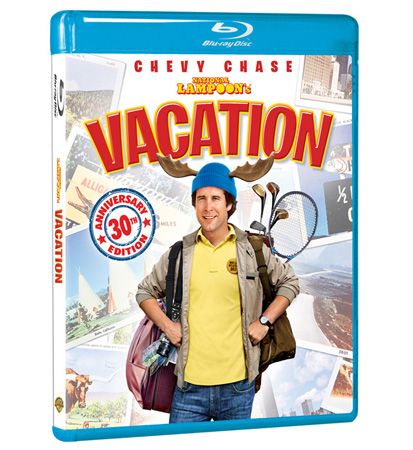 When I was little, my parents were pretty cool about what they would let me watch. They weren't super strict about adhering to movie ratings and barring me from seeing anything that didn't exactly fit my age range. They liked to evaluate individual movies on their own and figure out whether my viewing them would forever dement me, and I think they were pretty successful in ushering me out of childhood mostly hinged. Their intelligent lenience is how I got to see a whole bunch of movies before my friends did, and Vacation is one of those special R-rated flicks that I consumed long before I technically should have. As such, I've always had a soft spot for the franchise and, by extension, Chevy Chase. Sure, he's turned out to be a Community-ruining crotchety old cuss, but my nostalgia for movies like Vacation, Fletch, and Caddyshack allows me to excuse him for most of those transgressions. I know I'm not alone in my Vacation nostalgia, because Lauren wrote an article specifically about her own attachment to the Griswold family last year.
National Lampoon's Vacation originally released in theaters in 1983 from a screenplay comedy legend John Hughes based on a short story he had written. Harold Ramis directed the film just one short year before he would immortalize himself in front of the camera as Ghostbusters' bespectacled Dr. Egon Spengler. Ramis previously had worked with Chevy Chase on 1980's Caddyshack, but at the time they made Vacation, Chase still very much was remembered as a recent SNL alum. The character of Clark Griswold even is an amalgamation of the traits of several of Chase's familiar SNL characters. Adding Beverly D'Angelo, Anthony Michael Hall, and Dana Barron to the mix established what would prove to be one of cinema's greatest on screen families (although the kids would be recast in future installments). Randy Quaid debuted his Cousin Eddie character in this first Vacation movie, but the lovably crazy redneck wouldn't come into his own until Christmas Vacation and its direct to video sequel, which gave Quaid top billing.
At its core, Vacation is a simple movie about an average guy who wants to be a great husband and dad as he takes his family on a trip to Walley World (a National Lampoonized version of Disneyland). The well intentioned but disaster prone Clark Griswold drives his family into and out of one insane situation after another as they make their cross country trek from Chicago to Los Angeles. The journey has them crossing paths with Christie Brinkley, John Candy, and other recognizable faces of the '80s before reaching its memorable conclusion at the end of their travels. Vacation was a theatrical success and launched an ongoing movie series that even now has another sequel in production for a 2013 release. More significant than the franchise it spawned is the cultural impact Vacation had, providing countless touchstones for references and jokes in other movies and TV shows. And I don't even know how many times my own family has made references to Aunt Edna while on our own road trips.
Vacation turns a ripe old 30 this year, and Warner Bros has issued a rerelease of the Blu-ray for the 30th Anniversary. There was a 20th Anniversary release of the movie on DVD, and that's the source for most of the bonus features included on this edition. The audio and video are the same transfer from the previous Blu-ray release, and they still look and sound good here. One new addition for the 30th year is a feature length documentary about Vacation that originally aired in 2011 on A&E. It features very nearly the entire cast of the movie with interviews and behind the scenes footage that chronicle the making of the film. If you're a big Vacation fan, this feature alone might make this new release worth a purchase. The returning bonus features include an audio commentary that includes Harold Ramis, Chevy Chase, Randy Quaid, and a few other members of the cast and crew, as well as a brief introductory video with Chase, Quaid, and producer Matty Simmons and a theatrical trailer, both in standard definition.
Even if you didn't grow up with Vacation, I strongly suspect it's still a comedy that stands the test of time and will hook you. Most of John Hughes' films still pack a punch, though their appeal now includes a retro kitsch that has grown on them since the '80s. Check out the new release of Vacation and catch up on the series before the next movie hits theaters later this year.