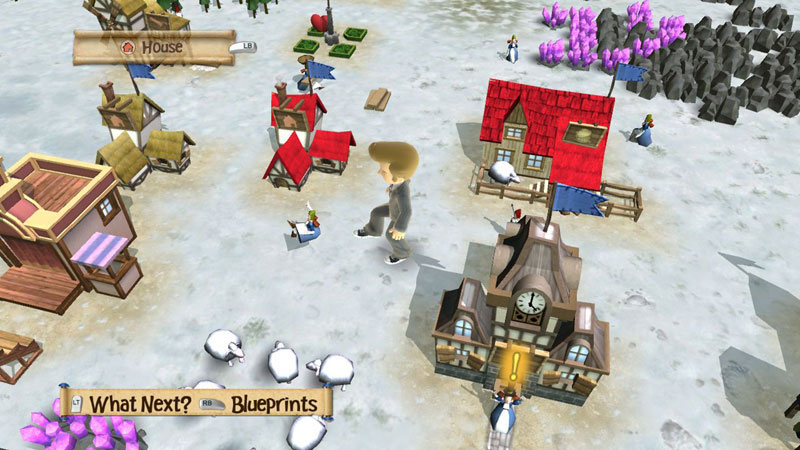 New games hit the XBox Live Arcade on a weekly basis, and it's very easy for titles to get lost in the shuffle, especially as people are learning the new interface of the New XBox Experience. A Kingdom for Keflings has gotten a decent amount of promotion due to its inclusion of the new XBox avatars, but you should give this new game a look, not just for the gimmicky character feature.
Developed by Ninja Bee, A Kingdom for Keflings is a pretty straightforward game with a deceptively deep play mechanic that just might cause you to lose a few hours at its mercy. Here's the setup: Keflings are little, Lilliputian folks who are more than willing to work hard but just don't have what it takes to build themselves a kingdom. As a giant in their realm, that's where you come in. You'll guide the little people around to perform tasks like cutting wood, mining rocks, and delivering logs to be turned into planks. While they're gathering and carrying around resources, you act as the brains of the operation, deciding how, when, and where their resources will be used to build a veritable kingdom for them.
The building mechanic is as straightforward as it is addictive. Each structure you can build in the game has a different blueprint. The blueprint shows you the components required to make the building, as well as how the components must be arranged to complete the structure. For example, one of the early blueprints you acquire is for building a house. The house requires a hearth, a bedroom, and a storage room. The blueprint shows you that those three components can be produced at a workshop, using certain amounts of wood and rock. In order to get the wood and rock you need, you'll have to train your Kefling friends to gather it for you. That process is as simple and picking up a Kefling, carrying it to the trees, dropping it there to learn lumberjacking, and then carrying it back to the workshop and dropping it to show it where it should take the wood it produces. Once the resources all are there, you can select the components to build from the workshop's build menu (each building that produces something has a different menu). When the component is finished, you physically pick it up and carry it to where you want the final structure to be built, arranging the pieces in the configuration shown on the blueprint. When it's all done, you'll have a new building that will grant you additional bonuses or resources and just might unlock another new blueprint for you.
Gameplay continues until you complete the building of a castle for the Keflings, surely a daunting task, given the size of the tech tree of unlockable blueprints with the castle at the end. You'll find yourself saying, "Just one more blueprint" as you play, and before you know it you'll have been at it for hours.
There's no combat in the game, and there are no ways to lose. The game proceeds at whatever pace you play it, making for a very low-stress gaming experience, something I truly appreciate after playing through Mirror's Edge, Quantum of Solace, and Fallout 3 recently. This game probably won't appeal to all players, but it really hooked me. I'm someone who loves crafting in games. I'm the guy who played Star Wars Galaxies and built characters up as a master architect and a master tailor. If you're into the building and crafting aspects of MMO's and similar experiences, this game delivers everything you've wanted from that gameplay and deeper than you're likely to see it elsewhere.
Don't let the gimmicky marketing of including your new avatar in the game scare you away. A Kingdom for Keflings is one XBLA game that's well worth your 800 MS Points investment.