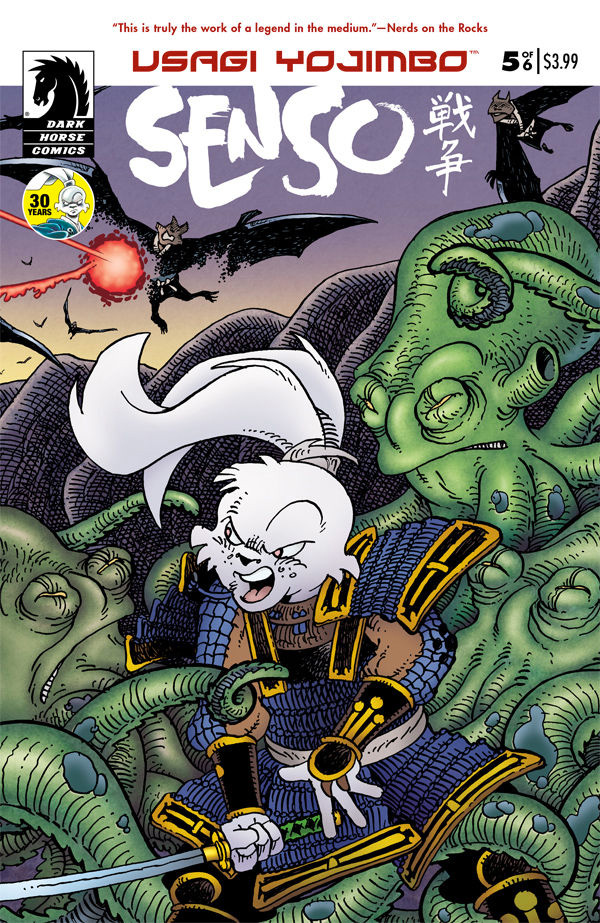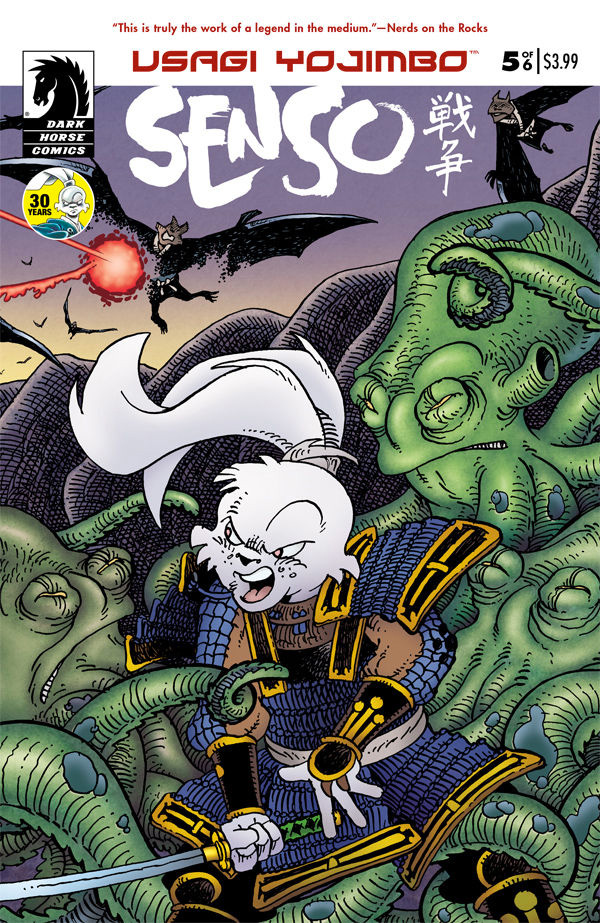 Senso issue number five begins in a different area from where we were last issue. Tomoe's husband, Buichi, and one of his men are trying to get to the Shogun and tell him of the aliens crashing down. They are stopped by a group of bat-ninjas called the Komori. The leader of the clan, Akakage, will not let them pass because he holds a grudge against the Shogun. However, as they talk, another ship falls near them. The Komori investigate and, like all others before them, are overwhelmed by the alien power. Many of Akakage men are killed and he is seriously wounded.
Note: This recap may contain spoilers!
Buichi convinces Akakage to fight against the aliens — if not for honor, then for revenge. Buichi tells his man, Higa, to ride ahead to the Shogun. Buichi will stay behind and help the Komori get close to the alien ship. As the Komori get close, the aliens shoot at them, but Buichi charges in and kills the aliens controlling the laser gun. The Komori dive bomb the ship and reveal that they are the Kamikaze. The ship explodes and Higa is able to get to the Shogun.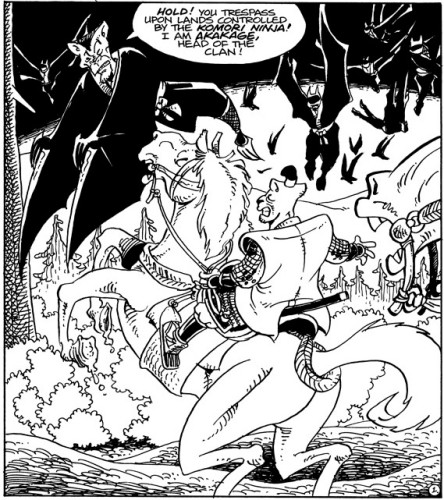 A week later a group of lords and an emissary for the Shogun meet to speak about the alien invasion. Noriyuki explains that they have tried and failed to stop the last walker many times. It is smarter and heading right towards them to Edo. Takenoko has come up with a plan, but as we see later, the lords and the emissary find it foolish.
Meanwhile, Usagi and Tomoe are speaking about Buichi. Usagi picks a bad time to ask about his and Tomoe's relationship. Jotaro interrupts them and tells them that Noriyuki has summoned them. The lords walk past them, speaking badly of Noriyuki and Takenoko. Noriyuki meets them at the top of the stairs and shows them Takenoko's second weapon. The last panel has the best reveal I've ever seen, so I won't spoil it. However, I will say that it is equal parts funny and awesome.
The final issue is coming up and it will be interesting to see what happens to all the characters. I'm also ready to see how this new weapon will help. It's probably going to be a fantastic fight between the alien walker and this weapon. I'm hopeful that the aliens will be defeated, but you can never be sure in comic books.