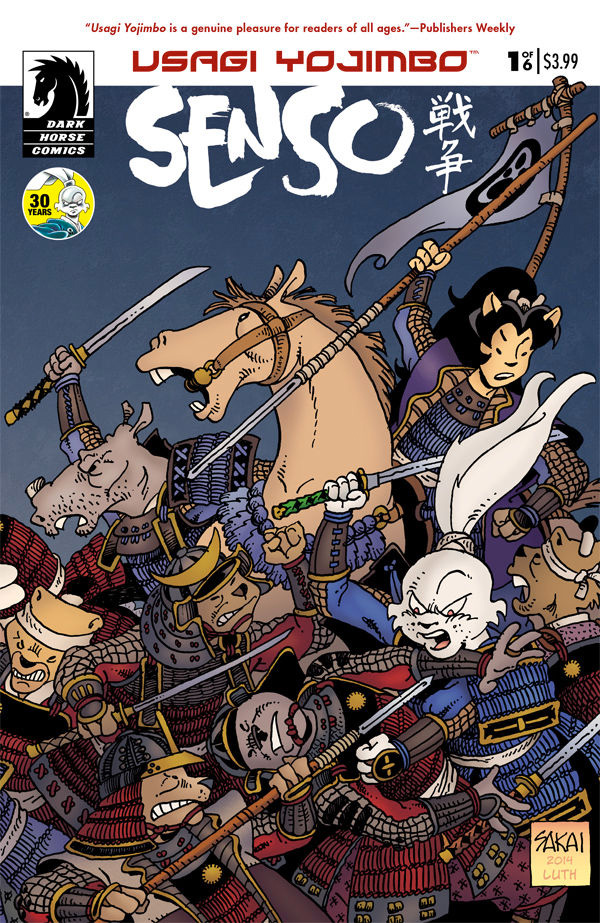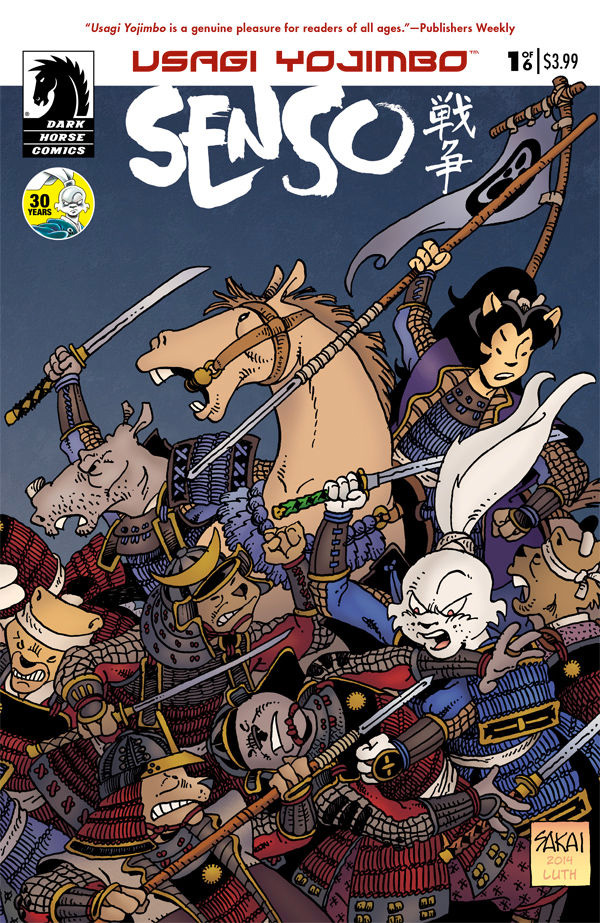 Usagi Yojimbo is about a rabbit bodyguard set in the Edo period of Japanese history. Instead of humans, there are anthropomorphic animals that are the characters of the story. The main character is Miyamoto Usagi, who is a rōnin samurai. He wanders the land and, as the title suggests, sells his services as a bodyguard. Senso is set twenty years in the future. He fights for Lord Noriyuki against Lord Hikiji.
Note: This recap may contain spoilers!
In the opening pages, things are not going well for Lord Noriyuki. One of his advisors, Horikawa, insists that they give up the battle. Usagi and Tomoe, a woman, advise the Lord not to give up. They have many formidable men — including Gennosuke, who is good in battle and has the loyalty of his men. Another member of Noriyuki's court, Takenoko, approaches saying that he has something that may help.
It turns out to be a machine called Kameyama (turtle mountain), because it's shaped like a turtle. It's powered by flame and steam, with samurai on the inside who are still able to shoot arrows. Noriyuki is incensed and refuses to use it as he sees it as an abomination. He believes there is still to be honor in war and sees the Kameyama as an underhanded tactic that would lead to an easy win. He then sends in Gennosuke to battle, hoping to win that way.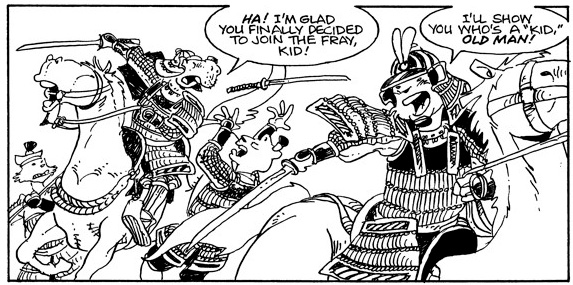 Gennosuke trounces many of Hikiji's forces and Noriyuki sends in the last of the reserve forces. They are led by Jotaro, Usagi's son. The group rushes in and is able to turn the tide into Noriyuki's favor. However, Jotaro is dismounted and surrounded. Usagi rushes in after him, but suddenly a sound is heard over the battlefield. It is not a sound anyone has heard before. It is coming from the sky and moving fast. It crash lands into the battlefield and in the last page you can see it's a rocket of some kind.
I really enjoyed reading this comic. It has all the elements I like: history, action, anthropomorphic animals, and mystery. All the characters seem interesting and well fleshed out. If you haven't read previous stories about Usagi, it might be a tiny bit confusing, but I think this could be a good starting point as well. It's easy to pick up and know who the characters are. I can't wait to see where the story goes, especially with the rocket at the end.