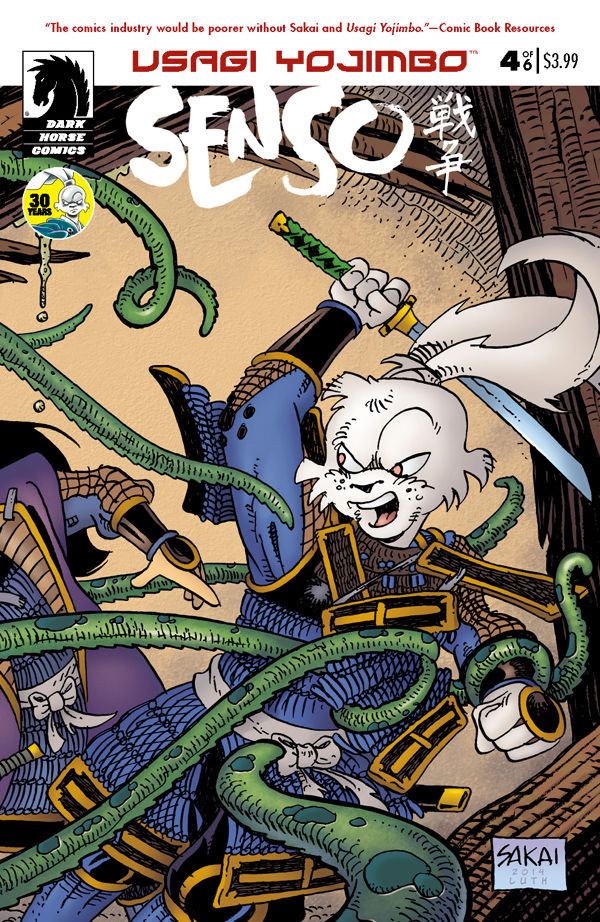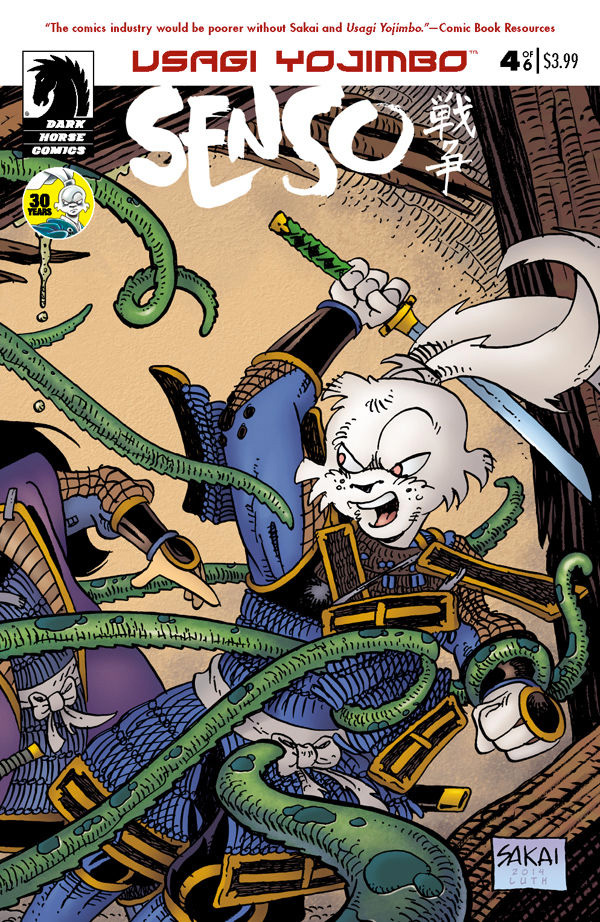 The fourth issue of Senso begins with a shot of Usagi and Tomoe, unconscious and trapped under a building. If you remember, another space ship crashed right near them and they ran into shelter for protection. It wasn't much, but it was enough to keep them alive. As they try to make their way out from under the rubble and it falls around them, they have a conversation about their past.
Note: This recap may contain spoilers!
Usagi wonders what could have been had he and Tomoe gotten married. Tomoe and her husband do not love each other, as it was a marriage of politics. Even though Tomoe loves Usagi, she has never betrayed her husband. They also discuss Jotaro and if Usagi should tell the boy that he is his father. Usagi believes that Jotaro will hate him if he tells him the truth. They have a moment where they might kiss, but are interrupted by a noise.
They reach the spaceship and a door opens on the side. Together, Usagi and Tomoe attack and enter the spaceship. They see many more aliens inside that are all busy working, probably to build more walkers. A fight ensues, with Usagi and Tomoe looking to be on the losing side because there are just so many aliens. Suddenly, Jotaro and a troop show up to beat back the aliens. They escape the wreckage and make their way outside with the surviving villagers. Then they began a long trek away from the aliens as the city burns behind them.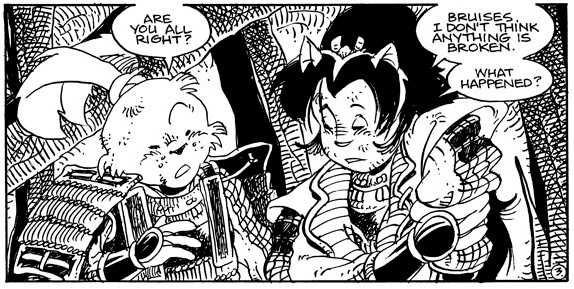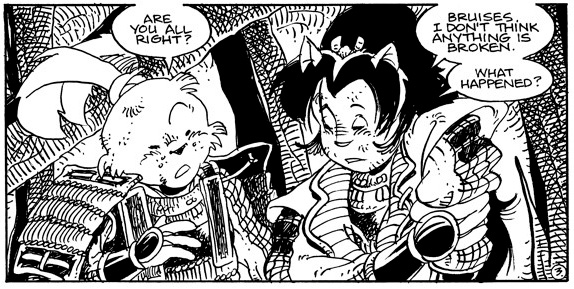 Meanwhile, Lord Hikji's right hand snake, Lord Hebi, is trying to protect the castle and its people, even as they leave. However, the men left behind are frightened and run away. Hebi is confronted by a walker when Hikji emerges. He is never shown clearly and is either brainwashed or something worse. He tries to tempt Hebi to join the aliens, but Hebi won't have anything to do with it. He denounces Hikji as a monster, then faces the walker.
The ending is sad and dismal as yet another space ship lands. Usagi and his friends are too far away to do anything, so they must keep going. It was interesting to see what the aliens did to Hikji and how they tried to use him to pull off their plans of world domination. They used Hikji's own desire against him, to make him a puppet. I wonder if they might use others as puppets as well to talk to those left behind. Hopefully Usagi and company can fight the aliens off. There are only two issues left, which makes me worried that not only will more characters die, but that the aliens might win.