If you're a fan of mob movies, you're going to love the collections Warner Bros delivered this month. On May 21, organized crime took center stage as nine films hit stores on Blu-ray, collected across two brand new box sets. Here's a look at the Ultimate Gangsters Collection: Classics and Ultimate Gangsters Collection: Contemporary, both worth spaces on your Blu-ray shelf.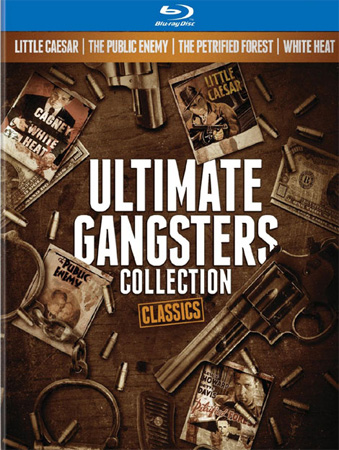 Reaching back all the way to the '30s, the Ultimate Gangsters Collection: Classics pulls together four films that laid the foundation for a genre. Each of the movies included in this one also arrived as individual Blu-ray releases this month. The early mob chronology opens with Little Caesar, the Edward G. Robinson film from 1931. Little Caesar is the only movie from either of these new collections that doesn't look completely fantastic after the modern remasterings and touchups. The original masters of the film obviously have some damage that would be nearly impossible to repair completely, so there are filmic scratches and lost frames scattered throughout. It's not enough of a problem to detract from the film itself, but it bears mentioning, lest you go into Little Caesar expecting HD perfection. Visual issues aside, this is the best presentation of the movie that you're likely to find, and Rico "Little Caesar" Bandello is the prototype from which many future fictional mobsters would take their inspiration.
The second movie in the Classics bundle is The Public Enemy, also hailing from 1931. An early gig in James Cagney's career, The Public Enemy would forever tie the prolific actor to his role as gangster Tom Powers. Although Cagney starred in just as many comedies as crime films, this movie made him synonymous with gangland roles. It's not such a bad reputation to have, given that Powers now is a deservedly classic character in the pantheon of Hollywood, and The Public Enemy is a really good movie. Cagney tried to distance himself from crime movies, but his career inevitably would bring him back for another outing included in the Classics collection, 1949's White Heat. One of the best movies in this package, not to mention the history of gangster films, White Heat is an intense tale of a prison break and chemical plant heist that stands up to any of the later releases in these new collections Warner has assembled.
The fourth and final film in the Classics box is The Petrified Forest, an early Humphrey Bogart movie from 1936. Also starring Leslie Howard and Bette Davis, this film is less a gangster movie and more a character film that features a gangster antagonist, one Duke Mantee played convincingly by Bogart, who then was taking his first steps into the sorts of roles that would define his career. The Petrified Forest and the other three movies in the Classics collection come with all the special features that are included on the individual releases, ranging from feature commentaries to featurette productions. There's also a bonus DVD included with this set that has a feature length documentary about the history of gangster films alongside a collection of four Looney Tunes / Merrie Melodies gangster cartoons. All of the discs come in one multi-disc case that slides into a sturdy slipbox with a slim hardcover book that has photos and brief info about each of the included films.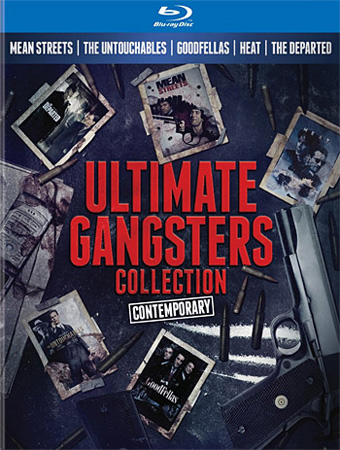 The Ultimate Gangsters Collection: Contemporary set is packaged similarly to the Classics one with five discs housed in a plastic case alongside a hardcover book with spotlights on all the films. The movies in the Contemporary box set span from the 1970s through the 2000s, beginning with Mean Streets, the 1973 Martin Scorsese production that predates Taxi Driver, Raging Bull, and most of his other classics, a couple of which fill additional slots in this collection. Mean Streets stars Robert De Niro and Harvey Keitel in a drama set in New York's Little Italy. Just as Scorsese is a common thread that ties together several of the movies in this Contemporary collection, De Niro also makes multiple appearances, including his role as Al Capone in 1987's The Untouchables. Brian DePalma's adaptation of the classic gangster TV show casts Kevin Costner as Eliot Ness, and Sean Connery and Andy Garcia make memorable appearances as well.
Goodfellas is the third DeNiro film in the bundle and also is Scorsese's second featured here, released in 1990. Inspired by the true story of gangster Henry Hill (Ray Liotta), Goodfellas is the quintessential mob movie and stands tall alongside other pinnacles of the genre like The Godfather. Goodfellas is a classic movie about the rise and fall of power and features a number of unforgettable performances, including Joe Pesci's Oscar winning role as crazed thug Tommy DeVito. 2006's The Departed rounds out the trio of Scorsese movies in the set with the film that earned the director an Academy Award. This one stars Jack Nicholson as Irish gangster Frank Costello whose organization is being infiltrated by a rookie cop (Leonardo DiCaprio) at the same time that Costello has his own mole (Matt Damon) within the police department.
The fifth movie in the Contemporary collection is Heat, another Robert DeNiro classic. Michael Mann produced this cops and robbers film in 1995, and the story pits a veteran cop (Al Pacino) against a seasoned thief (DeNiro) and his gang. Val Kilmer, Danny Trejo, and Tom Sizemore round out the crew in this tense and tightly constructed thriller. Heat is less a classic mob movie and more a suspenseful cat and mouse game, but it absolutely deserves its spot in the Ultimate Gangsters Collection.
If you are a fan of crime movies and don't already have these movies in your collection, you need to pick up these two box sets ASAP. All the movies (with the understandable and excusable exception of Little Caesar) look fantastic on Blu-ray, and all the included films pack in the bonus features they included in their individual Blu-ray releases. You can't go wrong with Warner's Ultimate Gangster Collections, both of which arrived in stores on May 21.
blu-ray
,
goodfellas
,
Heat
,
Little Caesar
,
Mean Streets
,
the departed
,
The Petrified Forest
,
The Public Enemy
,
The Untouchables
,
Ultimate Gangsters Collection
,
White Heat