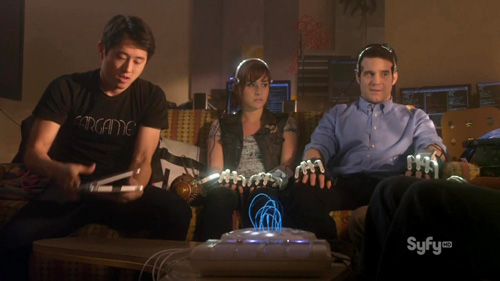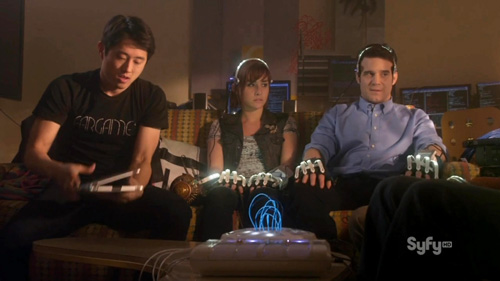 Episode: Warehouse 13 3.06 – "Don't Hate the Player"
Original Air Date: August 15, 2011
Screencaps from Demon-Cry.net
This past week's episode featured a crossover character that has been on Warehouse 13 before and I was looking forward to seeing him again on the show. Douglas Fargo from Eureka once again made life interesting for part of the Warehouse 13 crew. Please be aware that there will be spoilers ahead if you haven't had a chance to see the episode.
This week's adventure starts off with a bit of insight on Claudia, in that she sings and plays the guitar, but only does it when no one is around. She was clearly quite annoyed with Pete when he suggested that she perform in a local coffee house to "get out of her comfort zone". This, of course, set the tone of this week's episode. Claudia then receives a frantic phone call from Gibson, who was told that if something drastically went wrong, he was to call Claudia. Having no clue who Gibson is, what is going on, or who would have him call her, she inquires as to who would tell him to do that. Lo and behold, it was Fargo, along with another person, who we see on a couch hooked up to virtual reality headgear and obviously in trouble. Cue our heroes to the rescue!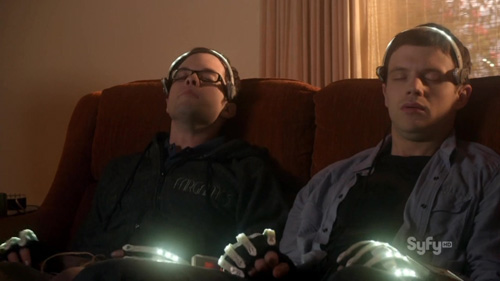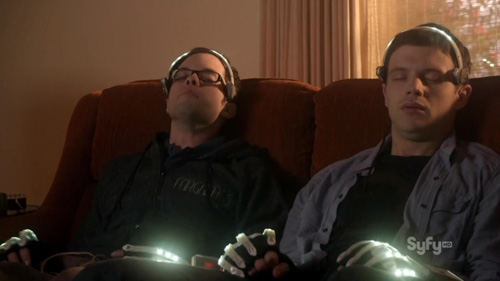 Claudia, Pete and Myka arrive to Gibson's house in California and discover that Fargo and his buddies had created a virtual reality game called Fargames that will allow a player to feel the sensations of sight, sound, and smell while in the game. Fargo and Jerry (the guy sitting next to Fargo on the couch) were in the game beta testing it when it all went pear shaped, and the boys were not coming out of the game. Apparently, Fargo had acquired Beatrix Potter's tea set that, when used, stimulates some region of the brain that helps with imagination. Fargo had thought that this would help solve the problem of the human brain not accepting a virtual reality environment, and both he and Jerry drank from the set before entering the game. Of course this tidbit of information spikes the weird-o-meter for the Warehouse 13 crew and they set forth with a plan to find out what went wrong, and how to get Fargo and Jerry out of the game.
In the meantime, Artie and Steve are in New York at the behest of Agent Sally Stukowski (the FBI agent who was introduced in the season premier) to help investigate a "weird" case. An art gallery owner, who by all accounts seemed happy and content, had committed suicide out the window. Although he only fell two stories, the coroner's report indicated that the injuries were consistent with skydiving without the chute. Ouch! This one Artie figures out real quick though, especially after he sees Van Gogh's Stormy Night on the wall opposite the window the art gallery owner took his swan dive out of. The painting, Artie claims, is an artifact that causes death wherever it goes. So, Artie plans to steal it for the Warehouse. At this point, I was wondering why Steve's "lie detector" power hadn't been kicking in with Stukowski, who being one of the bad guys (even though we don't know they are yet), is setting them up. I'm guessing that will be explained later on, but for now it throws me off and out of the show for some reason. (I keep thinking of Pete's ability to have bad feelings about things, that was sort of dropped after the first season.)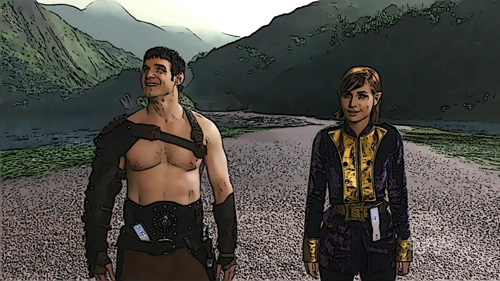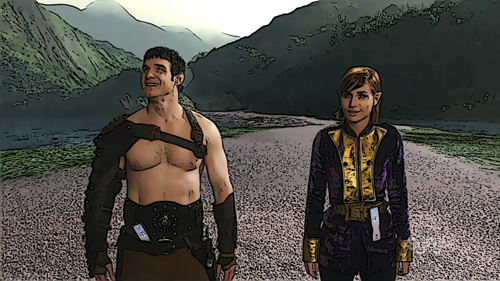 Back in Cali, Pete and Claudia are going virtual to save Fargo and Jerry, with the aid of a Farnsworth device that allows them to communicate with Myka back in the real world. They drink from the tea set like Fargo and Jerry and into the game they go! Pete's avatar is a gladiator, complete with sword, and Claudia is an elf, complete with pointy ears (I thought she looked Vulcan though). They encounter a guide who is Artie with a penchant for rhyming, who issues them the challenge of saving the princess, they accept and the game starts. (Funnily enough, the game resembles a medieval Warehouse 13, which is a typical Fargo trait, basing something off another idea but putting his own spin on it.) They quickly find Fargo in a patch of quicksand (which was causing his distress in reality), and pull him out. Fargo explains that the game has taken some liberties and created some things that weren't supposed to be there, including the quicksand and a grim reaper character that takes their failsafe controllers so they can't exit the game unless they complete their quest. So onto saving the princess and finding Jerry!
Meanwhile, in New York, Artie and Steve are pulling their "heist" when they are caught by Stukowski who threatens to turn them in if they don't tell her what's going on. Artie reluctantly allows it, but only tells what he must and nothing else. Artie's a secretive guy with this stuff and it didn't surprise me that he wasn't forthcoming with information. Steve, however, still needs to learn a few things, as he kept letting little things slip which earned him "The Look" from Artie. We learn that the painting did cause the owner's death; whenever a puff of air hits the painting, it causes a wind storm, and that's what pushed the owner out the window and to his death. Artie and Steve get the painting switched out, only to have Stukowski grab the painting and leave them trapped when the alarm goes off.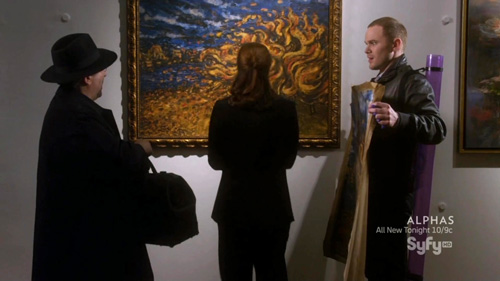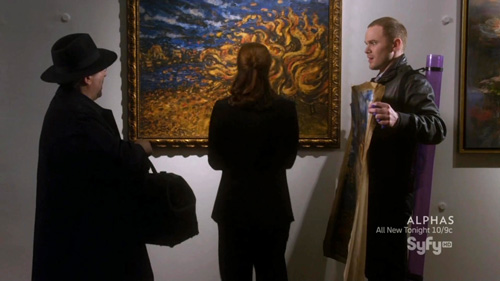 Myka, while researching Beatrix Potter's original writings stored at the Warehouse, discovered that they were more like "dream journals" and not like the fluffy tales we all know. She figures that the tea set not only enhances the imagination but also can bring forth the things we fear the most. Fargo feared drowning, like in the quicksand, but once he knew there were people there to help him, he had the courage to face his fear and help save himself. Remember when I said the opening scene set the tone for the show? Yep, this is where it starts to really come into play.
We see Artie and Steve in the back of a police car on the verge of being taken away, when Stukowski shows up and gets them out. She gives some lame excuse to Artie about why she ran, etc., etc., and gives the artifact back. Listen lady, I'm not buying your BS and neither is Artie. Steve, strangely still cannot tell that she's lying. Artie and Steve walk off, presumably to take the painting back to the warehouse and we see Stukowski smirking to some dude in a taxi.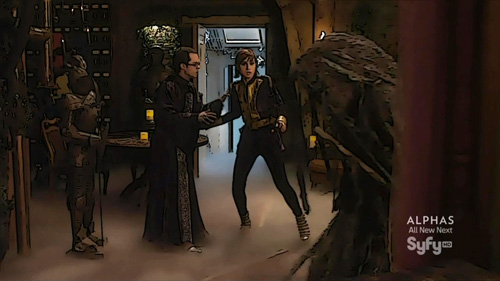 In the game, Pete, Claudia and Fargo finally find Jerry in the tower where the princess is, cowering in a corner. He's been hiding from the Grim Reaper, who turns out to be Hannah, his girlfriend who had just broken up with him. Jerry's fear is commitment and he was afraid to ask Hannah to marry him, afraid that she would say no. The Grim Reaper/Hannah kills the princess (who looks like Claudia by the way) and takes Jerry away in a cloud of smoke. The gang finds him, about to be guillotined by Hannah. Fargo isn't sure if being killed in the game will kill the player in real life, so while they try and come up with a plan to save Jerry, Claudia's biggest fear comes into light.
We know from previous seasons as well as this one that Claudia had been in a mental institution at one time. The game conjures up Claudia's doctor, who proceeds to put Pete and Fargo in straitjackets and Claudia strapped down on a table for some electroshock therapy — all the while, telling Claudia that her brother is dead, and that the Warehouse isn't real, it's just something she created so she could feel safe and that's she's been in the institution the whole time. Right before the doctor administers the EST, Myka shows up (having inserted herself in the game) and shoots the doctor with an arrow. Pete and Fargo then scramble to distract Grim Reaper/Hannah so that Myka and Claudia can free Jerry. They convince Jerry to face his fear and propose to Grim Reaper/Hannah and save them all. He does, the Grim Reaper/Hannah accepts, and it ends the game. They all "wake" back up in real life.
The next scene is a montage that starts with Claudia singing at the coffee house. As the song plays, we see Fargo shutting the light off a room and walking away, Jerry proposing to Hannah in real life and her accepting, and Myka and Pete putting away the tea set at the Warehouse.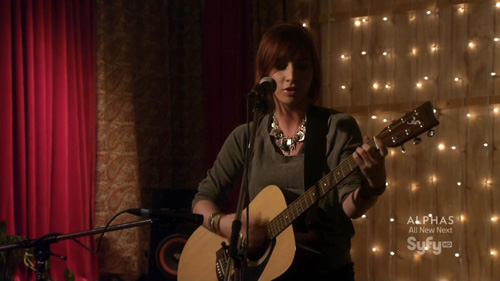 The last scene shows us the Van Gogh painting in its home at the Warehouse. All of a sudden, a crack opens in the painting and a little electronic looking bug flies out. The camera pans out and the bug is soon joined by a swarm of bugs emerging from the painting and on the loose in the Warehouse. The screen goes black.
The show seems to be starting to flesh out its characters this season, which I'm pleased to see. It makes a show so much more enjoyable to watch when you can invest in the characters. Overall, I enjoyed the episode, and look forward to seeing what those bugs are and what they are going to do. But the episode has left me with several questions: Is this Fargo the same Fargo from Eureka's timeline jump? Or is he different? Who are the mysterious baddies out to get the Warehouse? Will Steve ever be referred to by anything other than "The New Guy"? I doubt I will ever get an answer to the Fargo question, but hope to have the answers to the others by the end of the season.