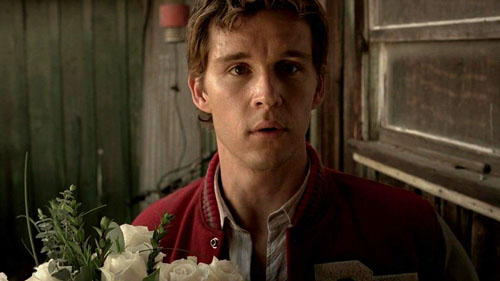 Episode: True Blood 3.06 – "I Got a Right to Sing the Blues"
Original Air Date: July 25, 2010
Screencaps by rawr_caps.
Episode 3.06, "I Got a Right to Sing the Blues," sees the convergence of even more of this season's subplots as the tension builds and overarching themes start to become clear.
True to form, Jason Stackhouse (Ryan Kwanten) stupidly ignores his new flame's instructions to forget her and instead shows up at her home with a bouquet of flowers. Of course, Jason has no idea what kind of danger he's putting himself in by visiting Crystal (Lindsay Pulsipher), but viewers will when they see who is keeping Crystal company when Jason arrives. Meanwhile, Sam Merlotte (Sam Trammell) takes off after his biological parents when he realizes that they're using his shape-shifting brother, Tommy (Marshall Allman), to make beer money on a nearby dog fighting circuit.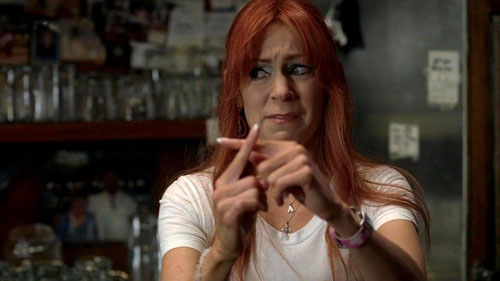 When Lafayette (Nelsan Ellis) cuts out early to spend the evening with his new boy toy Jesus (Kevin Alejandro), Arlene (Carrie Preston) is left alone with Jessica (Deborah Ann Woll) and a very annoying customer. Personally, I can't help but think that Arlene deserves every terrified minute that she spends with Bill's vampire progeny and all the aggravation from Merlotte's last customer of the evening. It serves her right for being so mean to Bill (Stephen Moyer) and Jessica, especially after she was engaged to a serial killer that wreaked havoc on the town. But Arlene's laughable fear in the face of the local vampires is getting old really fast. She should just focus on her pregnancy and moving in with Terry (Todd Lowe) instead of making ignorant remarks that don't even make sense.
I must admit that Bill's actions in last couple episodes made me rather anxious, but I avoided a full-on anxiety attack with the belief that Sookie's vampire lover was following some unspoken plan, even if it seems like he doesn't know what he's doing. It only took a couple episodes of True Blood for me to conclude that Bill is an underwhelming character, and his frequent juxtaposition against strong characters like Eric Northman (Alexander Skarsgård) only serves to emphasize Bill's boring, repetitive, unimaginative, and conservative nature even more.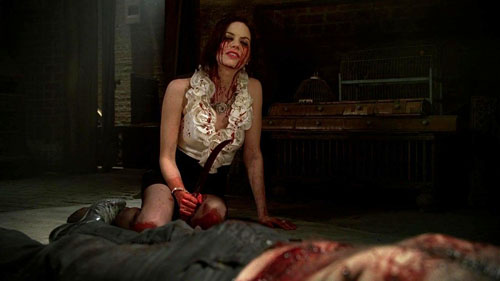 Russell (Denis O'Hare) and Lorena (Mariana Klaveno), while repulsive, are excellent examples of vampires' ability to adapt over time, yet Bill Compton remains the same man he was when Lorena changed him all those years ago. If that's the kind of man that Sookie likes, then who am I to object? But Bill's faults certainly make it easier to stomach the events of this season of True Blood and to imagine (and hope for?) Sookie seeking comfort from someone like Eric or Alcide (Joe Manganiello).
Season Three is constructed in such a way that viewers will want to know what Bill originally had planned, especially since his plan has now clearly gone so far awry (after all, he couldn't really want to leave Sookie and join Russell in Mississippi, or desire to be with Lorena again after the effort that it took to free himself of her). Far more intriguing, however, is how Eric's plans will play out now that he knows that Russell is the one responsible for his family's death.
As we saw in the last episode, 3.05, "Trouble," Eric is astonished to discover his father's Viking crown among Russell's possessions during a tour of his home. If Eric is anything he is a man of his word, and undoubtedly he will fulfill his father's dying request for vengeance against those who slaughtered his family. How he will accomplish that is yet to be seen, although his efforts to ingratiate himself into the favor of both Russell and his husband, Talbot (Theo Alexander), are a good start.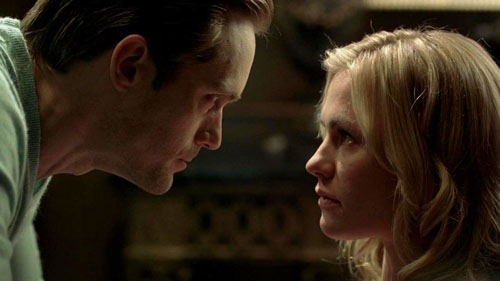 As always, Sookie takes Eric's actions in Mississippi at face value, unable to conceive that the Sheriff might have an ulterior motive or hidden plan. We all know that things are never easy when Sookie is involved, and as she proves once again in her interactions with Eric and Russell she doesn't know when to keep her mouth shut. Maybe I'm biased in my belief that Eric plans to kill Russell and, if at all possible, that he will save both Sookie and Bill (although I can take or leave the Bill part), but I am confident that he has something planned that will not disappoint viewers. Most likely it will be the case that things get far worse before they get better, but that is to be expected of True Blood. After all, the show only hands out a big payoff after great sacrifice, as we have seen time and again in the past.
For those of us who find Sookie's idealistic quests and endless blathering tiresome and annoying, "I Got a Right to Sing the Blues" is particularly satisfying. The way that Eric treats Sookie in front of Russell is priceless ("Aw, it thinks we're equals," he comments to Russell when Sookie threatens him), especially when Eric gives up formalities and simply silences the telepath with one large hand right over her mouth.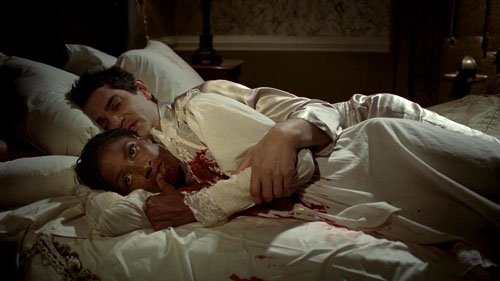 Once again, however, when True Blood giveth, it also taketh away, and the events that unfold as Tara (Rutina Wesley) struggles to escape Franklin (James Frain) and free Sookie will be heartbreaking for Franklin's admirers (once again, avoiding spoilers. You're welcome). In her escape, Tara manages not only to piss off Sookie by refusing to help her rescue Bill, but squanders her character's potential to become more compelling and interesting and less of a pain in the ass. Although we do finally see Tara taking responsibility for herself, she couldn't have chosen a worse time to do so.
Ultimately, True Blood episode 3.06 is one of the most shocking of the season thus far (although Season Three has been pretty damn shocking, if you ask me). The episode has its positives and its negatives, although which events are positive and which are negative will depend on your character preferences, and it certainly sets the stage for some exciting things to happen in the near future. I haven't watched episode 3.07 – "Hitting the Ground" yet, but personally I hope that there is a veritable bloodbath somewhere in the show's near future.
Rating: 4 / 5 Stars