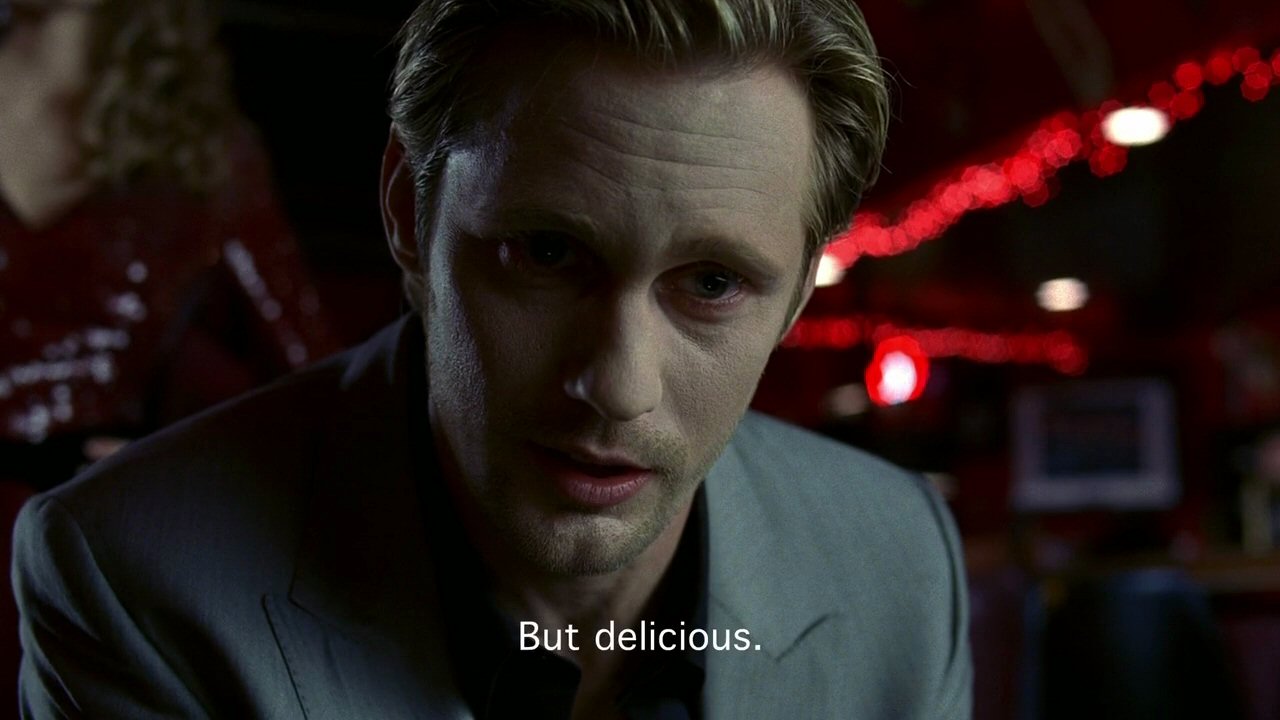 Review: True Blood 2.11 – "Frenzy"
Original Air Date: August 30, 2009
Rating: NR/AO (Not Rated/Adults Only)
Screencaps were done by Marishna on LiveJournal this week. Some caps may be NSFW!

Oh, Lordy. This episode was a hot mess. Everyone was running all over like headless chickens. It basically felt like the writers or whoever were just killing time with this episode. Normally, a filler episode wouldn't be that big a deal; however, this is the second to the last episode of the season! Seriously? This is what you give us as the second to the last episode of season two, then have the finale air a week later than usual?! Yes, that explosion you heard at the end of this episode was my brain. If there had been a cartoon Great Dane and a stoner in it, the episode would have been more enjoyable…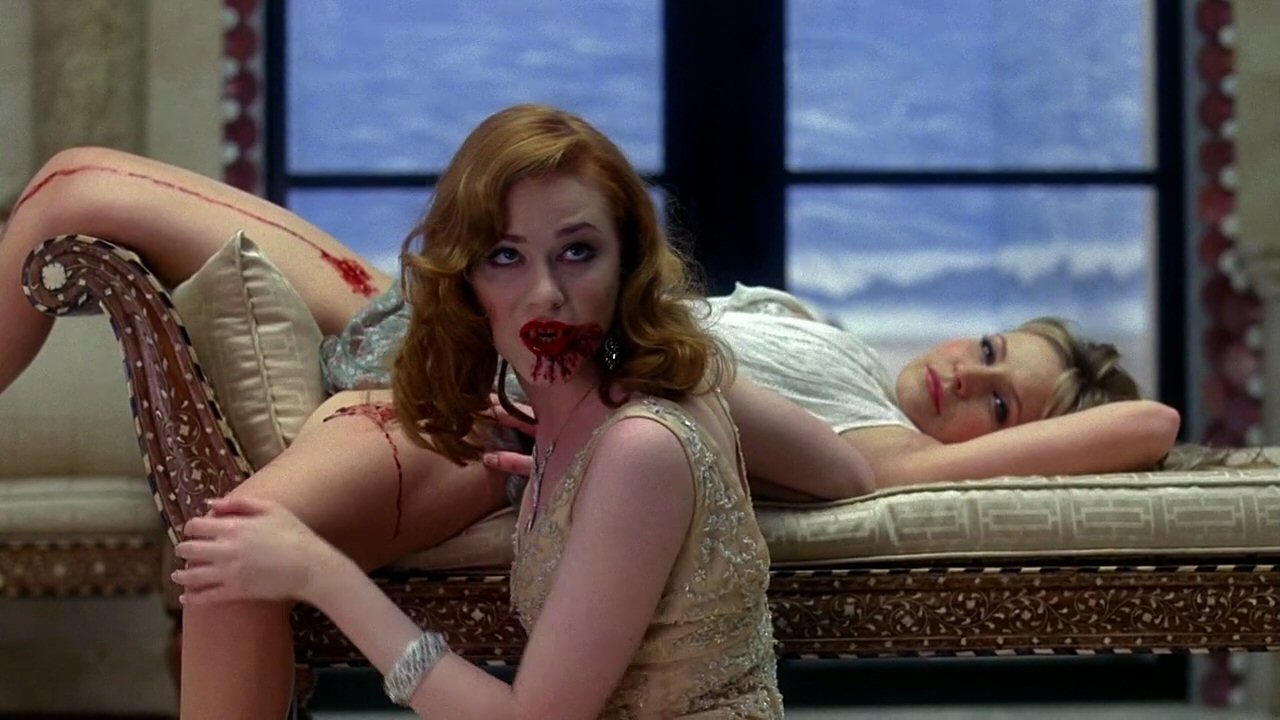 So, this was the shortest opening ever. The Queen is snacking on some random chick's leg, and that explains the bloody foot at the end of the previous episode. Bill asks if he came at a bad time, and Queenie informs him there's no such thing as "bad" or "time" in a way that had potential to sound brainy and thoughtful but came off as trite and forced. She then asks him if he'd like to join her, to which Bill replies by making a face similar to the one I made watching Evan Rachel Wood hack her way through that scene.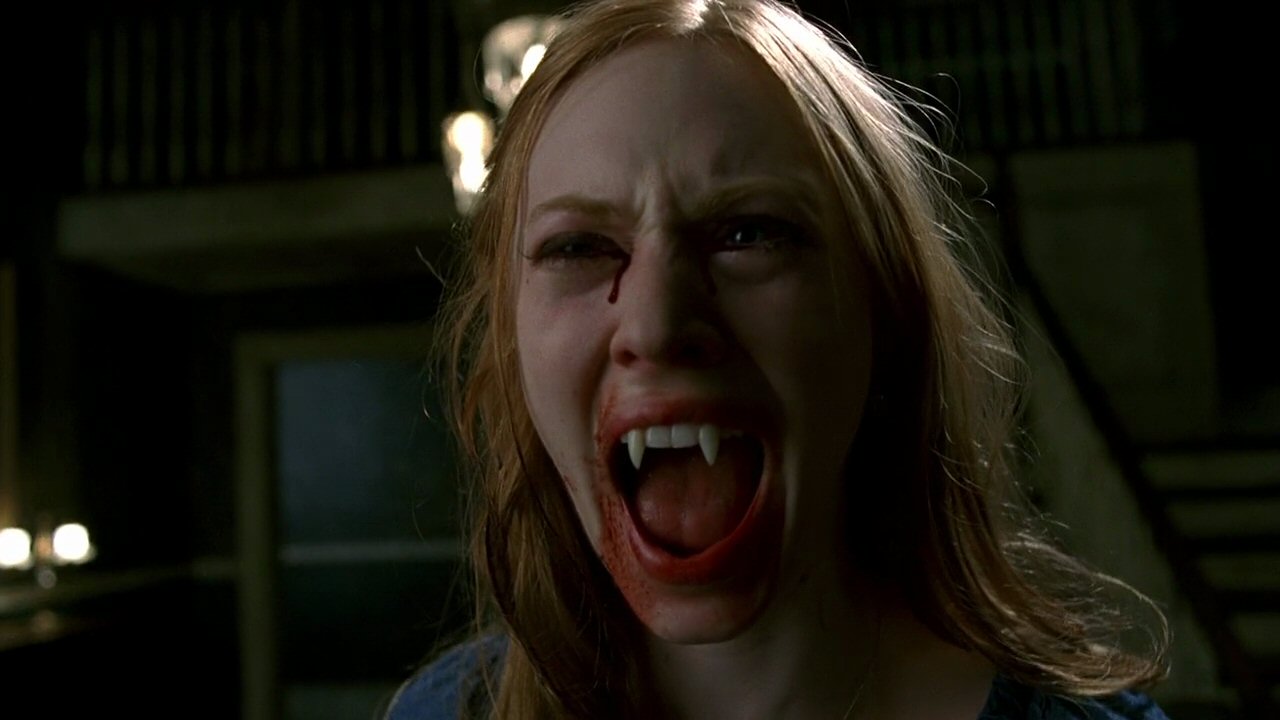 Back at Bill's, Hoyt magically is able to pull Jessica off his momma. She defends her actions by rhetorically asking Hoyt if he heard all the nasty things Momma was saying about him. Apparently, because she's his momma, she gets to talk to him like he's a piece of crap. Momma, on the other hand, totally was digging the vampire action she was getting! In the weirdest and quickest change of heart, Hoyt tells Jessica he should have listened to Bill when he warned him to stay away from Jessica and picks Momma up and leaves. Jessica, to put it nicely, freaks the frak out.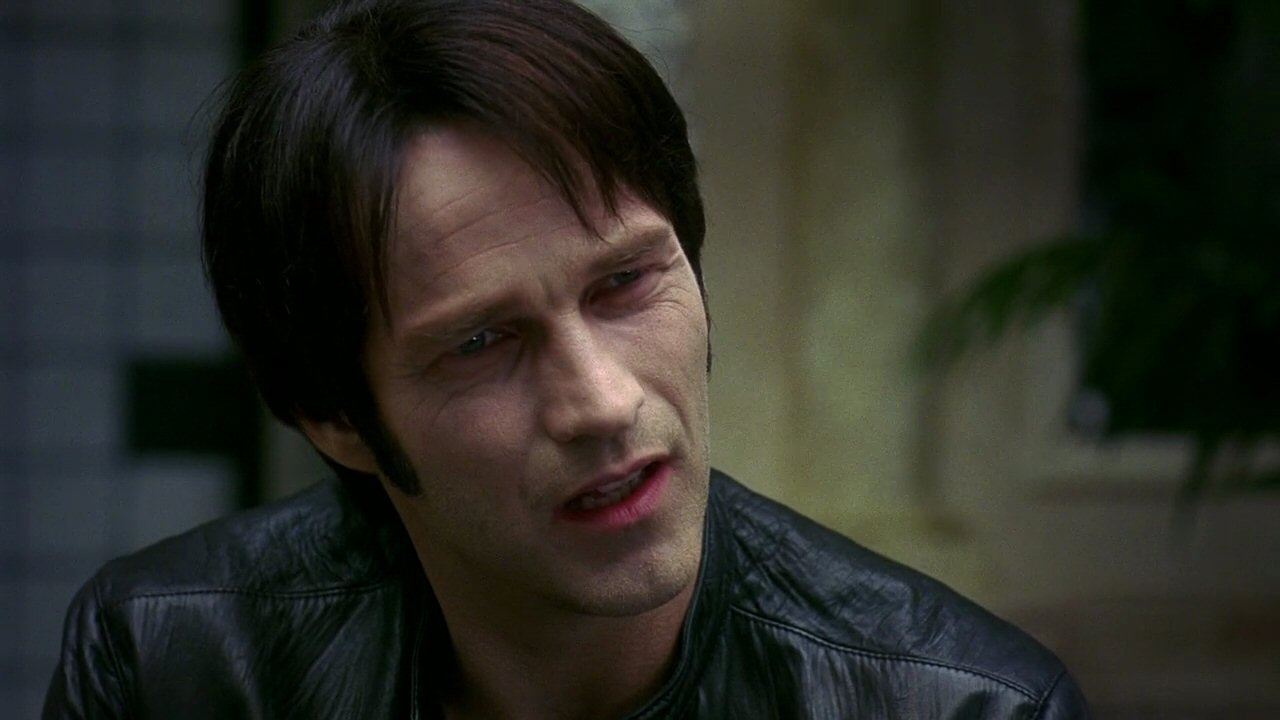 Flippity-flop back over to the Queen's, and Bill still looks super uncomfortable while waiting for her to clean herself up. Okay, what is it with vampires being messy eaters? I mean, is it in the Vampire Handbook that when you feed, you have to get it all over your business? She goes on a tangent about snobs because Bill refused to feed from the inner thigh of that random fangbanger, and it was just painful to watch. I thought the Sookie/Eric thing felt forced, then this happened and redefined "forced performance" for me. We do find out that she was turned sometime before the Industrial Revolution (but she has a modern American accent?), and that she knows exactly what a maenad is.
Sophie-Anne tells Bill that he can't kill Maryann because she's convinced herself she's immortal and so she is. She goes on to say, "Everything that exists imagined itself into existence." Really? Because I spent years convinced that if I stayed in my grandparents' swimming pool long enough, I'd grow up into either a mermaid or a pirate and neither one happened, so I call BS on this theory of hers. I think she's talking out her ancient, white tuckus. However, she does have a line in this scene that sums up this entire season nicely: "Never underestimate the power of blind faith. It can manifest in ways that bend the laws of physics. Or break them entirely." What else have we seen this season but episode after episode of blind faith in action? And where did it get everyone?
Even crazier, and truly the only real interesting thing (as it pertains to the main characters of the show) that came out of this scene was the revelation that Sophie-Anne knows all about Sookie. Bill's got some explaining to do about this one.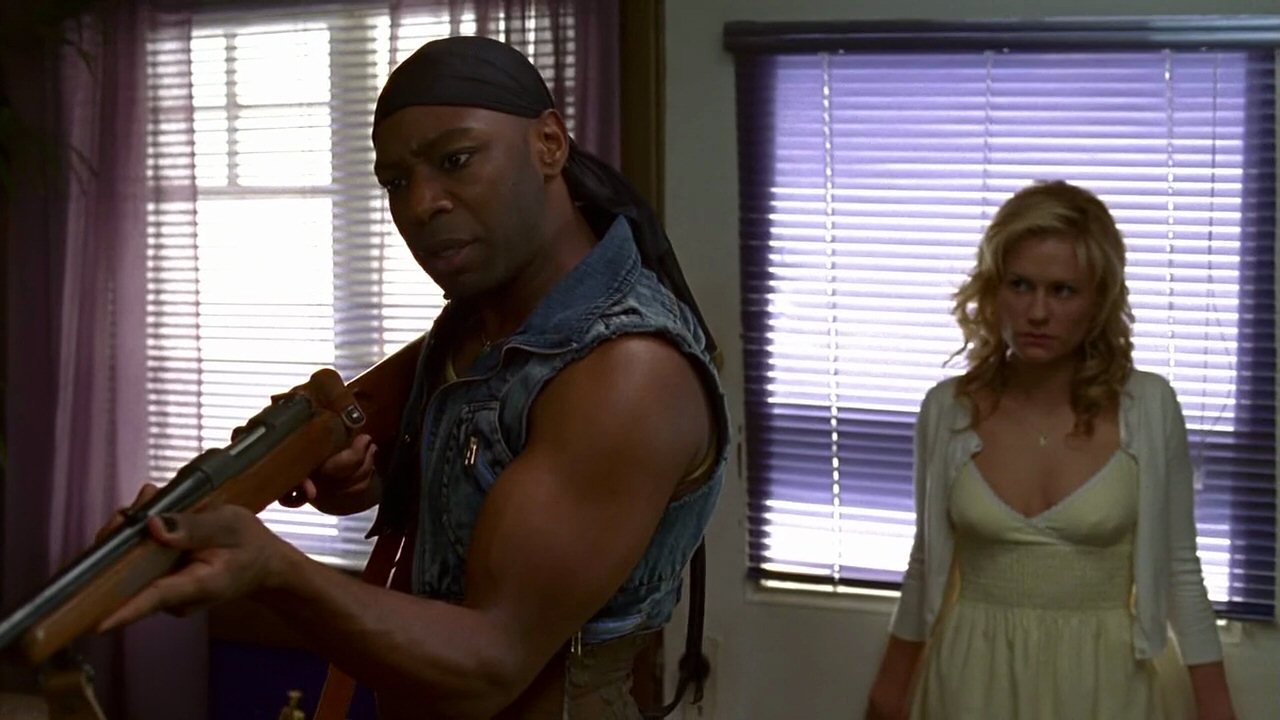 Over at Lafayette's, Tara's trying to convince everyone to let her go get Eggs (funny side story: my dad was like, "Why does she need eggs now?" Officially, the worst nickname in history). All of a sudden, they start to hear howls and such from outside, so Lafayette goes and gets himself a rifle. He tells Tara he's not going to let her go back to someone who beat her, and they handcuff her to a table with purple, furry cuffs. Tara goes and insults everyone in the room in the worst way she can think of, and it's really not gaining her any Friend of the Year points. Lafayette and Sookie go out to the porch to keep watch (mostly, I don't think Sookie could stand to be in the same room as Tara), and they leave Mrs. Thornton to watch her daughter. Yeah, like that's not going to end badly.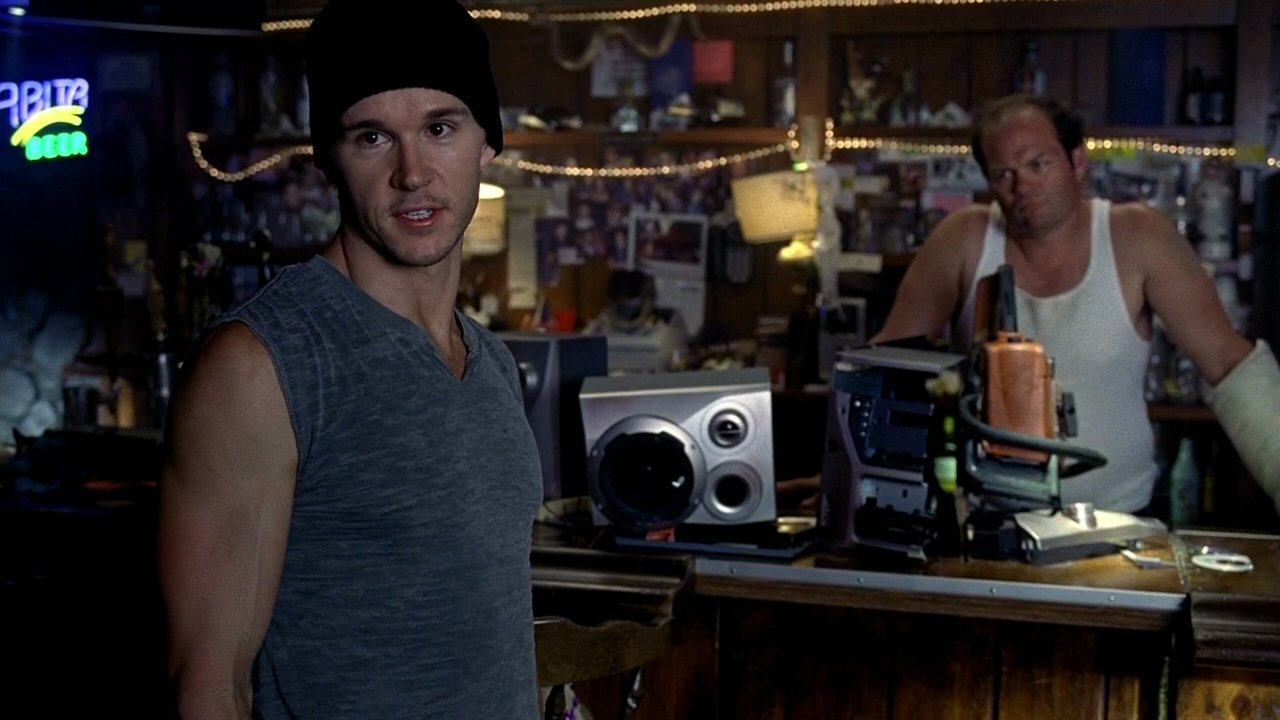 Andy, Jason, and Sam are cleaning up the mess in Merlotte's, and Jason thinks Sam being able to shift is the coolest thing since indoor plumbing. Andy reminds them that they still have to deal with Maryann, and Sam says they can't "deal" with her and that they should just leave town while they can. Jason, on the other hand, is way pumped about this being "The World History of the Zombie War" — he read a book about it, it must be true. Sam reminds them that guns won't work on Maryann and that they can't just start mowing people down. Those are their friends being controlled by Maryann. Jason continues to be hilariously stupid and is determined to use those skills he learned at camp for something. Soon after, Arlene's kids are caught out in the woods near the bar, hiding from their mom and looking for something to eat. Sam takes them in while Andy and Jason head off into town to load up with weapons. Sam tells Jason he's a damn fool for thinking this plan will work, but Jason had paramilitary training and went to leadership camp. It's all going to work out in the end. Personally, I think they should nuke the site from orbit. It's the only way to be sure.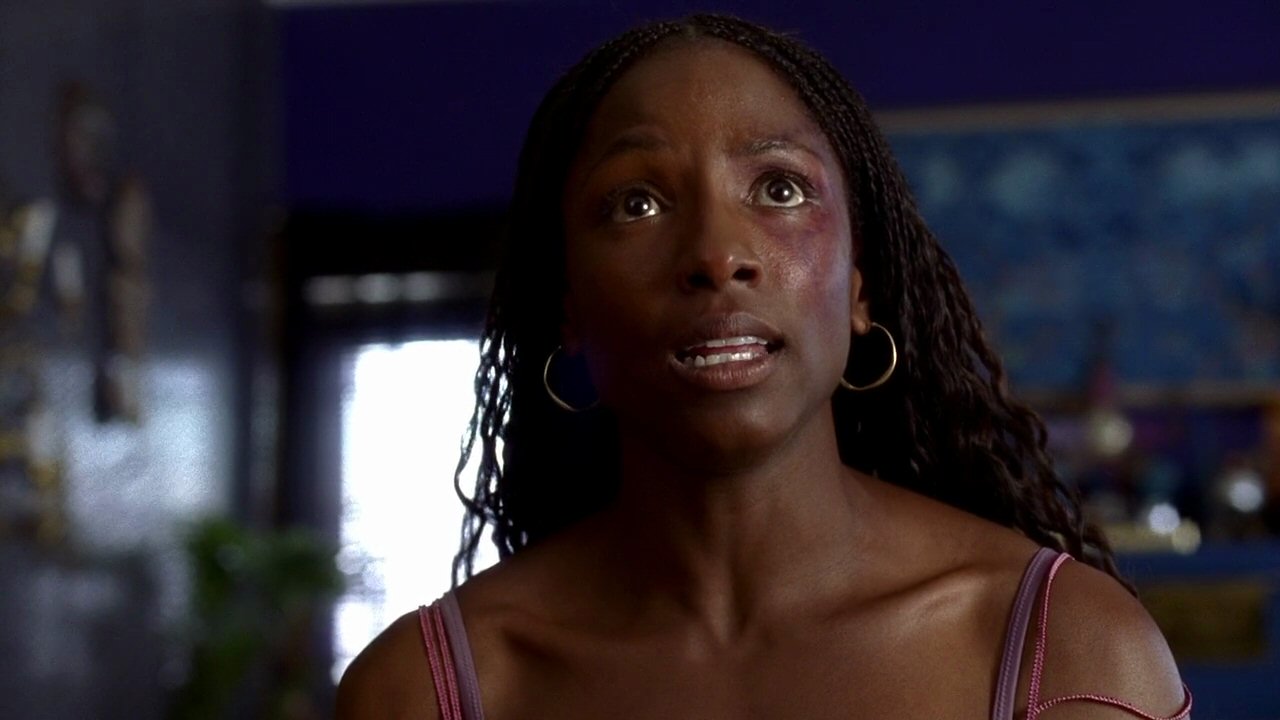 All this back and forth is going to give me whiplash! While keeping watch, Lafayette learns that Sookie's working for Eric too. Everyone is on that man's payroll. Inside the house, Tara is still cuffed to that coffee table. I guess gravity is really working overtime in that one area of the Earth. She starts guilting Mrs. Thornton about what a crap mother she was to try and get her to let her go back after Eggs. Back outside again, Lafayette asks Sookie what it was like in Tara's head. Total abandon basically, and he thinks that sounds nice.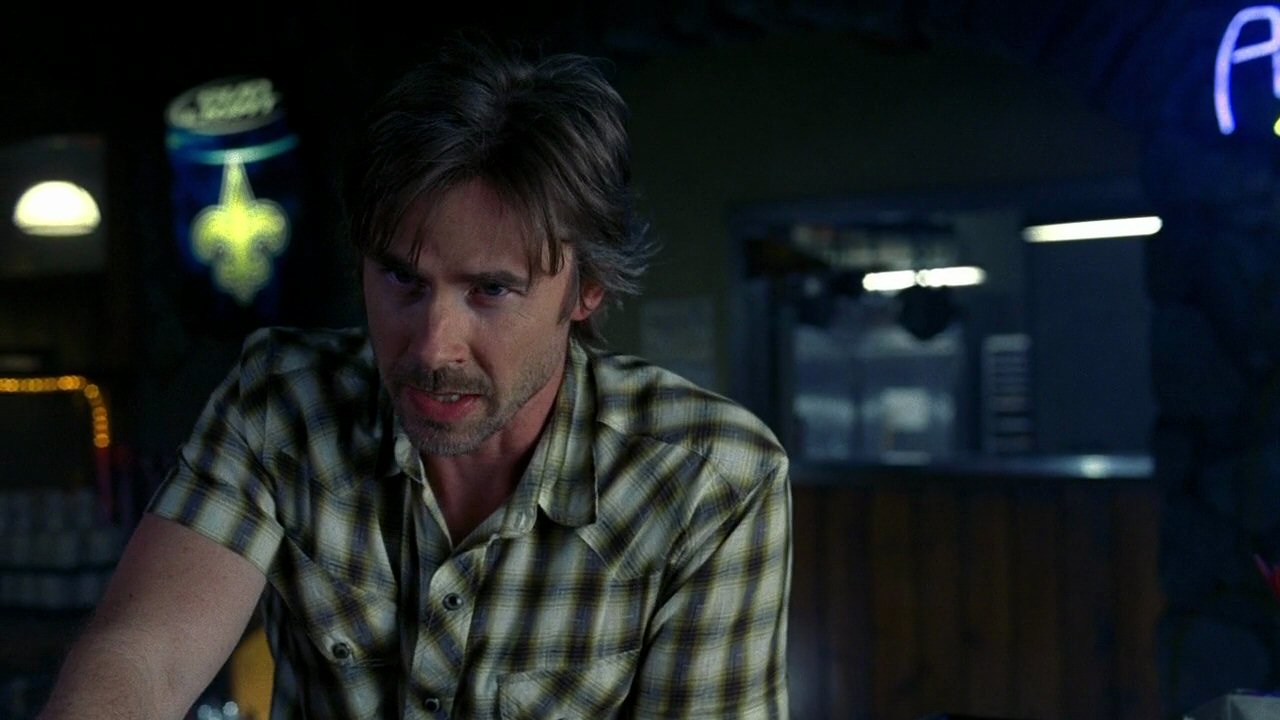 Back out at the bar, Sam tries to take care of Arlene's kids. I love that everyone calls Bill "Vampire Bill" still. The kids convince Sam he needs to get some big guns (i.e., a vamp) to help with what's going down in the town.
Lafayette and Sookie both find out they have Eric's blood in them, and even more interesting is that both have sexy time dreams of him. Everyone is having sexy time dreams of that man. I've seen the evidence on the Internet. In a "Wowser, Scooby" moment, Mrs. Thornton totally tricks Lafayette and Sookie into handing over the rifle so Tara can go back into Maryann's Den of Disgusto. Who honestly didn't see that one coming like five weeks ago?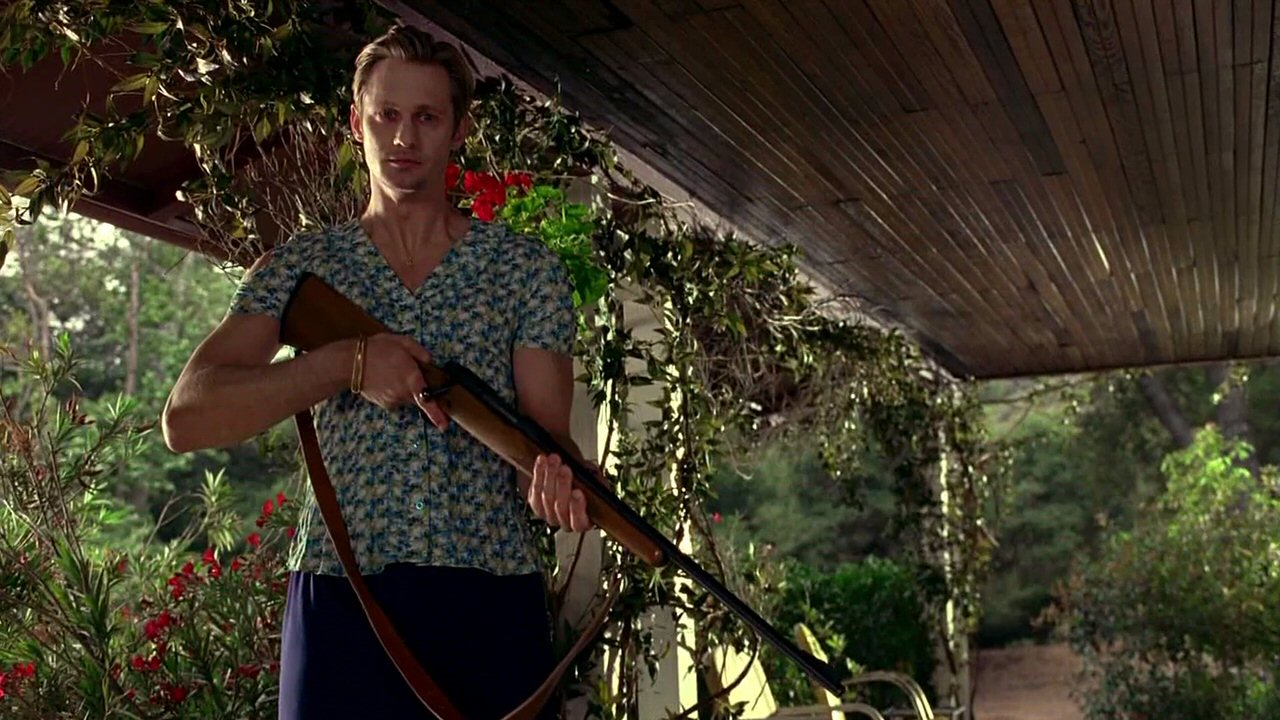 This totally sends Lafayette into a PTSD episode, and Mrs. Thornton makes Sookie unlock Tara so she looks good in her daughter's eyes. She's really just thinking about herself, as usual. Mrs. Thornton turns into Eric as Lafayette's 'sode gets worse. Eric. In a dress. It starts out funny (like the last time Eric manifested like this), but quickly turns a bit sinister in that nice Eric way that I love. Tara starts heading off, and actually stops to tell Sookie she needs the keys to Sookie's car. Sookie gives them to her! At this point, I'd have chucked them at her face and told her to stuff it.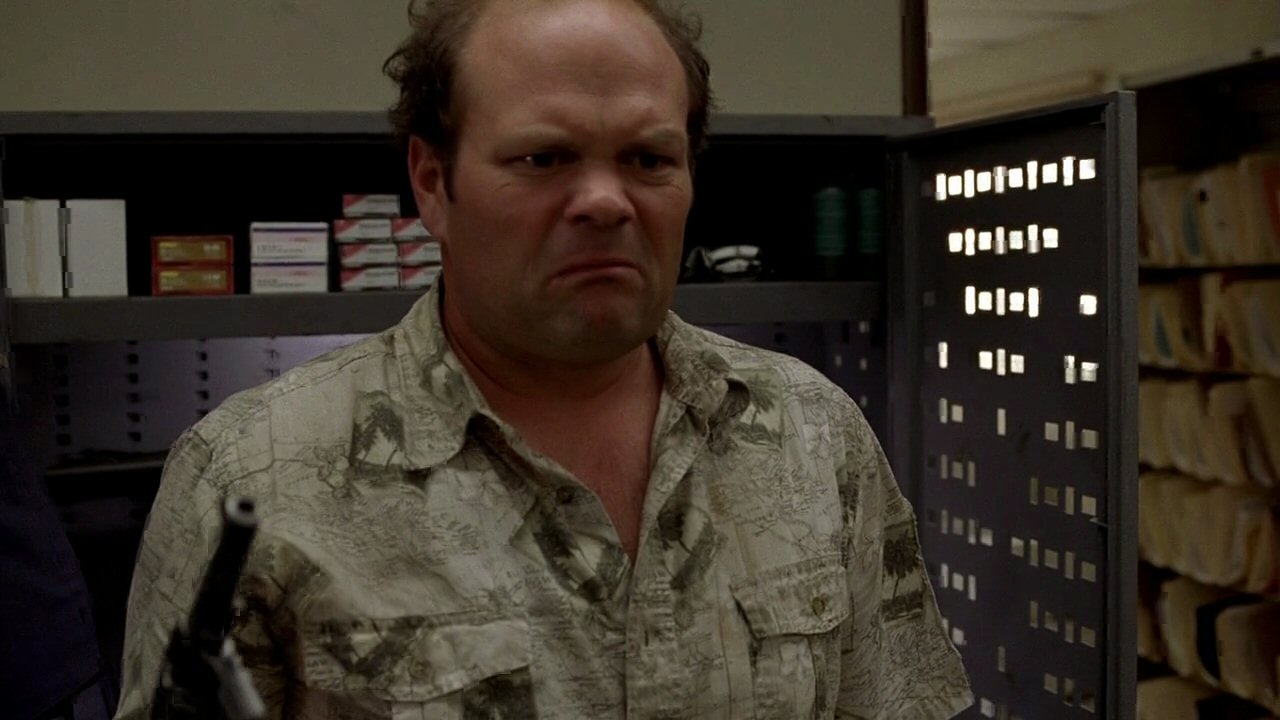 So Laurel and Hardy are heading to the police station, waxing philosophical on Sam's shifting (Jason: "Hey, you think Sam's ever turned into a dog and then had sex with a lady dog?"). I'll give you one better: When Sam turns into a dog, does he still have people thoughts or dog thoughts? If he turns into a dog, then has sex with a lady dog, is he thinking like a human or a dog? It could be bestiality, so Andy wins that argument. They finally make it to the police station, and Jason has to keep the one chick there "busy" while Andy gets the heat.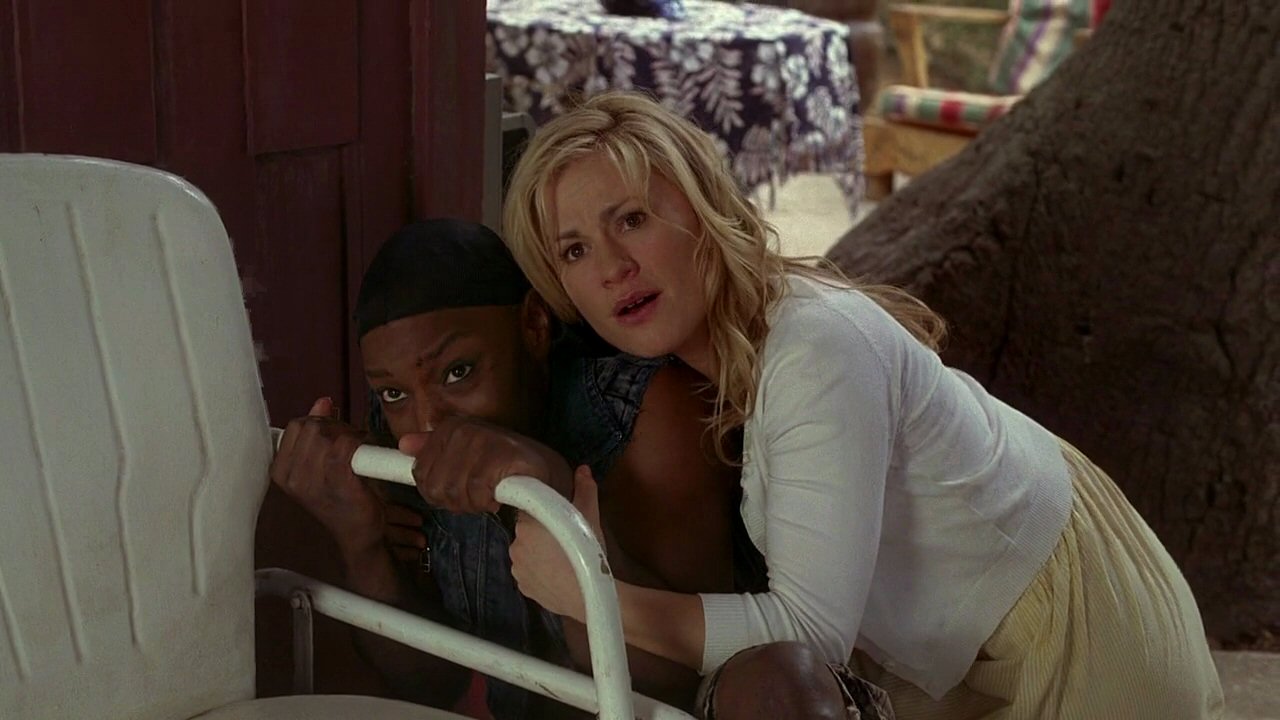 Sookie FINALLY comes up with a plan, and they follow through on it and escape the evil, incompetent clutches of Mrs. Thornton.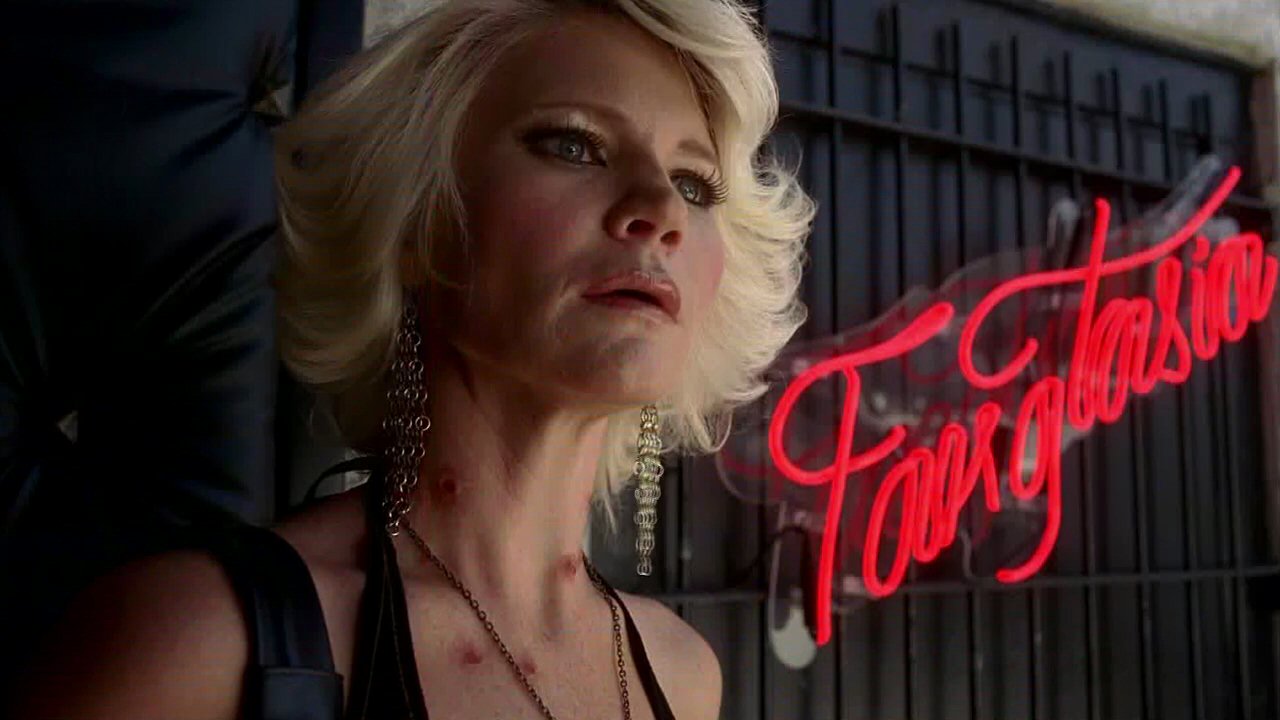 Sam's plan was to take the kids to Fangtasia and wait around in the parking lot. WTF is going on in this town? This isn't the 1880s, folks. Use your mobiles to call each other and start working together because going off on your own isn't working out. On the other hand, Ginger! The best/worst human help ever! She won't let Sam and the kids into the club until Sam slides her a little greenback. That woman is a hot mess and I love her.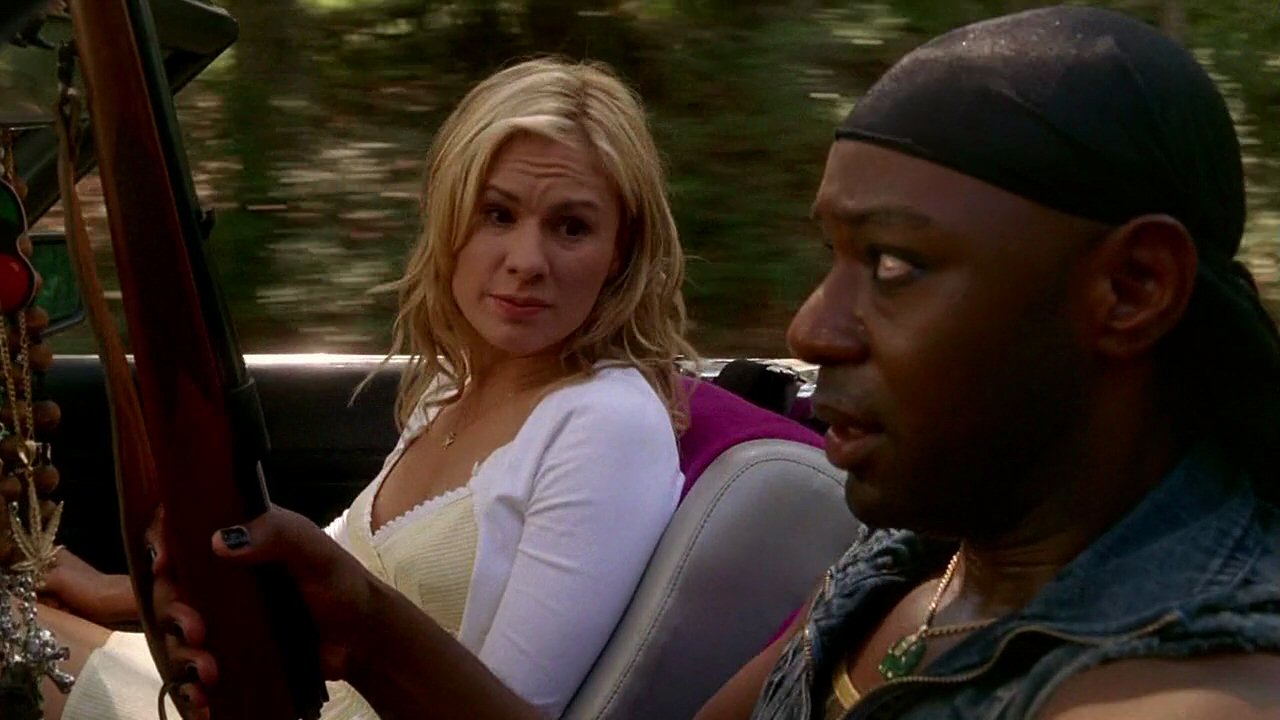 Unfortunately, Sookie's plan after beaning Mrs. Thornton in the head is for her and Lafayette to go get Tara out of Maryann's clutches again. OMG, Maryann was right: Tara WILL bring them all back to her.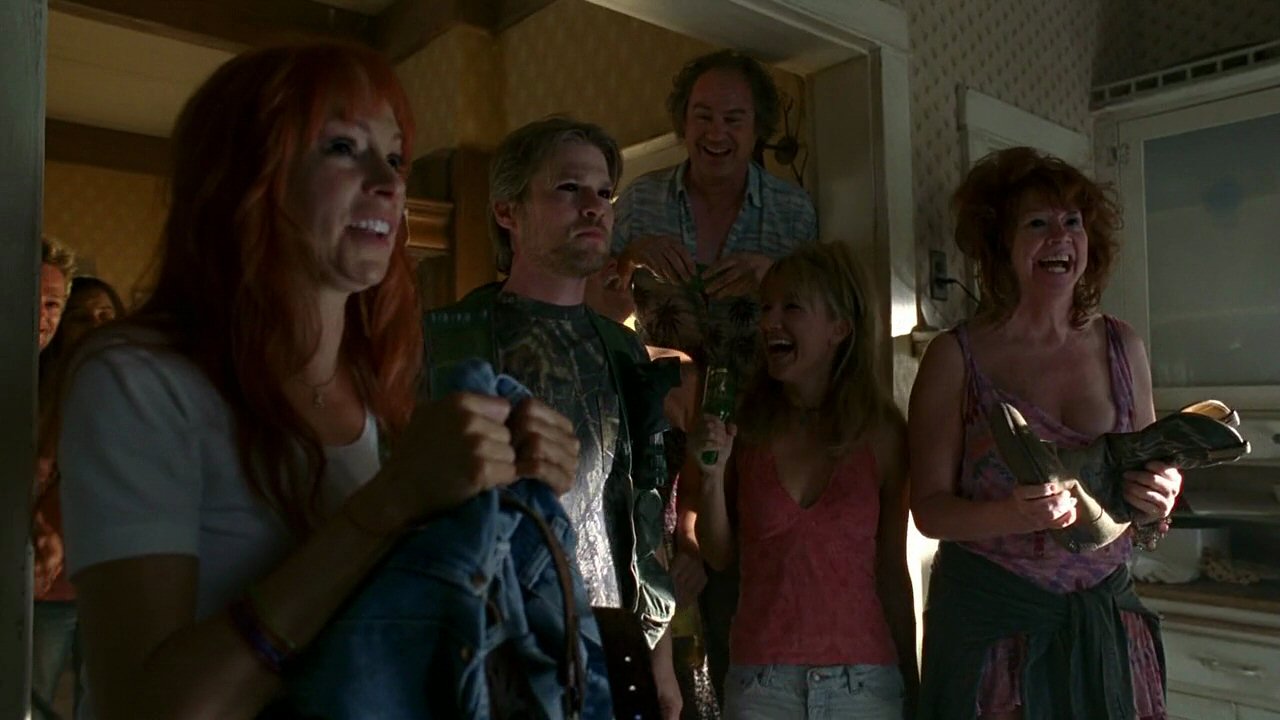 Tara walks right back into the lion's den because she's dumb. Don't hold it against her; everyone's dumb at this point. Turns out (and I still don't get how this one works out), she was the one who summoned Maryann during the faux exorcism. All it takes is one punch for Tara to go back to black eyes again, and she and Eggs skip hand-in-hand up the stairs as the Idiot Patrol shows up. They proudly tell Maryann that the God Who Comes came and Sam's been destroyed. She's not happy about this and does an annoying nails on a chalk board sound.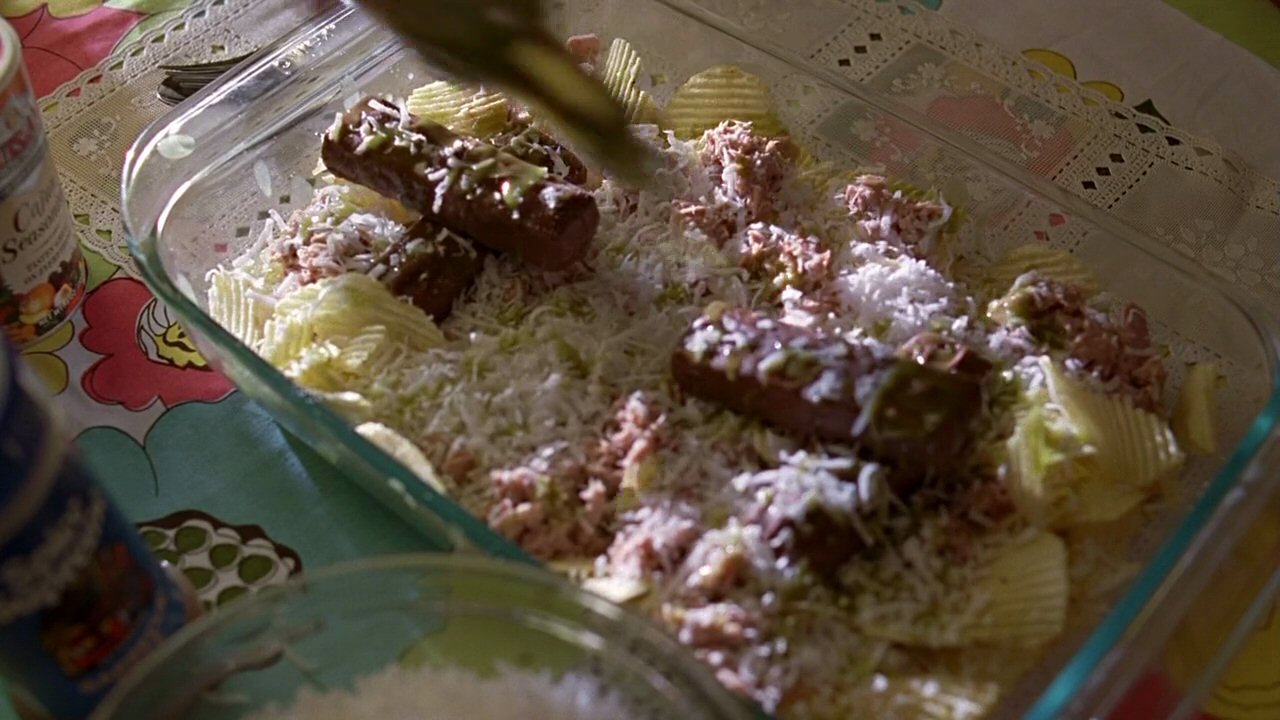 Momma is the worst cook on the planet. I mean, I usually don't stray far from microwavable myself, but even I could do a better job than that.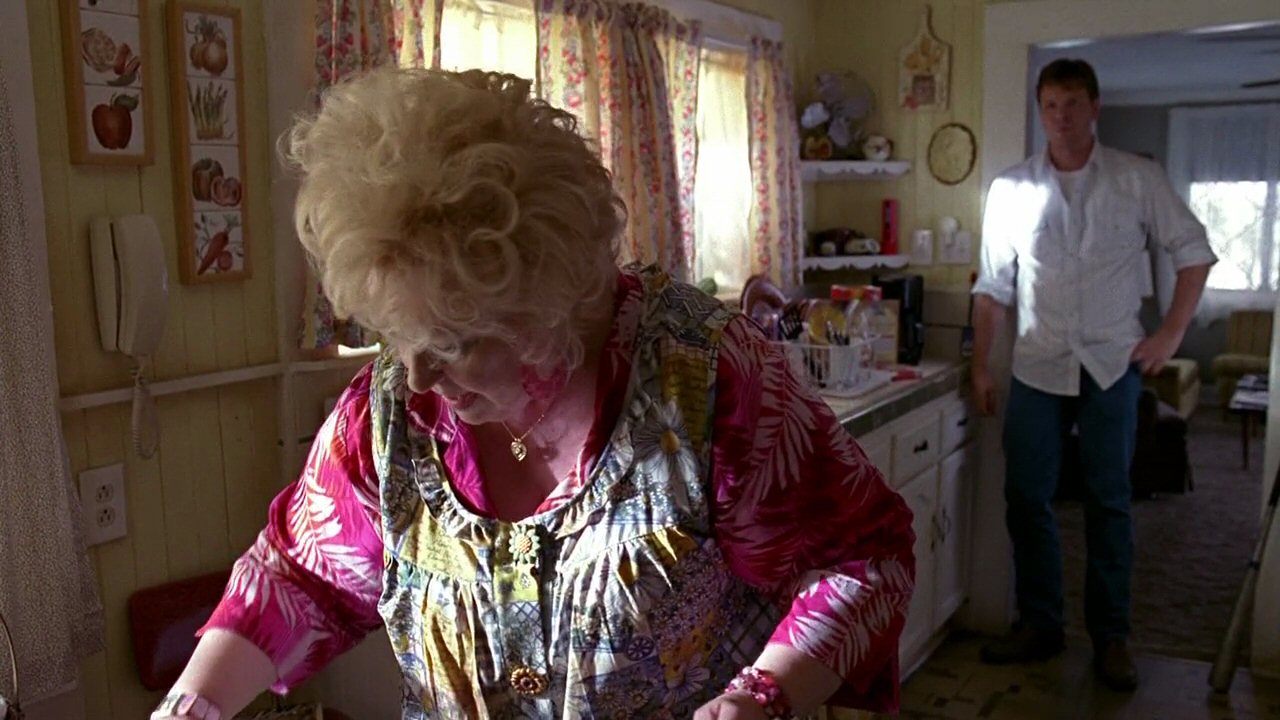 Interestingly enough, Momma knows a LOT more about what's going on with Maryann and "god" than everyone else because she drops some very cryptic lines about what's going to happen. Hoyt won't let her go to the party because he feels that he's already let too much bad happen to her. Momma replies, "You haven't let enough bad happen to me." Good line. Momma continues to be truly horrid to Hoyt. She spills that his father killed himself; she lied and said it was a burglar so she could get the life insurance money. He should have stayed with Jessica.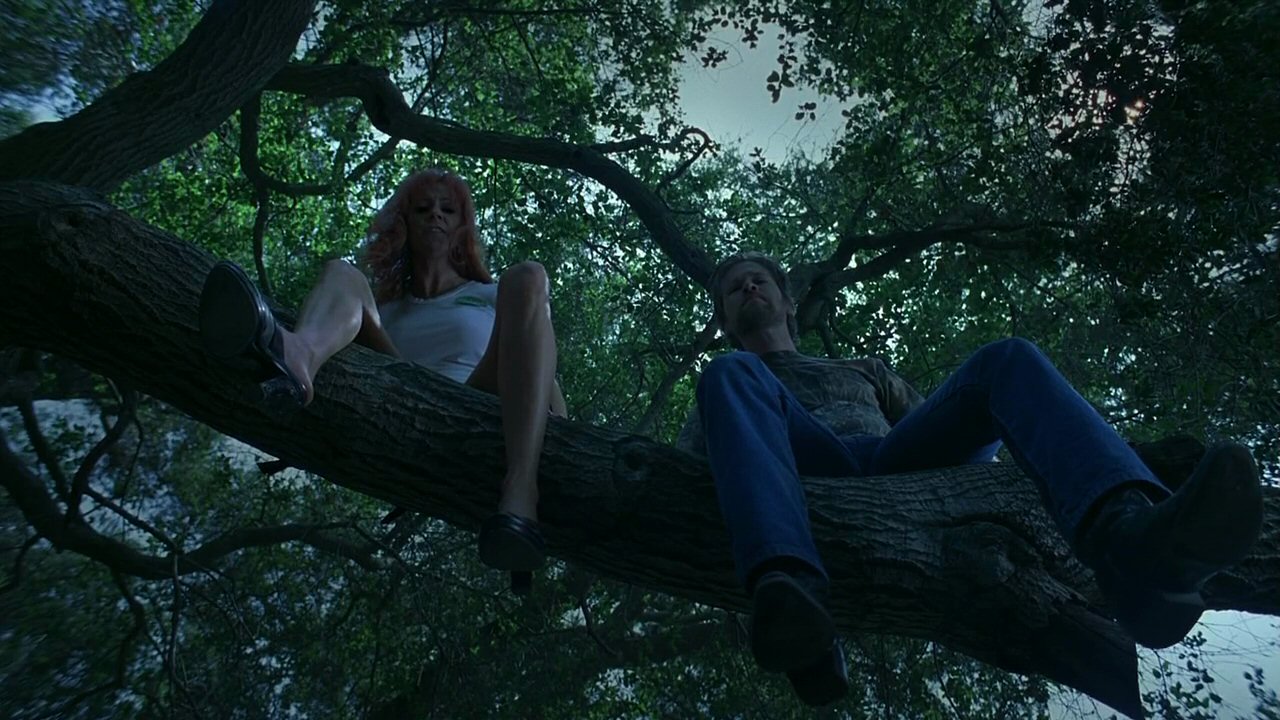 Sookie and Lafayette make it to her house and the place is Chernobyl level of toxic. Sookie states that she knew Maryann was trouble when they met because Maryann was "thinking creepy, foreign stuff. uh? They try to pump themselves up to storm the castle when Arlene and War Vet Terry show up and separate them.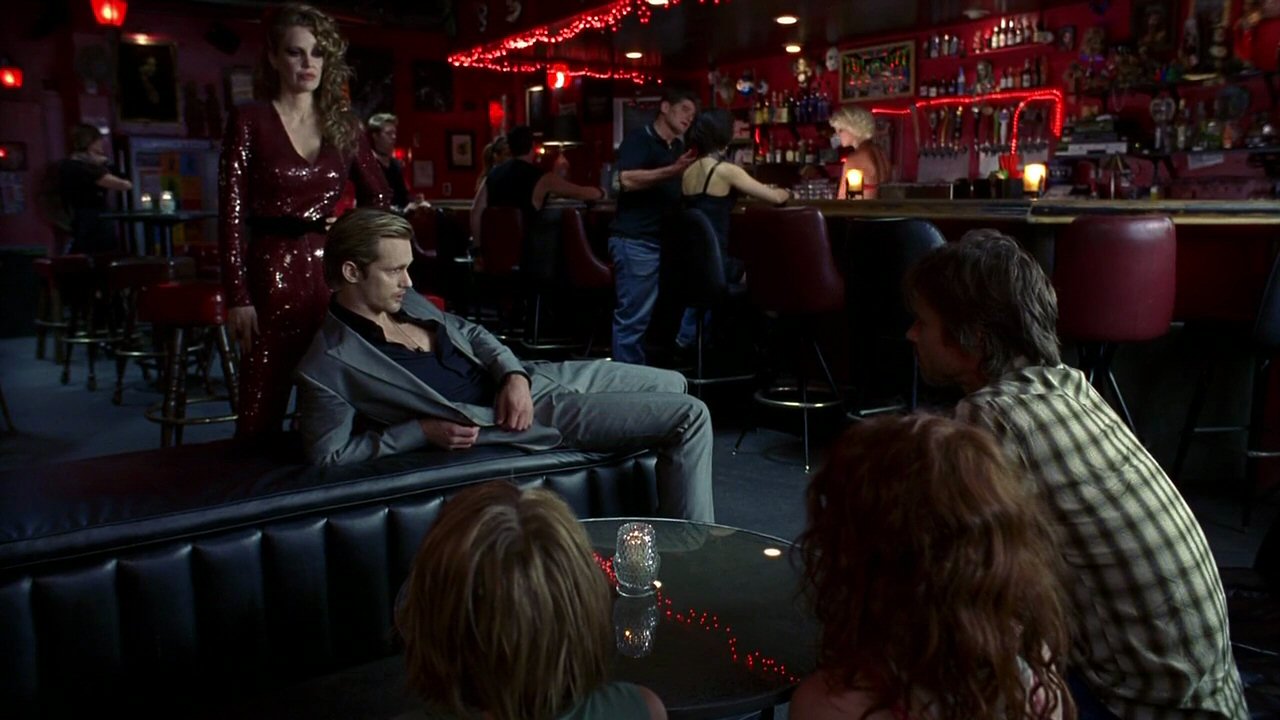 Sam and the kids finally meet with Eric and Pam (love Pam), and he tries to get Eric to help them with the Maryann Problem. Eric wants tribute (and by "tribute," I mean "Sookie"). Eventually, Eric says he might know someone who can help, and we all know he's talking about Sophie-Anne because a vampire as old as Eric wouldn't know anything about anything other than looking slick all night and chillaxing. Aggravating.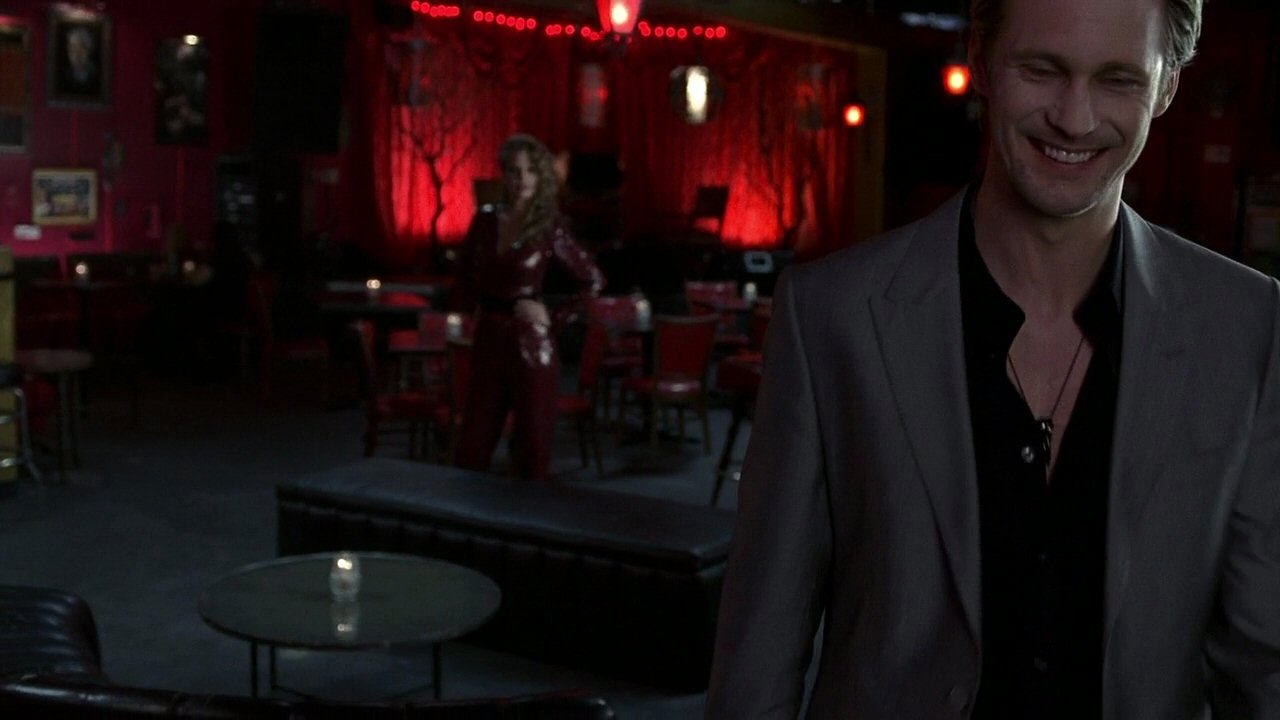 The kids love Eric, and I think he enjoys them being there because he: a) just likes kids, b) he likes kids like I like Twinkies, or c) he likes to give Pam hell. Whatever way, I enjoyed this scene. He goes off to the Queen by flying because the fast running effect is stupid looking and someone on the show finally realized that.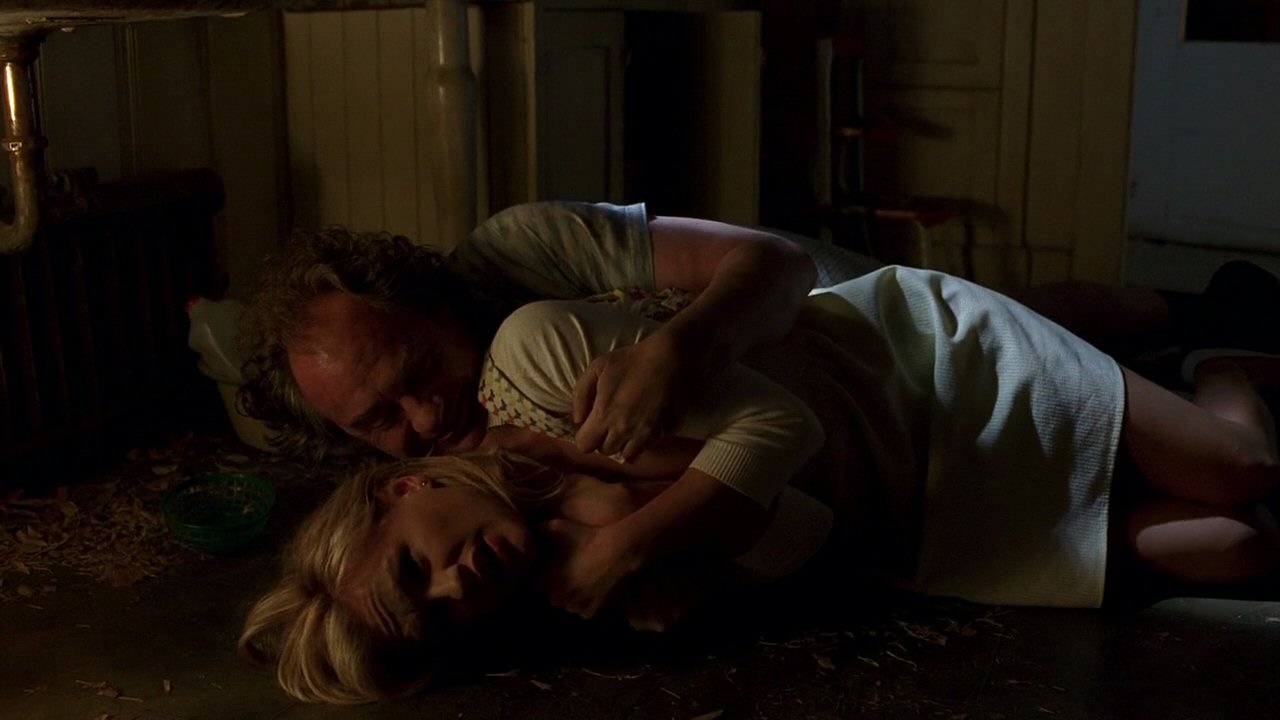 Sookie goes into her house by herself, and it's a total House of Horrors. Again, why hasn't anyone called anyone to regroup and go into this situation together? Instead of kicking the Undertaker in the face a few times, she lays down on the floor with him to keep him quiet. Outside, Maryann catches Lafayette. He tries to shoot her, ends up killing Karl (and he just came back!), and getting turned because now Maryann needs a new cook.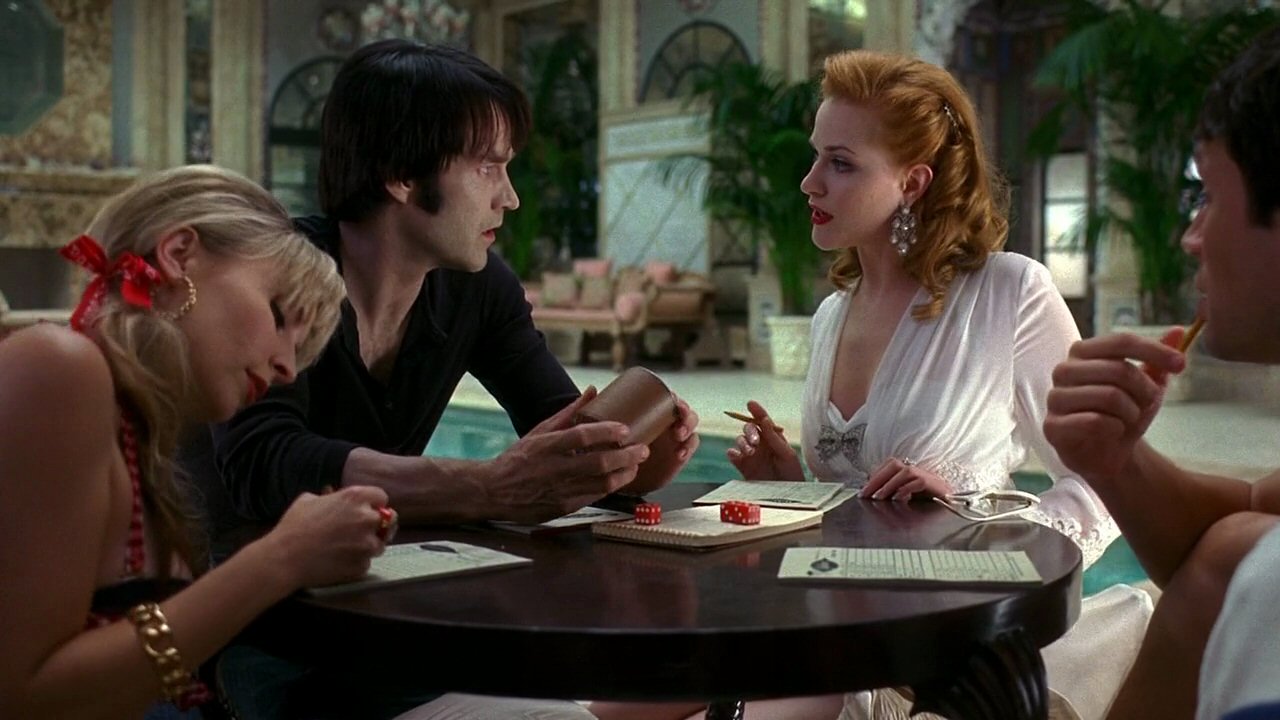 Vampires + Yahtzee = I almost never want to watch this show again. Seriously, the show and I are almost professionally over right here. Sophie-Anne eventually tells Bill that Maryann is looking for "God" to give her a proper death, only problem is that "God" never shows up (that doesn't mean gods don't exist). She has to sacrifice "the perfect vessel" and those are usually beings, other than vamps, that straddle the supernatural and regular worlds (i.e., shifters like Sam). Another strange reveal: Random Fangbanger is Sookie's cousin! Definitely something fishy going on here.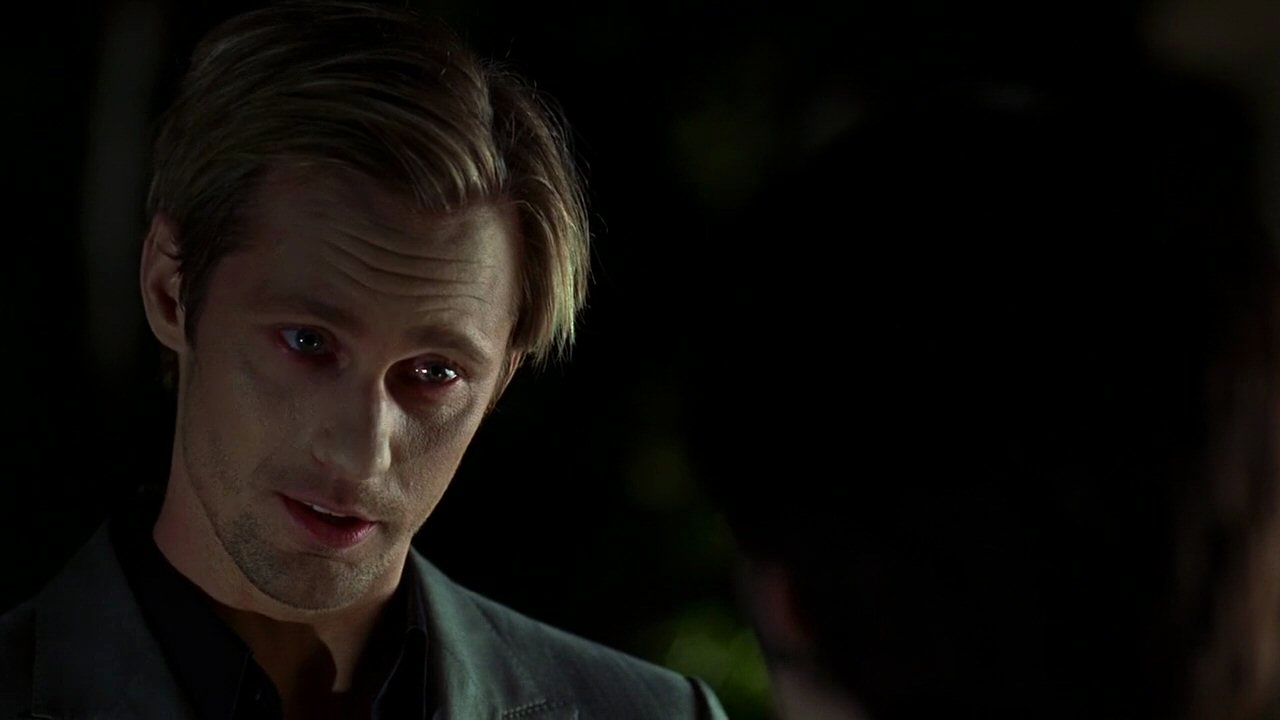 The Eric/Bill Tango. This was odd camera angles because Bill looked about my height compared to Eric (if ASkars were The Jolly Green Giant, I'd be Sprout). They both have agendas as far as Sookie goes, and I don't think either really involves actually caring about her/loving her.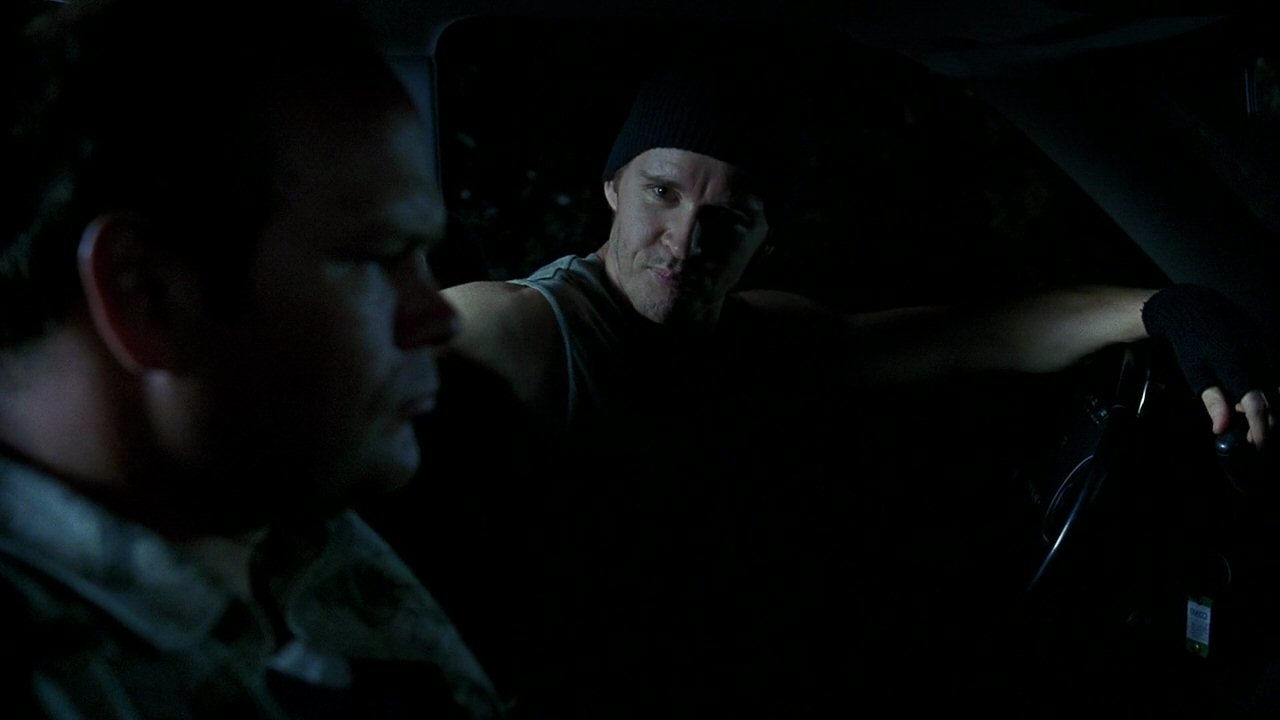 Before heading into battle, Andy takes the time to admit he's jealous of Jason because Jason has it so easy in life. Well, Jason lays it out for him, no BS. He has knee problems from football, he has to work out like a bastard to look the way he does, has to watch a lot of porn to "learn stuff," and almost everyone important to him has been killed. Not as easy as it looks to be Jason Stackhouse. They reconcile when they realize they're the ones who have to save the town.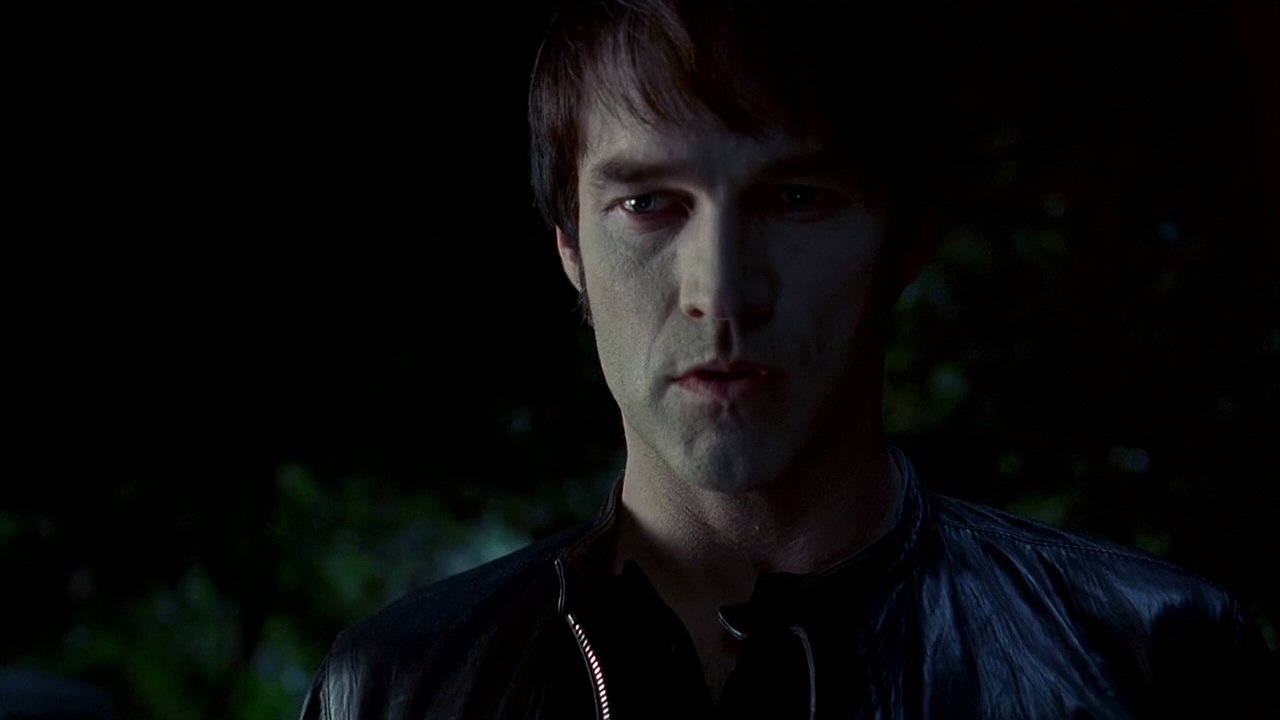 Quick, weird scene with Bill showing up at Sam's where nothing happened except an exchange of looks. Yeah, I don't know why they left that in there when they were editing either. I think Bill's going to give up Sam.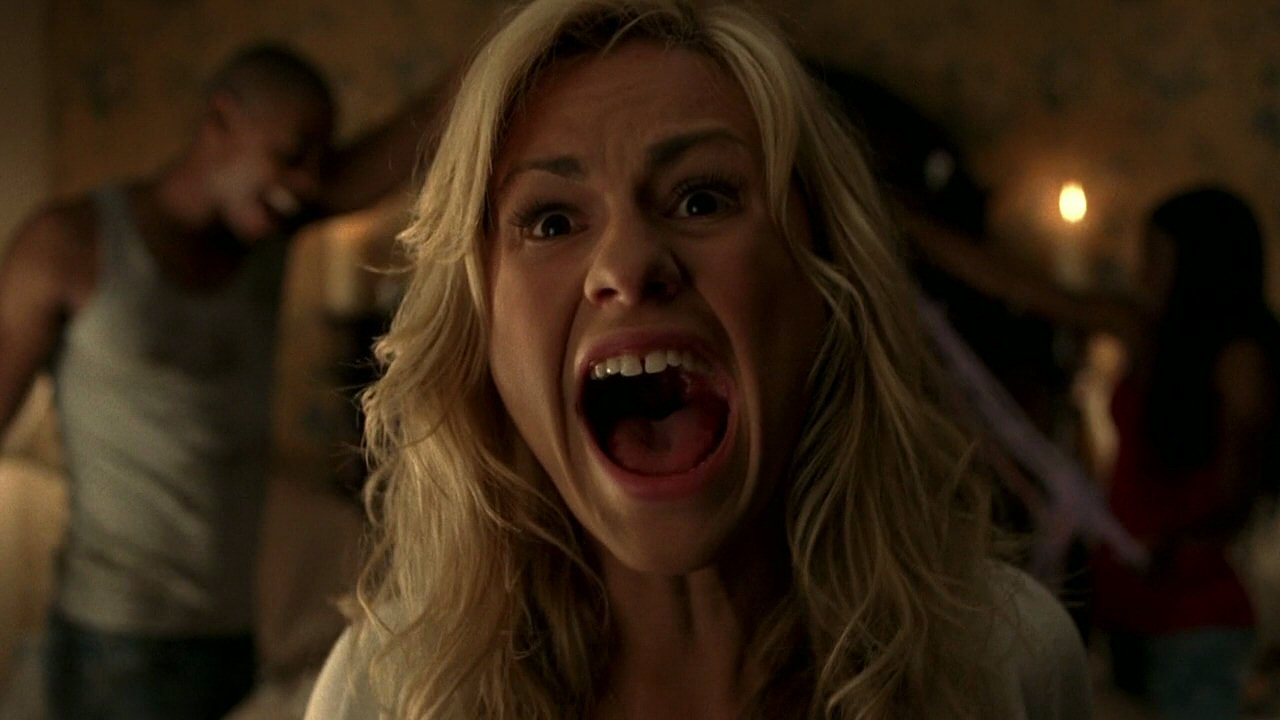 Sookie gets tired of laying on the ground way after I got tired of her laying there, knocks the Undertaker out with a pot, and proceeds up the stairs. Tara and Eggs are destroying Gran's things to make a nest for an actual egg. Lafayette shows up black-eyed, and the episode ends on a scream because that's not getting annoying or anything.
Well, one more episode in the season. I'm hoping my Tru Blood shows up in time so I can do a proper review of it (got to taste-test it out at PAX last week). Share your finale party plans — I want to know what everyone's doing for it!