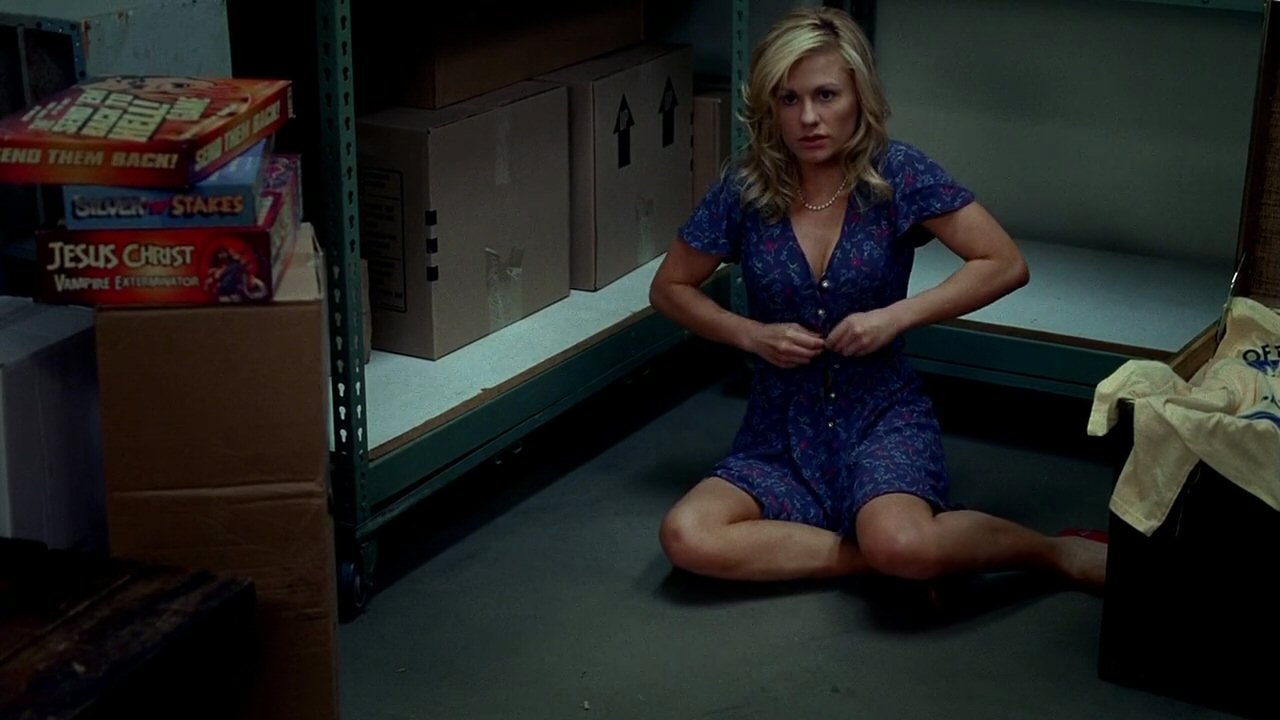 Review: True Blood 2.08 – "Timebomb"
Original Air Date: 9 August 2009
Rating: NR/AO (Not Rated/Adults Only)
Screencaps were done by Marishna on LiveJournal this week.
I know it was an exciting episode, Sookie, but we don't need to see your wobblies every week! Reign 'em, girl! Here was another episode were OMGSOMUCHHAPPENEDALLATONCE! Loads of Eric screen time, and almost everyone except him got their shirt off! We're close to getting Eric in all his shirtless glory, I can feel it! Onward to the recap!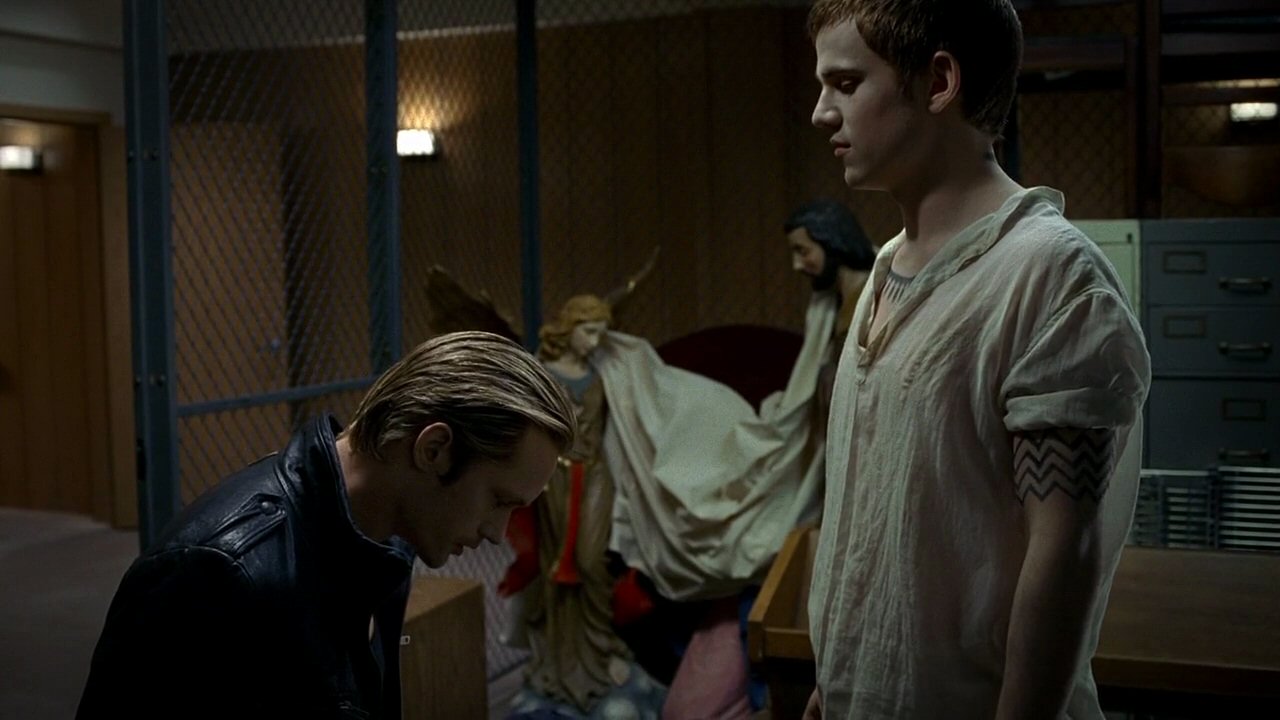 So, here was a surprise: Sarge knows Godric by name for some reason. Doesn't stop Godric from snapping his neck like it wasn't the size of a football. Crom! Sookie has now been saved by just about every character in this show that has dangly parts! To Sookie's disappointment, Eric shows up instead of Bill. And to Eric's disappointment, Godric tells him to save himself and Sookie and not to kill anyone on his way out.
Godric knows exactly what FOTS has planned for him and he's still there wandering around in the basement, dressed in a gunny sack. Okay, here's my "usually wrong, but I'm going to put it out there anyway" theory: Godric's okay with going through the Meet the Dawn ceremony because either he's old enough where the sun won't kill him anymore or he's old enough that he's tired of this whole immortality thing.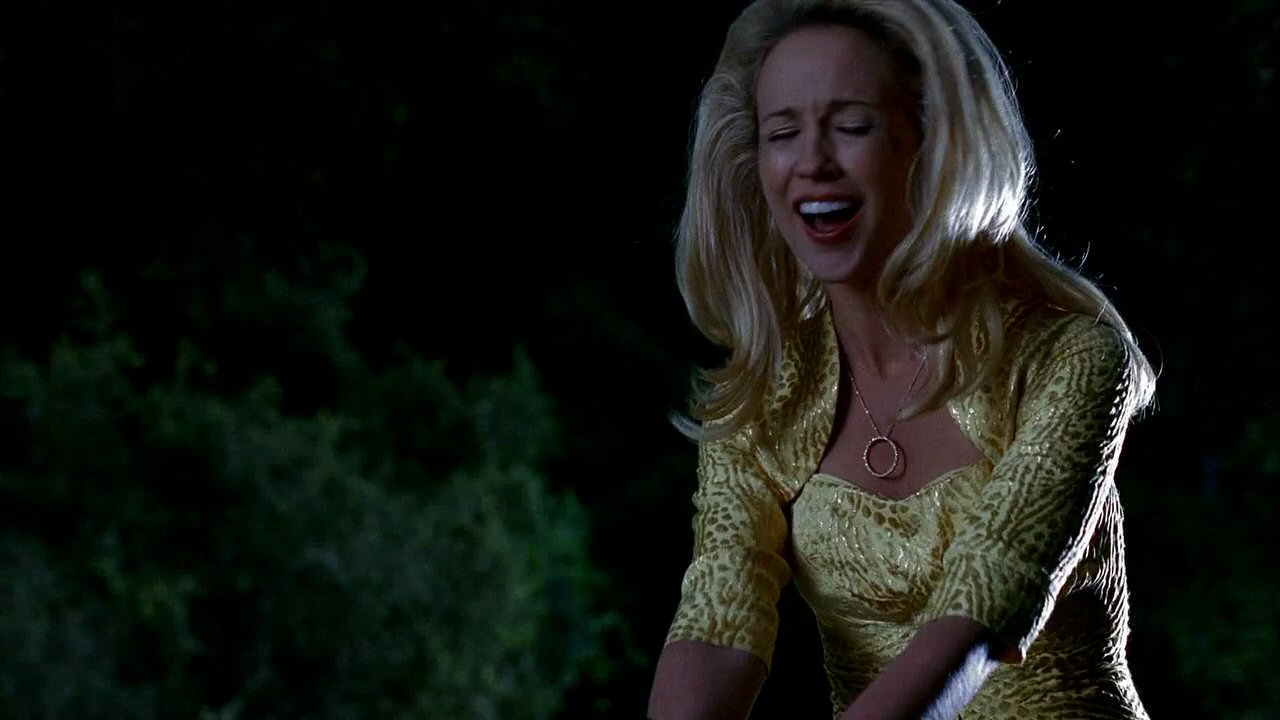 OMG. Sarah. You're such a hot mess, in your gold lame curtain and your crazy cougar hair! Jason, unsurprisingly, is surprised he's still alive. He even thanks God! Boy, does that ever piss Sarah off and she tells him to "grow a brain cell." She's crushed! He dragged her down into temptation and betrayed her! I'm pretty sure she was the one who wasn't taking no for an answer, but let's keep going here. Best exchange of the ep:
Sarah: "You're worse than Judas."
Jason: "Why? What'd he do to you?"
And I died because Jason owned this episode for me. Sarah pops one off in his nards because she is SUPER pissed off now. Jason still thinks this is about the two of them having sex in the church, but soon finds out it's not. The minute Sarah insults Sookie, Jason stops frakking around and heads back to the Church to… wait for it… save her.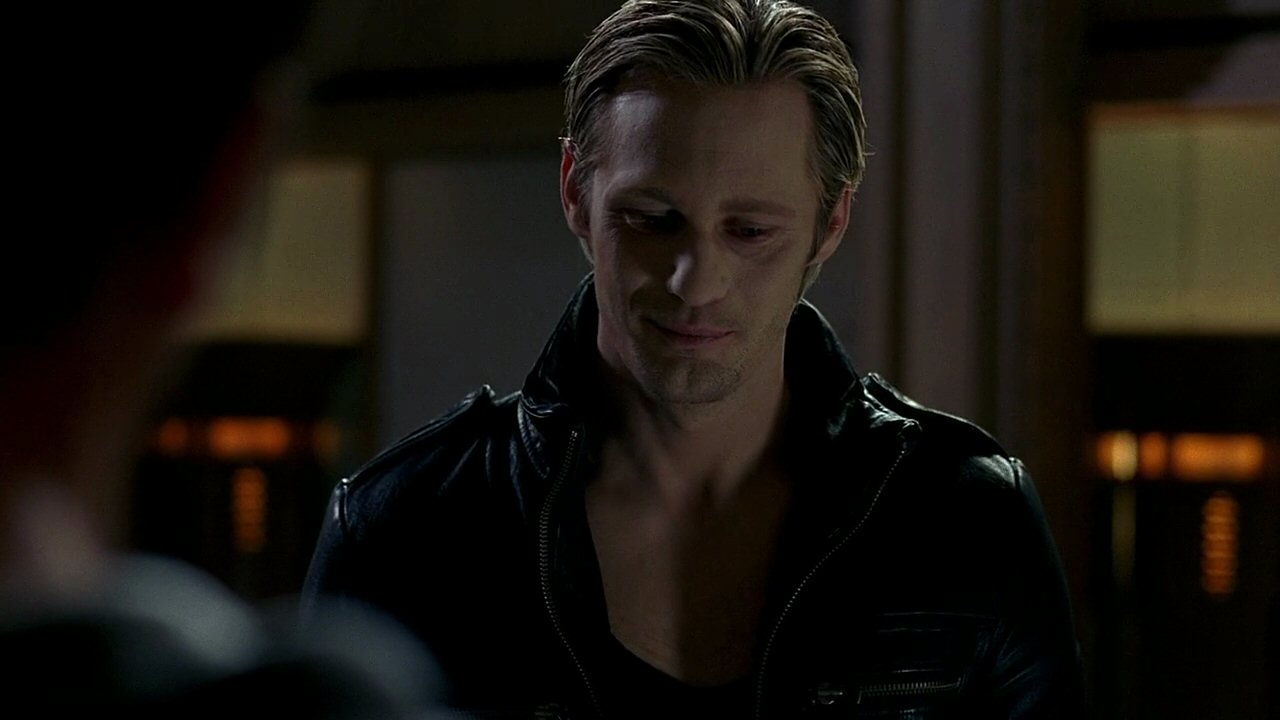 Making their way out of the Church may be more difficult than Eric anticipated (what with not being able to kill any of these hatefilled jerkasses). That, and Sookie has to stop him and talk really loud about why Bill didn't come instead of/with Eric to save her. You don't need to be a telepath to figure that one out, Sook, it's fairly obvious to EVERYONE why just Eric came for you and Godric. Eric makes up some bull about how Bill's judgement is clouded by his feeling for her, and Sookie thinks Eric's judgement is clouded by his love for Godric (which is a concept Eric claims to be unfamiliar with).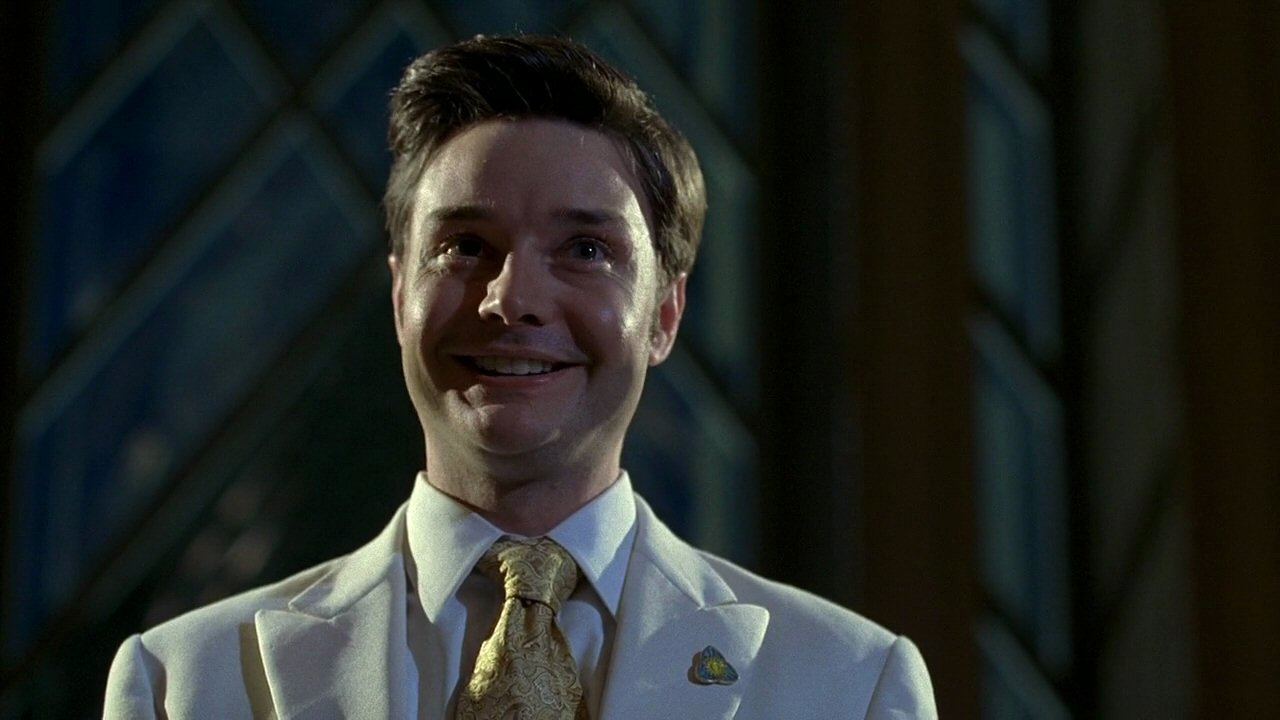 Hilarious moment of Eric trying to be a faux hick! His body language and face acting were awesome. How a dude built like Skarsgård can suddenly make himself look dweeby just by slouching his shoulders a little is crazy. It doesn't work, so he's back to his Batman voice (so.hot.) trying to glamour his way out. That also doesn't work and he and Sookie get caught in the chapel. I know I should mention how the Rev was all sorts of fanatical crazy in this scene, but Eric is like one big walking hunk of sex the entire time and it distracted me from the spewage of crazy-hate the Rev was on about. It was kind of interesting that everyone seemed to know who Godric was by name.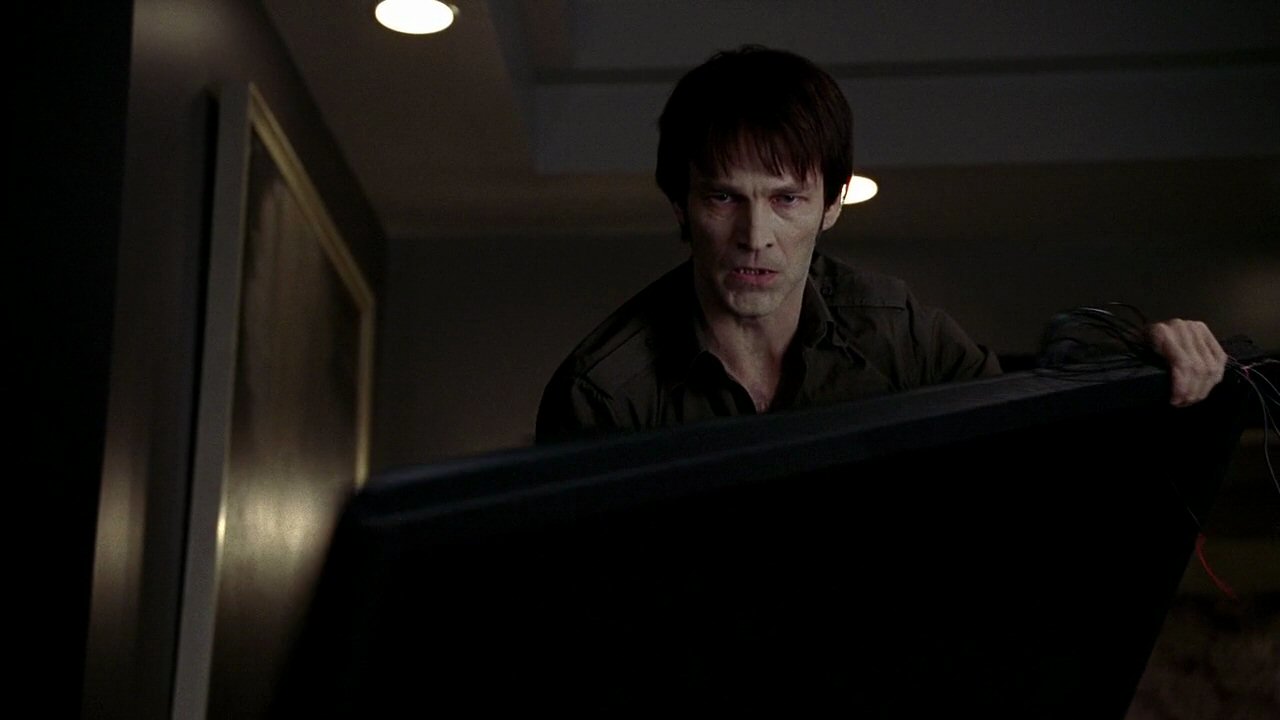 Back at the most boring kidnapping ever, Lorena is trying to get Bill to feed on Barry (which Bill is having none of). She feeds on him, and while she's distracted by the fact that he tastes different, Bill decides to stop being a wet noodle for 5 seconds and crack her over the head with the plasma flat screen (that was sad — I liked that tv). While she's down for the count, he saves Barry.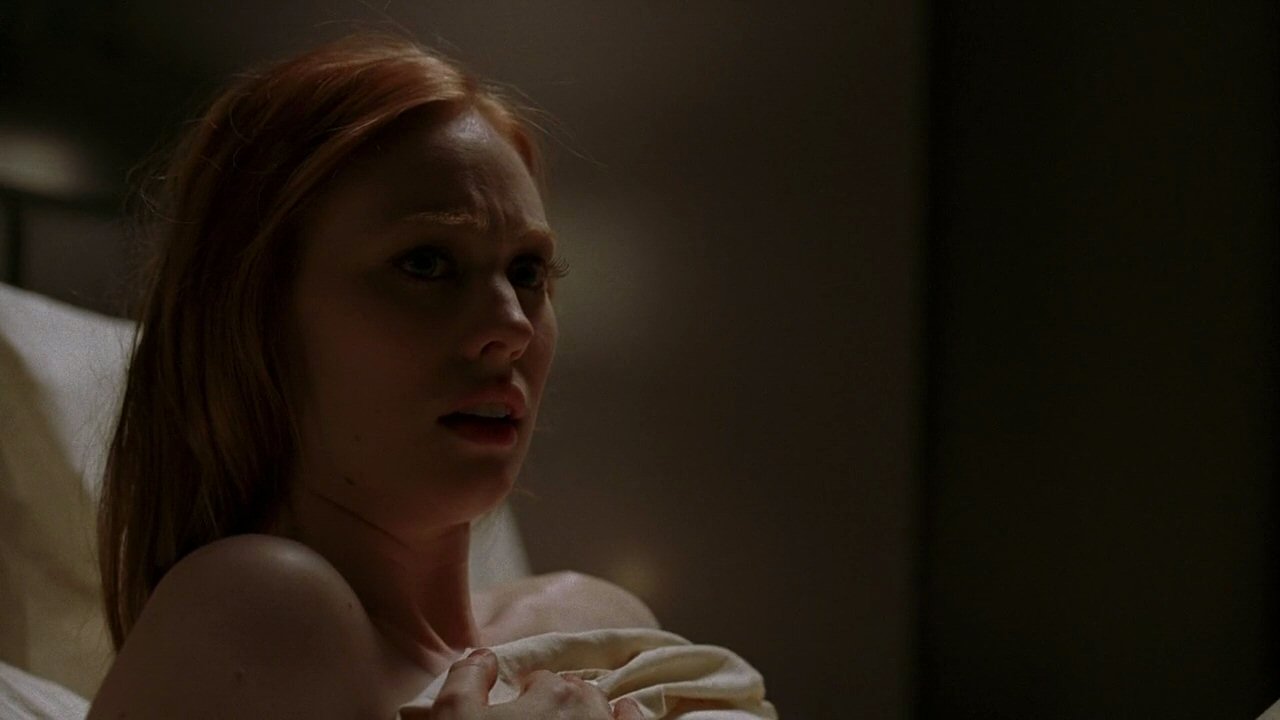 Unfortunately for Hoyt and Jessica, he also crashes in to save her. Hoyt claims they were screams of pleasure and he continues to be the cutest nerd on the planet. Bill, averting his eyes in discomfort, just tells Hoyt to drive Jessica back to Bon Temps before dawn.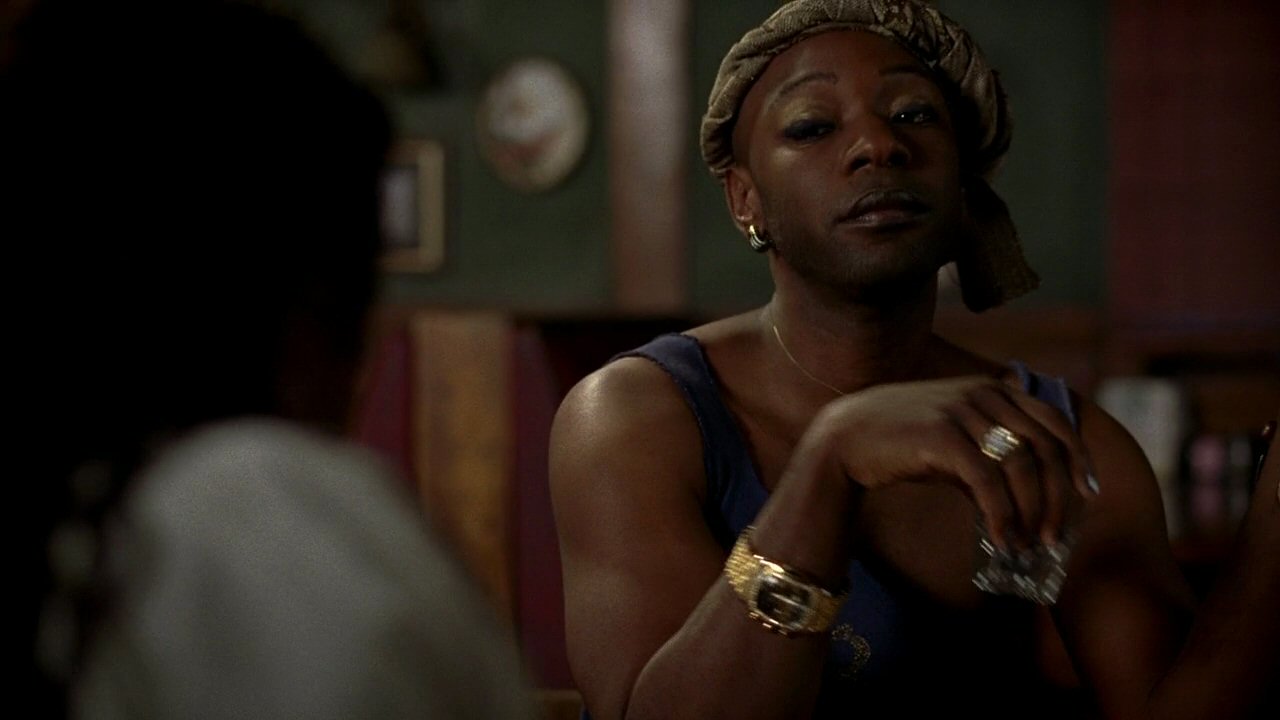 Speaking of the world's most supernatural hotspot, Lafayette and Tara are closing up Merlotte's. Lafayette is reading Tara's cards, and it isn't looking so hot for her. Eggs interrupts them, panicking about blacking out again and waking up in the woods by the lake. Lafayette busies himself pretending to clean the grill, but is visibly concerned for Tara and her safety as she and Eggs leave the bar.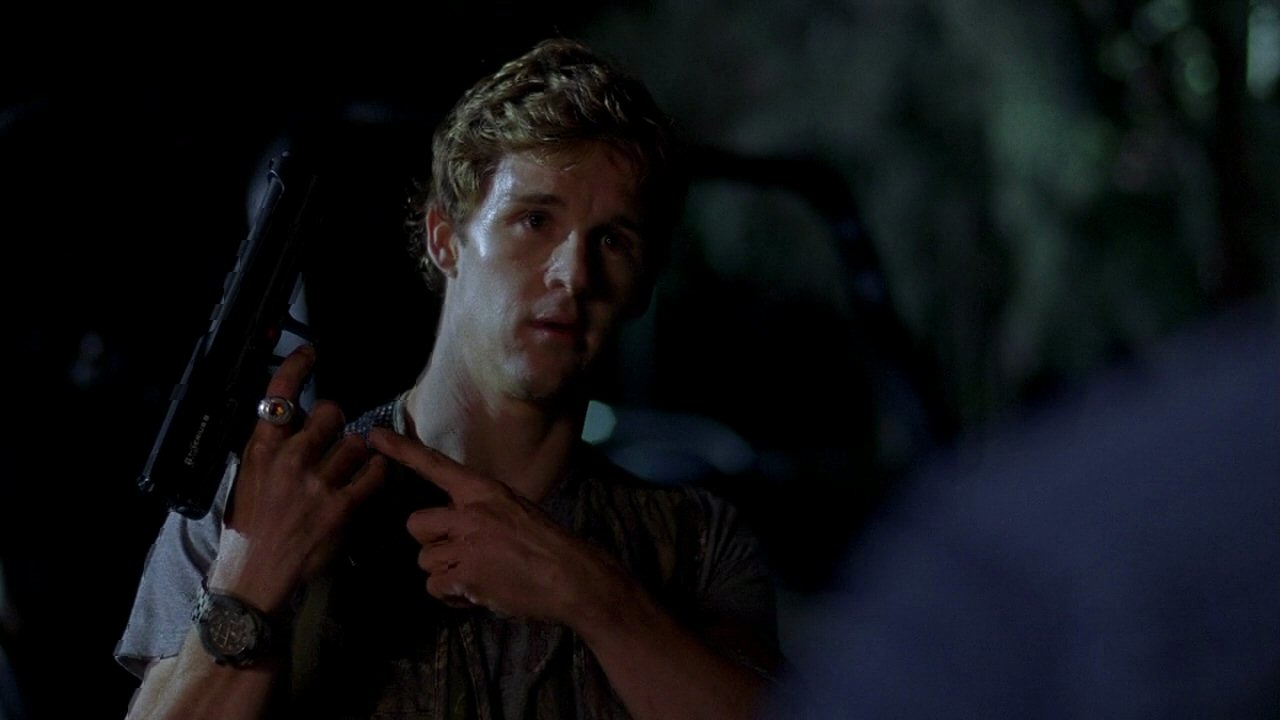 Jason officially becomes my favourite character of the ep for going balls to the walls in order to save his sister. He talks his way back into the Church to do two things, chew bubblegum and kick ass. And if you guessed that he's all out of bubblegum, you were right.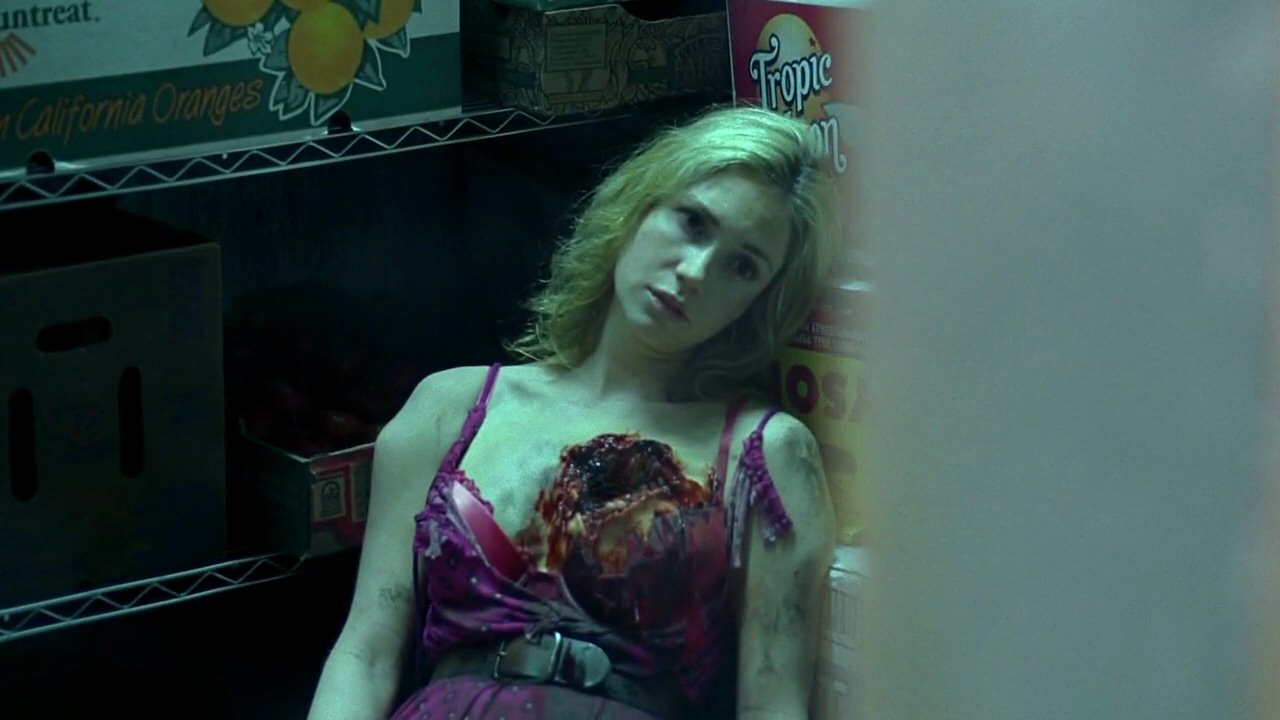 Sam is now sleeping in his car. Guess he hasn't seen that movie before. He gets a phone call and heads back to the bar, only to find Daphne dead in his freezer with her heart cut out. At first, he panics and decides to cover up her murder and body. In the middle of his attempt to bag her up, he changes his mind and calls the 5-0. Too late, the police are already there on an anonymous tip. Things aren't looking good for Sam.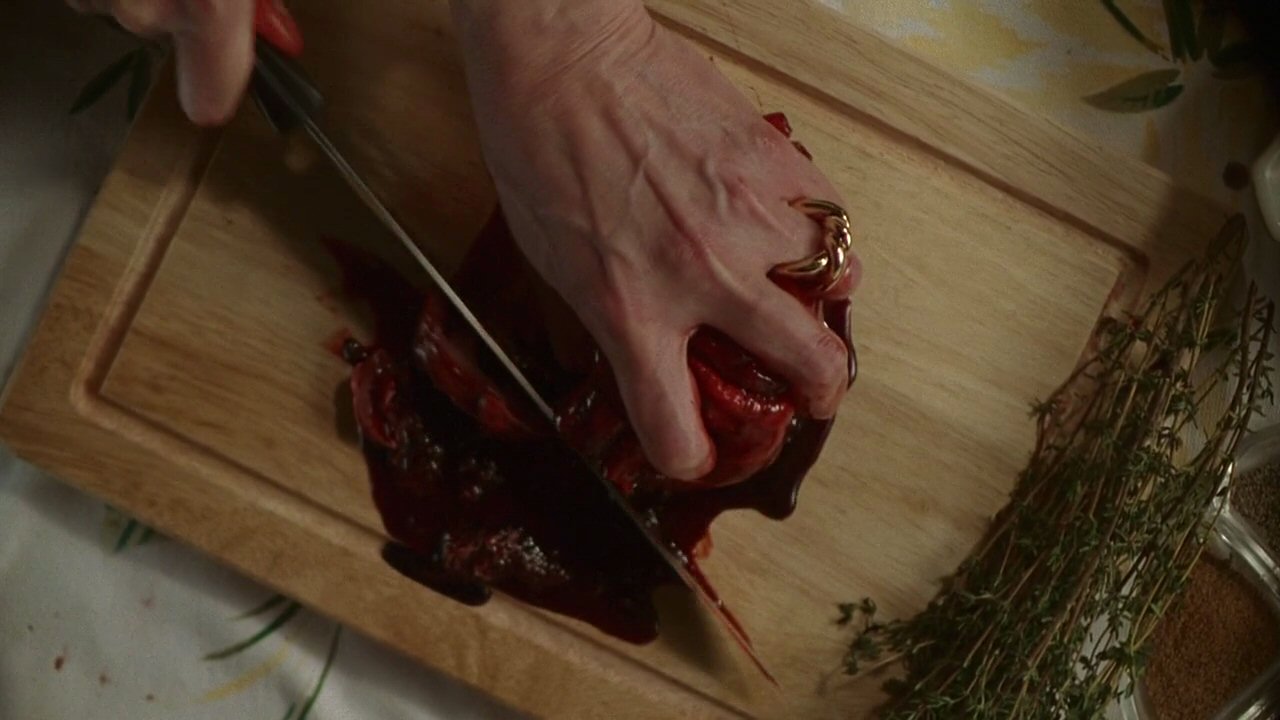 What does Maryann do with all those hearts, you may have been asking yourself. Or not, because you knew you'd get this scene in response (she cooks it up with some veggies). I'm pretty sure the world over was gagging up their snacks or dinner. I was impressed with how realistic it looked. They really have a good SFX crew on this show.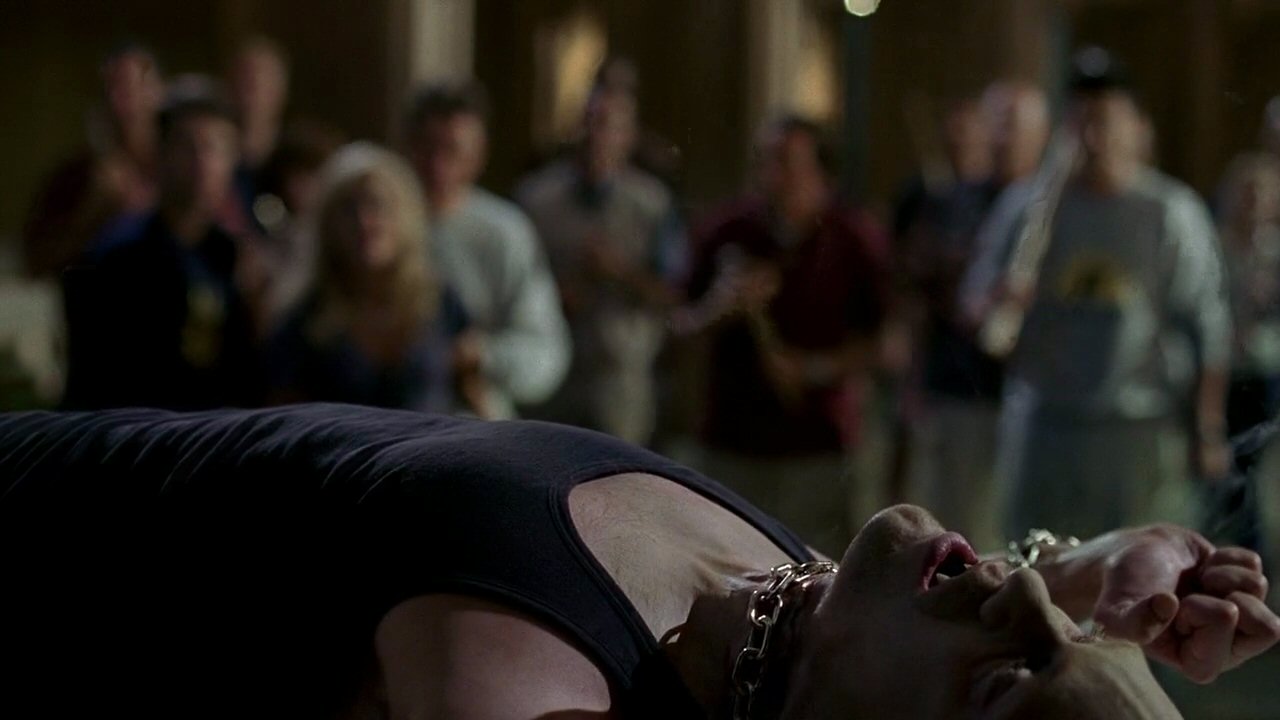 FOTS gets Eric chained down with some silver chain, but doesn't have the decency to take his beater off first. For shame, FOTS crazies! The season's almost over, Eric's been in almost every episode, and still we don't get his man cleavage flashed at us! Eric offers himself in exchange for Godric and Sookie's freedom, but the Rev is on a whole new level of crazy at this point (I dare say he might have gone well past the Tom Cruise level of crazy).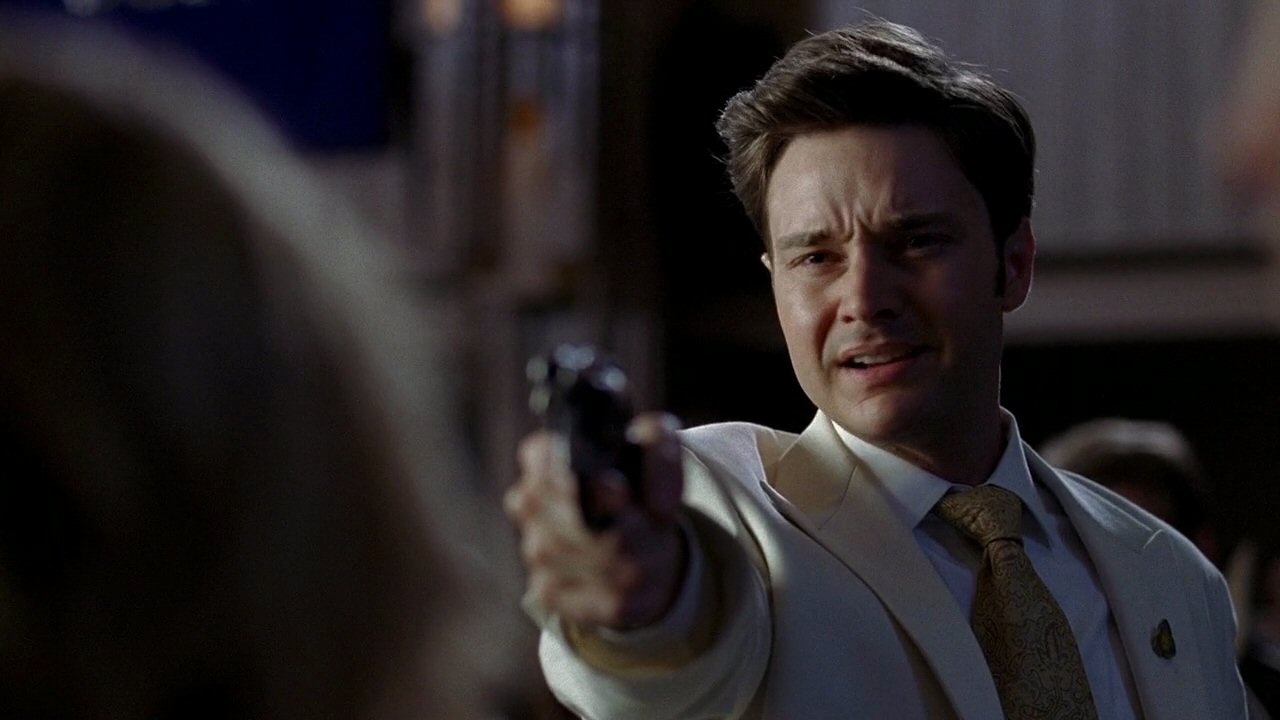 Bill finally shows up and threatens to kill the entire planet if they hurt Sookie. Shock of all shocks, the Rev and I actually agree on something when he turns to Sookie and asks what the hell do they all see in her. I don't get it either, pal!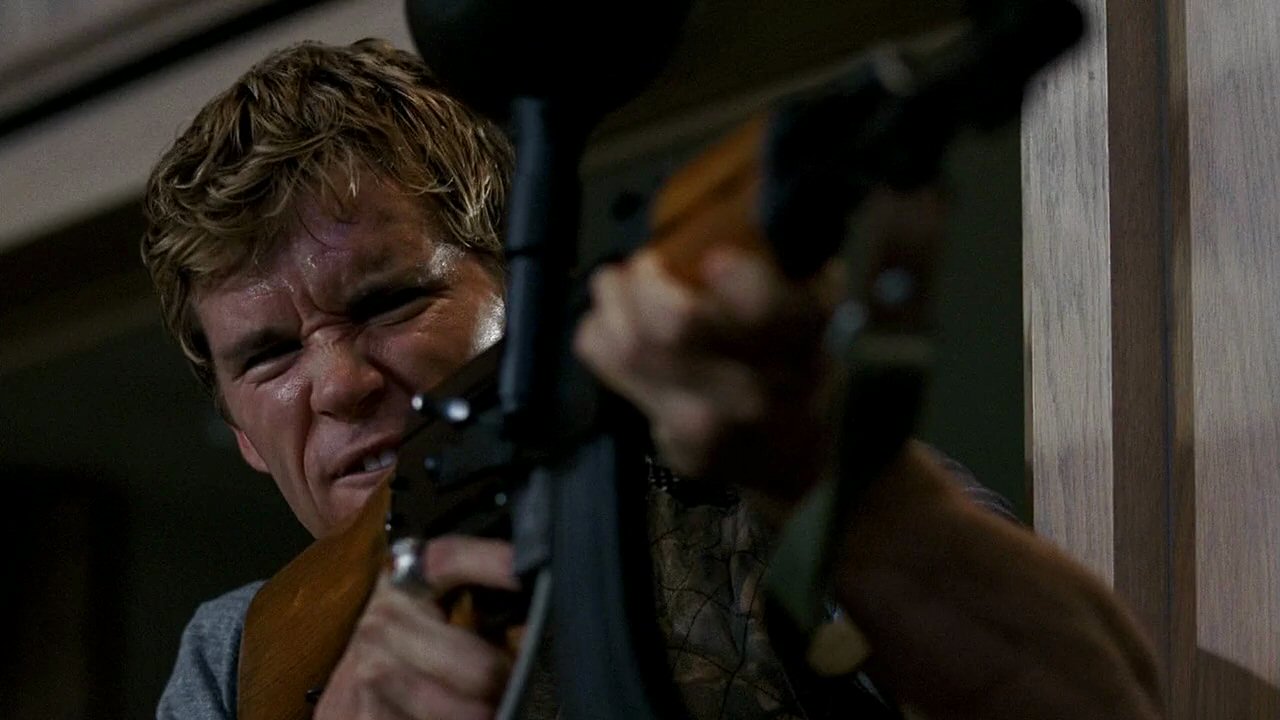 Jason nails the Rev in the hand and forehead (too bad he's still using the paintball gun), and Sookie gets the chains off Eric (to Bill's surprise? Disgust?).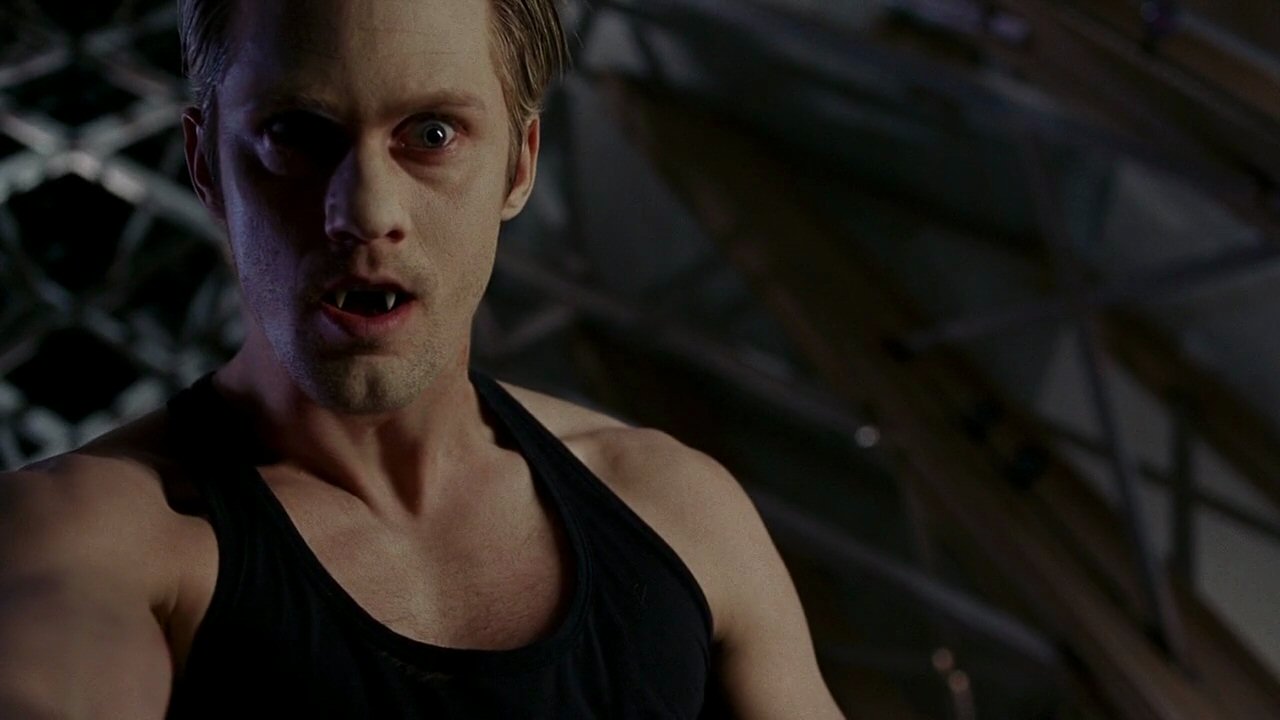 And because Eric is in about 90% of the caps for this episode, here's one to hold you over until Sunday. I love it when he gets angry, and he's angry here! He's about to kill Rev, Sookie's wailing about how he needs to stop, and the Dallas vamps show up in all their leather and rhinestone glory. The FOTS members weren't prepared for this one and are overcome fairly easy.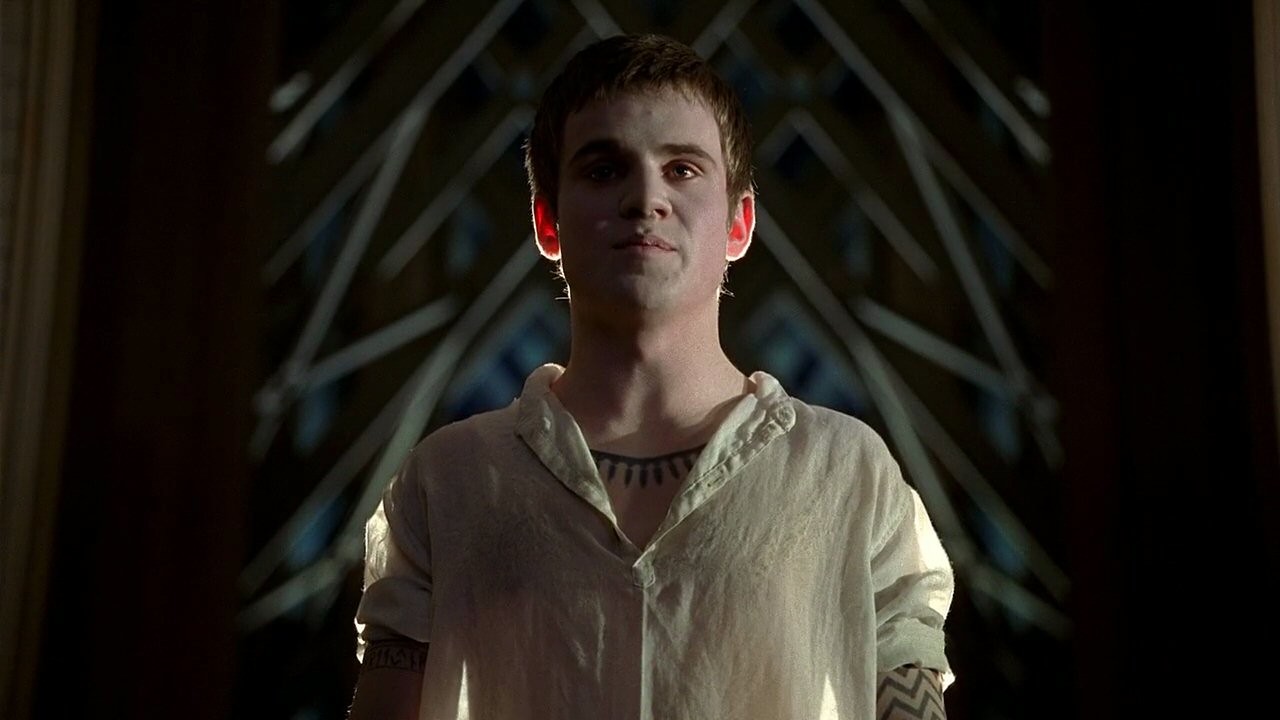 Godric shows up and stops his underlings from killing everyone in the Church because a 2000+ year old vamp is the most humane person on the planet. Of course, Rhinestone Cowboy vamp is thoroughly put out by this. None of the humans wants to die because the Rev is drinking the Kool-Aid, and everyone wanders off (the Lukenator has an iffy look about him).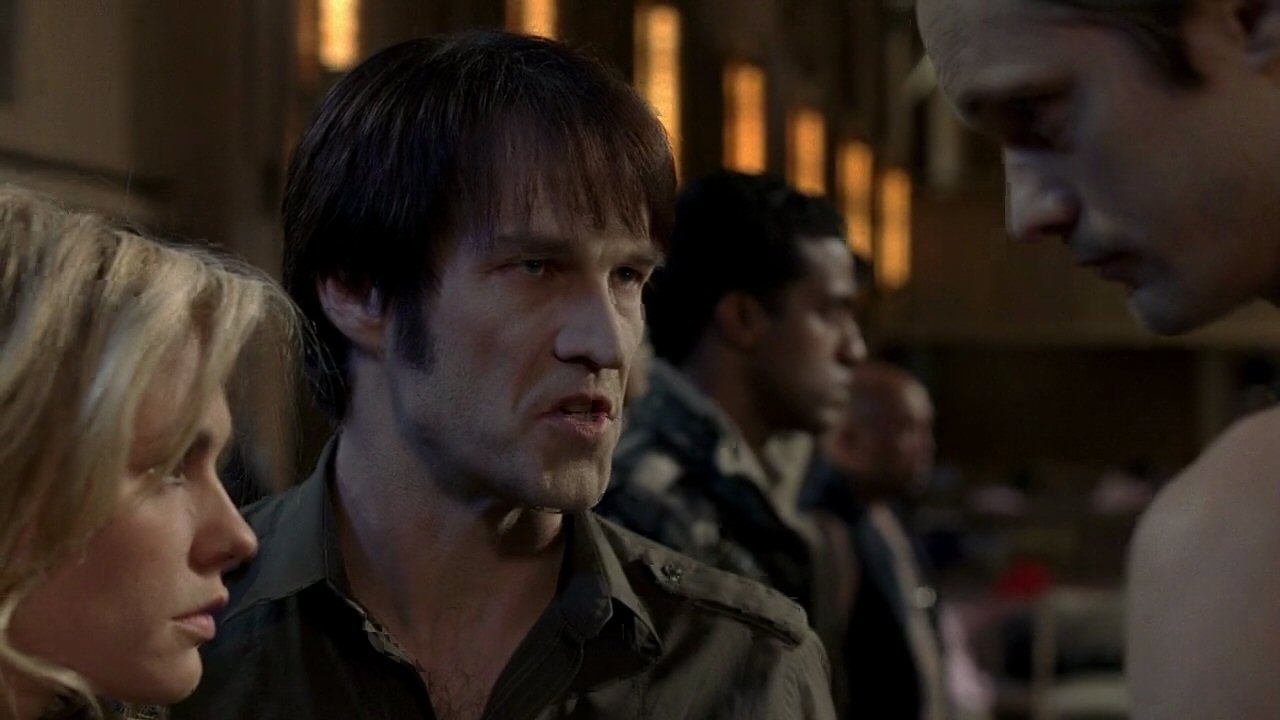 Bill and Eric are already vying for Sookie's attention or affections, and she might actually be figuring it out finally that these two are fighting over who gets to have funtime with her privates. Jason gets one last jab in on the Rev and tells him he's already been to Heaven (and it was when he was giving it to Sarah).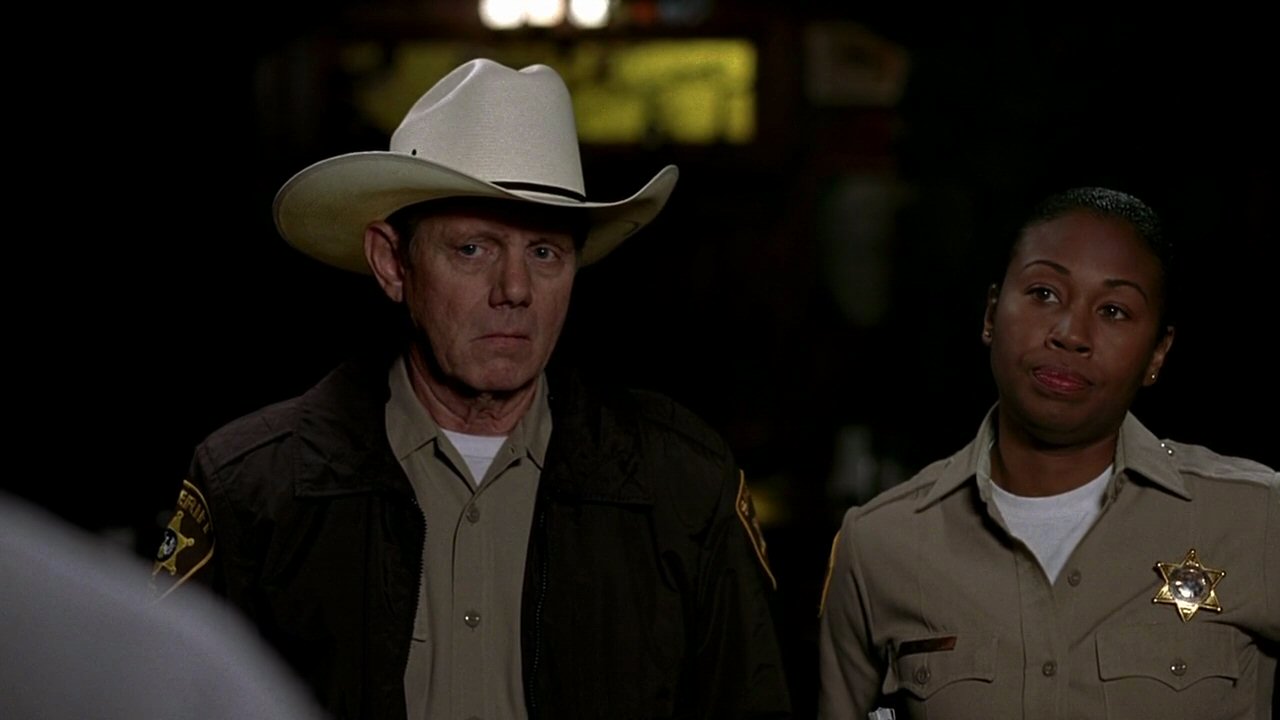 The Sheriff and Deputy are questioning Sam about the dead body in his freezer. Sam is trying to convince them he's being framed, and they aren't buying it. All of a sudden, not being honest about where you come from with your friends is throwing suspicion onto Sam. Nothing in his past checks out because it's all a bunch of BS. Andy shows up (still has his police walkie) and tries his best to back Sam's story up. Until he realizes that his story makes no sense at all.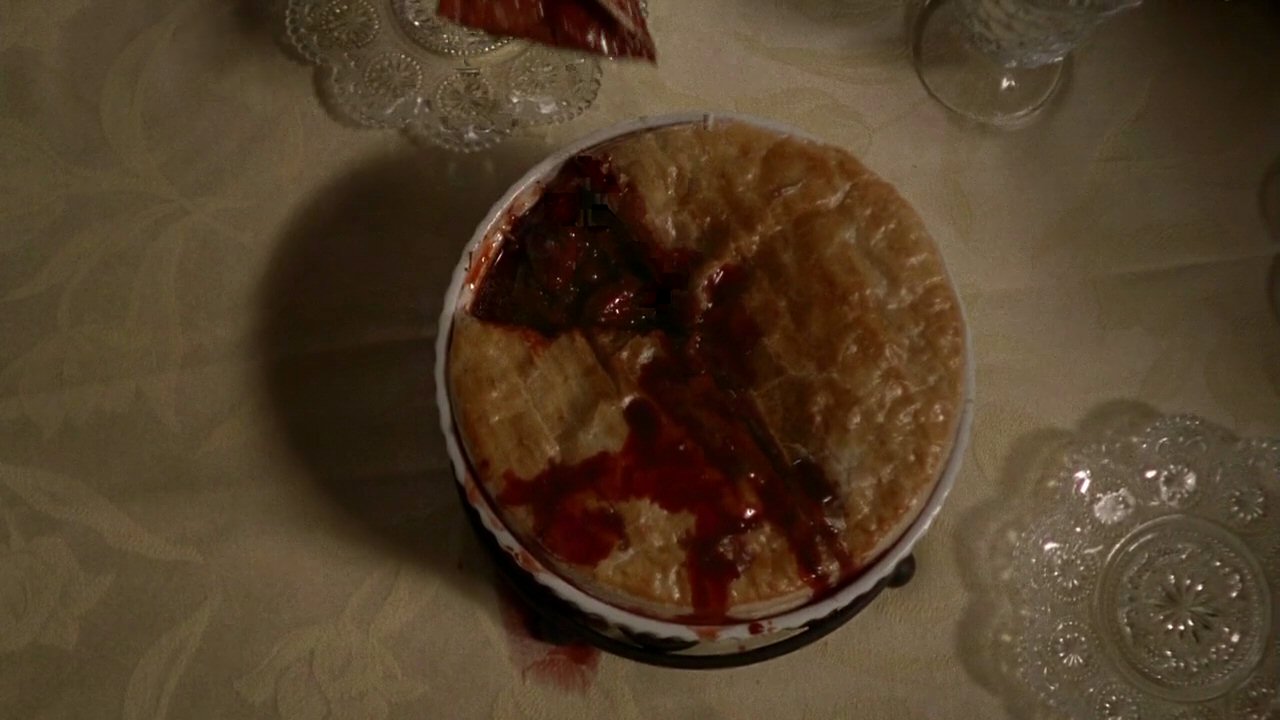 Tara is trying to comfort Eggs (who feels like he did something "real bad"). Maryann shows up with a "Hunter's Soufflé" that will make them feel much better. This is why you should never, never eat at a pot luck. You think eating something full of cat hair is bad? Also, if you cut into it and it bleeds (and it's not a steak), and the person who cooked it isn't eating any of it? Seriously reconsider stuffing your face with it.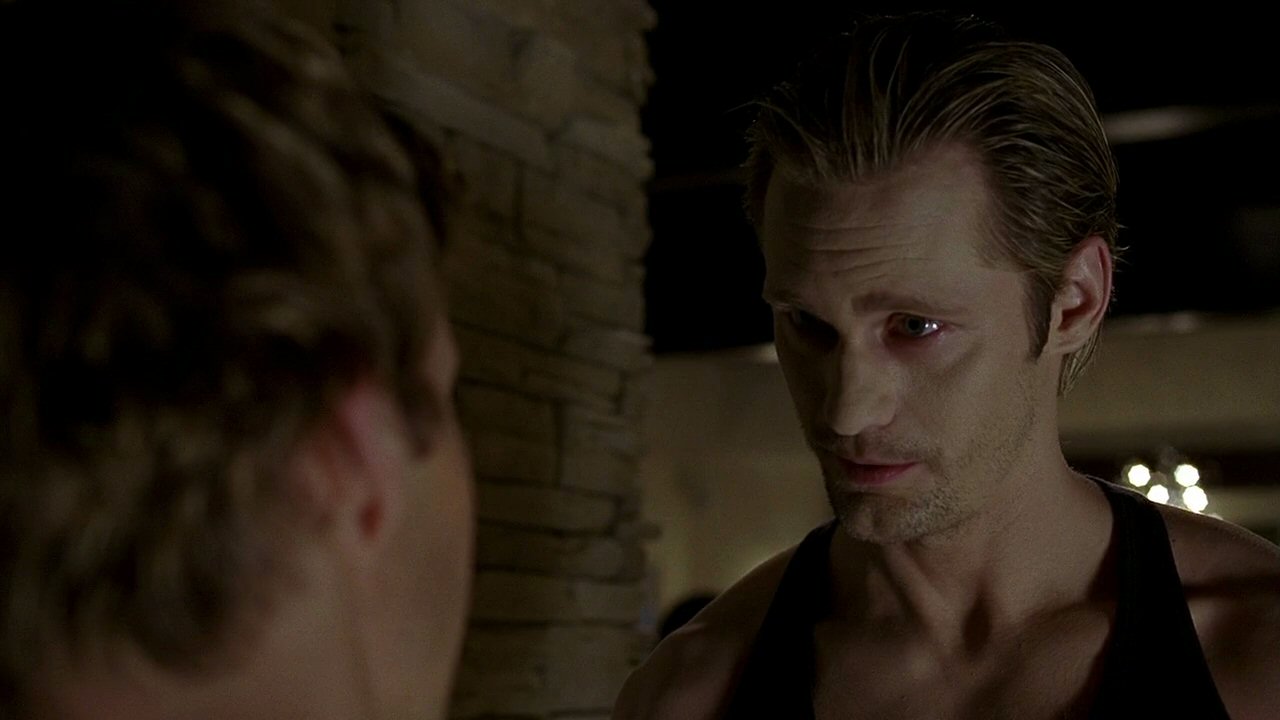 Party at Godric's and everyone's invited! Eric scares Jason a little for his former use of V, and totally gets a kick out of it. This episode has a lot of Eric being more human. He's way more smiley and talky, like having his maker around means he doesn't have to be so closed off and guarded. Sookie (who finally got a decent outfit in someone else's coat) is SUPER butthurt about Bill not showing up to save her sooner. He won't tell her who was keeping him from saving her, and she assumes it was Eric. The Lover's Triangle is almost completely formed.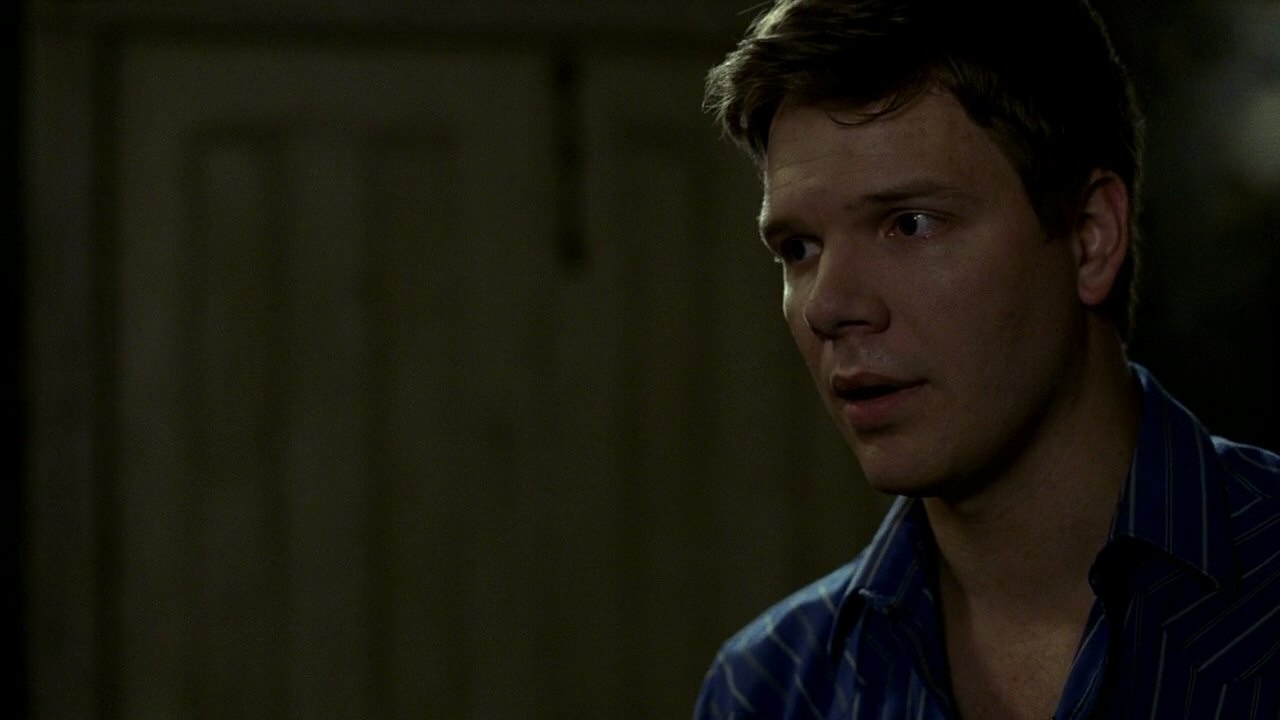 Hoyt and Jessica make it back to Bon Temps because this entire episode happens within the span of one night. They start to get all hands on deck with each other, when Jessica realizes she's going to be a virgin forever. Damn you, Healing Factor! Wolverine never had to put up with this crap! Hoyt, being the sweetheart that he is, tries to comfort her unsuccessfully. No offense, but dudes wouldn't understand why she doesn't want every time to be the first time. I know he's trying to say everything will be okay and work out, but that's not something a chick wants to go through all the time.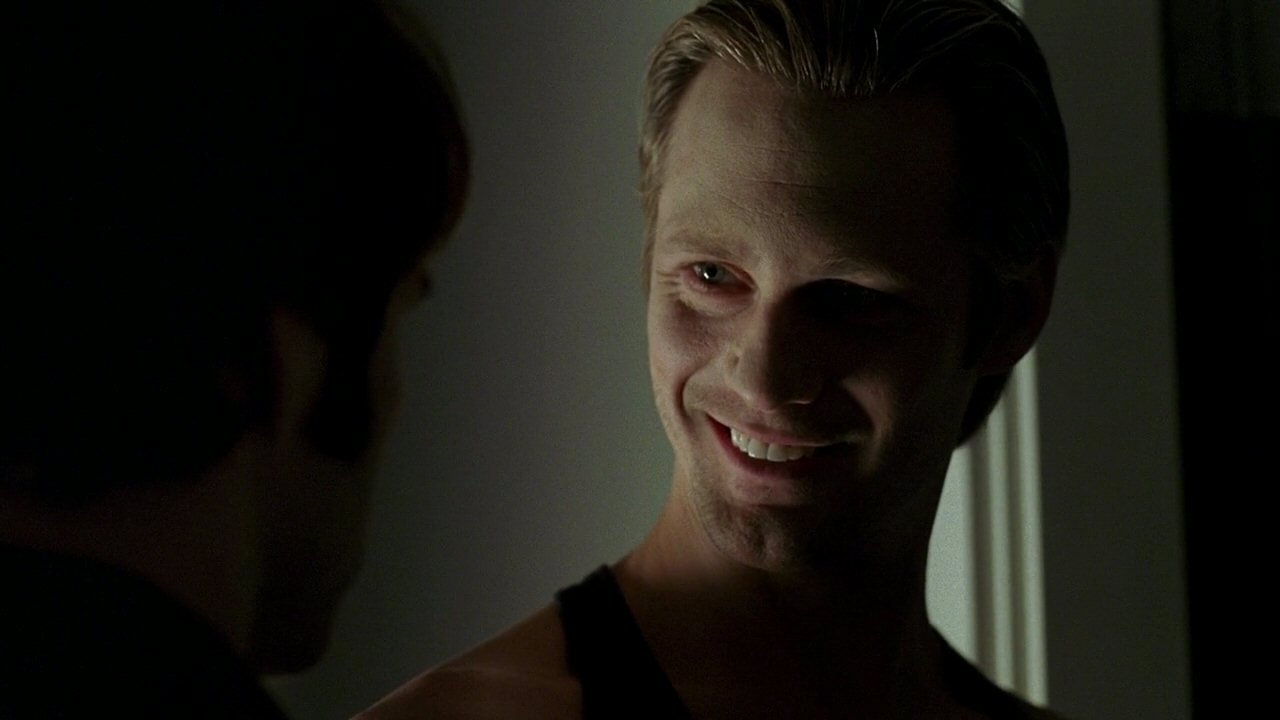 See? Smiley! Bill has to take time out in the party to have a tiff with Eric over Sookie. So much drama! Those vamps are more human than they think. Isabel gives Hugo over to Godric to judge since he's the one who betrayed them. Godric asks her if she loves her human, and she does. So Godric spares Hugo's life and sends him packing. Back to hunting Graboids in Mexico after all! Jason interrupts Sookie grilling Bill because he really needs to have a Man Talk with Bill. They go out into the backyard because this is when Bill decides they don't need to make a scene in the middle of the party.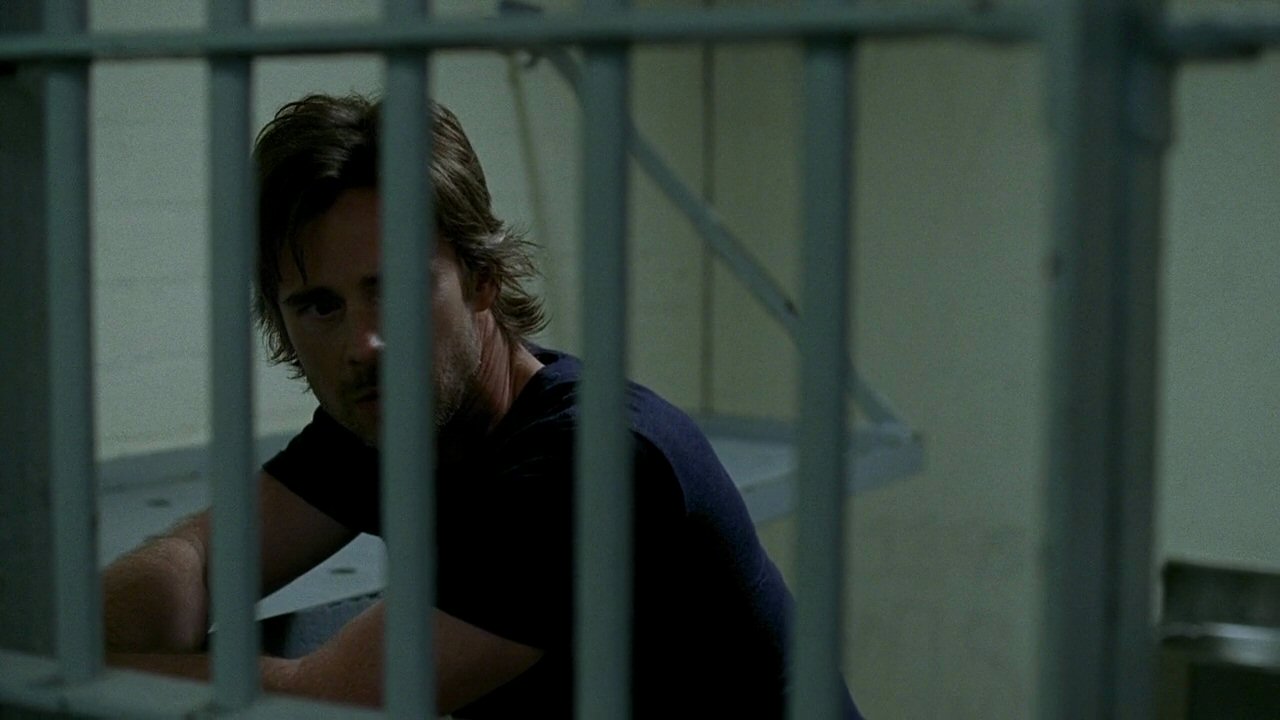 Sam gets thrown in the pokey (literally since that one guy in there's been sticking it in EVERYTHING), even though they have no evidence that he's guilty of anything. Loads of Maryann's junkies are in there, too.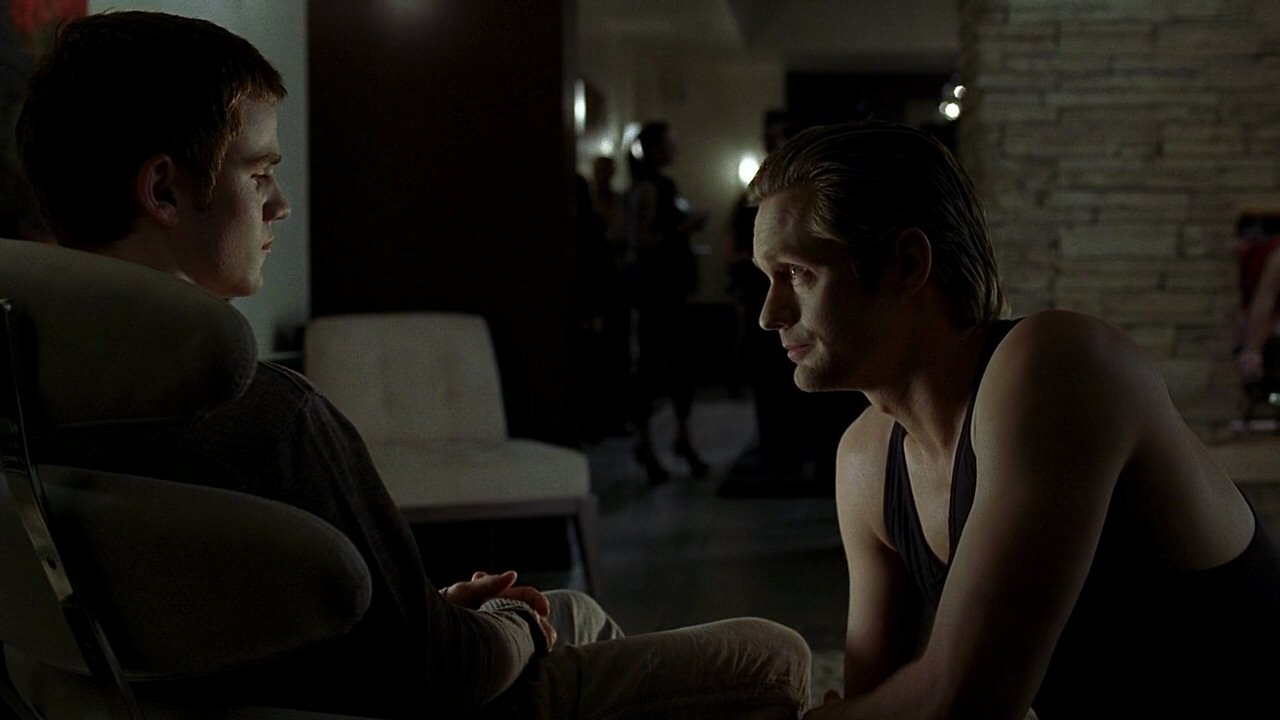 Turned out Jason just wanted Bill to forgive him for being such a prick about vampires. He even hugs Bill, which makes the wet noodle uncomfortable. Eric finally has a chance to speak with Godric and is still uncharacteristically smiley. He's like that underclassman that looks up to the older kid in school. Eric asks why Godric wouldn't leave when he first came for him, and Godric tells him they weren't treating him badly there. He could have killed everyone, but what would that have accomplished? He tells Eric vamps are frightening and haven't evolved, only gotten more predatory, so why wouldn't the humans be afraid of them? News flash, humans haven't evolved much either, dude. Just saying. Godric thinks that vamps and humans should be seen as equals.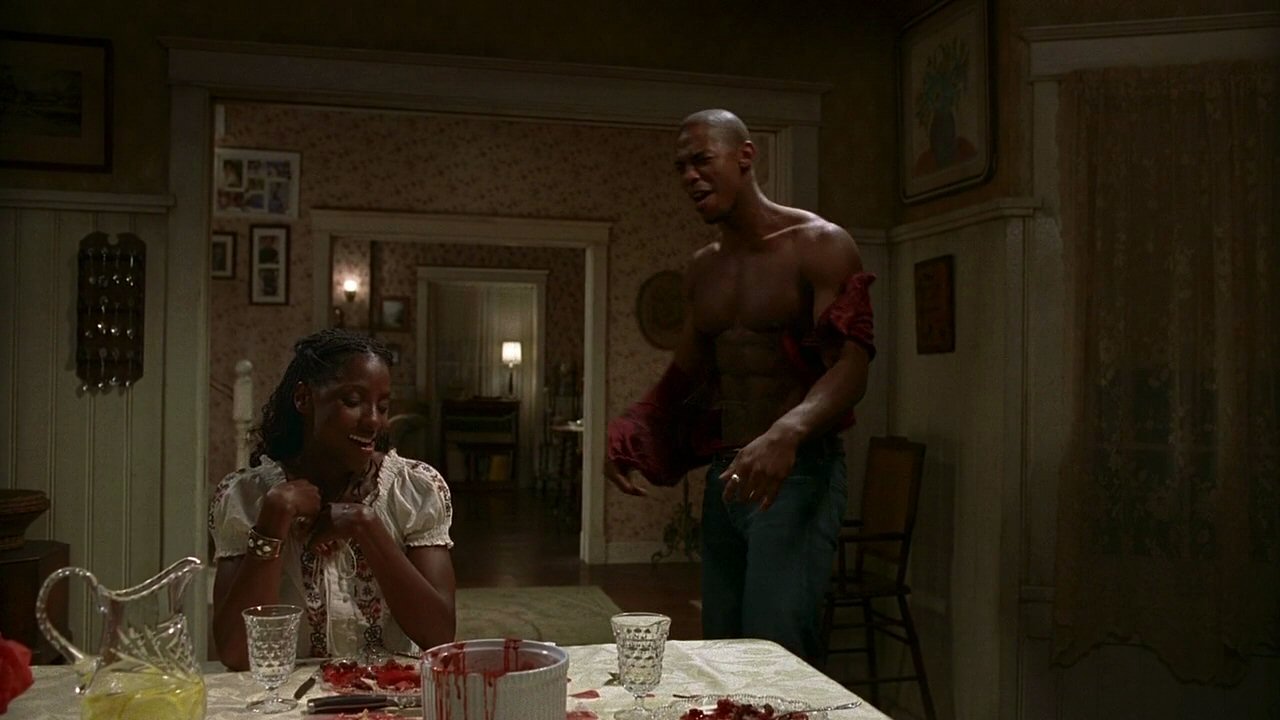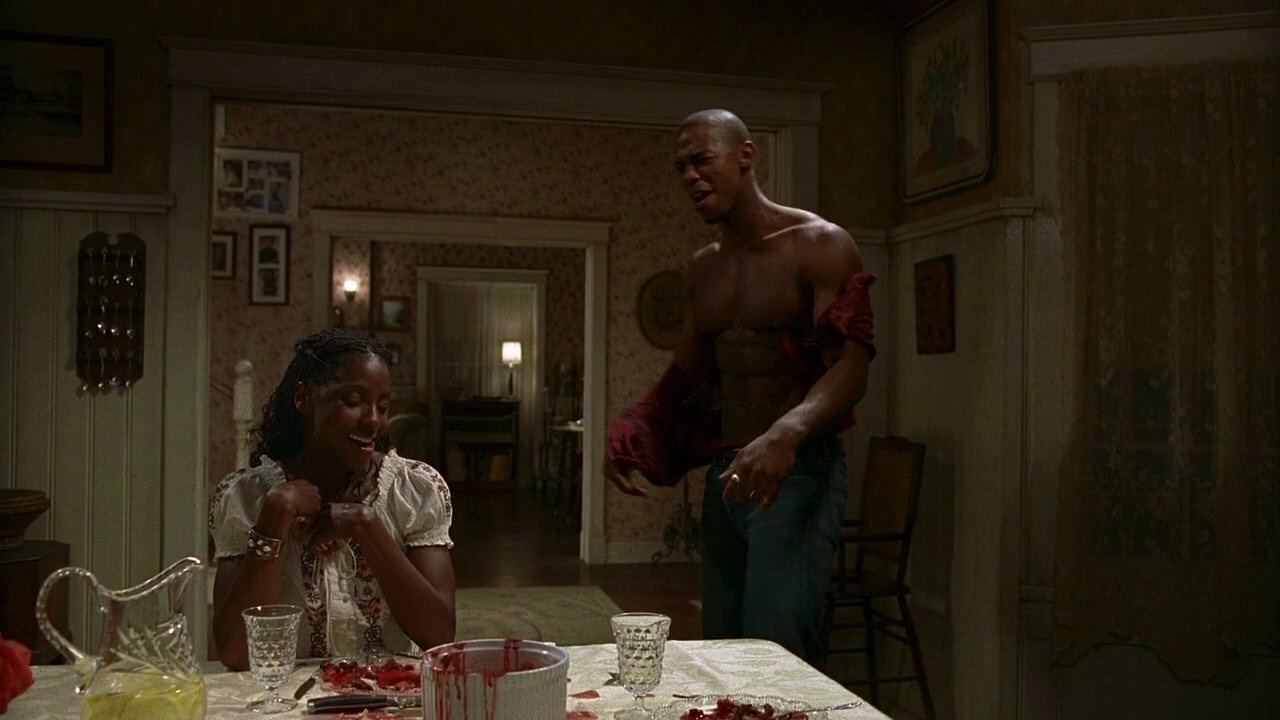 Tara and Eggs have the most aggro sex ever, and I've decided that Maryann seriously needs to be taken out. Where are the Winchester Brothers and their Colt when you need them?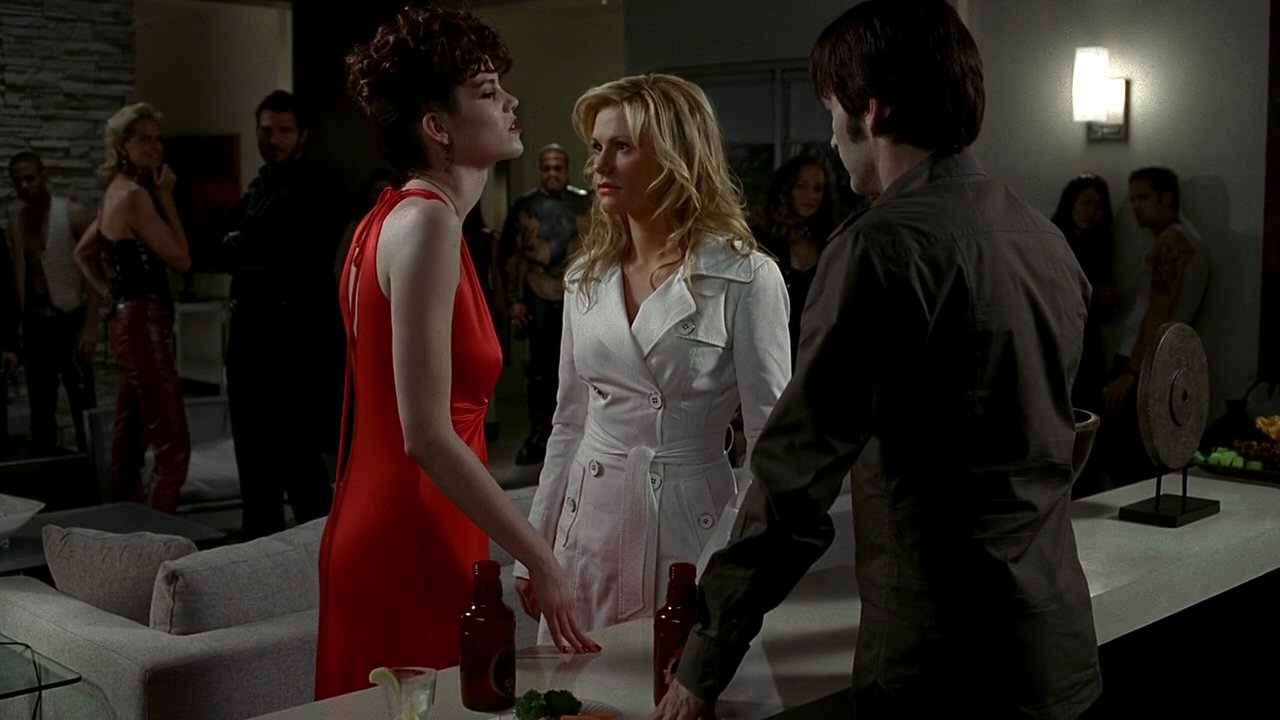 Two unexpected guests show up at Godric's. One is Lorena. She and Sookie finally meet, and it's as bitchtastic as ever! All it took for Sookie to grow a spine was for another female to show interest in Bill? Pah-lease. Double standard, my friends, because Sookie was so turning into a lake earlier for Eric. Lorena is about to eat Sookie (and not in the fun way) when Godric steps in and, yep, saves Sookie again.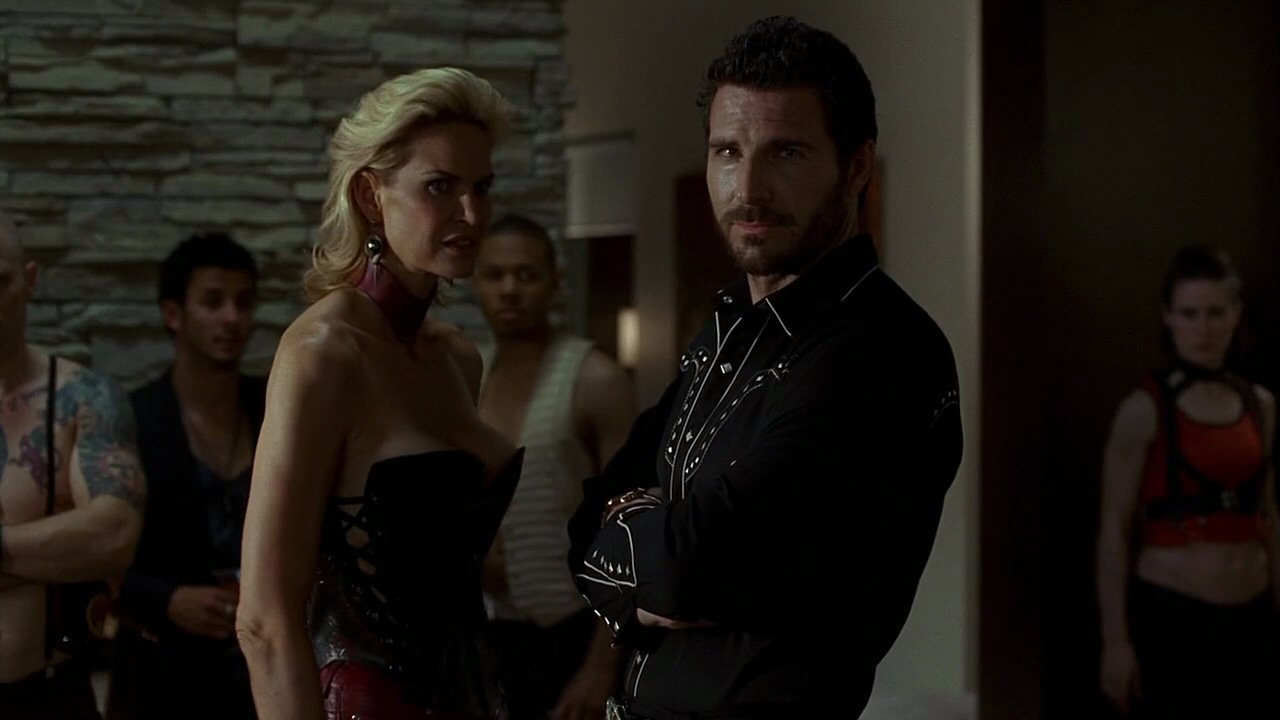 Which is too bad for Rhinestone Cowboy because he was enjoying that catfight. Godric continues to be a very gracious host and sheriff, and doesn't kill Lorena. He makes Bill escort her out of his house instead. Sookie just made a HUGE enemy in Lorena, but she seemingly has an ally in Godric. Lorena asks Bill when she will see him again, and he tells her never. She has to remind them that they live a very long time and are bond to run into each other again.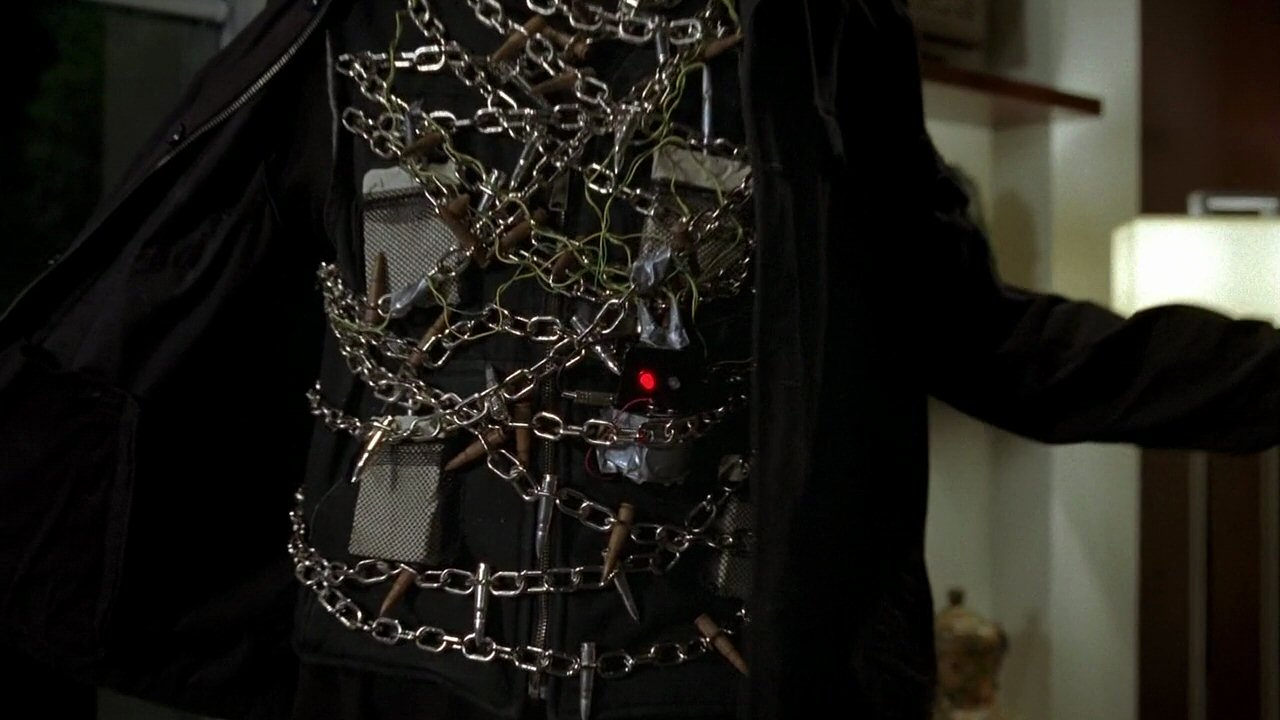 The other guest was Luke, and he's strapped to the gills with explosives and shrapnel and an itchy trigger finger. CLIFFHANGER!!!!