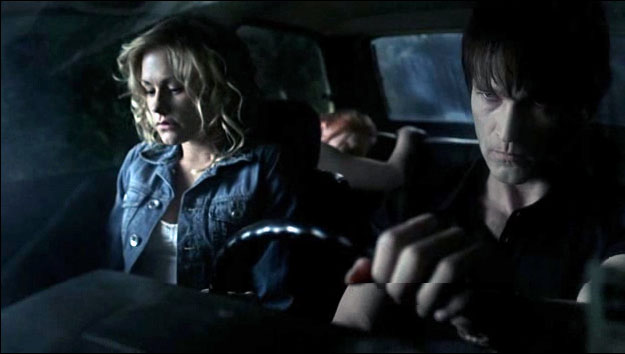 Review: True Blood 2.03 – Scratches
Original Air Date: 28 June 2009
Rated: NR/AO (Not Rated/Adults Only)
The whole town goes bananas as the supernatural beasties and nasties start to come out of hiding. Bon Temps has officially stepped in it big time. If they cram anymore stuff into these episodes, I'm going to end up writing novel length recaps! Note: I guess when you turn 29, your brain turns to mush and you forget deadlines! Good thing there isn't another new episode until the 12th, so be sure to catch up on the first three eps of the season this weekend!
Bill is so mad from having to glamour Jessica's family into brain pudding that his teeth get stuck together! Lovers' fight in the yellow hatchback! Hey, I thought they weren't going to be one of those couples? Bill pulls over and proceeds to rip Sookie up one side and down the other. And she totally deserves it. Meanwhile, Jessica's still bawling and screaming at Bill, telling him how much she hates him for making her a monster that's going to be alone forever. And he totally deserves it. Typical of a character such as herself, Sookie storms out of the car, preferring to walk the 20 odd miles back to town. Bill doesn't follow her (rookie mistake). Jessica stops crying long enough to give Bill some insight into a woman like Sookie ("She wants you to go after her. And she wants you to go after her, and kiss her, and tell her that you love her.")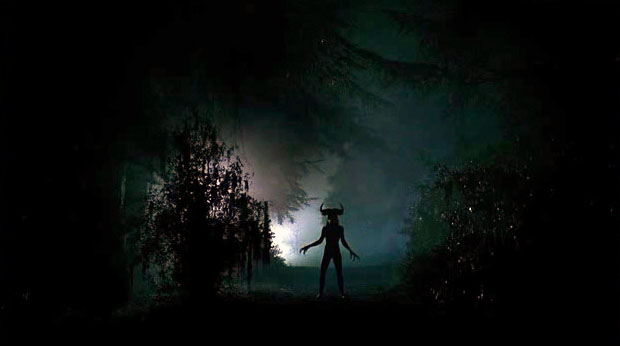 Of course, Bill doesn't do it and that leads to this fantastically eerie scene in the woods. Whatever the deuce that thing is, it's not here to make rainbows and sparkles, I can guess that much. It attacks Sookie, digging a few deep trenches in her back, and leaves her for dead (maybe). Theme song time! Woo-hoo!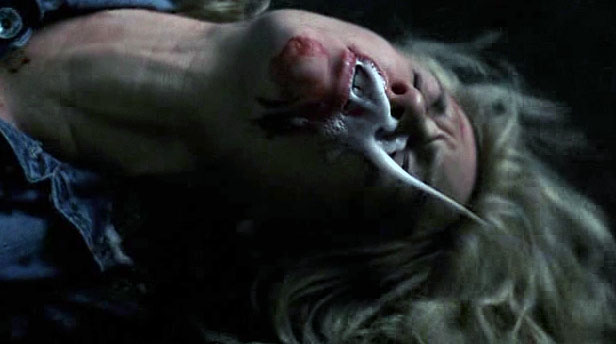 Bill does his Superman run to Sookie (that whole super fast run never looks good, ever, as an effect), and finds her a bloody mess in the middle of the road. He tries to save her by giving her his Magic Vamp Juice. That makes her go into convulsions and foam at the mouth (basically, it's the best acting Anna Paquin's done so far in the show). Jessica drives them to Fangtasia, and instead of letting her stay with the only friends she's got, Bill goes into his Paul Atreides "special" voice and orders her to go back to the house. I'm really starting to feel bad for Jessica.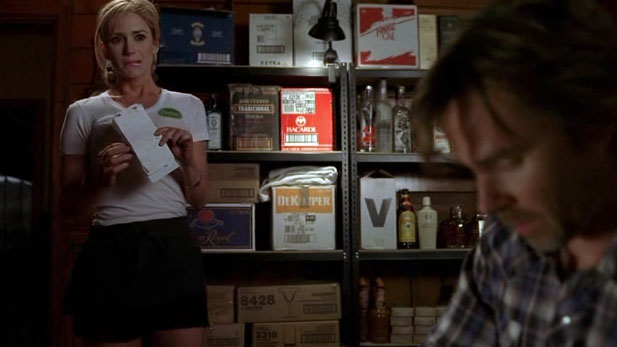 Cut over to Sam closing up the bar, and we find out that Daphne is possibly the worst waitress on the face of the planet. I can't knock her too hard for being short with the monies; I'm horrible with that kind of thing myself. *shakes fist at math* He yells at her, she gets all butthurt because he's right to be angry ($60 short is probably a big deal in a small town bar like Merlotte's), gives him all of the tips she made, and cries her way out of the bar like a little girl. Tara shows up spouting that Maryann rhetoric about "positive re-enforcement." Sam tells her not to bring Maryann around anymore and that she should stay away from her. Tara gets defensive and tells him that he doesn't even know her, to which he replies "Neither do you." That should have been fairly obvious to Tara already, but it's not or there wouldn't be any drama later on.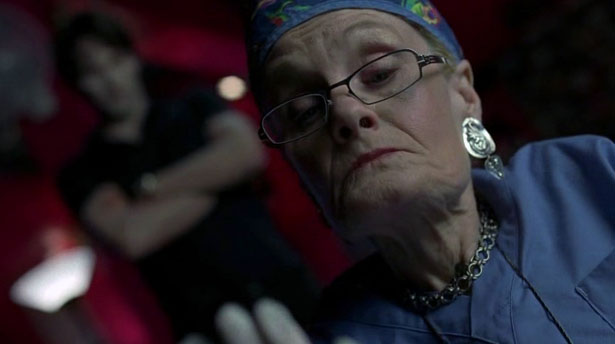 Meanwhile, Sookie looks like total crap. In fact, she's almost got both feet in the grave at this point. Eric has called in a Healer to "help" Bill save Sookie. He is so devious! He needs to use her, and this act will totally get both Bill and Sookie snugly into his pocket. OMG, I am so freaking in love with that tall, arctic cold drink of Nordic vampire.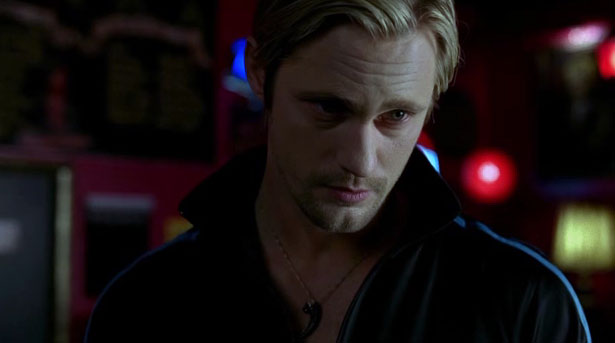 Seriously. Alexander Skarsgård needs to be in everything I watch from now on. *fangirly sigh*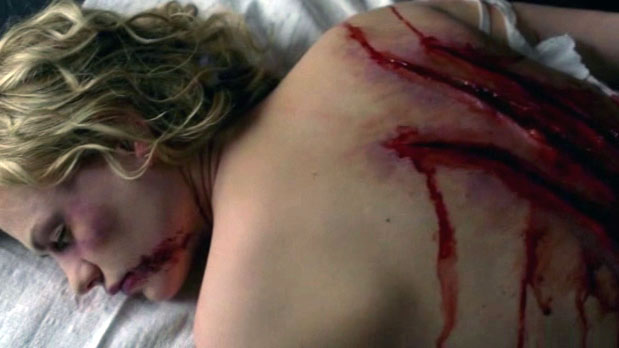 The Healer tells them that Sookie's been poisoned by something similar to a Komodo dragon. Something about it seems familiar to her, but they don't have time to run tests. She tells the menfolk to leave because she needs to remove Sookie's clothing to work on her (like everyone hasn't seen THAT already).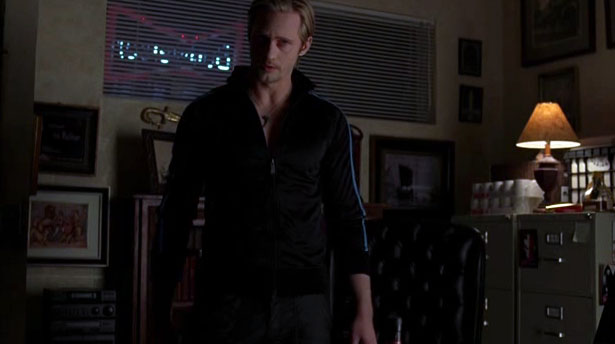 Bill and Eric go off to talk about what attacked Sookie, Bill telling him she said it was a BullManThing (cousin to the BearManPig, I think), but that he didn't see anything. He also tells Eric that his blood didn't work on her. This surprises Eric. He's been around for over 1,000 years and a dude comes across a lot of messed up stuff in that amount of time, so it's pretty hard to surprise him at this point. He calls in Pam and Chow to have them scan the woods. Pam gets shirty with him because she's wearing her favourite pumps and can't very well go stomping through the swampy woods. He tells her something in a different language (so.hot.) and they leave to go do what they were told.
Of course, Sookie starts screaming just when the tension between Bill and Eric is getting hot, and Bill has to run in to save her. He seems to do this a lot. He holds her down while the Healer pours some kind of witch doctor potion on her back and drags her finger through the wound. I take it back; this scene is the best acting Anna Paquin's done on the show. Holy frak, I believed she was in pain with those screams!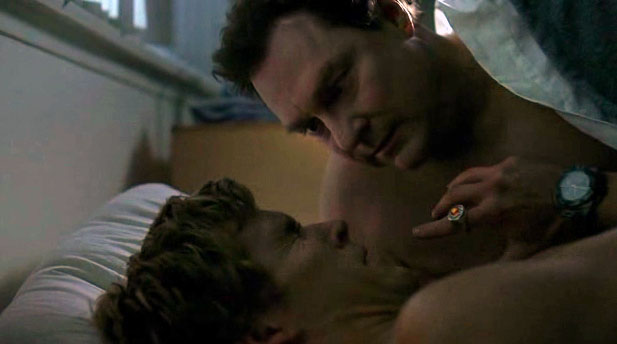 Back at Hate Camp, Jason wakes up in bed with a semi scream. I suspect he has some kind of psychic power like Sookie that he doesn't know about yet. He laughs off the panic, like he was just having a nightmare, and lays back down. All of the sudden, Eddie's in bed next to him. Eddie goes in for the thrill when Jason really wakes up from the dream. He's freaking out, so he decides to pray to God. He's looking for another sign; he's confused about what's right and wrong, and he feels lost. He's Jason, so he's been praying out loud in a room full of hatemongers trying to sleep. The Lukenator throws a pillow at his head and tells him to shut up.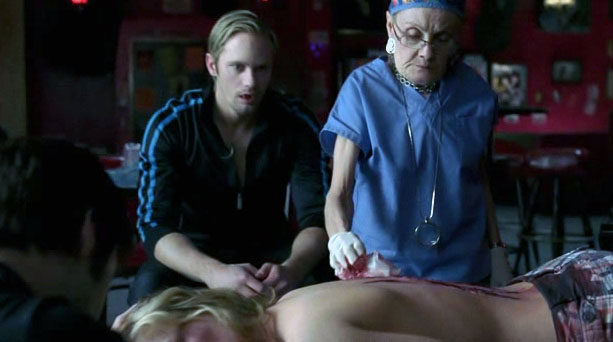 Pretty soon, the Healer's cleaned the poison out of Sookie's system and tells Bill he can give her his blood to heal her. Eric jumps in with the offer of his much stronger blood, and they have a little Alpha Male moment. He lets Bill take care of her in the end. The Healer tells Eric to *bleep* off as she leaves, and Pam and Chow show back up from the recon mission. Covered in mud and filth, they tell Eric the tracks left were human but that the smell was an animal they didn't recognize. Eric tells them to "send a message through the appropriate channels" to see if anyone knows anything. And in a classic dick move, stops Pam from leaving to tell her those were, in fact, great pumps. Sookie and Bill stay the morning at Fangtasia after Eric tells Bill he's sure there's some way they can pay him back for this.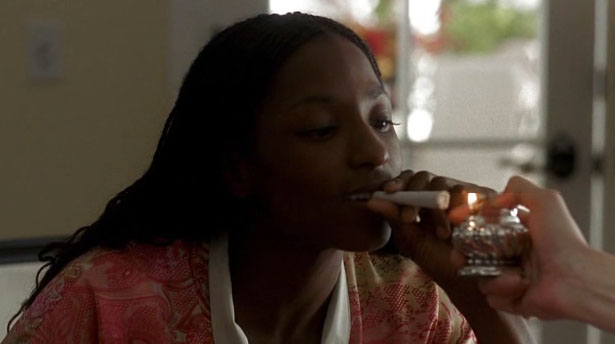 At Maryann's House of Gluttony and Lust, her manservant, Karl, is boil up what looks like the ass end of ten dead donkeys. I don't know what that stew was supposed to be, but it did not look like it smelled good let alone tasted good. Looked like a big old pot of spicy puke. Tara shows up to see that Maryann is planning a huge party. They have a little chit-chat about Sam. Maryann gives her a sly "he must be jealous because he lost you" bit while she makes the biggest joint I've ever seen. She gets Tara to light it up, even though she has to be at work later that afternoon. Maryann's party that night is insane. Practically the entire town shows up. No screencaps of that; too much nekkidness. Drunken, bad nakedness. *shudders* However, it's at this point that Tara takes the time to look around at what's going on. Noticing that everyone is blasted and having sex with one another, she leaves the pool and tells Eggs that if this is his scene, she ain't interested in being with him.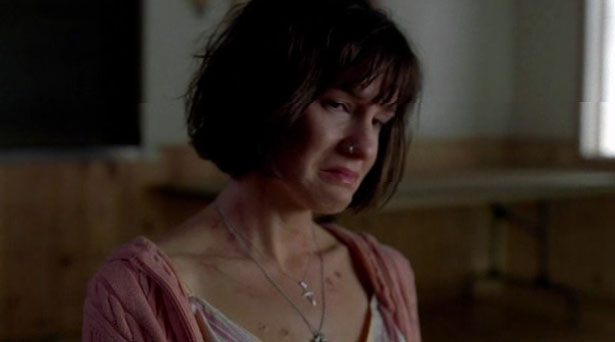 Circle of Sharing time over at Camp. Sister-girl here tells the sob story of how a vamp used her up and spit her out. Jason looks clearly uncomfortable to be there, so naturally Mrs. Newlin makes him share his story. He tells them how his sister's dating a vampire who treats her well (grosses the stiffs out when he speculates that Sookie likes the biting), and how his g/f staked Eddie in front of him. Eddie was a good person, he tells them, and Mrs. Newlin corrects him by saying vampires aren't people. Would a person do what that vamp did to Sister-girl? Uh, these people have their brains located where they sit. The entire book on human history is on how we brutalize, destroy, rape, subjugate, and annihilate each other, ourselves, and everything around us. Jason finally has a light bulb moment at this question and tells them that his BFF, a person, killed his g/f and his grandmother because he had a hate for the vamps. He walks out of the group, and I'm thinking Jason Stackhouse is finally done being stupid (not yet, he ends up staying).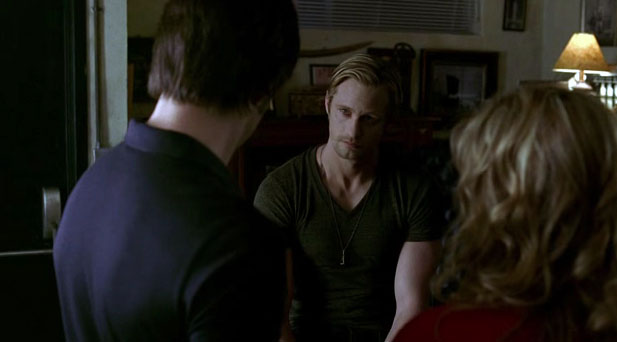 Eventually, Sookie wakes up to being completely healed. She has a run in with Ginger (Eric should think about getting different human help), and finds out that Lafayette is still locked up in the basement. He's alive and not a vampire! She confronts Eric about this, actually slapping him in the face and threatening to call the cops on him if he doesn't let Lafayette go. He tells her that maybe they can come to some sort of "arrangement," and I think that he and she hook up somewhere down the line. She agrees to go to Texas for Eric in exchange for $10,000 and with Bill as her escort. Eric eventually agrees, and he and Sookie have a zingfest with each other that forces me to take it back again and proclaim this to be the scene with Anna Paquin's best acting in the show. He lets Lafayette go with Bill and Sookie, who leave him at his own house in not so great shape.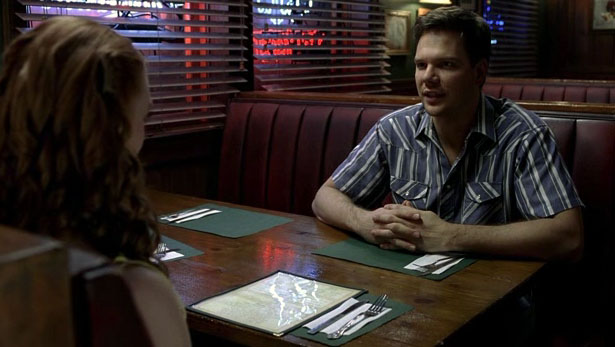 Jessica finally wakes up. Completely alone. She dolls herself up and waltzes into Merlotte's, catching every dude's eye, Hoyt's in particular. Hoyt fumbles his way into Jessica's liking, not flinching a bit when she tells him she's a vampire. It's like watching Nerd Courtship rituals on the Discovery Channel! Jim Parrack (who played the best siren ever on S4 of Supernatural) rambles on about chicken fried steak in a way that's so cute, you can't help but love Hoyt. They go back to Bill's place to make out, and right in the middle of getting hot and heavy, Bill and Sookie show up. Bill overreacts like a pushy father (as usual) and pulls Jessica off Hoyt. Those two are never going to get laid at this rate.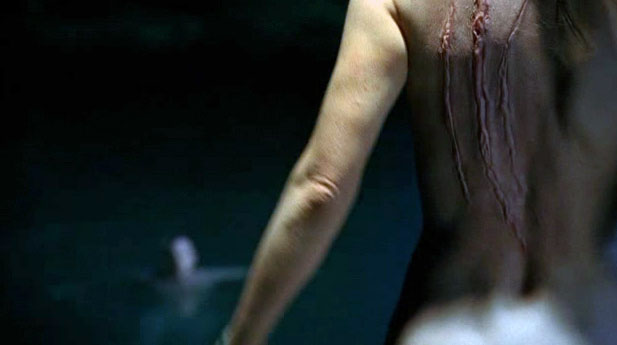 Sam's seemingly last night in Bon Temps comes to an uneventful close as he packs the last box into his car. Earlier in the day, he pretty much forced War Vet Terry to take over the bar while he was gone (Terry did not buy that Sam would be coming back). The stray dog Sam runs around with shows up, and they have one last run through the woods together. They end up at a lake and Sam jumps in and shifts back into his human form. Just then, Daphne shows up. She takes her kit off to skinny dip with him and reveals an interesting set of scars down her back. Dun-dun-DUUUUNNNN!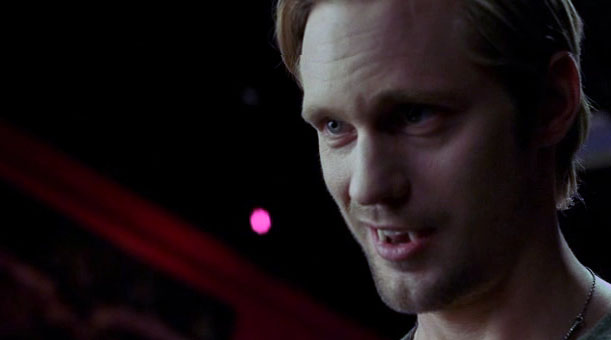 And one more for the road. *drools*